Everlane Day Glove Review (Trendy Wednesday #164)
* Thank you to Everlane for sponsoring this post #ad #sponsored.  As always, all opinions are my own.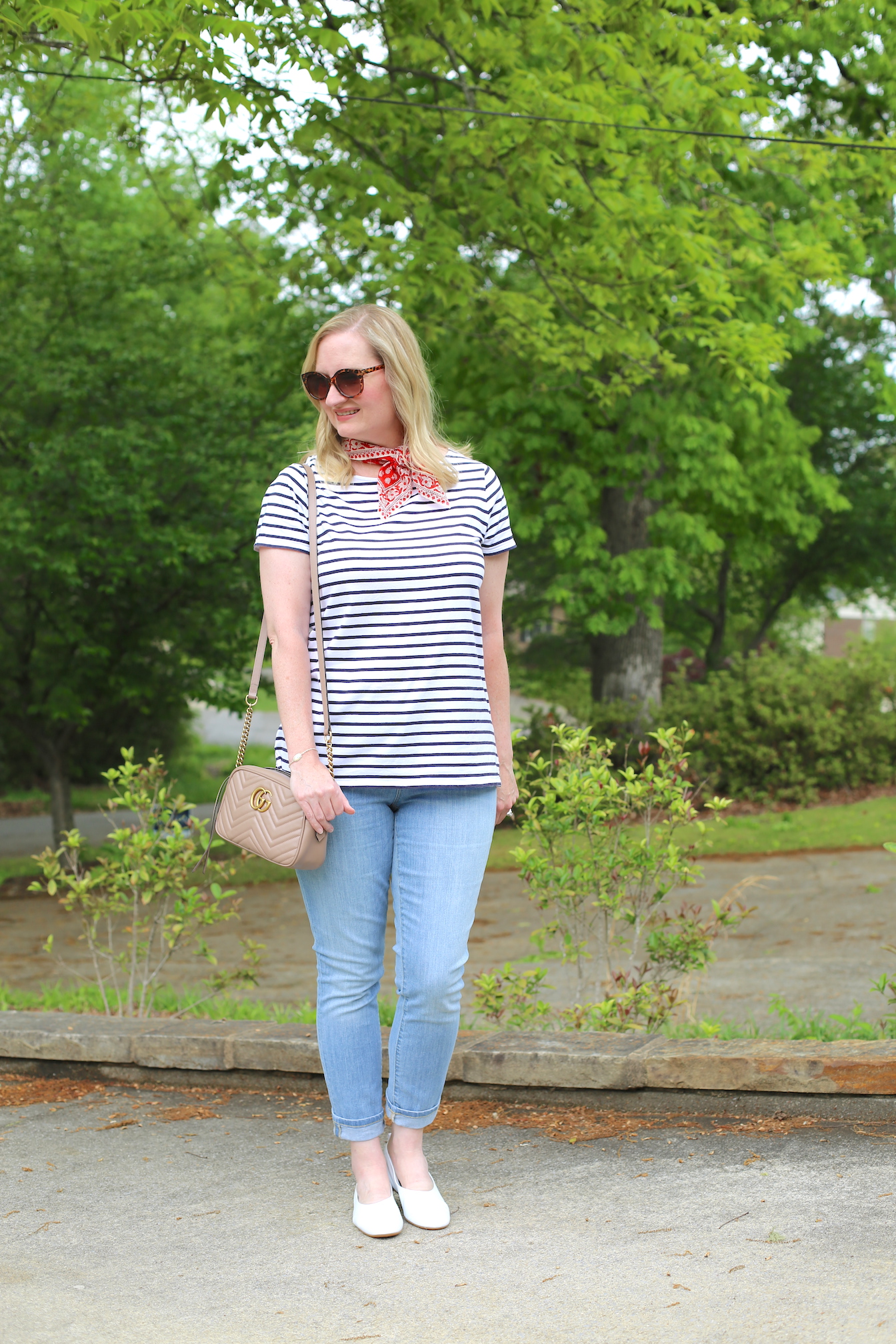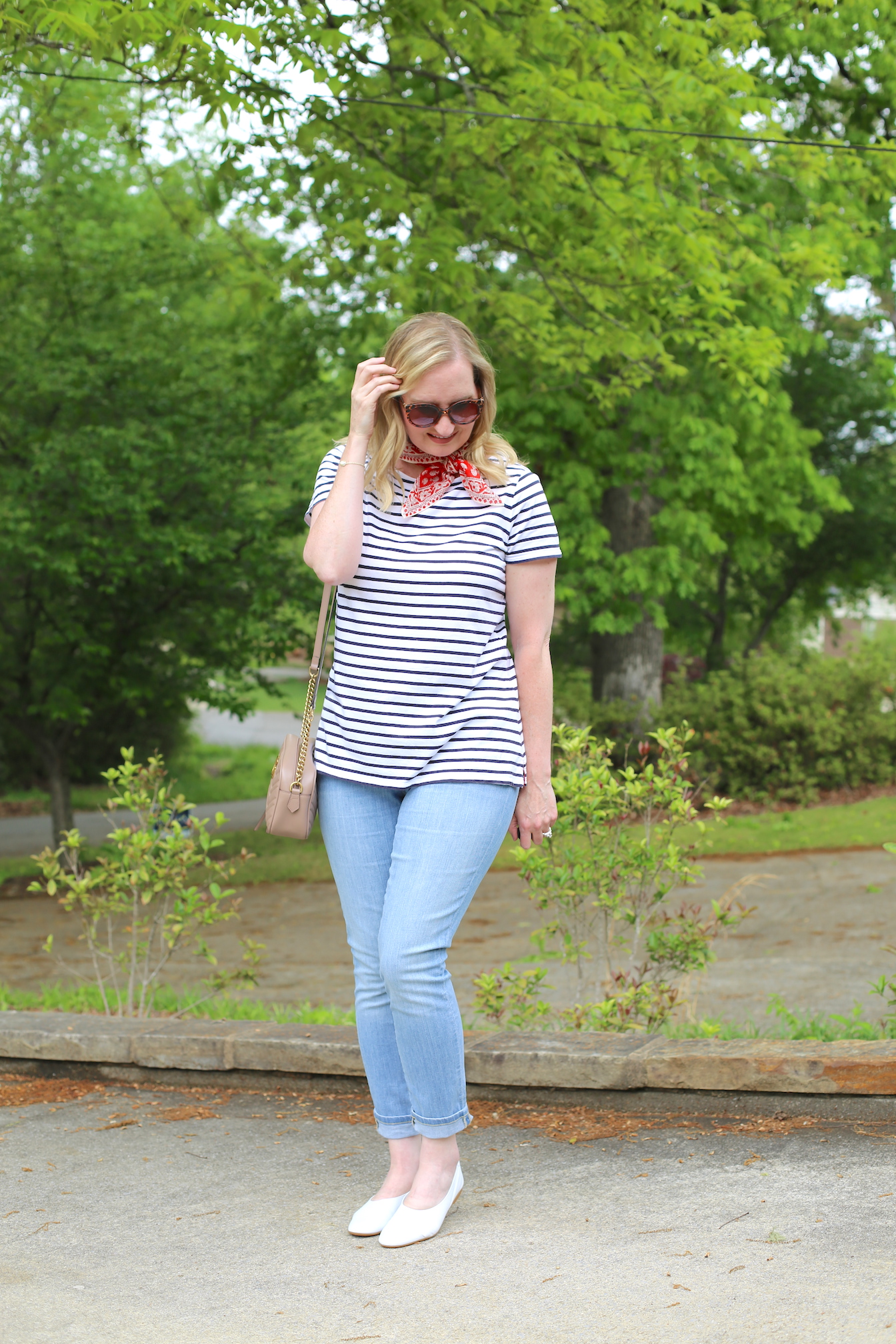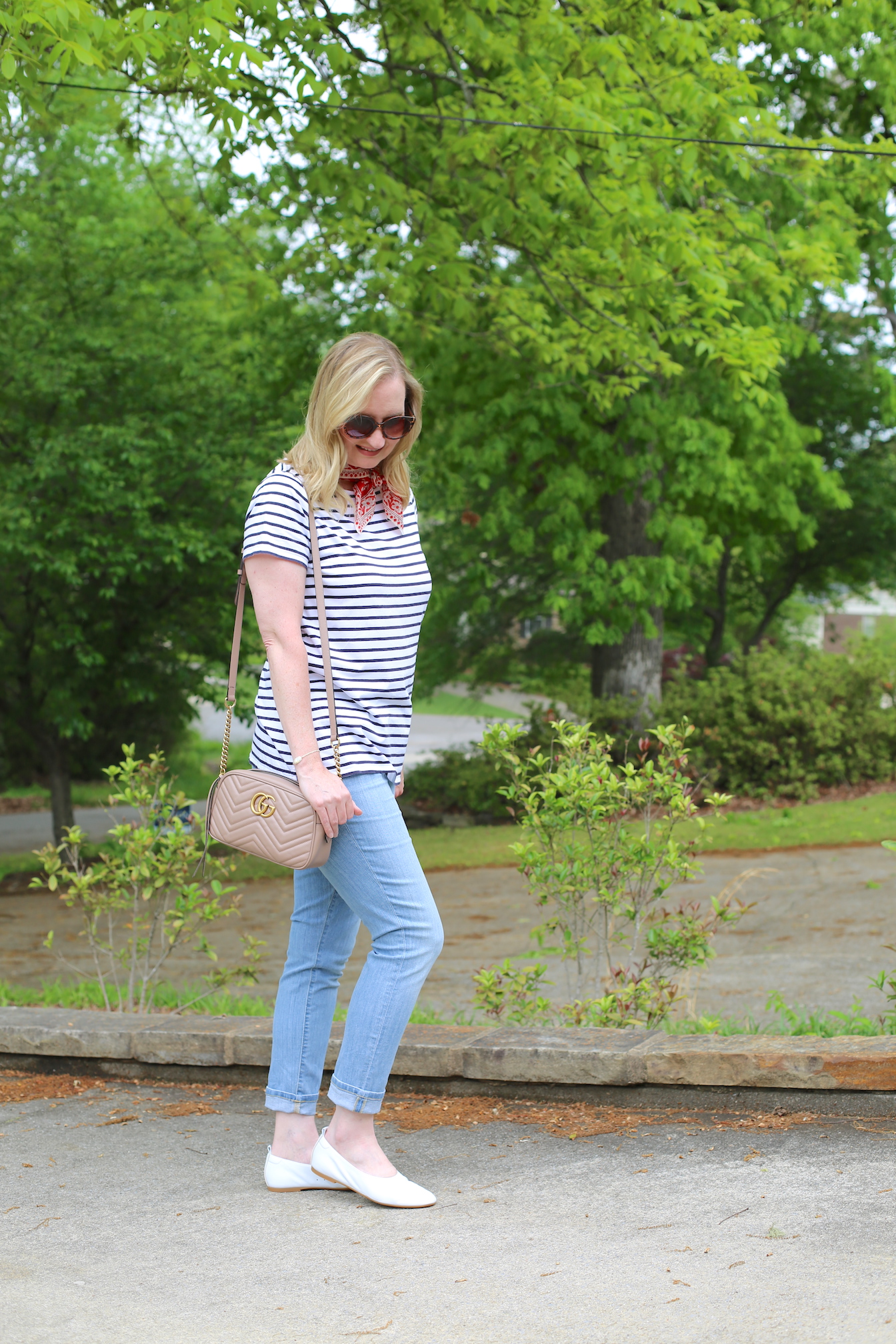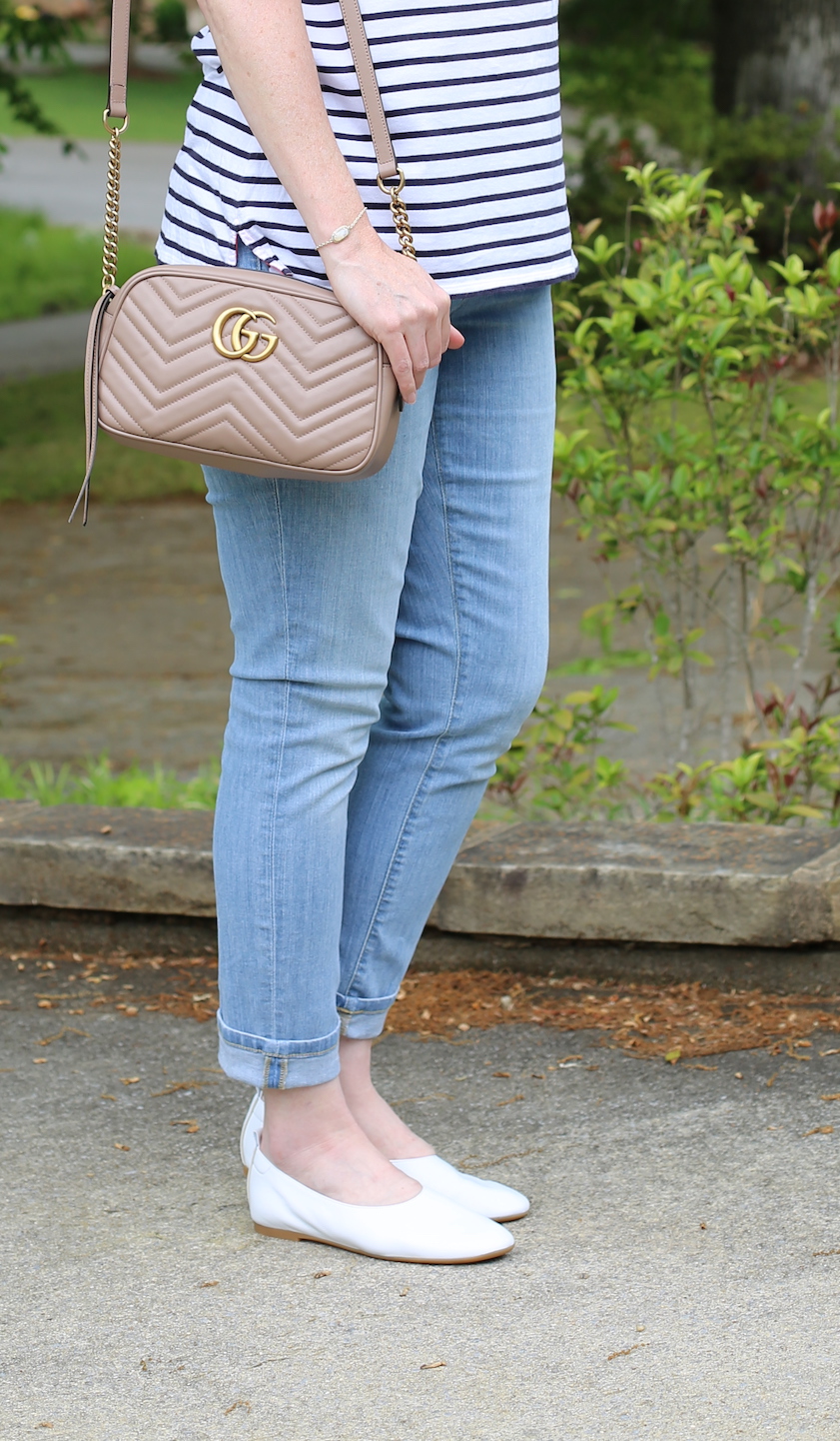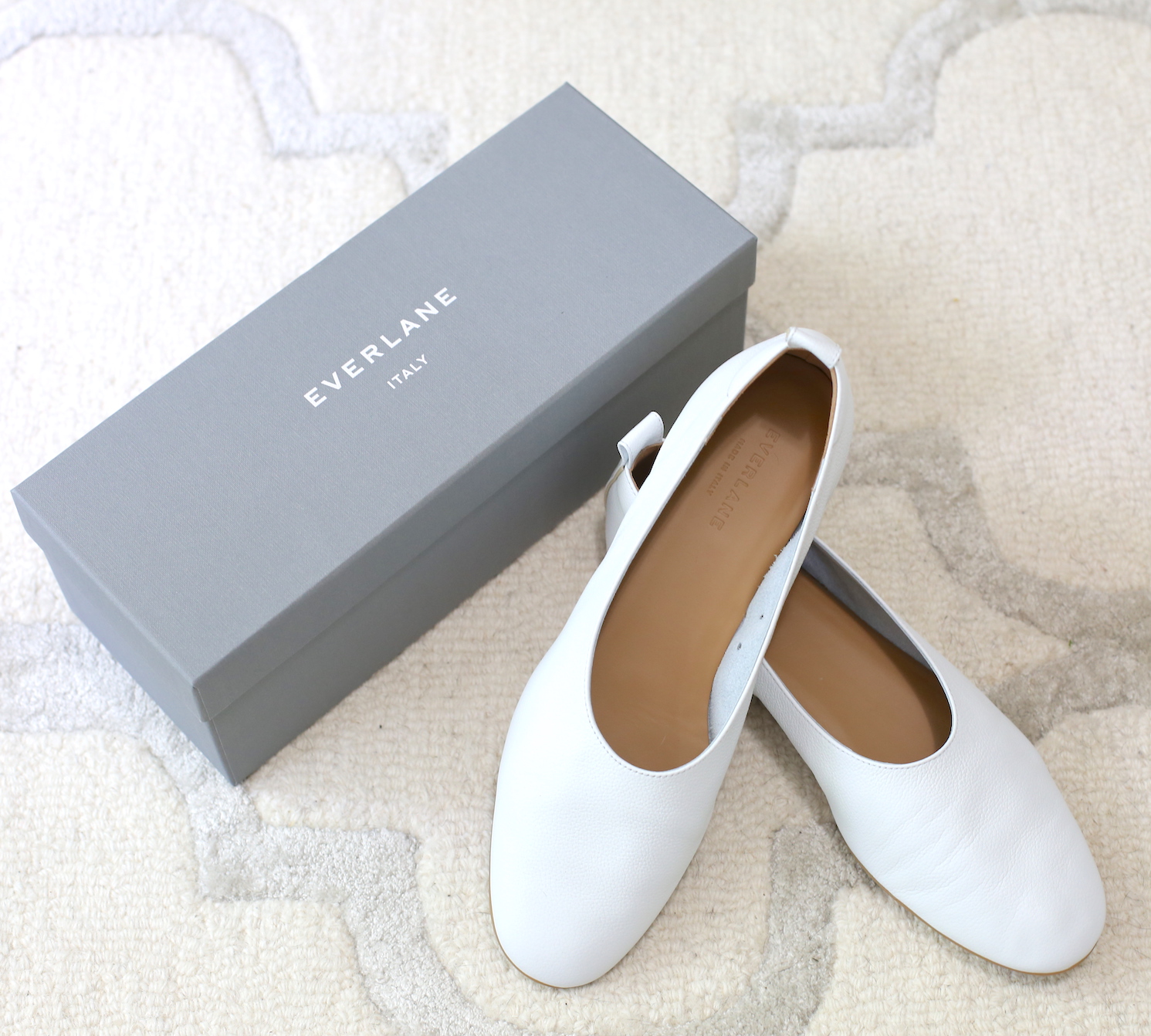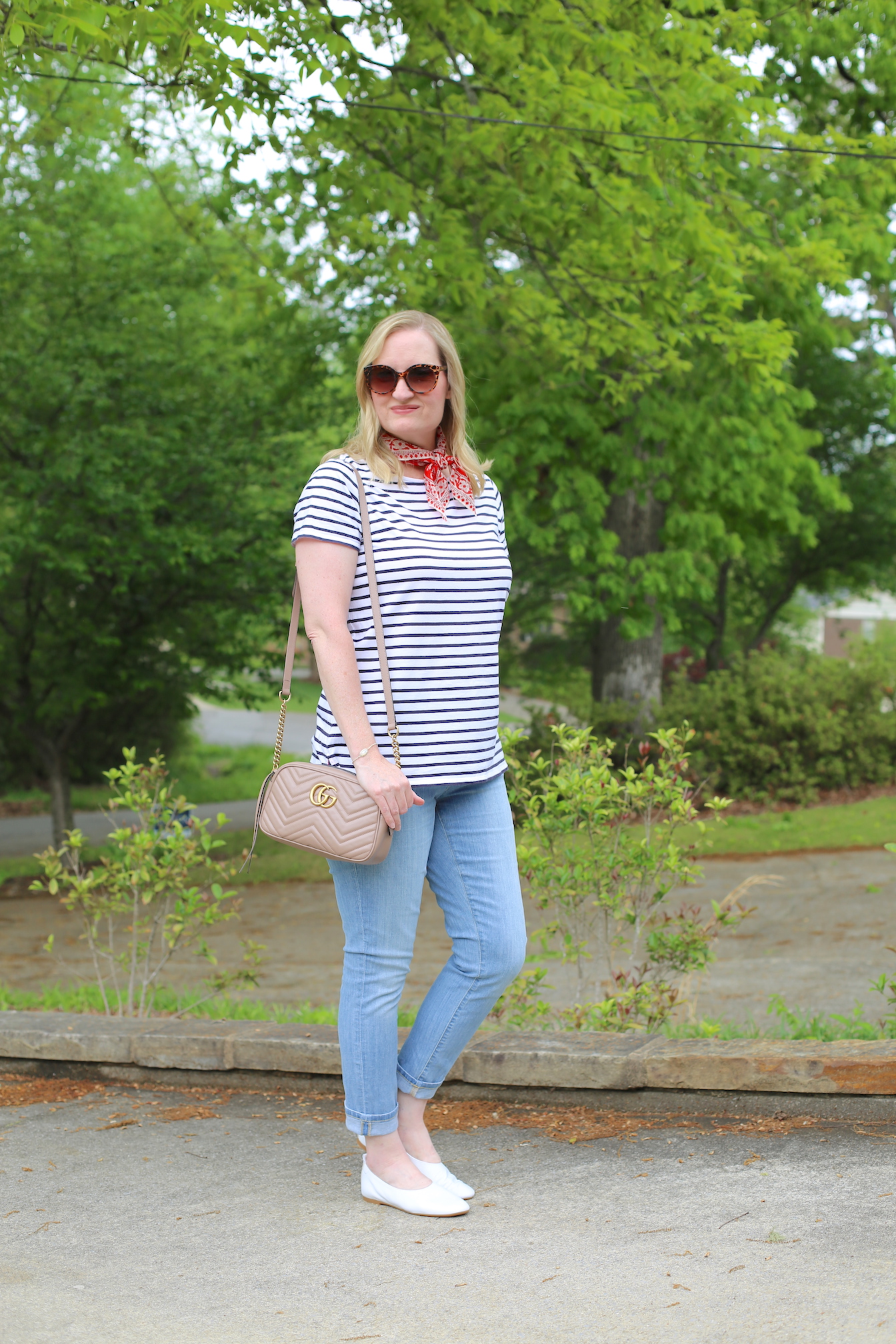 Outfit Details:
Boden Breton striped tee
Loft Skinny Crop Jeans
Everlane Day Glove Flats in "white"
sunglasses (similar)
Madewell bandana (so soft!)
Kendra Scott bracelet
Gucci Marmont Matelasse Shoulder Bag in "Porcelain Rose" / similar Tory Burch Fleming / similar Madewell crossbody 
Everlane is one of my favorite places to shop, for many reasons!  Their clothes and shoes work well in a capsule wardrobe, since their styles of clothes and shoes are classic and timeless.  Their products are made well, plus they are an ethical and transparent company.  I have a pair of their modern point loafers and a gray linen tee that I love to wear, plus my daughter has a striped tee that she has worn countless times!
When Everlane asked me to be a part of The Day Glove launch, I did a happy dance!  A chance to review a pair of shoes from Everlane…a definite YES!
The Day Glove is supposed to fit like a glove and can be worn all day, every day.  Would this be true?  I tested them out when I had to do a lot of walking in town the other day.  Would my feet get tired?  Would I have blisters?  I was pleasantly surprised after then end of several hours, my feet felt great and there were no blisters!  These shoes live up to their name…they fit like a glove and are SO comfy.
The Day Glove comes in 6 colors: black, white, rose, light blue, cream and mocha.  I had trouble deciding which color to get, as they are all gorgeous colors.  I settled on the white, since I knew I could wear them with many of my Spring outfits.  I can wear these in the Summer too with shorts, pants and dresses.  These shoes is priced at just over $100, which in my opinion is adequately priced for the quality of craftsmanship, the beautiful leather and the comfort of the shoe.  I normally wear a size 9 and this pair runs true to size.  They fit perfectly right when I put them on.
What I really like about these shoes is that the simple style will coordinate with many outfits and the choice of colors.  I'm seriously considering getting a pair of these flats in "black" to wear in the Fall.  I can't wait to wear these white flats with more of my Spring capsule wardrobe outfits.  See more of Everlane's Day Glove flats here.
In today's post, I'm wearing my Boden short sleeve Breton striped tee.  I bought it last year and love wearing it.  I had my long sleeve striped tee in my Spring capsule wardrobe, but being that we are having warmer weather, I switched that one for my Boden tee.  Last week when I was at Loft, I purchased these Loft Skinny Crop Jeans.  It's rare that I buy clothes for my current capsule wardorbe, but I had a pair of light wash crop jeans on my "need shopping list" and these fit perfectly.  I switched out a pair of jeans from my capsule wardrobe with these.  I had been saving up what seemed like forever (I know over a year) for a Gucci Soho Disco and this Gucci Marmont Matelasse Shoulder Bag.  I finally pulled the trigger and purchased them.  I've been selling several clothes and bags I no longer wear and use on my Poshmark closet, so I used those funds to help purchase them.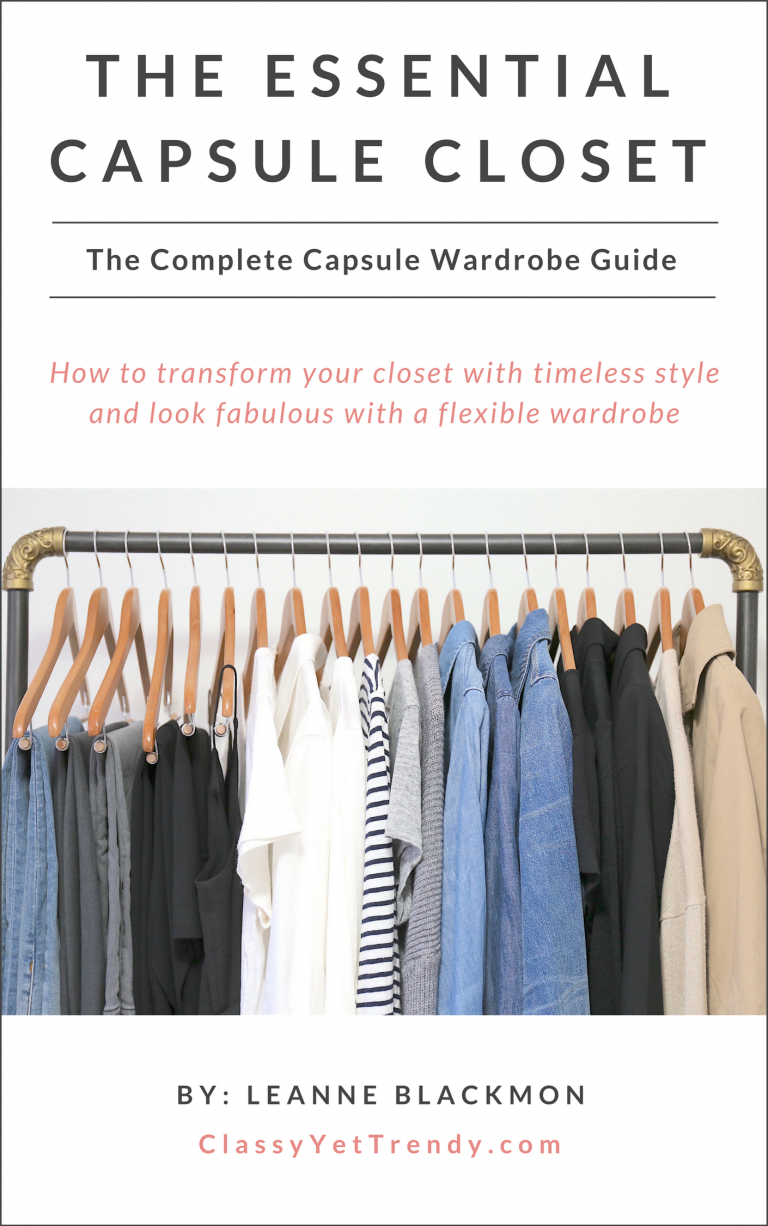 Shop The Post:

The two featured bloggers from the last linkup are:


1.  Please follow your Host 
2. Link up to 5 posts: 
it can be about fashion, style, beauty or lifestyle

(linkup to your blog post and not your main page)
3. Please include a link back to this post or place my linkup button in your post.
4.  Now, add your post(s) below!  I hope you enjoy the linkup and enjoy meeting other bloggers!
Each week I feature 2 bloggers from the previous link,
so link-up your blog posts for your chance to be featured!