My 36-Piece Spring 2018 Capsule Wardrobe
My Spring 2018 Capsule Wardrobe – see all the clothes and shoes in my closet with tops such as a tee, cami, blouse, striped top, ruffle sleeve top, layers like a denim jacket, utility jacket and cardigan, bottoms like jeans and skirt, along with sneakers, mules, flats and booties.
It's Spring and I've created another capsule wardrobe!  A couple of weekends ago I switched my closet from my Winter capsule wardrobe to my Spring capsule.
I really enjoyed putting together my Spring capsule wardrobe!  Since I work at home now, I like to wear clothes that are casual and comfortable, but that also look great for running errands, going to my daughter's school functions, eating out, going to the movies, etc.
In deciding what clothes I wanted in my Spring capsule wardrobe, first I decided my base color, which is the first step in my post, How To Create a Capsule Wardrobe: A 5-Step Visual Guide and in my eBook, The Essential Capsule Closet: The Complete Capsule Wardrobe Guide.  I decided to have navy as my base color.  Then, I picked 3 accents colors: blue, blush and red.  I knew I wanted to include mostly jeans, as those are the bottoms I like to wear the most, and I also included a denim skirt.  Unlike my Winter capsule, I included a couple of jackets and shoes in this capsule.
Here's is what my Spring 2018 capsule wardrobe looks like in my closet:
I can remember just a few years ago when I didn't use a capsule wardrobe.  My closet used to be a complete mess!  I had too many clothes that didn't coordinate, clothes that didn't fit, clothes with colors that didn't look good on me, you name it.  I even had bad shopping habits!  I would buy an outfit…a top and bottom that would go together, not really thinking how I could wear the pieces with other clothes in my closet.  Plus, I loved to go clothes shopping.  When I was bored or having a bad day, I would go shopping and always felt like I had to buy "something" to feel good.  Shopping lead to a high credit card bill, so I was in debt.
I'm so glad I discovered a "capsule wardrobe", because use a capsule wardrobe system helps me look great and I always have dozens of outfits ready to wear, I look great and feel better about myself, plus I shop with purpose for everything now, not only for clothes, but for household goods, furniture, you name it!).  Having a capsule wardrobe literally changed my shopping habits for everything.  I think twice before buying anything now, saving me hundreds of dollars every year!  I'm so passionate about capsule wardrobes, that I publish Complete Wardrobe Plans each season, all in the Capsule Wardrobe eBook Store.
[su_quote]Thousands of women use these Capsule Wardrobe Plans each season for their closets![/su_quote]
Now onto my capsule wardrobe!  I have 36 items in my Spring 2018 capsule wardrobe.  My capsule wardrobe is mostly a combination of the French Minimalist and the Essential capsule wardrobe eBooks, with a few items that I already had in my wardrobe.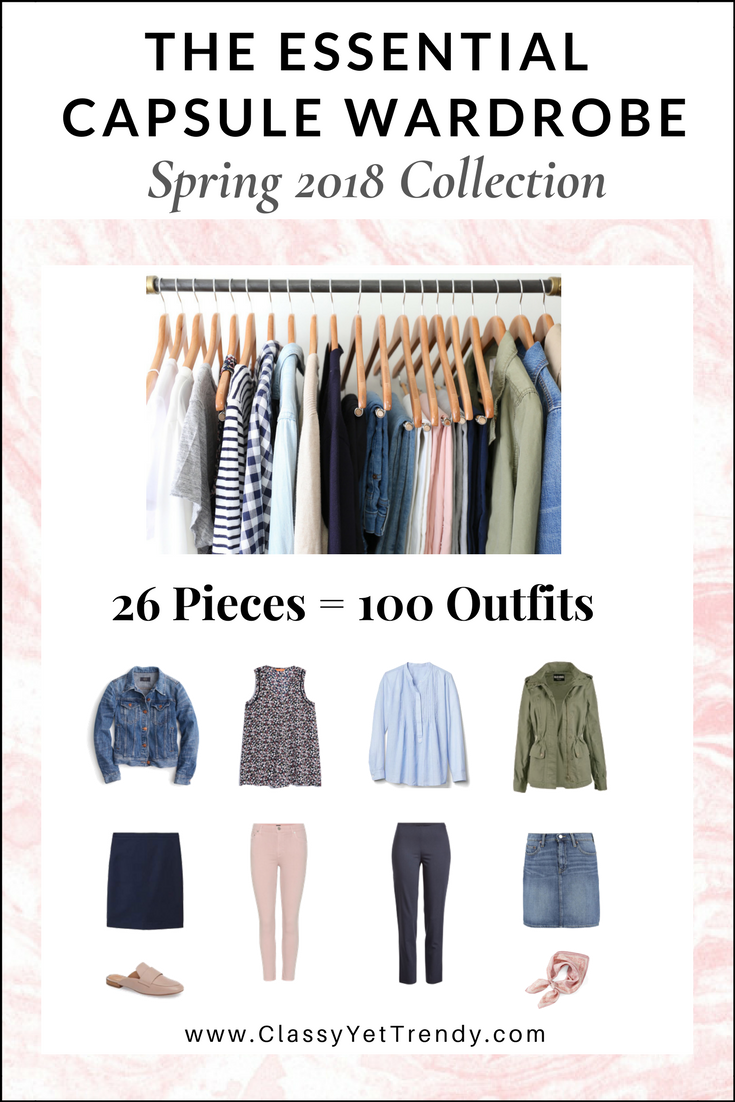 I created my capsule wardrobe using my capsule wardrobe process, which you can see here in this blog post, How To Create A Capsule Wardrobe: A 5-Step Visual Guide.
First, I took everything out of my closet, so that it was empty.  I kept a few items from my Winter capsule wardrobe and hung them back in my closet.  I put the rest of my clothes from my Winter capsule in my storage bins.  I went through my storage bins for the clothes I thought about using in my capsule and put them in stacks for each type: solid tops, patterned tops, bottoms and layers.  I knew I may not include all of them in my capsule, but it gave me a starting point.
I went through the stacks of clothes, determined what I wanted to keep for my capsule, then hung those clothes in my closet, using wooden hangers like these.  These velvet hangers also work well and these hangers are perfect for hanging skirts.  Then, I put any clothes that I wouldn't be using back in the bins and put them in my closet.  I have storage bins for different types of clothes: seasonal tops, denim and shorts, cardigans and sweaters and skirts and dresses.  It helps me organize my clothes so I know what clothes are in each bin.  You can use these exact bins to store your off-season clothes too!  If you need a clothes rack to hang your clothes on, here is my exact wardrobe rack.  This black pipe clothes rack and this wooden clothes rack will work well for your capsule wardrobe too.  This wooden wardrobe rack also comes in white.  And, I love this industrial pipe and wooden wardrobe rack from West Elm!
Capsule Wardrobe Storage & Equipment:
I made a list of items that I needed to complete my Spring capsule wardrobe and shopped for them online.  I shop mostly online, since it saves me time and I don't get distracted if I shop in a store.
Here are the tops that are in my Spring 2018 capsule wardrobe: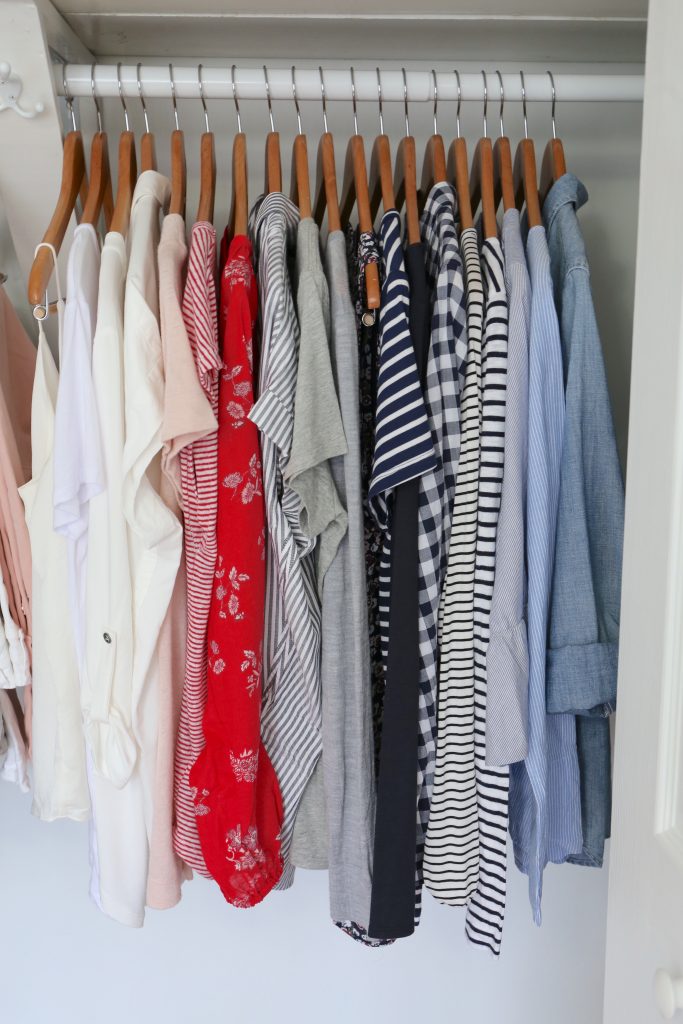 Tops (left to right):
white cami (Express, old)
white tee (Nordstrom, new)
roll tab sleeve blouse (Nordstrom, old) – similar
white central button-up shirt (Madewell, old)
blush short sleeve top (Loft, old) – similar
red stripe short sleeve top (Target, new, see blog post review here)
red patterned top (Target, new,see blog post review here)
gray stripe central shirt (Madewell, new)
gray tee (Gap, new)
lightweight sweater (Banana Republic, old)
navy floral shell (Joe Fresh, new)
navy stripe tee (Nordstrom, new) – similar
navy 3/4 sleeve tee (TJ Maxx, old)
gingham shirt (J Crew Factory, old)
striped peplum tee (Nordstrom, old) – similar short sleeve
striped long sleeve tee (J Crew Factory, old) – similar
blue striped bell sleeve top (Madewell, new)
blue striped long sleeve top (H&M, old) – similar
chambray shirt (Madewell, new)
Here are the layers and bottoms: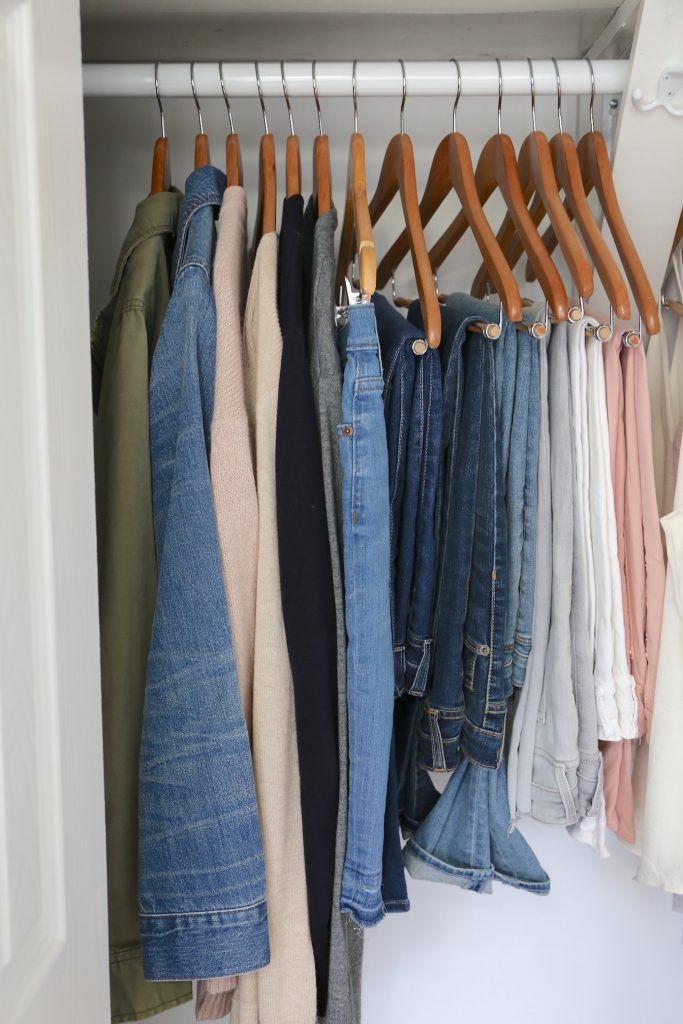 Layers and Bottoms (left to right):
olive utility jacket (Madewell, old)
denim jacket (Madewell, old)
blush pink cardigan (H&M, old) – love this one!
beige cardigan (Loft, new) – similar
navy cardigan (TJMaxx, new) – similar
gray cardigan (Loft, old) – similar
denim skirt (J Crew, old) – love this one!
medium wash ankle skinny jeans (Nordstrom, old)
dark wash skinny jeans (Target, new, see blog post review here)
light wash skinny jeans (Saks Fifth Avenue, old)
light gray jeans (Old Navy, old)
white jeans (Nordstrom, old)
blush pink jeans (Nordstrom, old)

Shoes:
cognac leather mules (Madewell, new)
beige ballet flats (Nordstrom, new)
peep toe ankle boots (local store, old) – similar
white sneakers (Shopbop, old)