7 Pieces / 10 Outfits: French Minimalist Summer Style
Turn 7 tops and bottoms into 10 outfits for the Summer season, French Minimalist style!


What is your favorite way to dress in the Summer?  Mine is wearing loose fitting, comfortable clothes made of breathable cotton fabric.  If you live in a climate where there is humidity, then you want you clothes to be as cool as possible.  What are your favorite colors to wear?  The most versatile colors are neutrals, like black, navy, gray, white and beige.  Because they are neutral colors, they are able to mix and match with each other giving you the
most outfit possibilities
!
If you have 7 basic essentials in your closet, you can turn them into 10 outfits!  These 7 tops and bottoms are classic, timeless pieces that you may already have in your wardrobe!  They mix well with one another because of the neutral color tones and the simple designs.  All the pieces shown, both clothes, shoes and accessories, are just a few featured in the NEW e-Book, 
The French Minimalist Capsule Wardrobe: Summer 2018 Collection
.

These 7 pieces in this blog post are featured in the capsule wardrobe e-Book, The French Minimalist Capsule Wardrobe: Summer 2018 Collection is for the Summer season and includes 100 outfit ideas!  Both casual and dressy outfit options comes from the 25 clothes and shoes in the capsule wardrobe plan.  "The French Minimalist Capsule Wardrobe" E-Book series is a such a versatile capsule because it has both casual and dressy outfit ideas, which makes it such a versatile capsule!
The style of clothes and shoes in this capsule are classic and modern and features several styles that the modern French woman wears!  All the clothes and shoes are mostly all neutral colors with soft chambray blue as an accent color.

I have featured 10 outfits, but there are more outfit possibilities!
 The 7 Pieces:
Shoes & Bags: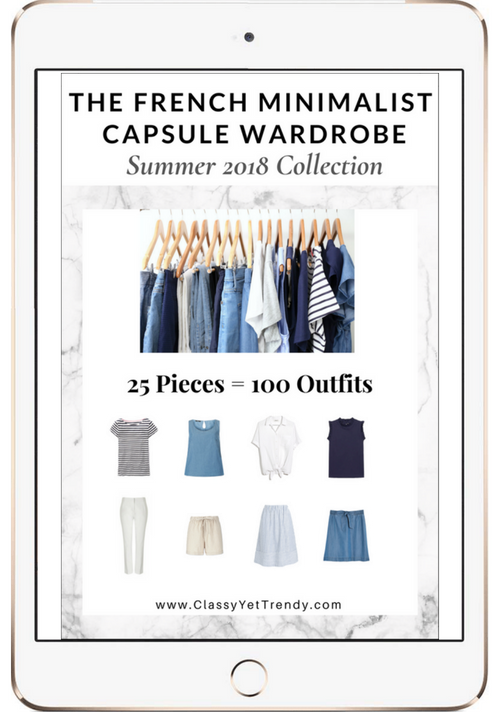 All 25 Pieces with SEVERAL shopping options for each piece (including Accessories)
All 100 outfits

Printable Checklist

Travel Packing Guide (10 Pieces / 7 Outfits)

BONUS:

8 Ways To Save At Least 50% Off Retail