Wear Now, Wear Later: Black Sleeveless Vest
When you use a capsule wardrobe, you get used to making the most out of the closet.  You streamline your wardrobe by choosing clothes that will make the most outfits and you enjoy wearing them.  Before long your closet really works efficiently and you save money since you no longer have the need to buy clothes nearly as often!
As Fall approaches, we start to think about what we want in our Fall capsule wardrobes.  It's always fun to wear layers in the Fall, as they not only keep you warm, but they also add interest to your outfits.  Some great layers to wear in the Fall are cardigans and jackets, but a chic piece to wear is a Black Sleeveless Vest!
While browsing on Nordstrom yesterday, I found this "Belted Sleeveless Jacket" that comes in black and olive and ranges in sizes XXS to XXL.  It reminds me of a utility jacket, but dressier!  It's a bit longer too, coming to mid-thigh.  This 3rd piece layer would be great to wear now with this white sleeveless ruffle tee, these raw hem jeans and these block heel sandals.  It will also be great to wear in the Fall with this favorite roll tab ivory top (comes in several other colors too!), olive jeans and these hardware accented black ankle boots.  If you are looking for a budget-friendly style, this black hacci vest (plus-size version) is only $29!
This belted sleeveless jacket would fit in perfectly in any of the Fall 2018 Capsule Wardrobe eBooks: Essential, French Minimalist or Workwear, currently available in the Capsule Wardrobe eBook Store.  Over 15,000 capsule wardrobe eBooks have been sold and many women rely on them to know what to wear and look fabulous everyday!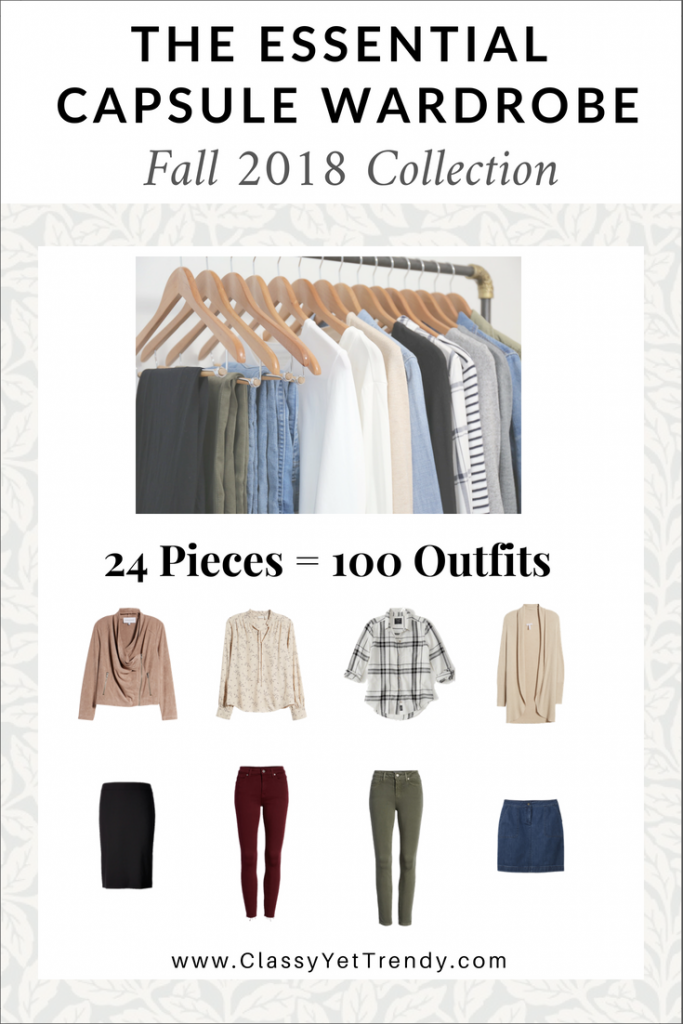 This belted sleeveless jacket would also work in the Simplified Style: A Year-Round Core Closet Essentials Capsule Wardrobe, as this 50-piece capsule collection consists of all neutral color clothes and shoes.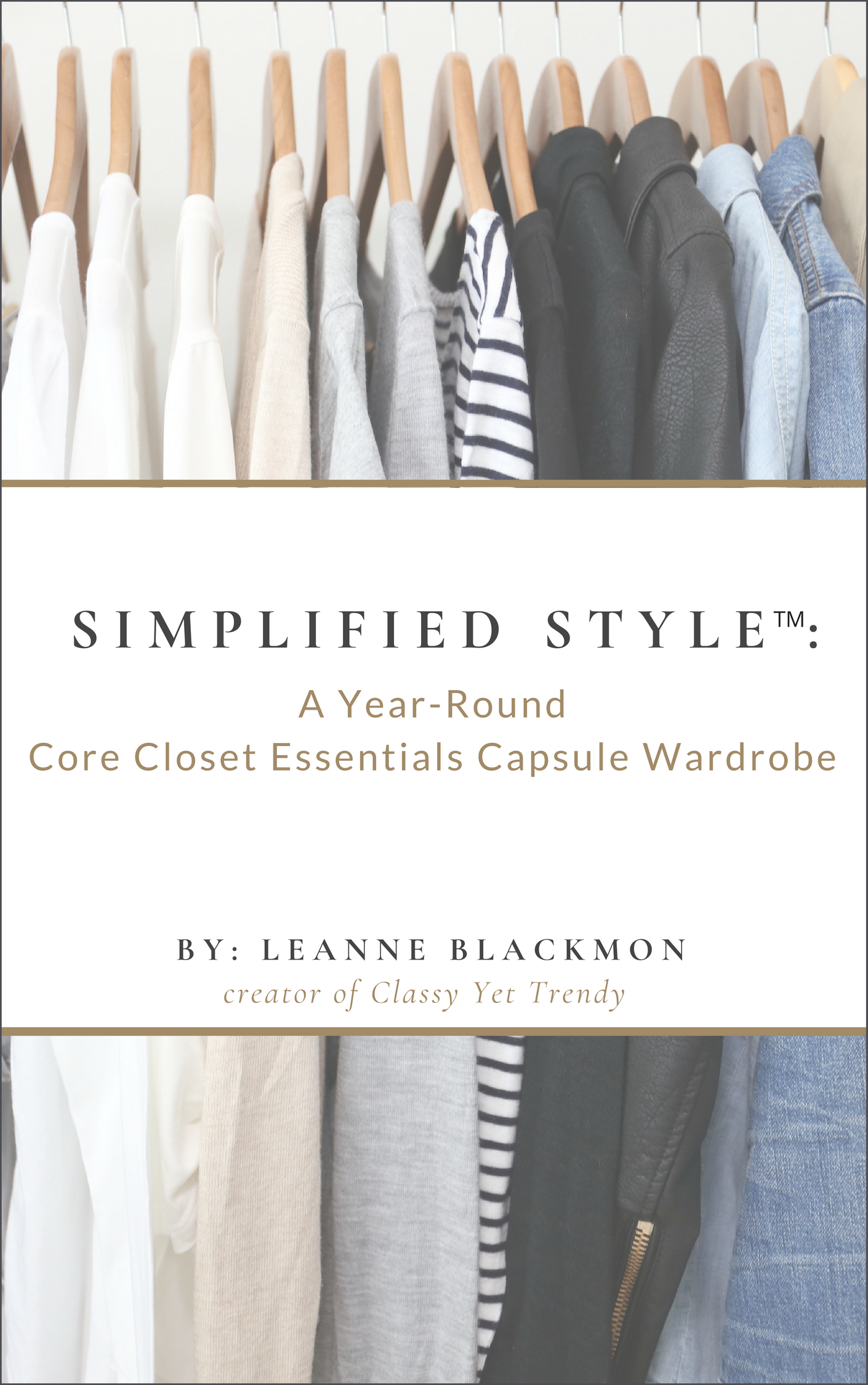 You could even wear this belted sleeveless jacket in the Winter with a turtleneck, leggings and tall boots!  You could really get your money's worth wearing this jacket!
Here's two outfit ideas on wearing this belted sleeveless jacket now in the Summer, then later in the Fall: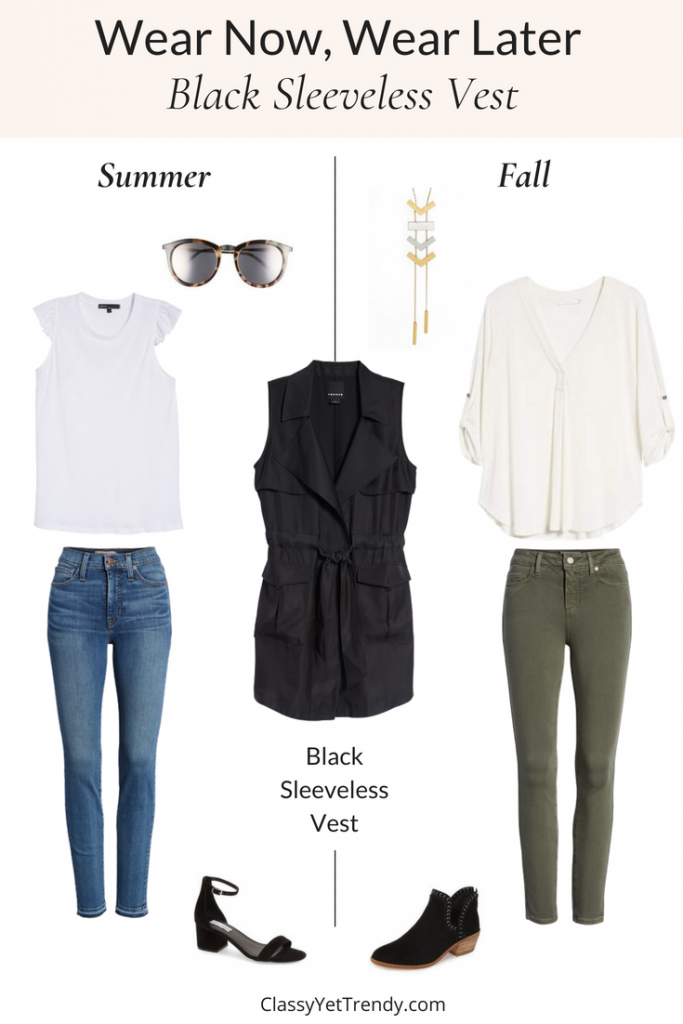 Summer Outfit:
white sleeveless top
raw hem jeans
black sleeveless vest / budget regular / budget plus
sunglasses
block heel sandals
Fall Outfit:
roll tab top
olive jeans / plus-size / budget regular
black sleeveless vest / budget regular / budget plus
pendant necklace
black ankle boots