Holiday Gift Guide: Cozy Gifts For Her
The holiday season has begun!  Time for Christmas trees, lights, snow and gifts!  When it is cold outside and we have had a busy day, we like to go home, put on our pajamas, comfy robe and fuzzy slippers and snuggle under a warm blanket.  Chances are your BFF, mom, sister or daughter would love to receive those kinds of gifts for the holidays.
I have found several cozy items that would make perfect presents.  I have this pair of Shearling Slippers and love them, but these Shearling Slippers with pompom detail are so pretty!  How gorgeous is this Pom Pom Paulina Throw that comes in 5 colors and is machine washable?!  I personally love using Kiehl's lotion and this Soy Milk & Honey Whipped Body Butter sounds luxurious!  What I love about Kiehl's lotion is that it keeps your skin moisturized without a greasy feeling that some lotions have.  This Aromatherapy Diffuser along with the Lavender Essential Oil or the Quiet Blend Essential Oil would make a perfect gift.  An aromatherapy diffuser is great alternative to using candles.  Just add water to the diffuser, then a few drops of essential oil, turn it on and your whole room smells divine!  I use an aromatherapy diffuser in my office and I have this Supernova Electric Aromatherapy Diffuser in my living room and enjoy using them.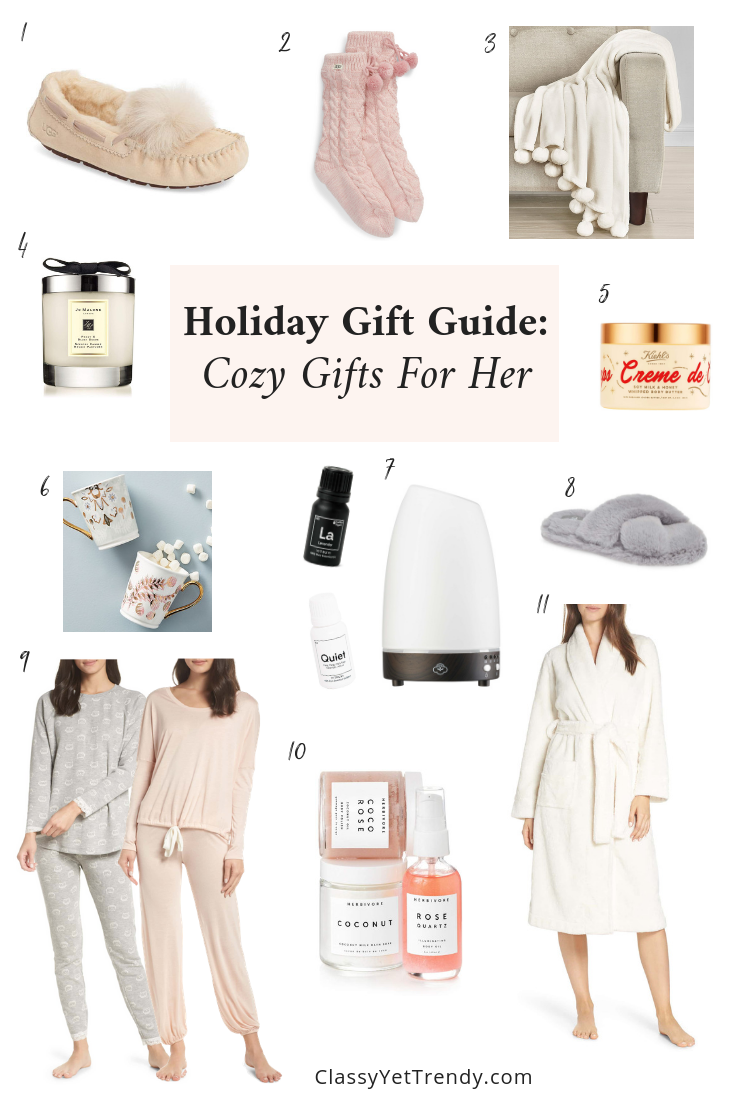 Shop The Post:
1. Shearling Slippers with pompom detail
2. Fleece Lined Socks
3. Pom Pom Paulina Throw
4. Peony & Blush Suede Scented Candle
5. Soy Milk & Honey Whipped Body Butter
6. Livinia Mug (perfect for coffee, hot tea & hot chocolate!)
7. Aromatherapy Diffuser / Lavender Essential Oil / Quiet Blend Essential Oil
8. Faux Fur Slipper
9. Gray Patterned Thermal PJs / Supersoft Fabric PJs
10. Herbivore Botanicals Bath and Body Set
11. So Soft Plush Robe
Give the Gift of a Capsule Wardrobe eBook!