Fall Shoes and Accessories On a Budget
Accessories are a necessity to completing our outfits. They add pattern, color and texture to what otherwise would be a boring outfit. Just adding a couple of accessories to your outfits makes them more interesting and can even get you some compliments!
I've found several darling accessories, perfect for the Fall season! And, what's great is that if you are on a budget, these are all at budget-friendly prices.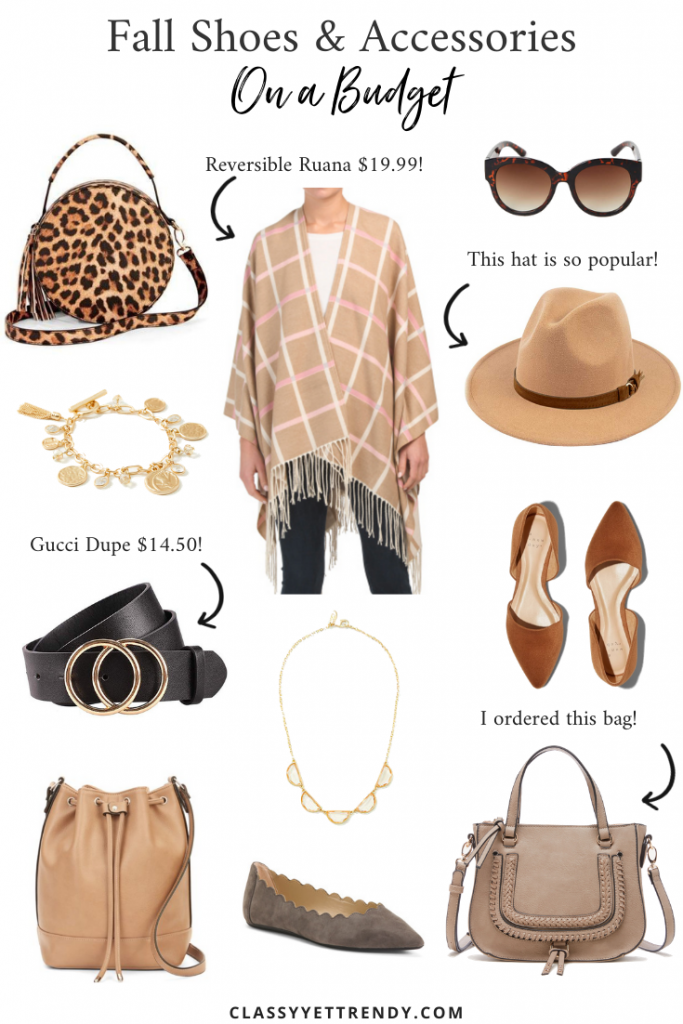 Leopard Sky Circle Bag
Reversible Ruana
Tortoiseshell Sunglasses
Toggle Charm Bracelet
Lanzom Wool Fedora Hat
Double O Ring Belt
Microsuede Pointed Ballet Flats
Gem Statement Necklace
Taupe Bucket Bag
Scalloped Suede Flats
Destin Crossbody bag (I ordered this in the "Light Taupe" color!)
This Destin Crossbody bag has been very popular the past few seasons! And it's an affordable $59.99 and comes in several colors to choose from. It's designed with whipstitch details and has dual carry handles and a crossbody strap. I love the design so much that I've ordered one in the "Light Taupe" color and should be arriving soon! They also have the Destin Satchel, which is a larger size and makes a great bag to hold all your essentials. I'm also loving this Leopard Sky Circle Bag and even better is the price at $24, What?! It's also available in the "Snake Tan" color, so pretty! A bag like this Taupe Bucket Bag is always a great accessory staple! At only $16 this bag looks more expensive than its price and is available in Black, Red and Leopard colors too.
Now, onto hats! Hats are trending this Fall, with brown felt fedoras being most popular. This Lanzom Wool Fedora Hat, at $ 15.99, comes in 10 colors with 4 different belt styles to choose from! My favorite color is the "Z Buckle Belt-camel". Berets, like this $12.99 Wool Knit Beret Hat, which comes in Black and Camel colors, and Captain Hat styles, like this Grey Beret Hat also at $12.99, are popular too.
If you love the look of a Gucci belt, but the price is too high, this Double O Ring Belt is only $14.50 and comes in 6 colors. I ordered the Black color and love it! A leopard belt is great to add a pop of leopard to your outfits. This Leopard Print Belt from Target is $16.99 and I love the buckle!
If you are looking for a pair of shoes for the Fall, these Scalloped Suede Flats are only $34.99 and are darling! And, these Microsuede Pointed Ballet Flats are a steal at only $19.99, with great reviews!
Shop The Post: