Early Fall Outfit (Trendy Wednesday #133)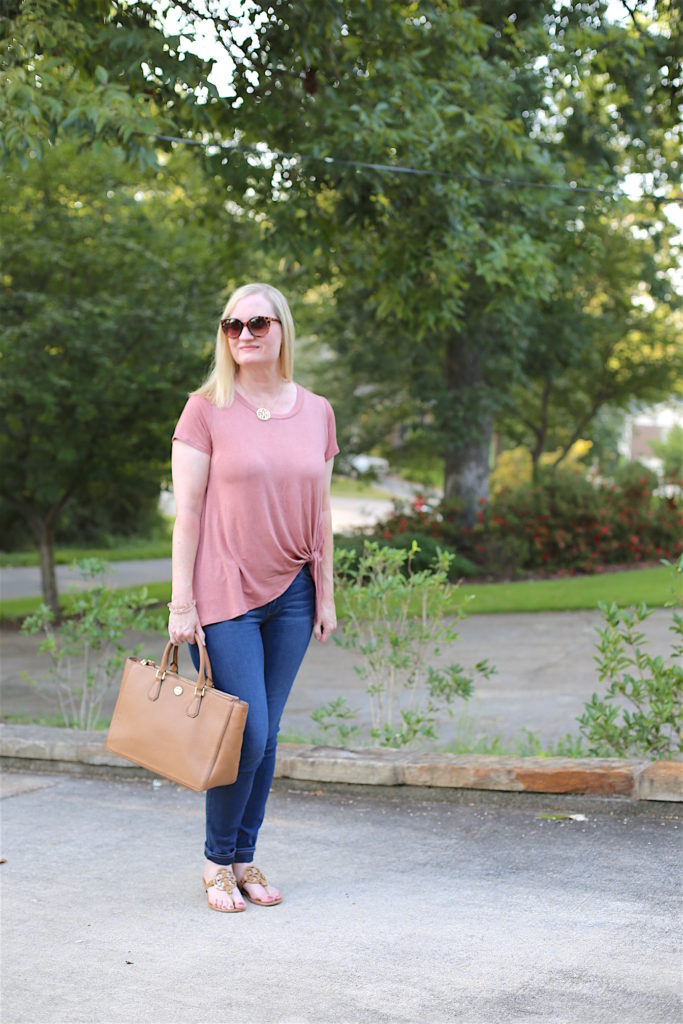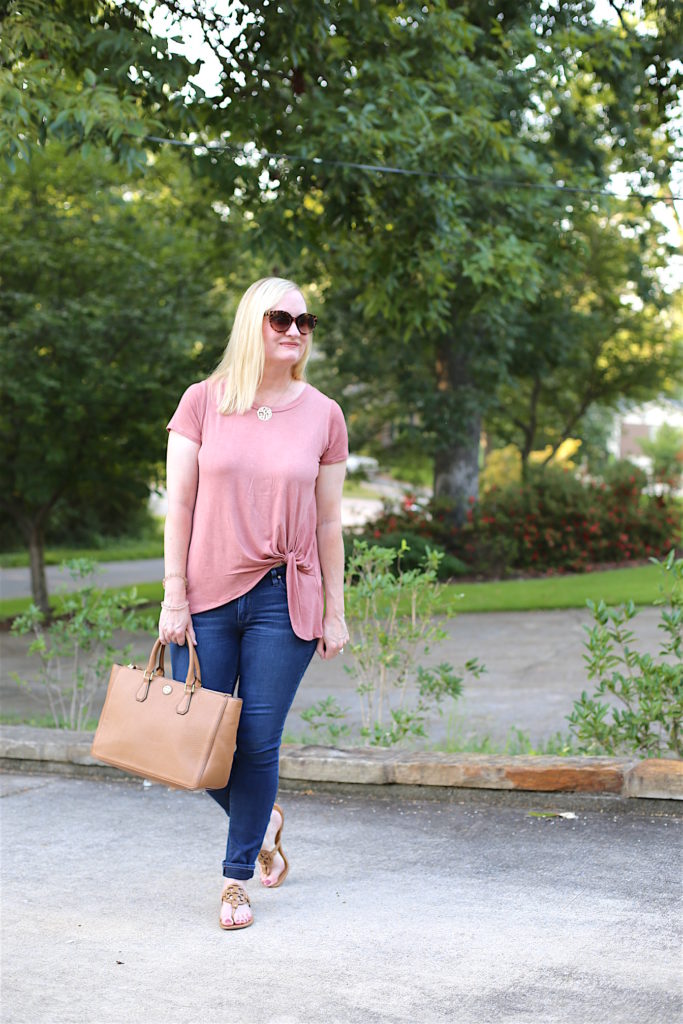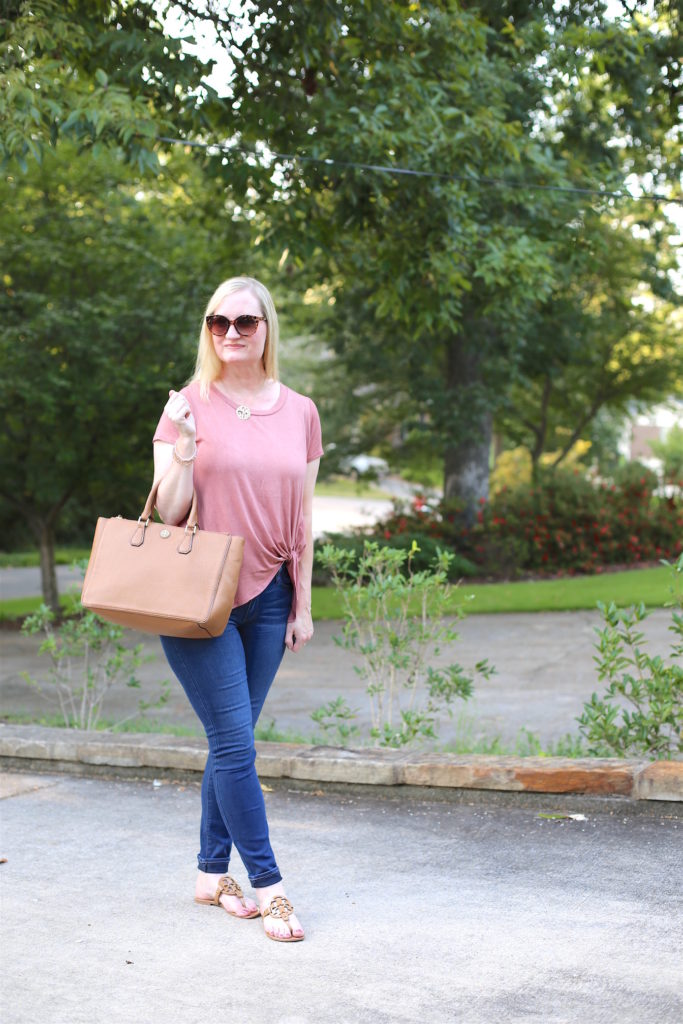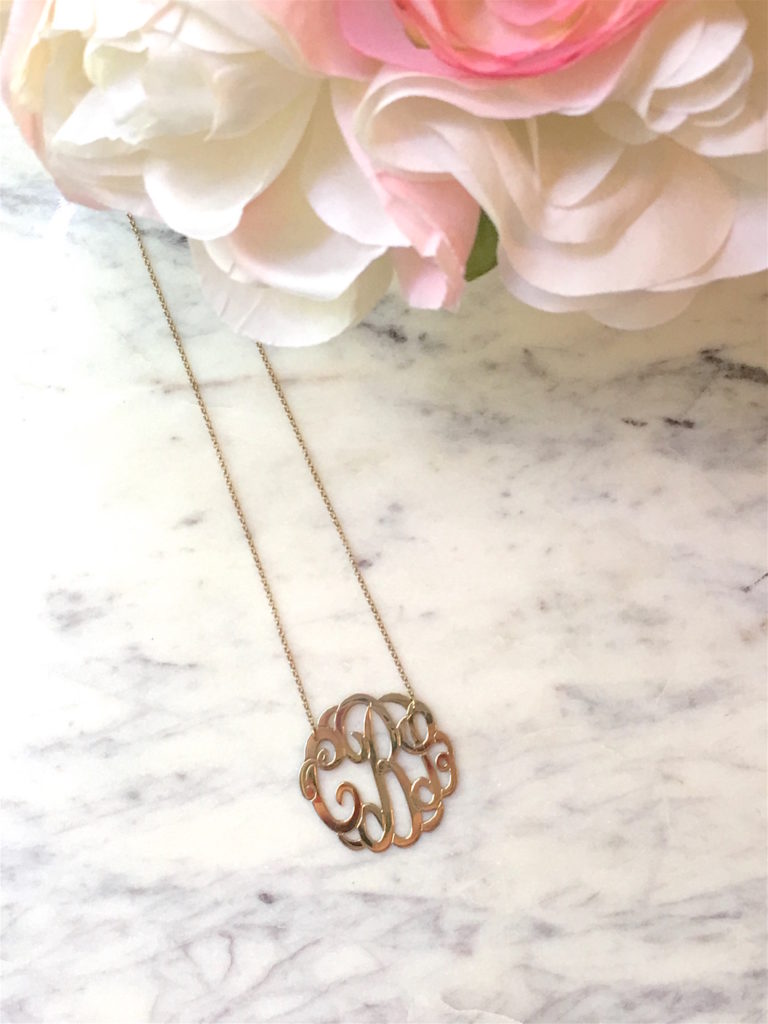 Outfit Details:
twist front tee (similar, similar)
sunglasses
personalized initial necklace
skinny jeans
Tory Burch Tote (similar, similar, similar)
Tory Burch sandals
I'm SO ready for Fall, are you?  Here in the southern states, it gets hot in May and stays hot and humid until about the end of September.  A lot of my blogger friends who live elsewhere are already experiencing cooler temperatures, so they are able to start wearing their Fall outfits.  I thought I would change up my outfit posts and feature an early Fall outfit, a preview to what I'll be wearing in the Fall.  I'll be adding this dusty rose twist tee to my Fall capsule wardrobe.  I found it at the same boutique that I bought the top in this outfit.  When it gets cooler outside, I plan on wearing this top with a cardigan, utility jacket and my utility vest.
So, on to the rest of my outfit.  I've had these Paige Verdugo skinny jeans for a few years and they are one of my favorite pairs of jeans.  The stretchiness of the denim material gives, but it holds it's shape all day.   I've had these Tory Burch Miller sandals since last year and I've worn them so many times this summer!  Between these sandals and my Jack Rogers sandals, that's about all I've worn this summer since I started working at home.  They are a little on the pricey side, but they are worth it, as they are comfortable and rugged too.  This personalized initial necklace is new.  It came in the mail last week and I've already worn it several times.  It really makes a statement as I have received several compliments on it!
You may be wondering since I'm working at home now, what I'll be wearing in my Fall capsule wardrobe.  I'll be changing up the way I dress a bit.  I get to dress how I want, since I'm my own boss!  When I worked at my former job, I wore jeans about 2-3 days a week and casual pants and skirts the rest of the time.  Now, I'll be wearing mainly jeans and casual tops.  When Nordstrom had their anniversary sale a few weeks ago, I bought a few tops that I could wear either alone or underneath cardigans.  When the weather turns cooler, I'll be changing over to my Fall capsule wardrobe and will have a blog post on what's in my capsule.  There's more to come on my Fall capsule wardrobe!
I've already had several inquiries if the Stay At Home Mom capsule wardrobe eBook is ready.  It's almost finished and will be released sometime today!  I'll announce the release to everyone on my email list, in the Capsule Wardrobe Collective Facebook group and on the Classy Yet Trendy Facebook page.  There will be a preview post of the eBook here, tomorrow on the blog.
 You may like these blog posts:
How To Create a Core Closet
How To Create Outfits With a Core Closet
The 10-Item Wardrobe: Makes 48 Outfits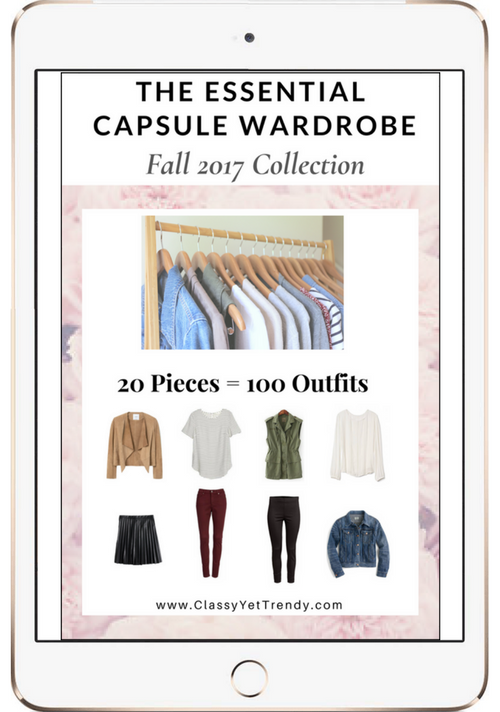 The two featured bloggers from the last linkup are:


1.  Please follow your Host 
2. Link up to 5 posts: 
it can be about fashion, style, beauty or lifestyle

(linkup to your blog post and not your main page)
3. Please include a link back to this post or place my linkup button in your post.
4.  Now, add your post(s) below!  I hope you enjoy the linkup and enjoy meeting other bloggers!
Each week I feature 2 bloggers from the previous link,
so link-up your blog posts for your chance to be featured!