10 Athleisure Essentials For Your Closet
In the past few years, athleisure has gained popularity. It has became acceptable to wear comfortable, stretchy clothes, that we would usually wear to the gym, anywhere anytime! Now, you can wear athleisure styles out to eat with friends or family, while you're running errands and shopping.
What Is Athleisure?
It is comfortable, casual clothing that can be easily worn for both exercise and for normal everyday wear. Athleisure is a style all its own, with common pieces such as leggings, hoodies, sweatshirts, tees and pullovers.
Who Can Wear The Athleisure Style?
Anyone can wear athleisure! Whether you are a stay at home mom, an active, fit woman, a college student or a retired woman, anyone who needs comfortable clothes for a casual lifestyle can wear athleisure.
Neutral Colors
As you are building your athleisure wardrobe, focus on items in neutral colors, like black, white and gray. These items will be the core pieces of your athleisure outfits, so if you have all neutral colors, they will all coordinate with one another!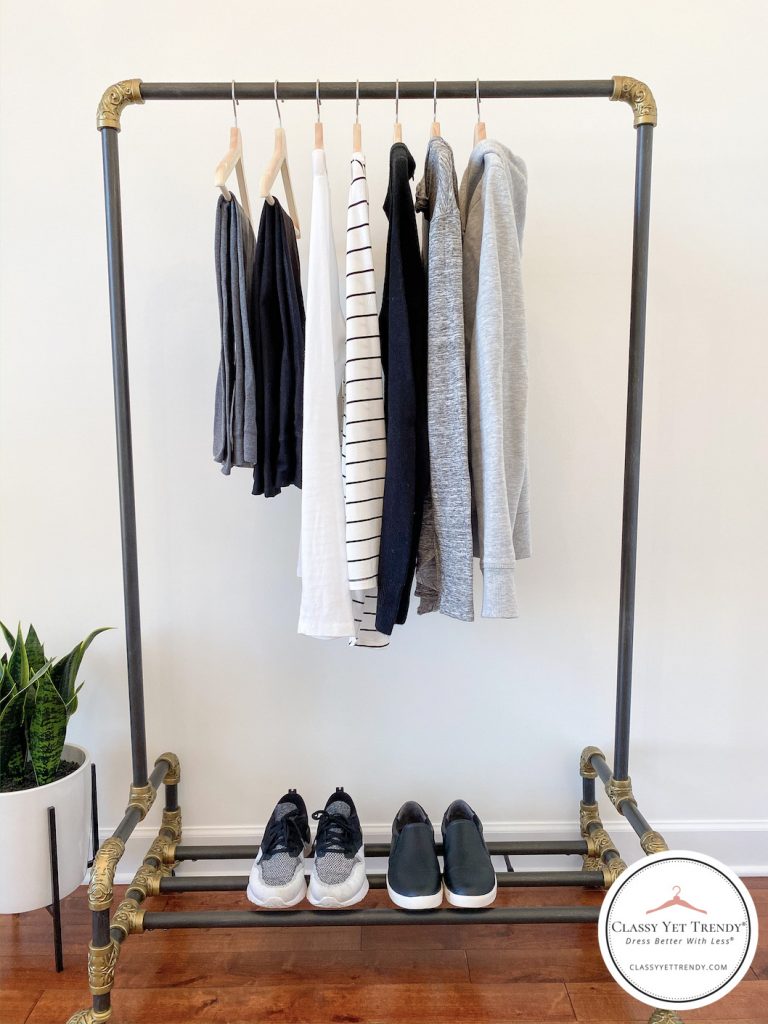 10 Athleisure Essentials
If you need to prep your closet for an athleisure wardrobe, you need to know which essentials to wear. Like with all wardrobes, your basic essentials are the building blocks that let you create many outfits.
Several of these pieces in this blog post are included in The Athleisure Capsule Wardrobe: Winter 2019 Collection!
You may also like:
How To Clean Out Your Closet
The 10 Item Wardrobe (Makes 48 Outfits)
9 Pieces / 10 Outfits (French Minimalist Style)
10 Ways To Look Expensive On a Budget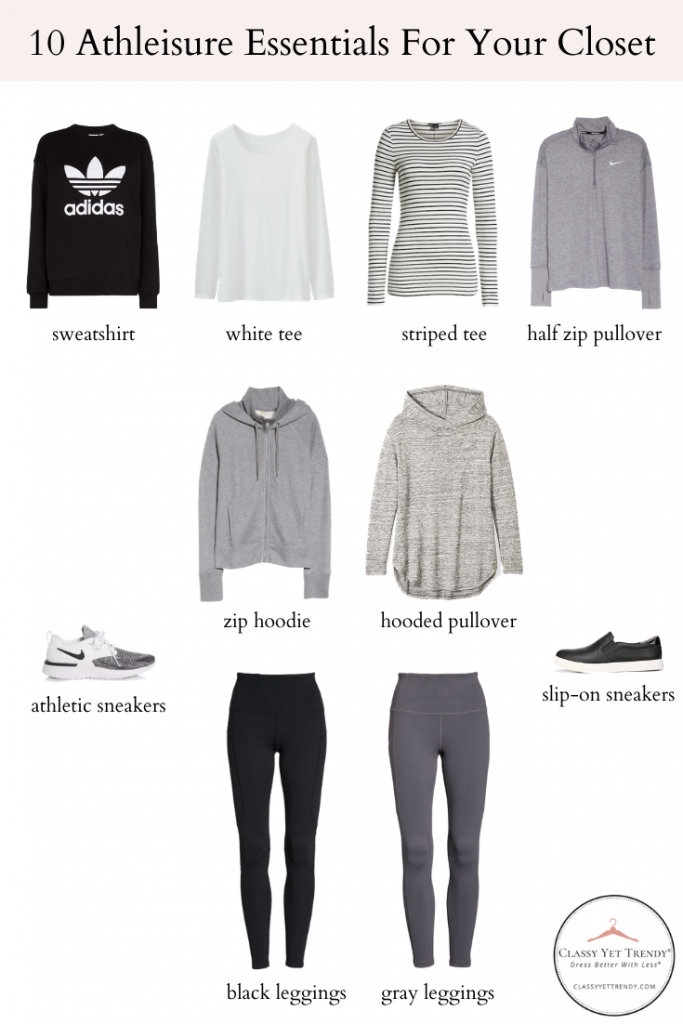 First Row:
Sweatshirt / LOVE this budget graphic sweatshirt! – A sweatshirt is one of the solid building blocks of an athleisure wardrobe. You can layer it by wearing a tee underneath (pull out the sleeves and bottom hem a bit so that they show) or wearing it underneath a jacket or coat.
White Long Sleeve Tee / budget – This basic essential is a necessity of an athleisure wardrobe! The solid white color coordinates with any color, plus it looks great wearing with your leggings. Wear it alone, add a layering piece over the tee or just add a jacket, vest or coat to keep warm. Be sure that the length covers your behind so that your outfits look proportional.
Striped Long Sleeve Tee / budget – This basic essential adds a pattern to your anthleisure outfits, but is still a neutral piece! Be sure that the length covers your behind so that your outfits look proportional.
Half Zip Pullover / budget – You can wear this piece alone or add your white or striped tee underneath for extra warmth and texture.
Second Row:
Athletic Sneakers / budget – Athletic sneakers in neutral colors are essential to an athleisure wardrobe. A pair with black, white and/or gray colors will coordinate with all your outfits.
Zip Hoodie / budget – A zip hoodie is a lightweight layering piece that you can wear nearly all year. Opt for a gray, black or white one.
Hooded Pullover / budget – This is perfect to wear alone, layered with a tee underneath or add a jacket or coat for warmth.
Slip-On Sneakers / budget – These shoes are great to wear and are a popular style!
Third Row:
Black Leggings / budget – Every athleisure wardrobe needs a pair of basic black leggings. Depending on your length preference and height, you can wear the 7/8 length or full length.
Gray Leggings / budget – Another neutral color for an athleisure casual wardrobe is a pair of gray leggings.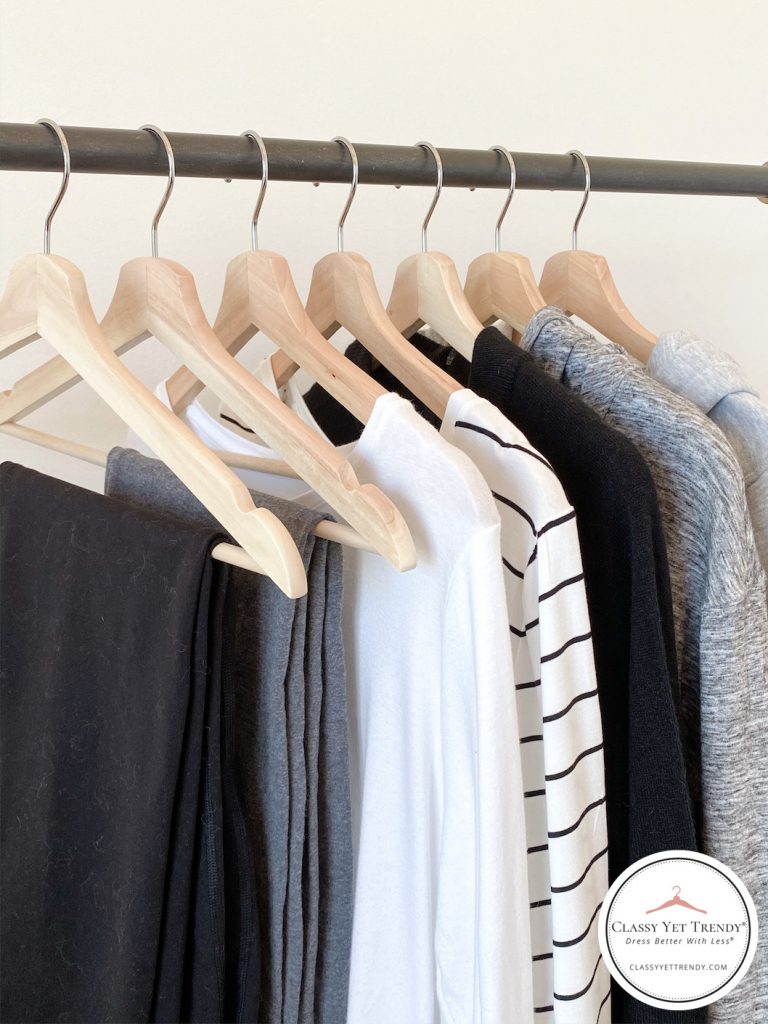 Can I Use Athleisure Style In a Capsule Wardrobe?
Absolutely! You can have a capsule wardrobe that only consists of athleisure OR mix in a few pieces to your regular capsule wardrobe! When you mix in a few athleisure tops, like a hooded pullover and a zip hoodie, you can wear those pieces with blue skinny jeans and skinny color jeans. If you add in a pair of black leggings to your capsule wardrobe, those will look great with your tees and tunic tops and sweaters! There are several seasons of Athleisure Capsule Wardrobes in the Capsule Wardrobe E-Book Store.
Expand Your Athleisure Wardrobe With Accent Colors
You can use all the pieces in this blog post as one wardrobe, or you can expand it using pieces in one or two accent colors. The mauve pink and blue combos work well, but you can also use other colors like purple, blush pink, mint green or turquoise!
Mauve Pink Combo
Add a mauve twist tee and a pair of mauve sneakers
Blue Combo
Blue short sleeve tee and a blue patterned leggings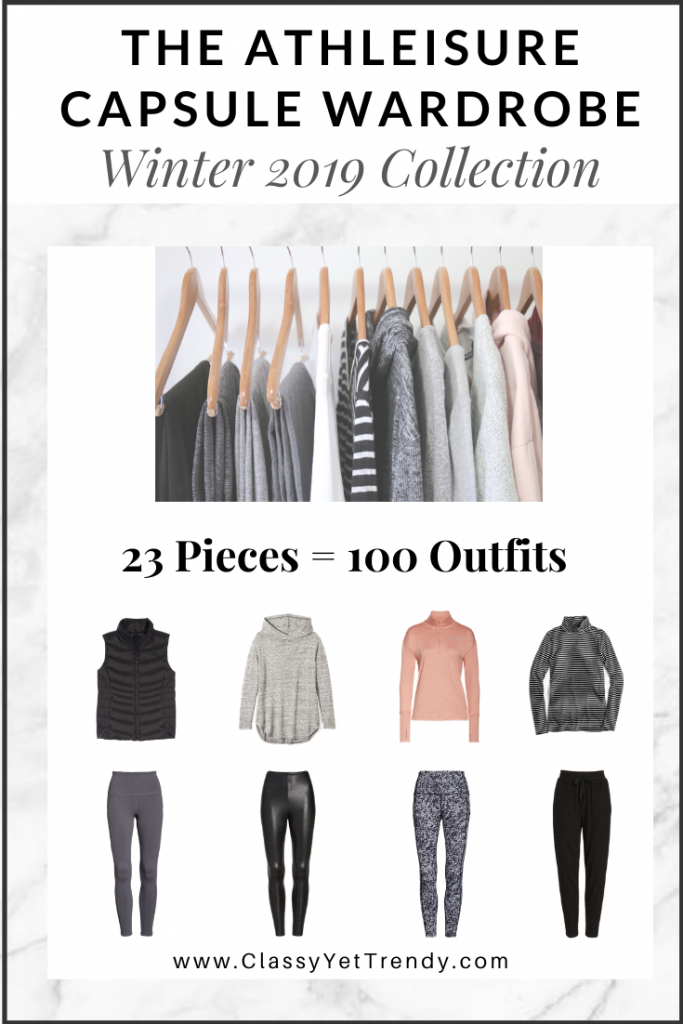 Shop The Post:
You may also like:
How To Start A Capsule Wardrobe: A 5-Step Visual Guide
How To Create a Core Closet
How to Build A Travel Capsule Wardrobe
Travel/Mini Capsule Wardrobe Ideas