Favorite Handbags Under $75 + Tips On Choosing a Bag For Your Outfits
A handbag is the perfect accessory to complete your outfits. When it comes to handbags, we can get a little overwhelmed at how many styles, sizes and designs there are! Where do we even begin? There's a tote, crossbody, satchel, hobo and clutch. In this post, I have found several bags and they are all under $75 (some are on sale).
Here's a few tips on choosing a bag to coordinate with your outfits:
1. Fits Your Personal Style: When buying a handbag, look at your personal style. See this post, "How To Find Your Personal Style". If your style is classic, you may want to skip the hobo or boho bag if you favor a structured handbag, clutch or crossbody.
2. Neutral Tone: If you buy a handbag in a neutral color, like black, taupe, gray or light pink, they will go with many of your outfits. If you have a lot of black in your wardrobe, you can any of these mentioned color tones. If you tend to wear navy in your outfits, then taupe, gray or light pink will coordinate well.
3. Functionality: Look at your lifestyle to see which bag you will need. If you need a bag to carry to work, you may need a tote for your laptop or iPad and/or notepad and planner. If you don't carry much in your bag, you may only need a crossbody. If you dress up a lot for your job, a structured handbag may be perfect for you.
4. Use More Than One: When it comes to handbags for your wardrobe, you may need more than one or several! Consider what events you attend, your errands to town, your children's school functions etc. You may need a tote, satchel, crossbody, hobo and a clutch!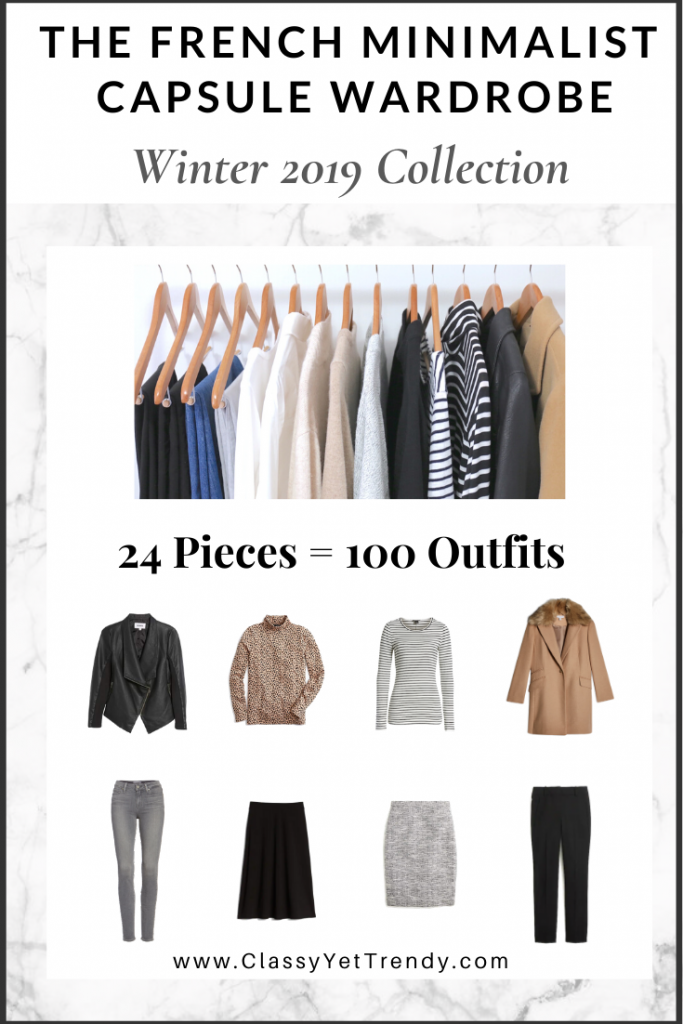 I found several gorgeous bags under $75 at a few retailers. For budget-friendly beautiful handbags, Aldo, Topshop (also at Nordstrom), DSW and H&M are great stores to shop!
You may also like:
Travel Light: 2 Weeks In a Carry-on (Winter Edition)
How To Clean Out Your Closet
10 Athleisure Essentials For Your Closet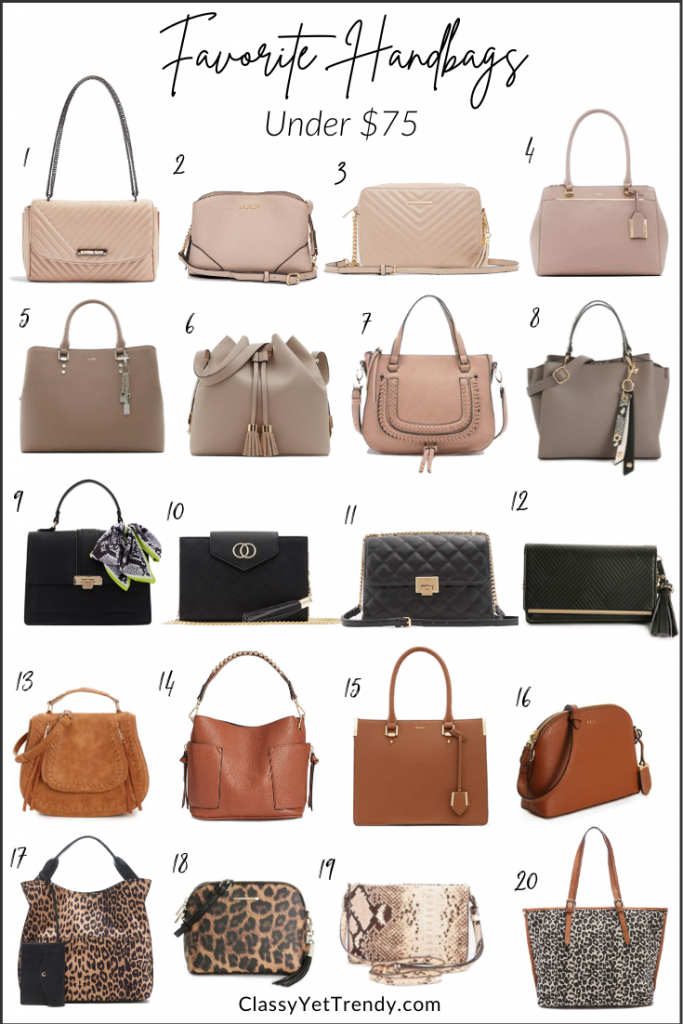 1. Pink Quilted Shoulder Bag
2. Jet Set Crossbody
3. Quilted Chain Crossbody
4. Pink Vegan Leather Handbag
5. Sigossa Tote
6. Shoulder Bucket Bag
7. Destin Crossbody
8. Viremma Satchel
9. Black Strap Handle Bag
10. Black Double Ring Bag
11. Black Quilted Chain Bag
12. Black Tassel Clutch
13. Khloe Crossbody Bag
14. Cognac Bucket Hobo
15. Cognac Tailored Tote
16. Cognac Crossbody Bag
17. Leopard Vegan Leather Suede Tote
18. Leopard Crossbody Bag
19. Reptile Pattern Vegan Leather Crossbody
20. Leopard Vegan Leather Tote
Shop The Post:
More Handbags:
Which bags are your favorites?
Do you carry only one bag or do you like to change them up with your outfits?
You may also like:
How To Create a Core Closet
How to Build A Travel Capsule Wardrobe
How To Dress Like a French Woman
How To Start A Capsule Wardrobe: A 5-Step Visual Guide