10-Piece Spring Minimalist Capsule Wardrobe
Spring is the season that we dress light, but we still need to wear layers for the cool temperatures. Are you currently using a capsule wardrobe for your closet or want to start one? I have had a few questions from readers regarding how to try out a capsule wardrobe. What better way to try a capsule wardrobe than with one that has just a few pieces, so that it is easy to pull outfits together!
I created this 10-Piece Spring Capsule Wardrobe for our trip to Mobile, Alabama and Pensacola, Florida last week. While the gulf coast had warmer temperatures, it was still breezy and slightly cool.
What's great about this 10-piece capsule is that it can be a Spring capsule wardrobe for your closet, so you can wear these outfits everyday, OR it can be a 5-day, 6-day or 7-day Spring travel capsule wardrobe!
There are 3 tees, 1 short sleeve shirt, a utility jacket, 3 pairs of jeans, sandals and sneakers in this capsule. The base color of this capsule is BLACK, but you could also use NAVY as the base color and subsitute a navy tee for the black tee and navy pants for the black jeans. One of the tees is a blush color, but you could certainly substitute it for a gray tee or another color, like blue, olive, red, yellow, etc.!
This minimalist capsule uses a few pieces from Simplified Style®: A Year-Round Core Closet Essentials Capsule Wardrobe! It is a complete starter kit of all the neutral-color basic essentials for a capsule wardrobe and core essentials for your closet.  These clothes and shoes are the building blocks in creating a mix and match capsule wardrobe.  I use a few of the pieces in this eBook to create the wardrobe plans in each of the seasonal capsule wardrobe eBooks!  The Simplified Style eBook includes shopping sources each for Regular, Plus and Petite sizes, plus over 400+ outfit ideas for all the seasons.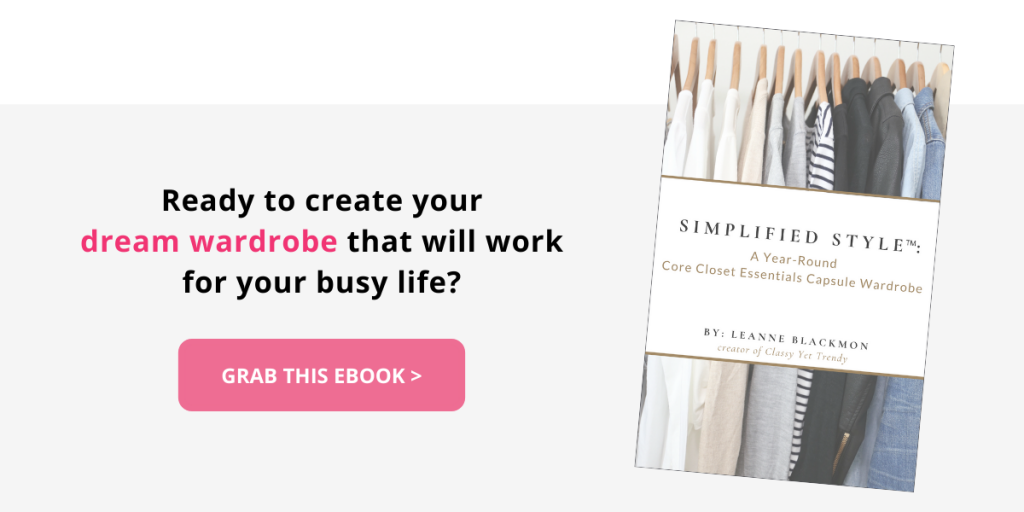 Now, onto the capsule…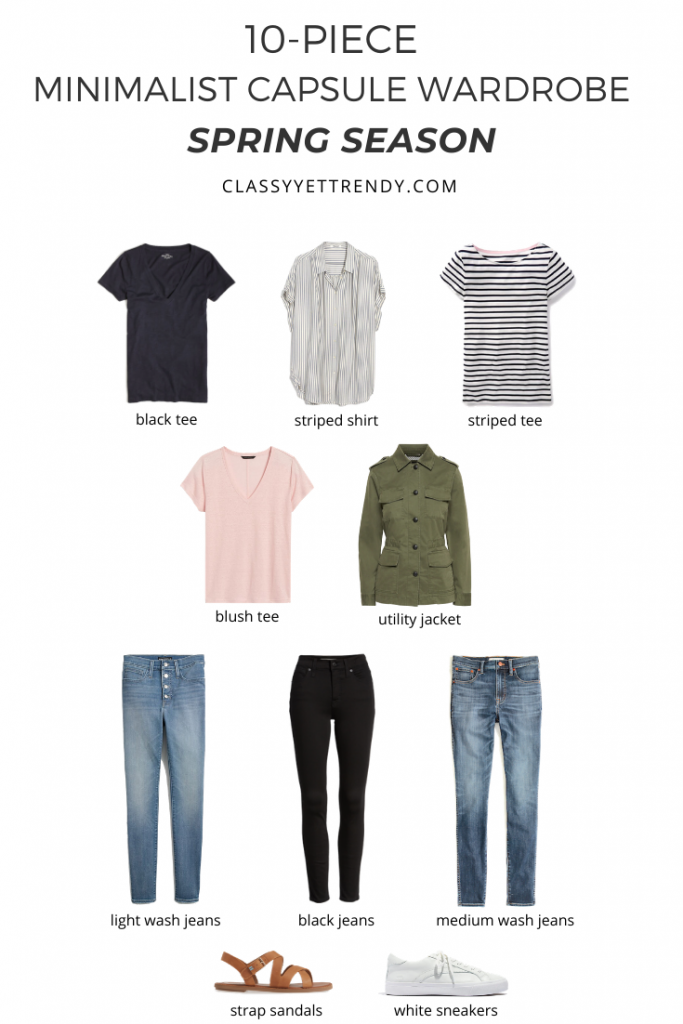 Clothes & Shoes
1st ROW:
black tee (investment / budget)
striped shirt (similar) (investment / budget)
striped tee (investment / budget)
2nd ROW:
blush tee (investment / budget)
utility jacket (similar) (investment / budget)
3rd ROW:
light wash jeans (investment / budget)
black jeans (investment / budget)
medium wash jeans (investment / budget)
4th ROW:
strap sandals (investment <- I own & love these! / budget)
white sneakers (investment <- I own & love these! / budget)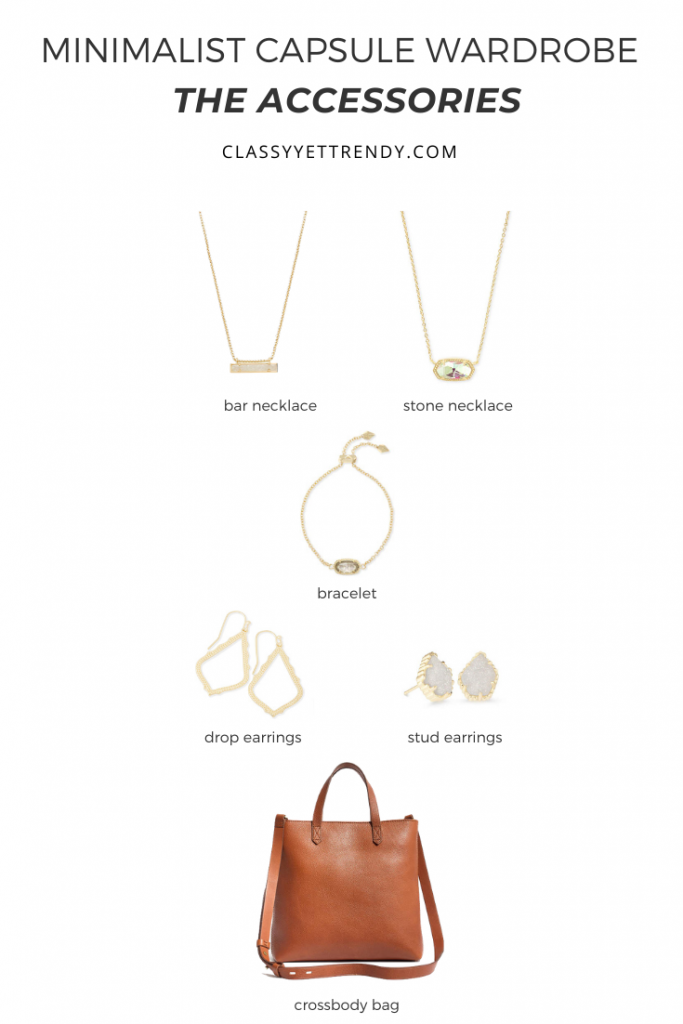 From Top To Bottom:
Drusy Bar Necklace / Dichroic Glass Stone Necklace
Clear Glass Stone Bracelet
Gold Drop Earrings
Drusy Stud Earrings
Madewell Transport Crossbody Bag
The Accessories
For the jewelry, I added 2 necklaces, 1 bracelet and 2 pairs of earrings. Since they are all gold-tone pieces, they all can mix and match to create different looks. I added the Madewell Transport Crossbody Bag, which is so versatile! You can wear it as a shoulder bag, drape it over your shoulder as a crossbody and you can also carry it by the handles. Since it zips across the top, it is a great travel bag too. I have had this bag for about 4 years now and clean it once a year with leather cleaner. I absolutely love this bag and carry it with me often when I travel.
The Outfits
This 10-Piece Minimalist Capsule Wardrobe will make 24 outfits! You could also add 1 or 2 more tops and/or bottoms in black, white or gray to make even more outfits!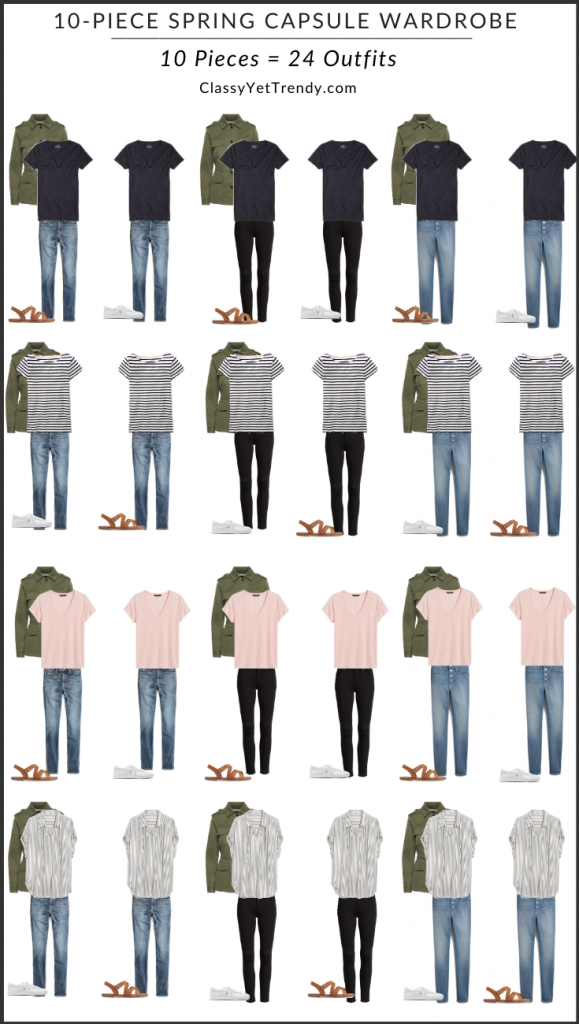 Are you using a capsule wardrobe
to get dressed quickly everyday and have an organized closet?
Do you use currently use a minimalist capsule wardrobe?
Add your comment below…
Shop The Post: