Minimalist Summer Vacation Capsule Wardrobe – Outfits & Beach Essentials
The Summer weather is here and several of us are going to the beach! If you use a capsule wardrobe, chances are you like to pack clothes for your vacation that coordinate and can mix and match. What clothes do you carry that will save space in your suitcase, but at the same time so you can have several outfits you can wear?
In appreciation of all the readers of the blog and capsule wardrobe eBooks customers, I created a Freebie for you! A Minimalist Summer Beach Vacation Capsule Wardrobe that you can use on your next vacation and when you go to the beach (or the pool)! This capsule includes several tops and bottoms, plus two mix and match swimsuits and 2 dresses that you can use both as everyday dresses and cover-ups!
Several of the tops and bottoms are also in the Simplified Style® The Dressy & Casual Collection: striped tee, solid tee, solid shorts and denim shorts. The Simplified Style® capsule includes all the core closet essentials you'll need for building a capsule wardrobe that you can use year-round!  All the core closet essentials are neutral colors so you can easily wear them with the seasonal capsule wardrobe collections!  In Simplified Style® The Dressy & Casual Collection, there are chapters for each season of the year, each with its own wardrobe plan, over 450+ outfits for all seasons, dressy and casual outfit calendars (so you always know what to wear), plus more!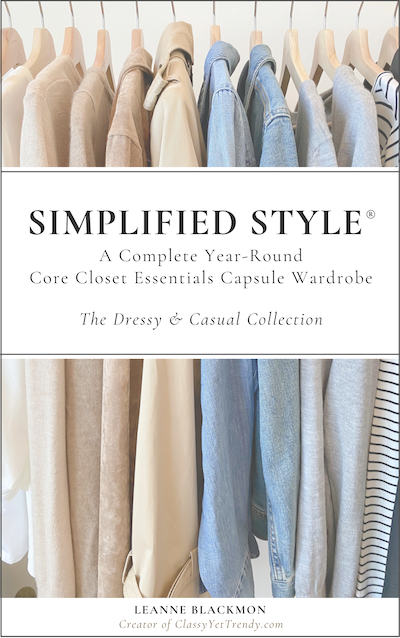 The Base Color for this capsule is Navy, but you can also have Black as your base color! To have a black base color, just swap the navy tee, navy striped dress and navy tank dress for ones with black. For the Beach Capsule, you can swap the navy 2-piece for a black 2-piece and swap the navy patterned 2-piece for a black patterned 2-piece.
Here are the tops, bottoms, dresses, shoes and accessories for the Everyday Outfits. Be sure to see the Beach Capsule and Beach Essentials below.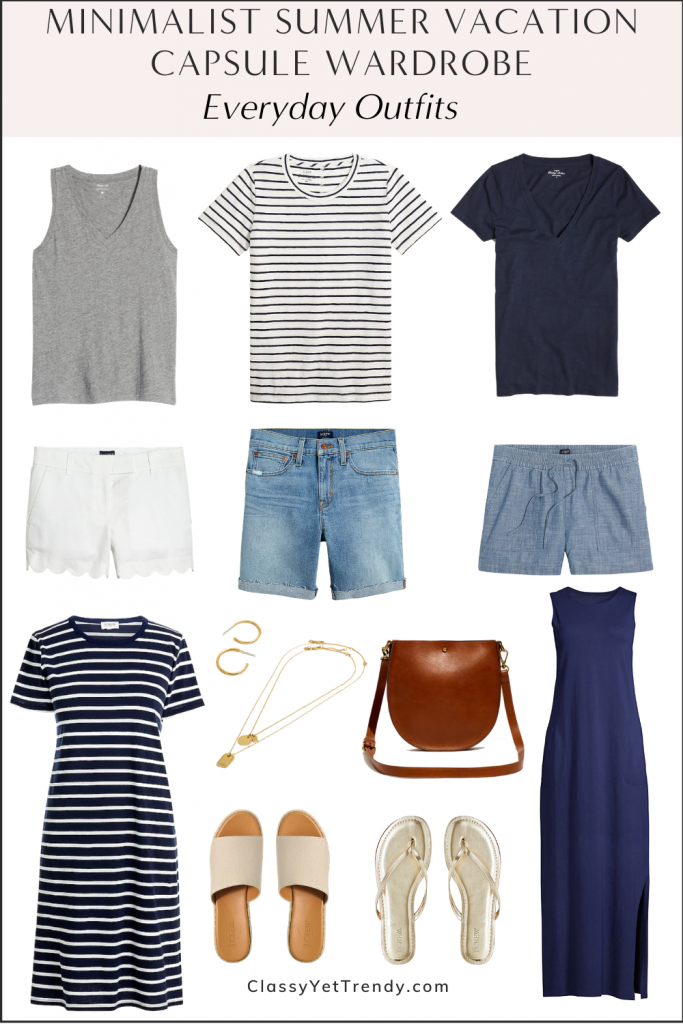 Everyday Outfits Capsule Details:
gray tank
striped tee
navy tee
white shorts
denim shorts
chambray shorts
navy striped dress
navy tank dress
espadrille slide sandals
gold thong sandals
hoop earrings
layered necklace you can wear them separately or together!
crossbody bag also comes in black!
Shop The Everyday Outfits Capsule:

Here are the outfit combinations for the Everyday Outfits. You can wear these outfits while sightseeing, going out to eat, shopping or hanging out at the hotel or cabin!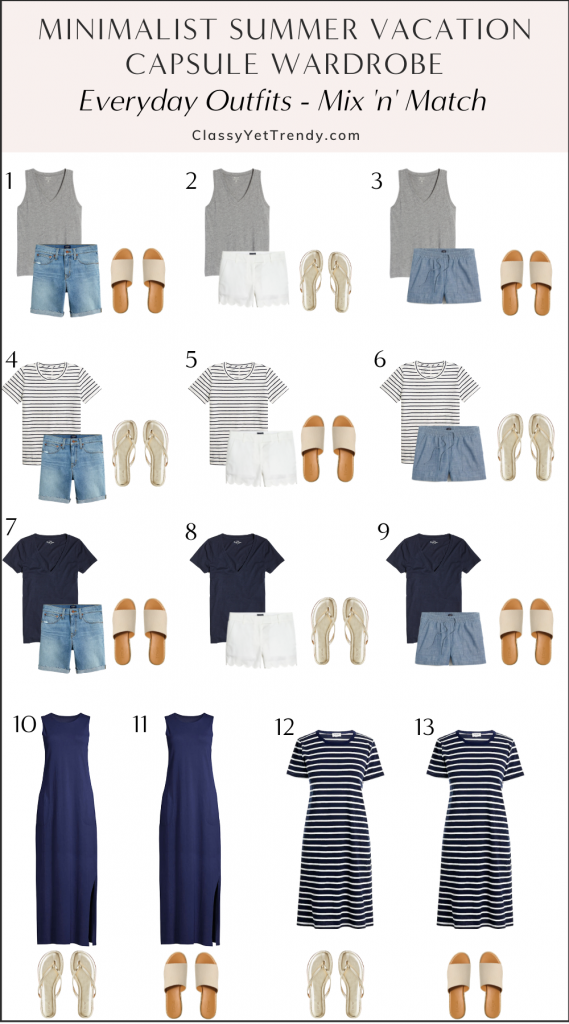 For the beach or the pool, here are 2 interchangeable swimsuits, plus dresses you can also use as cover-ups! Also included are a sun hat, sunglasses and beach tote.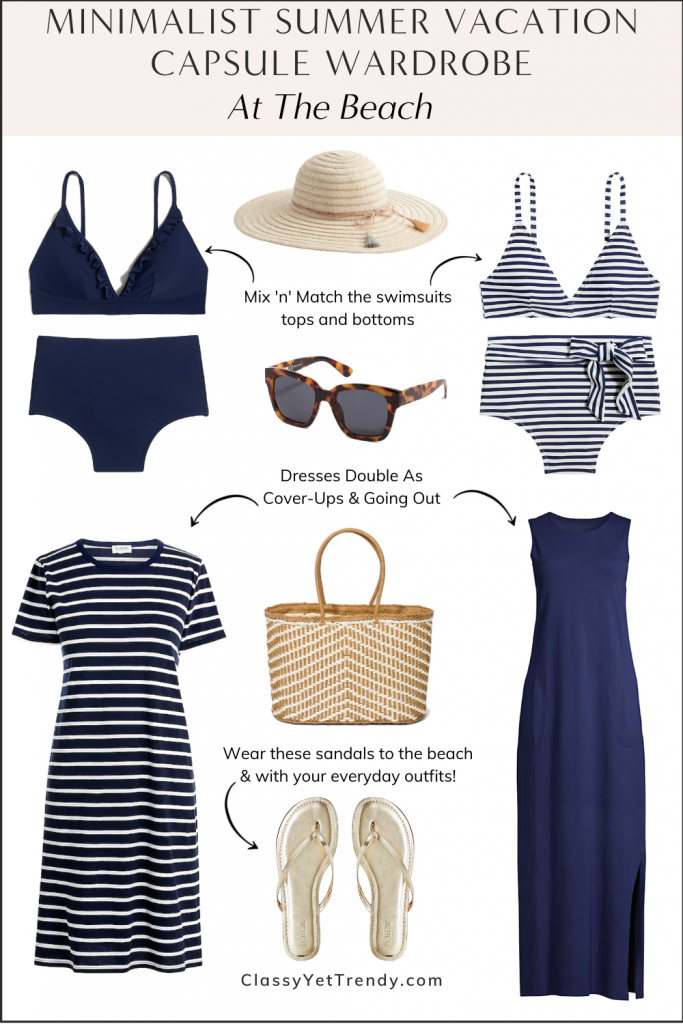 Beach Capsule Details:
navy solid 2-piece swimsuit: french bikini top & high waist bottom
navy pattern 2-piece swimsuit: striped french bikini top & striped high waist bottom
navy striped dress
navy tank dress
sun hat
sunglasses
beach tote
gold thong sandals
Shop The Beach Capsule:

Here are the mix and match combinations for the Beach Capsule…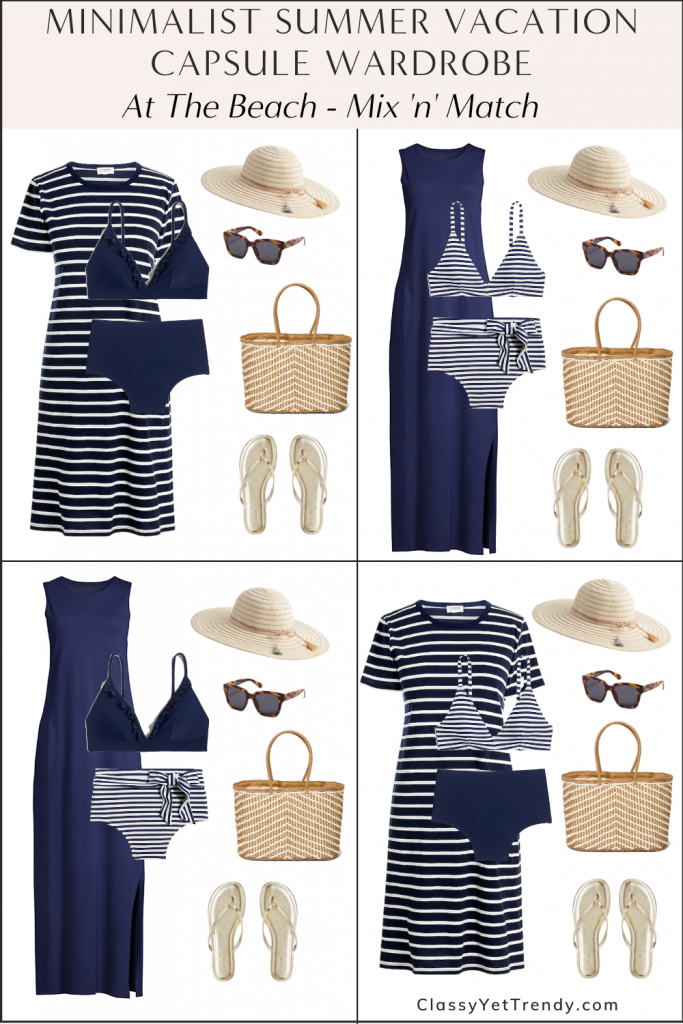 Don't forget the Beach Essentials, like Body Sunscreen and Face Sunscreen, lip balm (my favorite!) to keep your lips from getting chapped and an Insulated Non-Spill Water Bottle (I love Yeti products!). Use a Quick-Drying Towel to dry off, a Weighted Outdoor Beach Blanket you can lay on the sand (and it won't blow away), a Beach Lounger and a Beach Umbrella! If you need a cart to carry your beach equipment in, this Collapsible Wagon is perfect!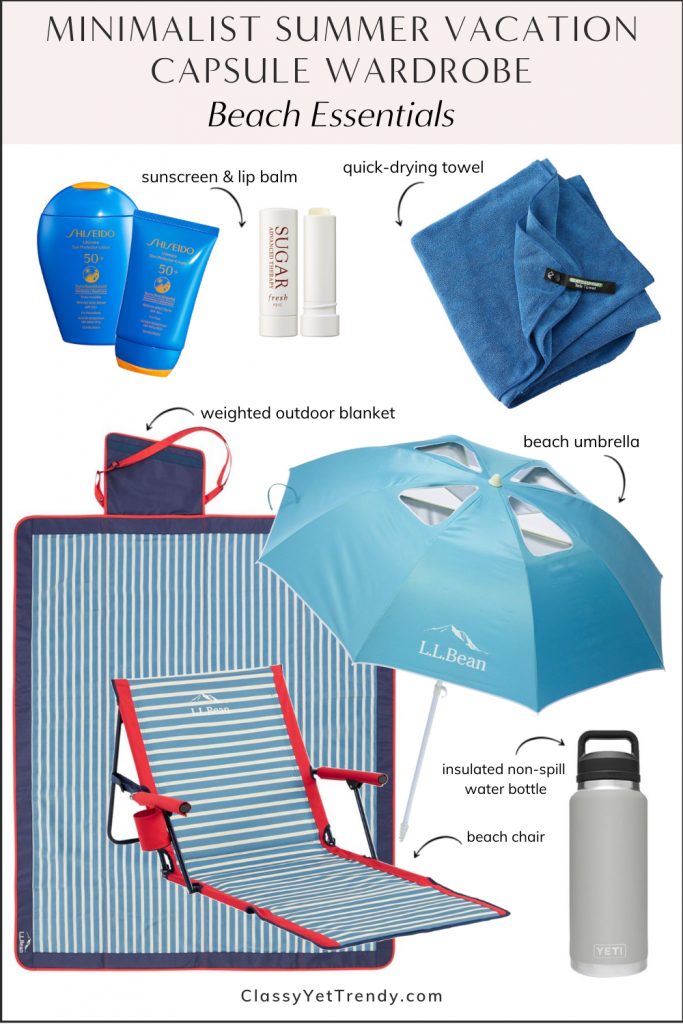 Shop The Beach Essentials:

Thank you for visiting this post! I hope you all enjoy the capsule wardrobe!
A Bit Of Inspiration For Your Day:
"Be still, and know that I am God; I will be exalted among the nations, I will be exalted in the earth." – Psalm 46:10