2 Ways to Wear Metallic Flats: Casual and Dressy
Thank you to Nordstrom and rewardStyle (LTK) for sponsoring this post. As always, all opinions are my own.
For a few weeks now, I have been wearing outfits from my Spring capsule wardrobe. I have five pairs of shoes in my capsule, which includes a pair of cognac mules, beige loafers, navy flats, white sneakers and beige ballet flats. You can see everything in my Spring capsule wardrobe here.
When I was putting together one of the Spring 2022 season capsule wardrobe collections, I stumbled upon these Sam Edelman Marisol flats in the metallic "champagne" color. I have always wanted a pair of metallic flats and when I saw these shoes I knew I had to have them! They are very similar to my beige ballet flats in my capsule wardrobe. The metallic sheen makes these shoes a statement piece in outfits, plus the neutral color coordinates with many tops and bottoms! I replaced the beige flats in my capsule wardrobe with these metallic flats and have already worn them several times already, since they are so comfortable!
For size reference, I am 5'9″ in height and have an hourglass body shape. For tops, I typically wear a size Medium, but size up to a Large sometimes, depending on the brand and style of the top. For bottoms, my normal size is a size 10 / 30 waist. My shoe size is a 9 medium width. For outerwear, I wear mostly a size Large, but if it is an oversized style I will size down to a Medium.
Here are the Sam Edelman Marisol Metallic Champagn flats (click on the image to shop):

Nordstrom is one of my most favorite stores and I look there first when I need anything for my closet! I especially love all the name brands that Nordstrom carries (see their extensive Brands List here), like AG, Madewell, UGG and Tory Burch, just to name a few. They even carry their own Nordstrom-Made Brands, which are unique styles which you can buy only at Nordstrom! I have bought many pieces of their Nordstrom-Made Brands, like Caslon, Halogen, Treasure & Bond and my most-favorite athleisure styles from Zella. Nordstrom also has free shipping and free returns so there is no risk to shop there!
Here are 2 ways to wear the Sam Edelman Marisol flats in the metallic "champagne" color: casual and dressy…
Casual Outfit
A casual way to wear the Sam Edelman metallic flats (true to size; I'm wearing size 9)are with this navy striped tee (similar), white jeans (similar) and this green jacket.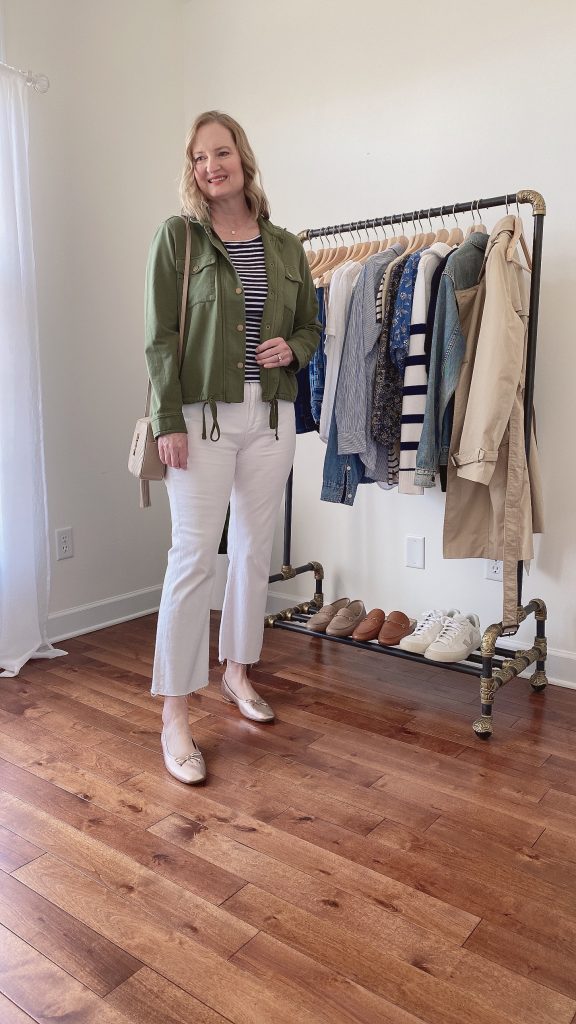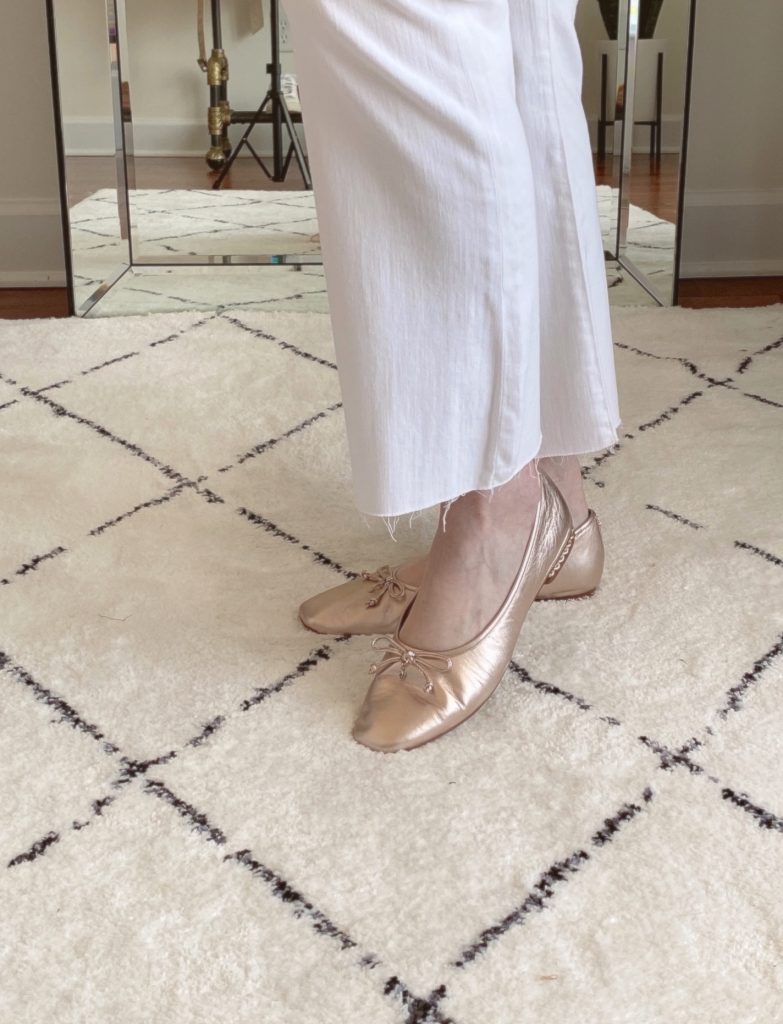 Navy Striped Top – My exact Caslon navy striped top was so popular that it sold out before I could post these photos, but I also love this split neck striped top and this navy striped henley top! Here are a few other navy striped tops to shop:

White Jeans – I have had these AG White Jeans (similar) (size 30) for several years and I love wearing them! White jeans look great when you add colors with them like navy and green like I'm wearing below. Here are a few white jeans I recommend from Nordstrom:

Green Jacket – I bought this Caslon Organic Cotton Soft Jacket in the "green sorrel" color (size Medium) for my Spring capsule wardrobe and have worn it so many times already! It is SO SOFT and I love the relaxed, yet elevated casual style. The color is a clover green, which is a rich color tone of green. Here are several green jackets at Nordstrom you may like: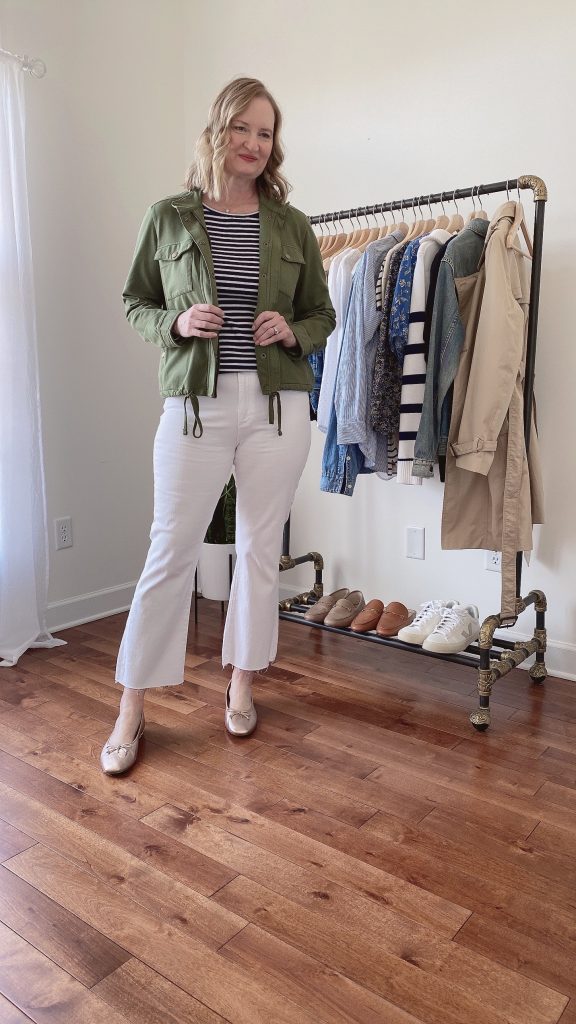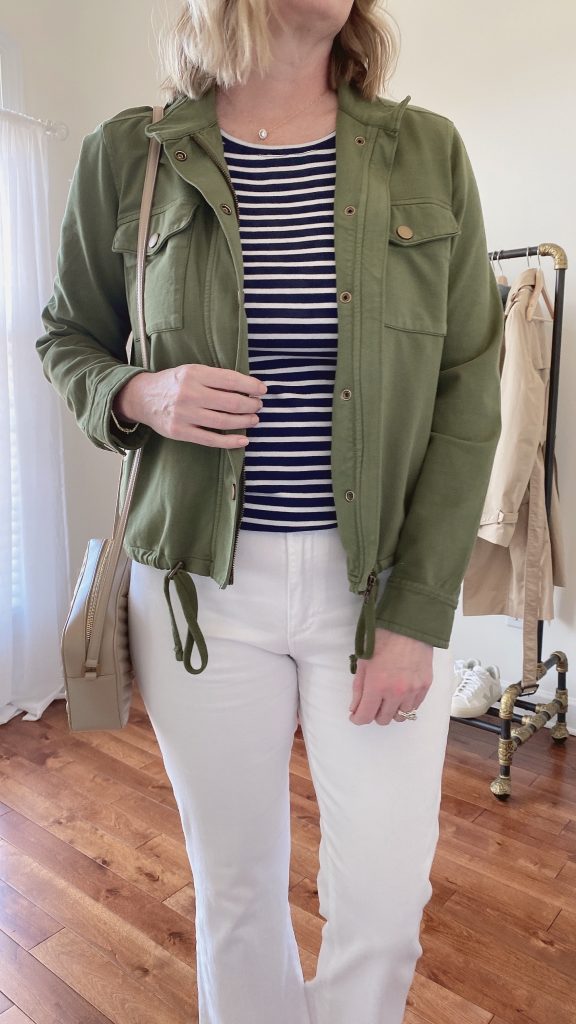 Dressy Outfit
Here is a way to wear this Chaus V-Neck Belted Midi Dress in the "navy" color if want to look dressy, but if you don't want to wear heels…wear ballet flats!
Navy Dress – I have been needing a solid navy dress in my closet and I found one that is perfect! This is the Chaus V-Neck Belted Midi Dress in the "navy" color (size Medium). It also comes in a beautiful green color! The material is flowy and moves with you. I love that this style of dress can be worn slightly dressy, like with the Sam Edelman metallic champagne flats below, dressy to an event with heels and blazer or casually with casual sneakers and a denim jacket!
Bag – Did you know that Nordstrom sells designer bags? I bought this YSL Lou Camera Bag in the "beige" color last year from Nordstrom and it's my most favorite bag! It's small enough to go with you everywhere and yet it holds a lot! I can fit my small wallet, my zip pouch where I keep my keys and lipstick, my large cell phone and a pack of mints!
Jewelry – Nordstrom sells jewelry with a wide variety of price ranges. I have been wearing this CZ Gold Pendant Necklace, CZ Gold Earrings and CZ Gold Tennis Bracelet since last year and are my favorite minimalist style jewelry.
I was going to add a jacket over this dress, but wanted to show how pretty this dress is by itself with neutral shoes and accessories. I'm so glad I bought this dress, since it is one of those dresses that you can wear years to come and it will still be in style.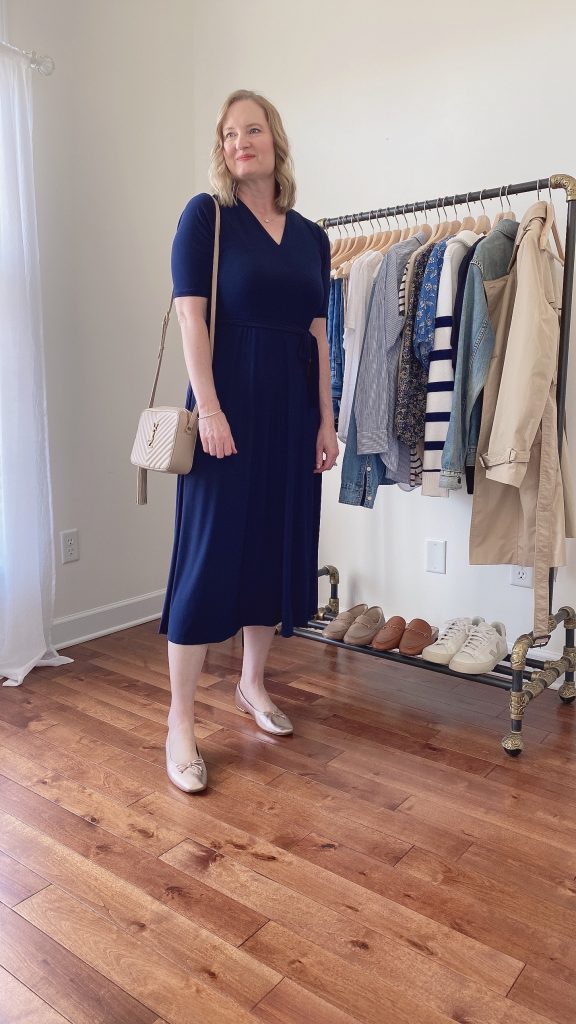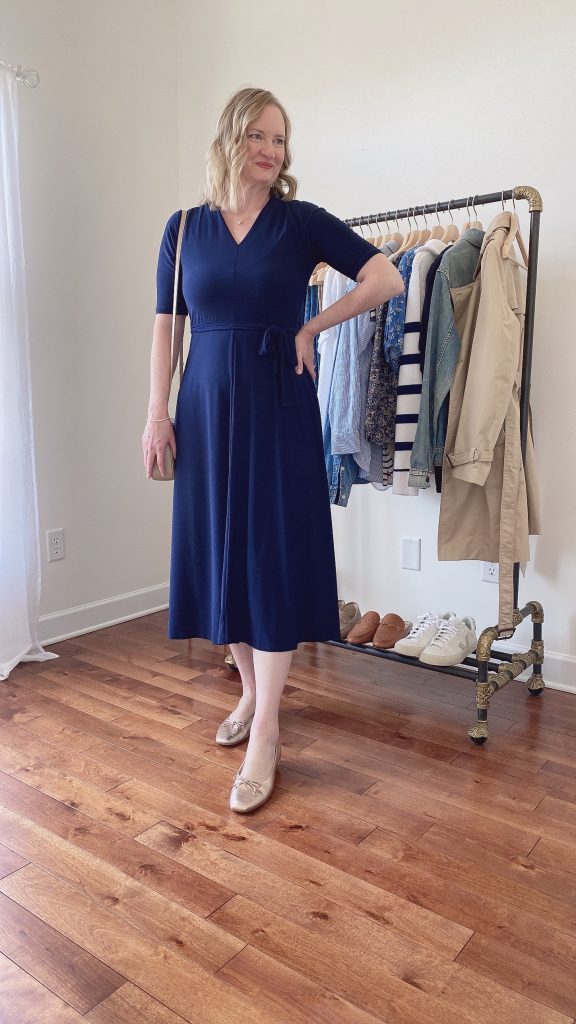 Shop The Dressy Outfit:

More Navy Dresses:

I hope you enjoyed this post and thank you for visiting the blog! ❤️