My Spring 2022 Classic Neutral+Color Capsule Wardrobe
See how I created a neutral + accent colors capsule wardrobe, which includes tops, bottoms, layers and shoes, based on the Simplified Style®: Dressy & Casual Capsule Wardrobe. I'm sharing everything in my own personal capsule wardrobe here on the blog.
For those of you that follow the Classy Yet Trendy blog, you know that I have been using a capsule wardrobe in my closet for several years. I absolutely love using a capsule wardrobe every season and by using a capsule wardrobe, I get dressed quickly and easily everyday. A capsule wardrobe is a small set of clothes and shoes, which all mix and match, so you can have dozens of outfit combinations. Using a capsule wardrobe lets you focus on more important things in your life and takes the stress away from getting dressed.
For the past year, I used only neutral colors in my capsules, using "black" as the base color. The first all-neutral capsule I created was my Spring 2020 neutral capsule wardrobe. For this Spring season, I am changing things up a bit by using "navy" as the base color, am still using my neutral foundation pieces, but I am also adding green and blue as accent colors!
Being that I work at home on Classy Yet Trendy, I wear casual clothes like jeans, casual pants, shorts and casual tops and layers. My job everyday consists of many duties: sitting at my desk, doing photo sessions of clothes and shoes, moving about creating flatlays for Instagram, etc., so dresses or skirts are not feasible for my work-week lifestyle. On Sundays, I do wear skirts and dresses to church, in addition to wearing outfits from my capsule wardrobe since everyone dresses casual at our church.
Living in Alabama, our Spring season starts early. The temperatures start changing around the middle of February, with a mix of cool and warmer temperatures. Then, in March, the weather consistently warms up. I receive many questions from readers throughout the year about when to swap out their next season capsule wardrobe. I recommend when the temperatures start changing consistently to the next season is the time to swap your capsule wardrobe. Nothing is set in stone, so when you feel like you want to swap your capsule wardrobe, feel free to do so with no official start date. If the weather turns cool or cold for a day after you swap out your capsule, you can always pull out a coat or jacket from your closet and wear it over your outfit.
I created my all-neutral capsule for my closet based on my eBook, the women's Simplified Style®: The Dressy & Casual Collection – A Year-Round Core Closet Essentials Capsule Wardrobe. In my Simplified Style® eBook, there are 400+ outfit combinations for the entire year, capsule collections for all seasons, outfit calendars and more!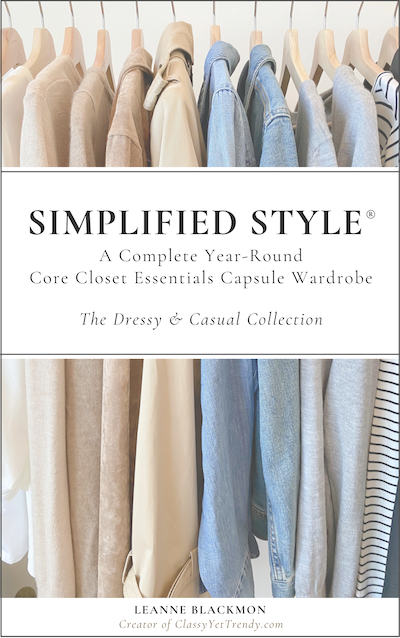 Why I Chose A Navy Base & The Accent Colors
Since I have been wearing "black" as the base color in my capsule wardrobes for over a year now, I thought it would be good to change things up a bit and wear "navy" this Spring! I love wearing black, but I also enjoy wearing navy too, especially in the Spring.
I have always included "blue", whether it was chambray or a light blue in my capsules, even when wearing neutral colors the past few seasons. Blue is my favorite color for clothes and I love wearing the color! I also like wearing green, so I thought I would add a pair of pants and a jacket in a pretty green color. Blue and Green are Earthy colors and since I love nature, and since I fall in the "Summer" color season category, I wanted to include those colors in my capsule.
I have been studying Color Theory for a few weeks now to learn more about color analysis and how to wear the best colors. I had a color analysis (and recommended) through Your Color Style in this blog post, but I found that there are too many color seasons in that program and it gets confusing (there are 12 color categories!). I'm learning more about color theory through the Color Me Beautiful color system. There are only 4 season categories and it is so easy to find out what season you are! You can take the Color Quiz here! I am a "Summer".
The capsule wardrobes I share from my own closet every season, are clothes that I have and enjoy wearing. Everyone has their own personal style as well as color preference in clothes. You are welcome to use my own capsule wardrobes as inspiration for creating your own! While I don't have a guide of outfits for my own personal capsule wardrobes, feel free to follow along on my Instagram account @classyyettrendy, where I share outfits I wear throughout the season, as well as outfit flatlays and outfit ideas!
If you need a complete wardrobe for the season, then you may enjoy using one of my "ready to wear" season capsule wardrobes available in the Capsule Wardrobe eBook Store!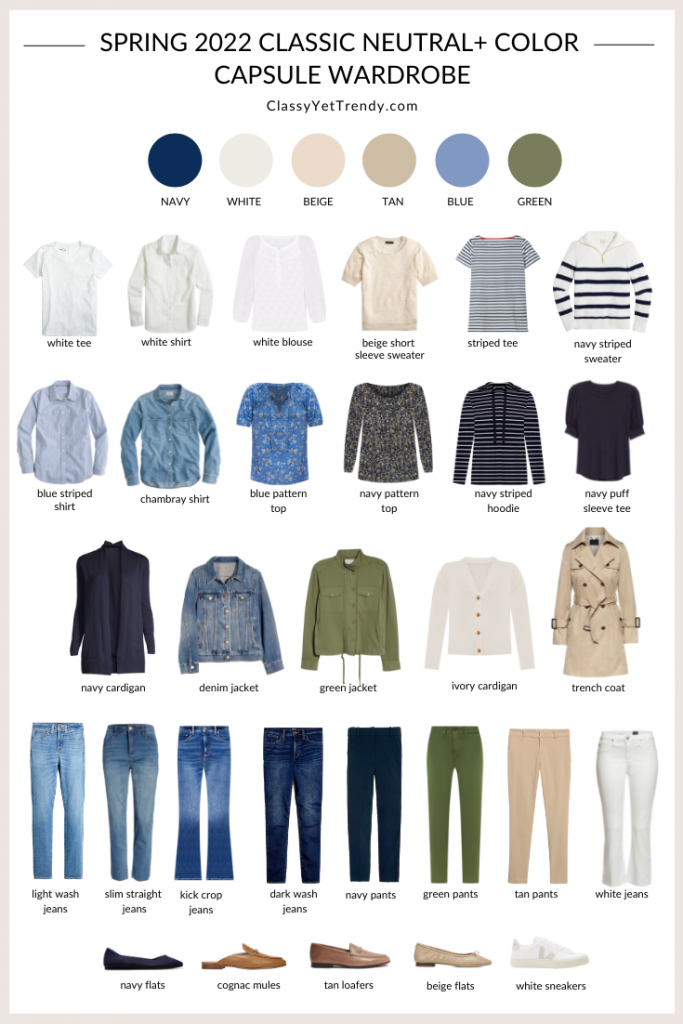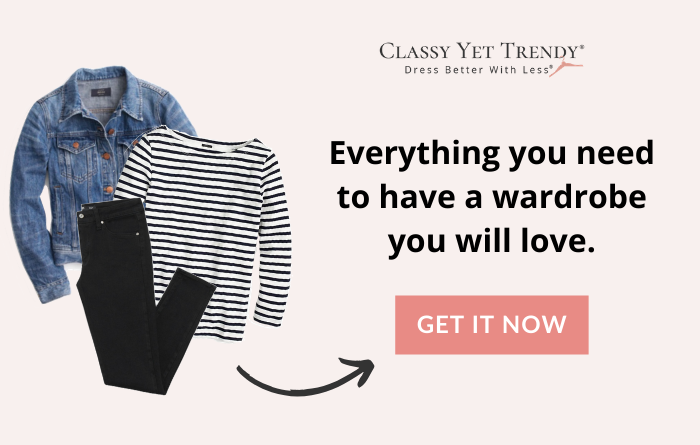 What Is Leanne's Personal Style?
My first and foremost favorite style is "Classic", which includes solid color tees, button-down shirts, ankle pants, jeans, cardigans, denim jackets, loafers, mules and flats. What is "classic" style? Classic style includes timeless designs that stand the test of time in mostly solid, neutral colors. I love the simplicity of classic style and I enjoy wearing this style the most.
How Did I Create This Capsule Wardrobe?
I created my own capsule wardrobe for my closet based on my best-selling eBook, Simplified Style®: The Dressy & Casual Collection. I also followed the 4 steps in my blog post, How To Start A Capsule Wardrobe: An Easy 4-Step Visual Guide to create my capsule.
Here is my color palette for my capsule wardrobe…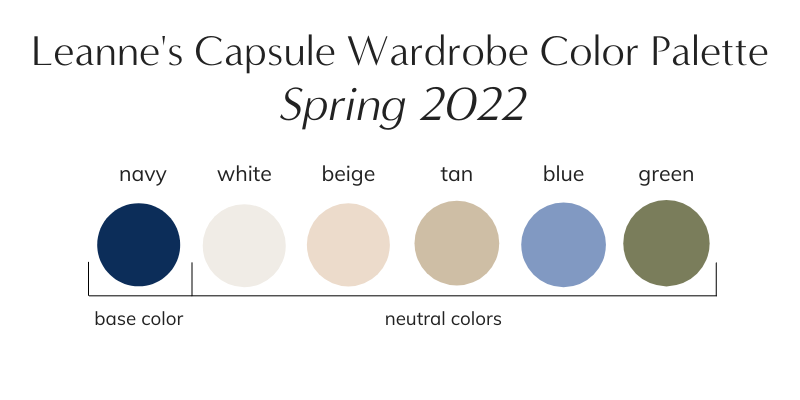 I chose NAVY as my base color. As I was creating my capsule, I selected a few tops and bottoms in navy, then built the rest of my capsule around those pieces.
What's In Leanne's Capsule Wardrobe?
Here's everything in my Spring 2022 Classic Neutral+Color Capsule Wardrobe. I keep my capsule wardrobe on my wardrobe rack in my Studio Room. If you follow me on Instagram (@classyyettrendy), you will see the wardrobe rack behind me when I take my mirror photos. I had kept my capsule wardrobe in our walk-in closet, but I found it is easier for me to access in in my Studio Room when I am working taking photos for Instagram. That's what's great about using a capsule wardrobe, because you can hang everything on a clothes rack and put it in any room!
For my Spring 2022 capsule, I included 30 tops, bottoms, layers and shoes.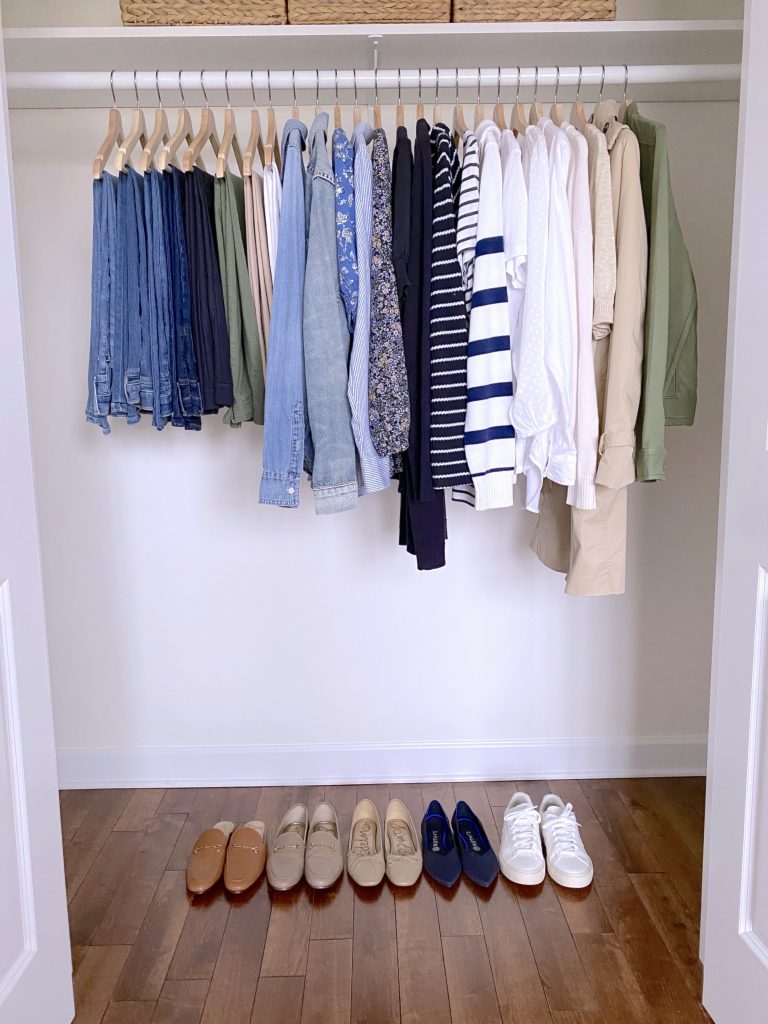 Every time I create a capsule wardrobe, I select my tops first, I guess it's maybe out of habit, but you can also start building your capsule by choosing bottoms or shoes first! To give you a visual of what a capsule wardrobe looks like on a clothes rack, here is what my capsule looks like on my clothes rack in my studio room…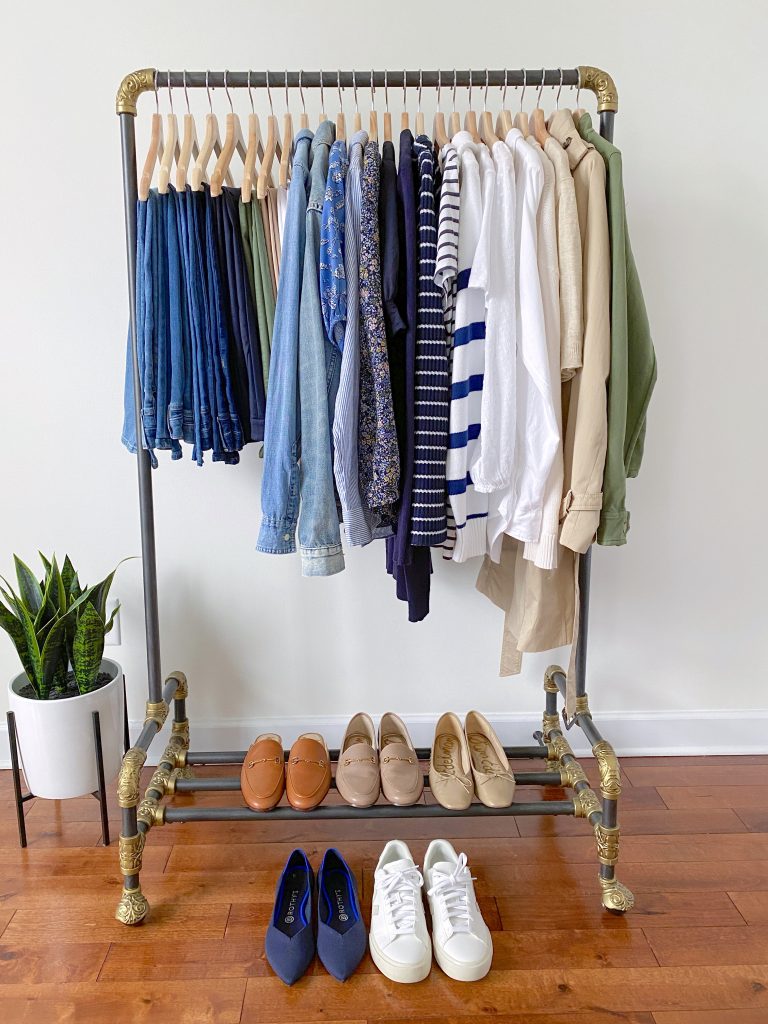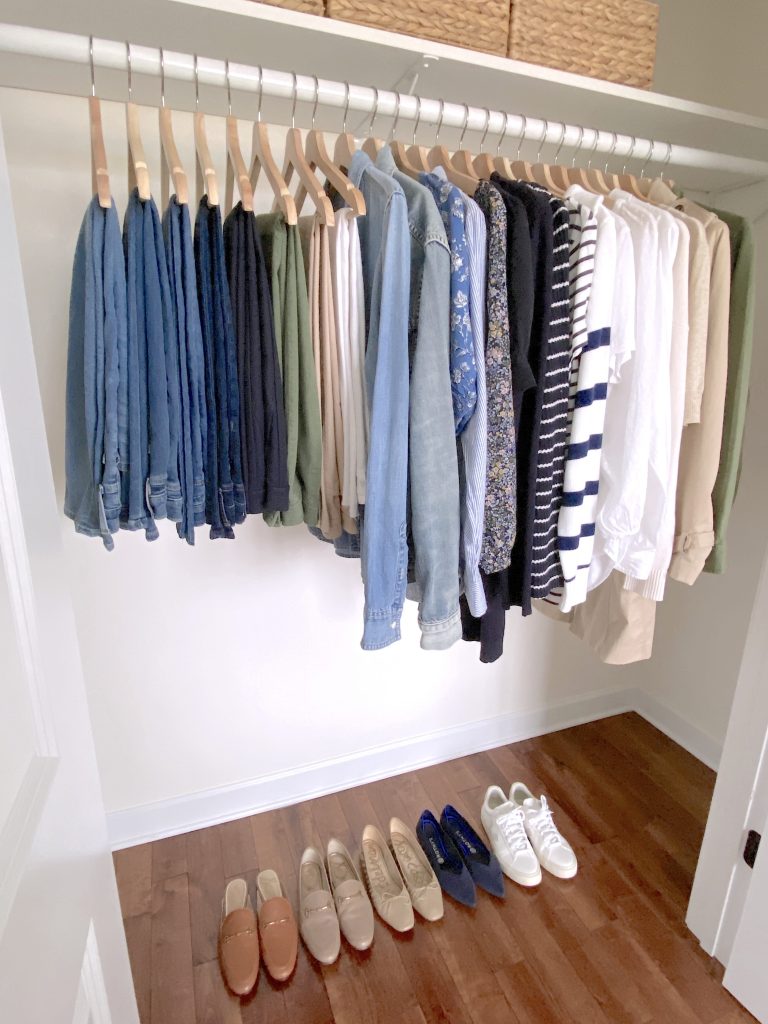 Here is everything in my own Spring 2022 capsule wardrobe, along with shopping links, so if you like anything you can add it to your wardrobe!
Tops & Layers
I used mostly closet foundation essentials, which are classic and timeless basics, to build my capsule wardrobe! You can use similar pieces to mine (shopping links are below) OR you can "shop your closet" too, including your favorite pieces for your capsule!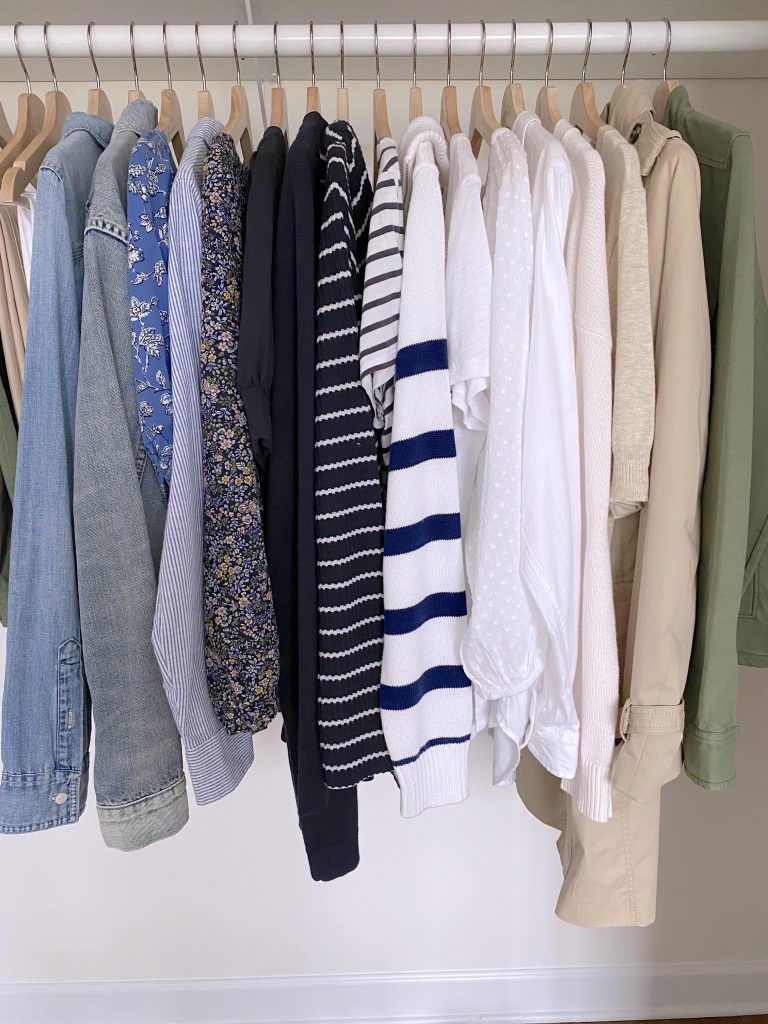 Left To Right:
(I noted the brand of my items in my capsule. I linked "similar" items if any of my exact ones are sold out)
Chambray Shirt similar
Denim Jacket in "clean wash" exact
Blue Pattern Puff Sleeve Top exact
Blue Striped Shirt exact I love the soft fabric and subtle stripes on this shirt!
Navy Pattern Blouse exact
Navy Puff Sleeve Tee exact
Navy Open Cardigan similar
Navy Striped Hooded Top exact
Striped Short Sleeve Tee exact I have had this top in my closet for several years and love wearing it!
Striped Zip Collar Sweater exact
White Short Sleeve Tee exact
White Henley Blouse exact
Grayson White Shirt in "cozy cotton" exact. Use my code "LEANNEBLACKMON" for $25 off your order!
V-Neck Cardigan in "whisper white" exact
Silk-blend Short Sleeve Sweater in "hthr natural" exact
Tan Trench Coat similar
Green Soft Drawstring Jacket exact
Shop The Tops & Layers:



You may also like:
How To Create A Carry-On Capsule Wardrobe (Spring Edition) + Outfits
How To Create a Core Closet
How To Create a Classic Wardrobe
How To Dress Like a French Woman
Bottoms
I have 8 bottoms in my Winter capsule. Since I work from home, I wear jeans and pants.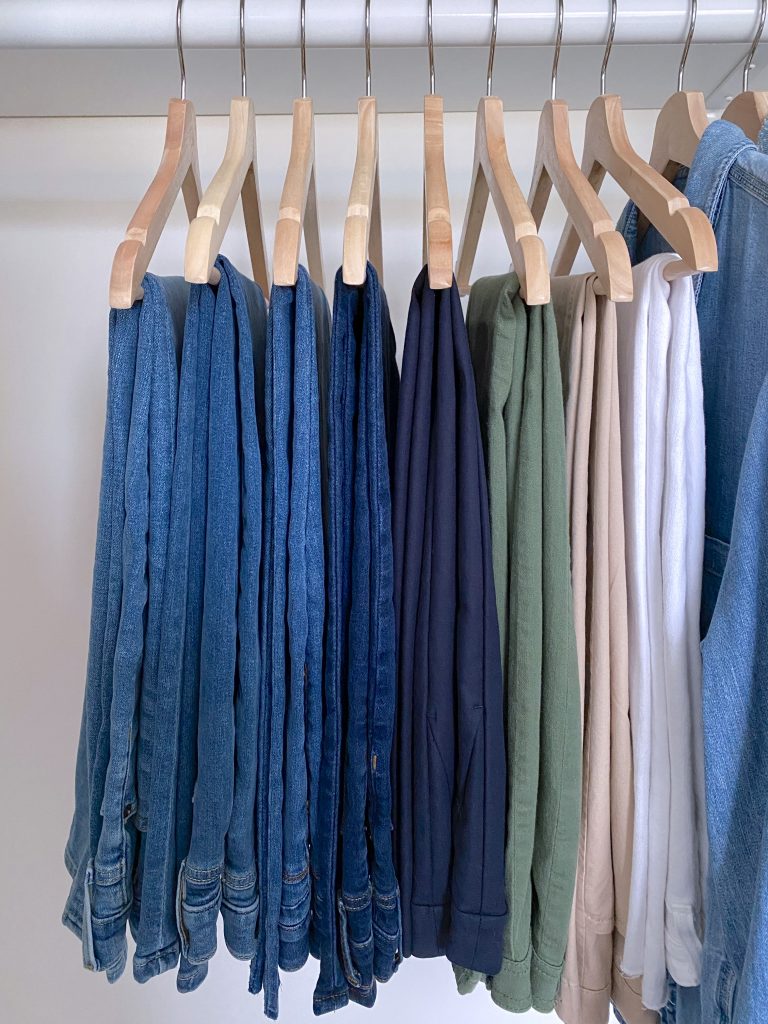 Left To Right:
(I noted the brand of my items in my capsule. I linked "similar" items if any of my exact ones are sold out)
Light Wash High Rise Skinny Jeans exact
Kick Crop Jeans exact
Slim Straight Jeans exact
Dark Wash High Rise Skinny Jeans exact
Navy Slim Pants exact
Green Twill Pants "dazzling olive" color exact
Tan Chino Pants in the "fawn" color exact
White Kick Crop Jeans exact


Shop The Bottoms:

Shoes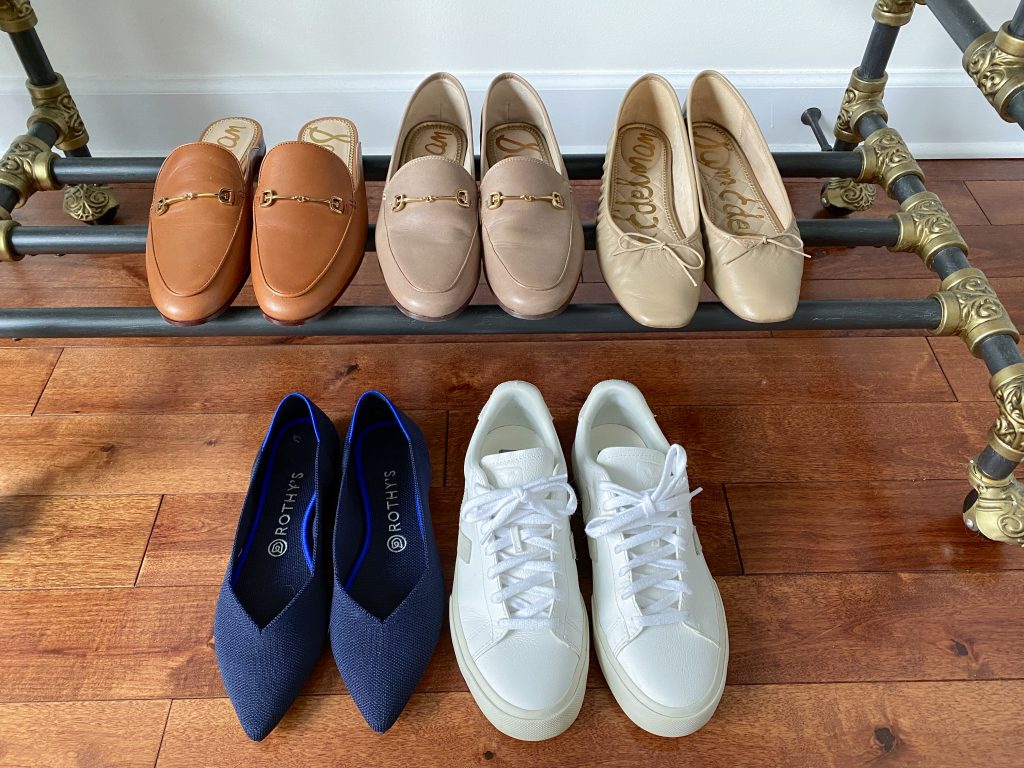 TOP ROW (Left To Right):
Sam Edelman Linnie Bit Mules "saddle" color exact
Sam Edelman Loraine Loafers "cedarwood" color exact
Sam Edelman Meg Ballet Flats "soft beige" color exact
BOTTOM ROW (Left To Right):
Rothy's The Point Flats in "maritime navy" exact / Click Here for $20 off your first order at Rothys.com
Veja Campo Sneakers / and also here exact

Shop The Shoes:

I'll be sharing outfits I wear from this capsule on my Instagram @classyyettrendy!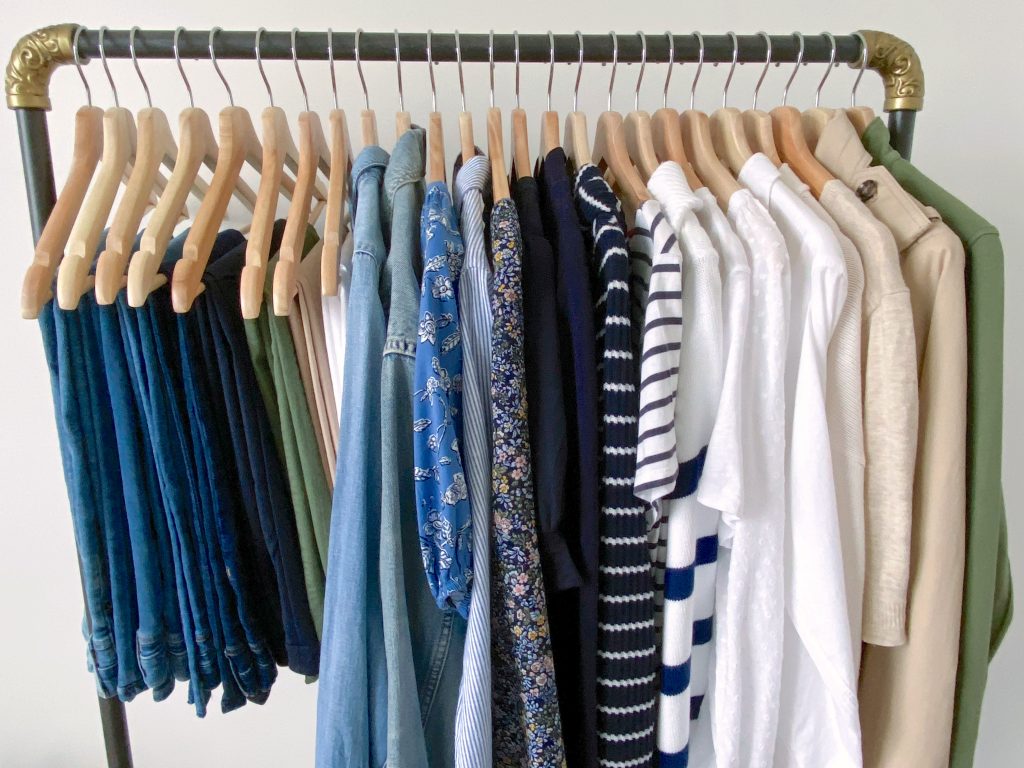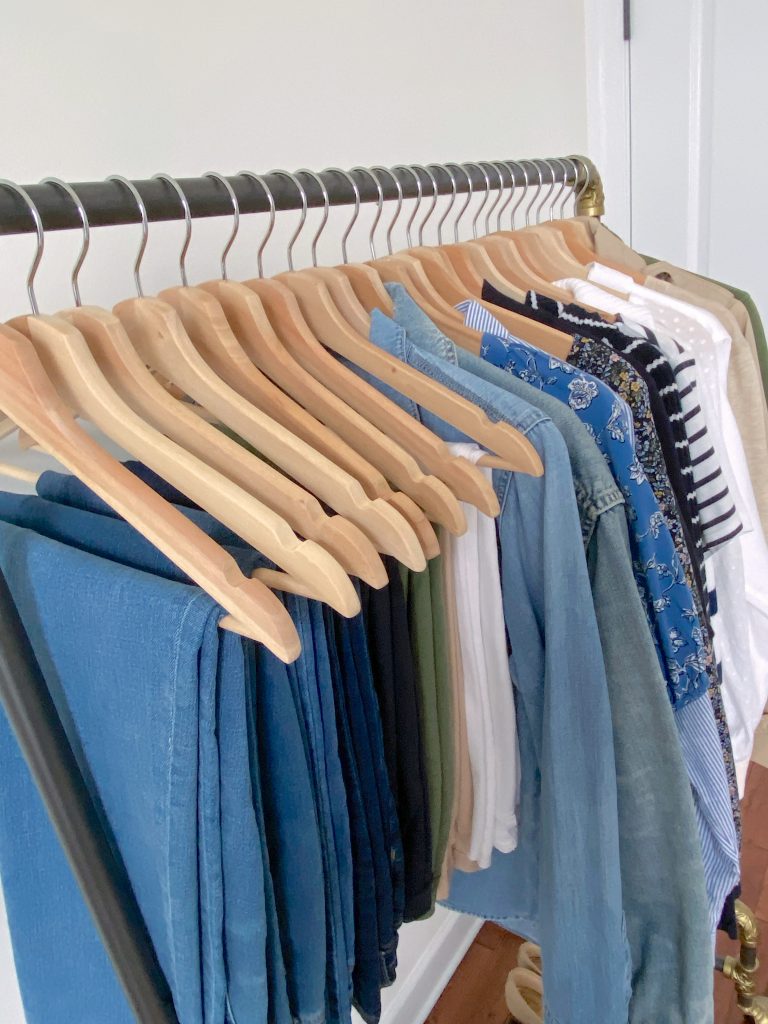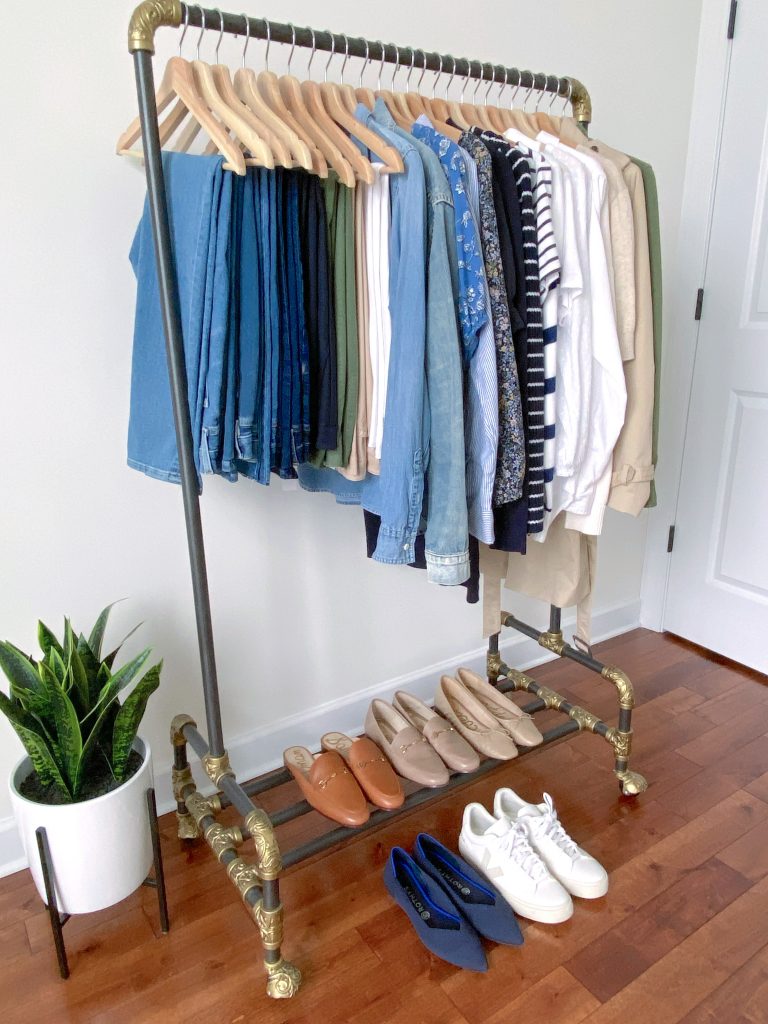 A Bit Of Inspiration For Your Day:
"For we walk by faith, not by sight." – 2 Corinthians 5:7