Classic Spring Layers Styled 5 Ways
Spring is my favorite season for wearing outfits, how about you? I love wearing all the layers in the crisp, cool Spring air! I don't know about you, but I rely on my classic layers to complete my outfits, like a trench coat, denim jacket, utility jacket and a cardigan.
It is essential to have classic layers in your wardrobe with neutral colors. Neutral colors coordinate well with the other colors in your wardrobe, especially popular Spring colors like blues, greens, reds and pinks.
A few weeks ago I shared my Spring capsule wardrobe from my own closet. I included mostly foundation pieces from my closet (I referenced the Simplified Style: Dressy & Casual Capsule Wardrobe), plus a few new pieces I purchased. This past year, I primarily wore neutral colors, like black, gray, beige and white, but this season I added more blues and greens.
For this blog post, I took the 5 layers considered to be classic styles from my Spring capsule wardrobe and added pieces from my capsule to create 5 outfits! The classic styles I'm using are a trench coat, denim jacket, utility jacket, open cardigan and a button front cardigan.
Trench Coat
A trench coat is a classic layer that is lighter than a coat and works well at not only keeping the chill off, but also looks great with your outfits! Trench coats come in different lengths, from long, mid-thigh to short length. The most common colors are beige and tan, but there are other colors like navy, gray and green. My exact trench coat is from Banana Republic a few years ago; this J. Crew trench coat is very similar to mine. I also like this budget trench coat and this light beige trench coat!
I have worn my trench coat with this blue pattern top (similar long sleeve pattern) and these navy ankle pants with my new metallic flats from my Spring capsule wardrobe.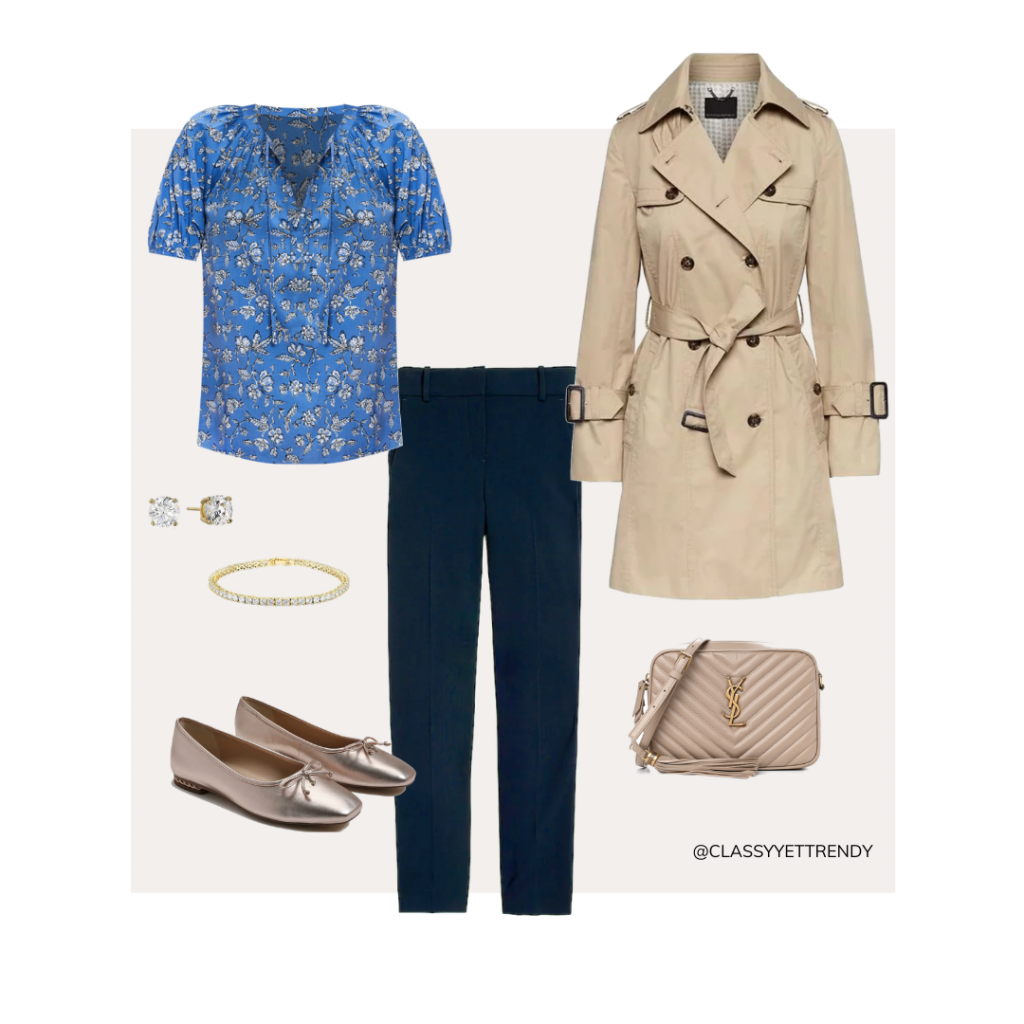 Outfit Details: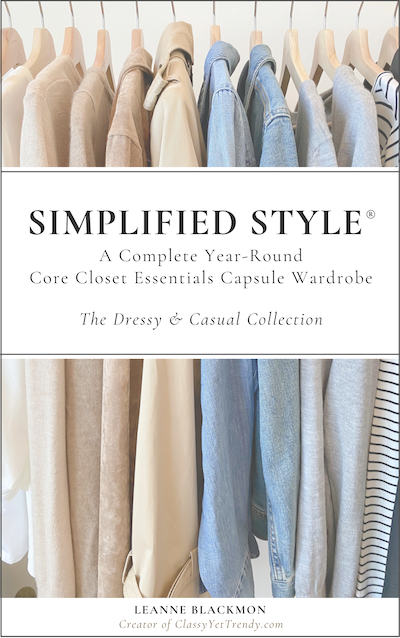 Denim Jacket
I always include a denim jacket in my Spring capsule wardrobe! I love the denim texture and color with my outfits. ABLE released a new "clean wash" version of their soft denim jacket. I bought the distressed jacket last year, and while I love the softness of the denim and the longer length, I didn't quite like the heavy distressing. A few months a go they came out with a "clean wash" version, which still has the same softness and longer length but has no distressing and I LOVE IT! If you are looking for a denim jacket, I HIGHLY recommend this ABLE denim jacket in the "clean wash" style.
One of my favorite ways to wear a denim jacket in the Spring is with my navy striped tee and white crop flare jeans (also love these white jeans)! I added cognac loafer mules and this Numero Un Nano crossbody bag in the "camel" color.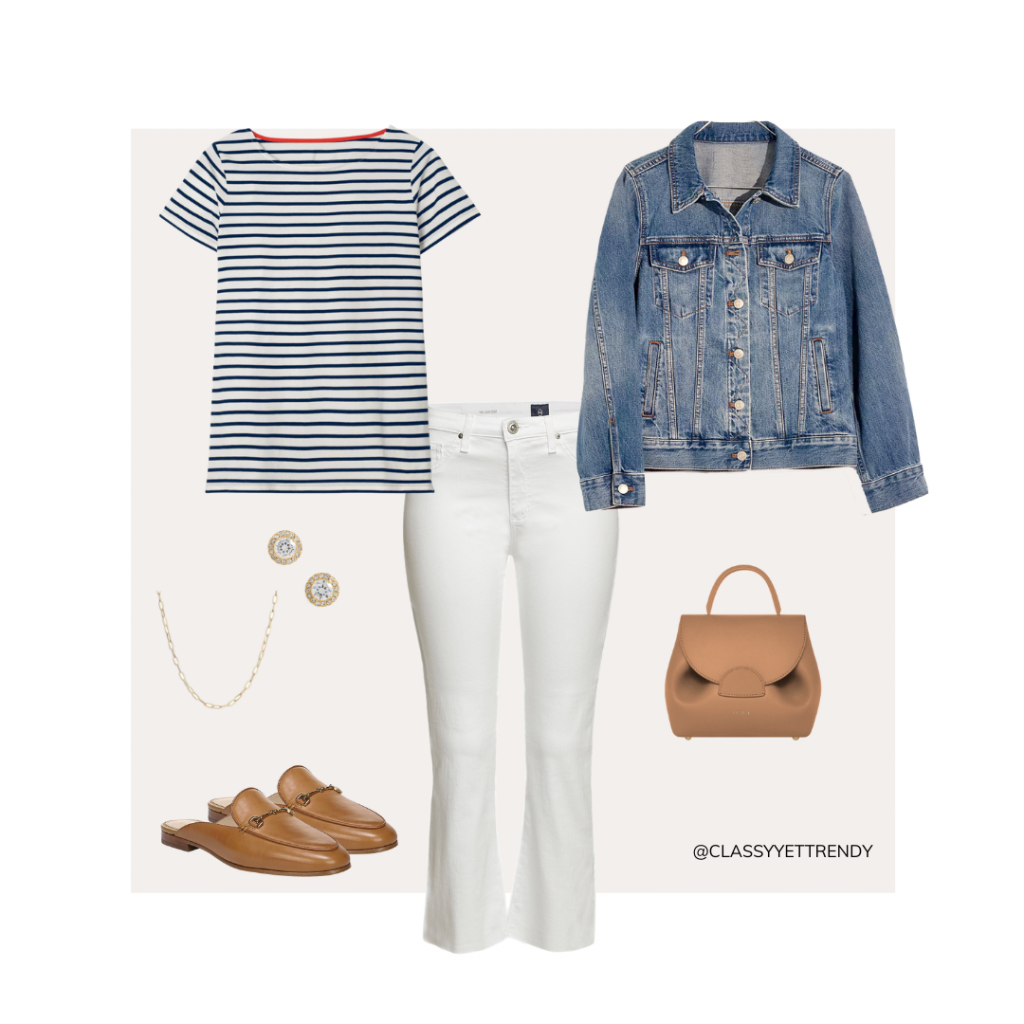 Outfit Details:

Open Cardigan
I absolutely love wearing cardigans, how about you? It's a comfy and cozy piece that instantly completes you outfits. An open cardigan has been around for years and it's proven to be wardrobe staple. My favorite colors are neutrals, like navy, gray and beige, but there are so many other neutrals and colors in different lengths and fabrics.
I included a navy open cardigan (similar) in my Spring capsule wardrobe. I bought my exact one at TJMaxx several years ago. When I saw it I loved the navy color and softness of the fabric but it had 3 pearl buttons on both sleeves, so I bought it anyway and when I got it home, I removed the buttons and you could never tell the buttons were on there!
I chose this white henley top (almost sold out), here is a similar style, along with these crop flare jeans and my navy flats.
Outfit Details:

Button-Front Cardigan
A button-front cardigan is another cardigan style that is popular. I have this exact V-Neck Cardigan in the "whisper white" color and here is a similar long length cardigan. You can wear it open over a blouse, tee or cami, or if the top button is high enough, you can wear it buttoned up by itself as a top! I have worn this cardigan recently with my navy floral top (also love the style and pattern on this top!), green twill pants and tan loafers in the "cedarwood" color.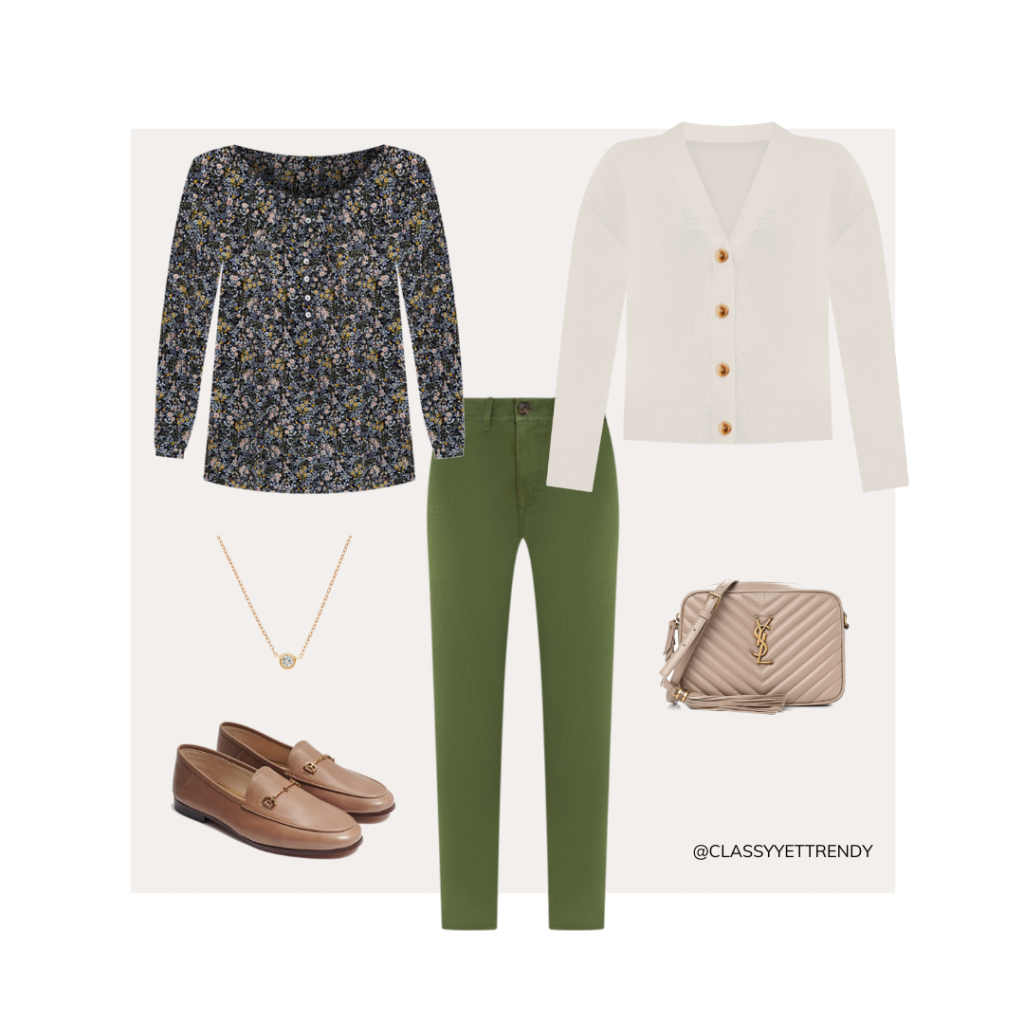 Outfit Details:

Utility Jacket
Utility jackets have been popular for several years. The most common color is olive green, but you can also find them in other colors as well. I added this Organic Cotton Soft jacket to my Spring capsule and I can't believe how soft it is! The sizes are limited on this one, but here is another jacket you may like!
I added this navy puff sleeve tee, slim straight jeans and my Veja Campo sneakers, this coin necklace and my Numero Un Nano crossbody bag in the "camel"color to complete the outfit.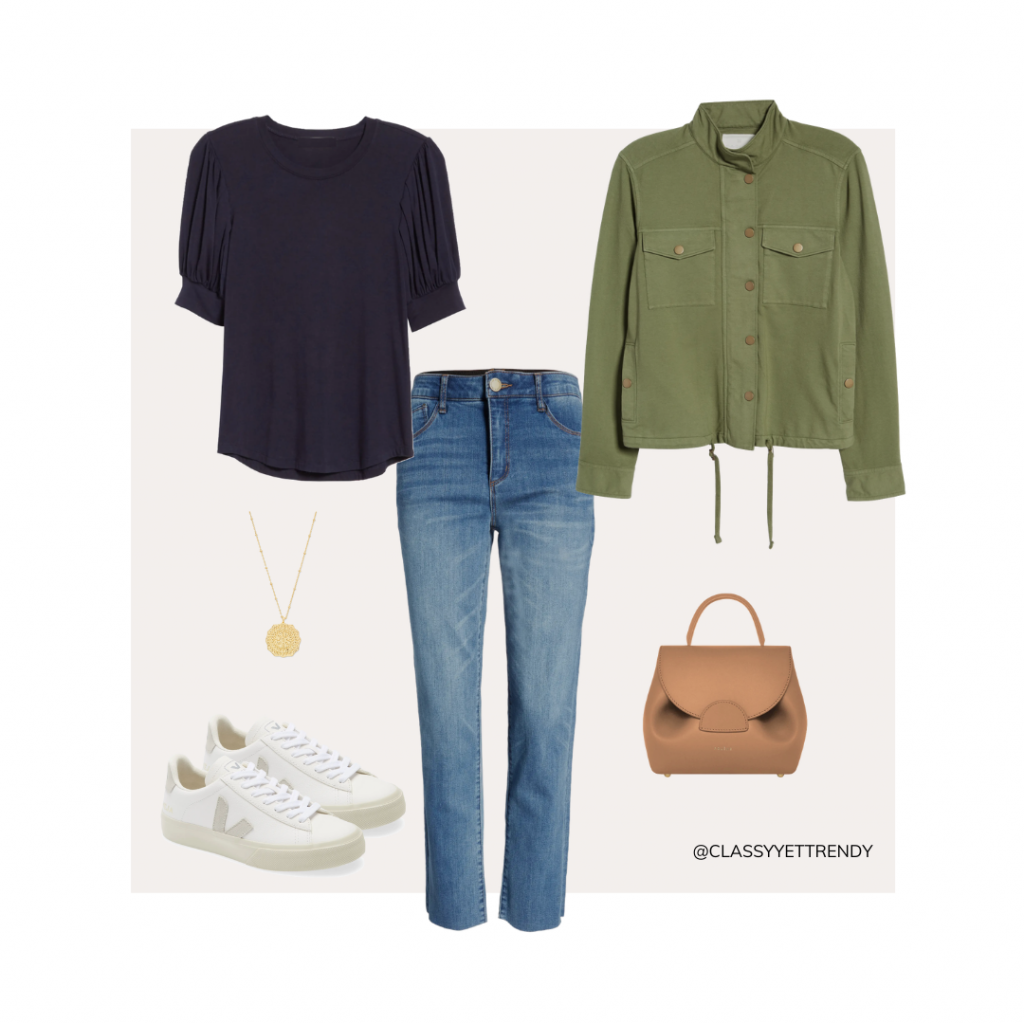 Outfit Details:

A Bit Of Inspiration For Your Day:
"Trust in the Lord with all your heart and lean not on your own understanding; in all your ways submit to him, and he will make your paths straight." – Proverbs 3:5-6