Boys 14-Piece Spring 2022 Capsule Wardrobe
A complete boys's mini capsule wardrobe for the Spring 2022 season! All the tops, bottoms and shoes that you will need for a boy's closet, with convenient shopping links, plus 9 outfits.
I've had several requests for a boy's and girl's capsule wardrobe for the Spring, so I thought I would post this one I created, along with 9 outfit ideas! Since these 14 clothes and shoes all coordinate, they will make more outfits in addition to the 9 shown here. I created the 9 outfits to get you started with a few outfit ideas! You can add a few more tops, bottoms and/or layers in the same color palette to have even more outfits.
I have also published a Girl's Spring 2022 Capsule Wardrobe, so be sure to see that one too!
A capsule wardrobe has changed my life…really! Before I discovered the capsule wardrobe system, my closet looked so cluttered. It was so packed with clothes, that I couldn't find what I needed to get dressed for work on time. If I was late for work, it was usually because I took too long trying to come up with an outfit to wear or I changed outfits at least 3 times before settling on one before I ran out the door. Now, since I use a capsule wardrobe, my closet is neat and tidy and I know exactly what to wear everyday, plus it only takes about a minute to get dressed! Plus, I keep my house organized and clutter-free, all because of my capsule wardrobe system!
As you all may know, I publish several women's capsule wardrobe collections every season. Each capsule collection contains a complete ready-to-go wardrobe plan, where all the clothes and shoes coordinate and includes 100 outfit ideas, a travel packing guide and more. What makes these wardrobe plans so functional, is that they consist of mostly basic essentials that can be used over and over, thus saving you thousands of dollars each year! Many women use these capsule wardrobes and love how they have transformed their closets!
Everything in this capsule wardrobe can be found at J. Crew Factory and DSW, so you can shop online for everything all at once!
This capsule wardrobe is for a BOY sizes XXS-XXL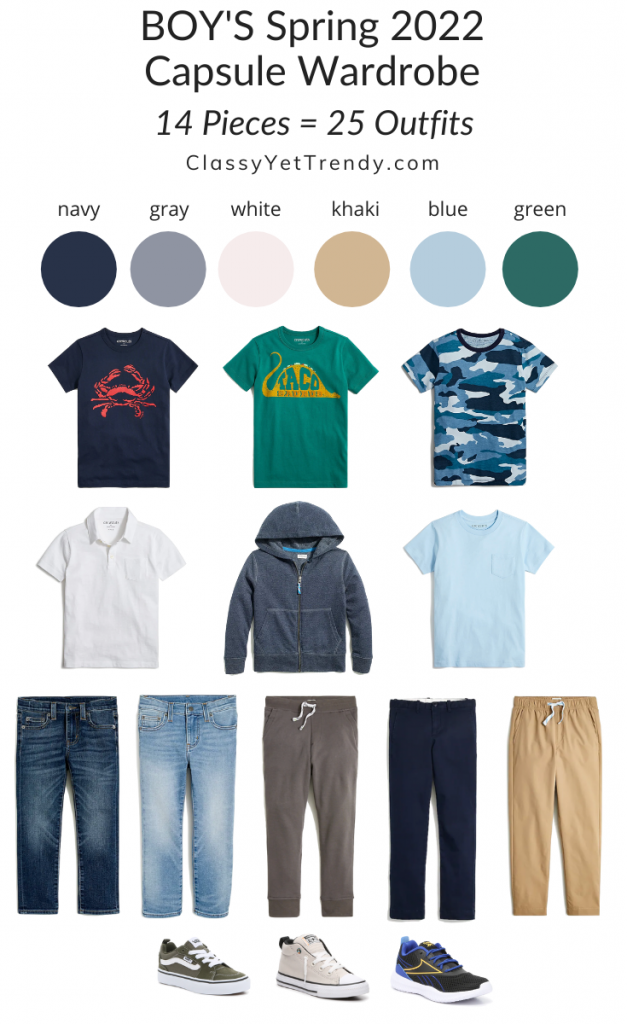 Capsule Wardrobe Details:
First Row: navy graphic tee / green graphic tee / camo tee
Second Row: white polo top / zip hoodie / blue tee
Third Row: dark wash jeans / light wash jeans / gray joggers / navy pants / khaki pants
Fourth Row: green sneakers / high-top sneakers / navy sneakers
If you need a capsule wardrobe for yourself, all the Spring 2022 season capsules and foundation capsules are available in the Capsule Wardrobe Store!
Here are 9 outfit ideas using the clothes and shoes from this capsule wardrobe! This capsule wardrobe will make more outfits, but here are 9 outfit ideas to get you started…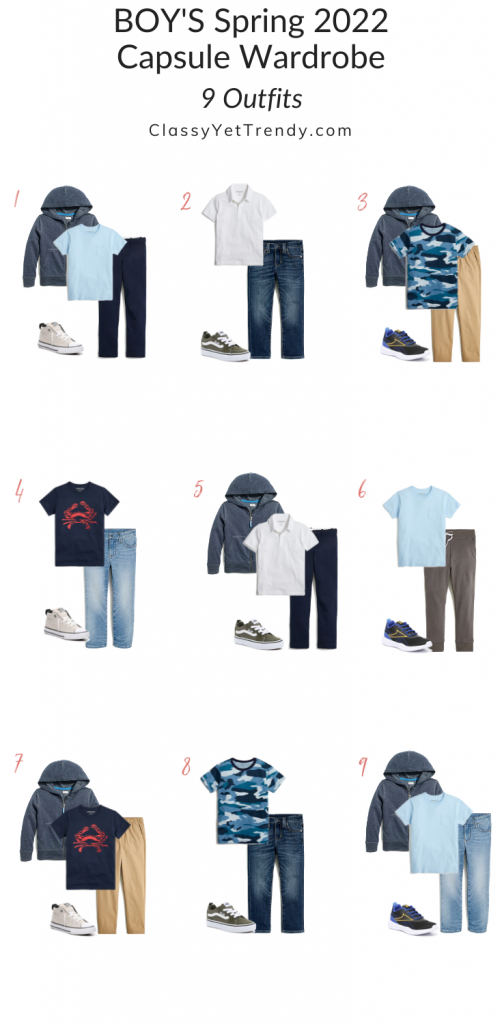 Shop the Post:

A Bit Of Inspiration For Your Day:
"Commit to the Lord whatever you do, and he will establish your plans." – Proverbs 16:3