Coastal Grandmother Mini Capsule Wardrobe | 9 Pieces + Outfits
Do you like to wear cool, breezy clothes made of linen and lightweight cotton? Lex Nicoleta, on TikTok recently coined the term "Coastal Grandmother" #coastalgrandmother and you don't have live on the coast or be a grandmother to wear this style! You can watch Lex's video on TikTok here…
If you love Nancy Meyers movies, coastal vibes, recipes and cooking, Ina Garten, interiors and more, there is a good chance you might be a 'coastal grandmother.'" I have always loved the whole coastal aesthetic, and find it timeless rather than trendy. When it comes to coastal grandmother style, I'm on board!
So what IS Coastal Grandmother style? It's a whole lifestyle and includes clothing, food, and decor. In clothing, it's reflected by Diane Keaton's character in Something's Gotta Give: simple light neutrals in natural fabrics. Comfortable, casual and relaxed, effortlessly put-together.  Meryl Streep in "It's Complicated" and Diane Keaton in "Something's Gotta Give", both Nancy Meyers movies, reflect the Coastal Grandmother style. I recently watched both of these movies and absolutely loved them!
Here is an outfit inspired by Diane Keaton in "Something's Gotta Give"…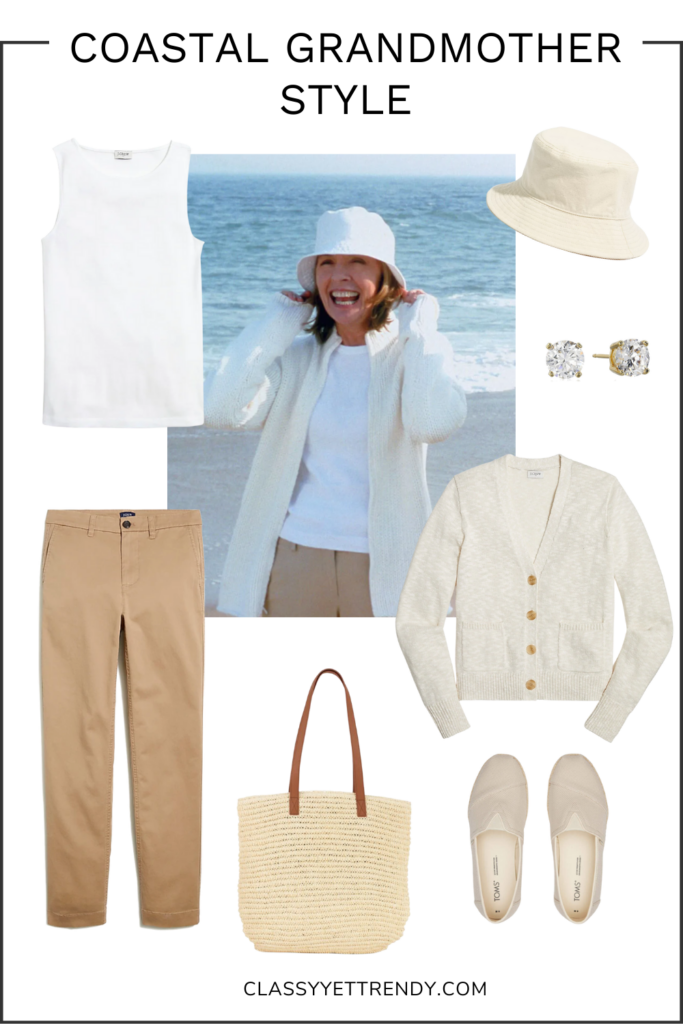 Shop The Outfit:

Here is an outfit inspired by Meryl Streep in "It's Complicated"…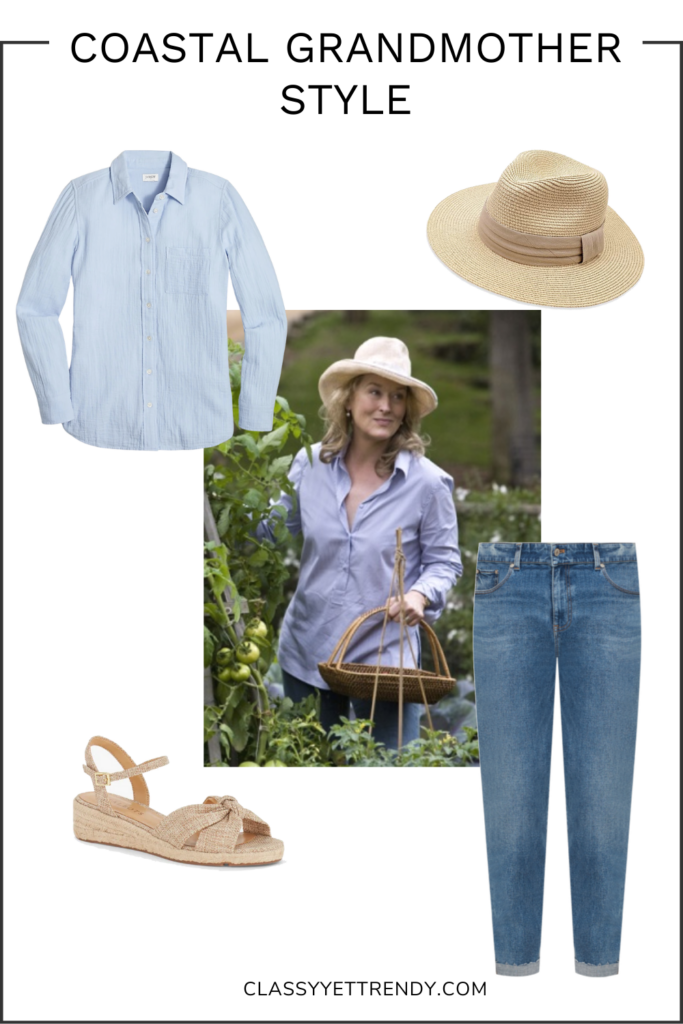 Shop The Outfit:

Coastal Grandmother Mini Capsule Wardrobe
I created a mini capsule wardrobe that includes several pieces and accessories inspired by outfits worn by Meryl Streep and Diane Keaton in the Nancy Meyers movies. It consists of 9 pieces which includes tops, bottoms, shoes and a layer (cardigan). The cardigan is optional, but if the weather is breezy and cool, especially at night, you can wear it with the tops.
Don't forget your accessories! There are two hats in the outfits as well as a straw bag. You can also add a simple pair of diamond or cubic zirconia earrings.
Hot Weather Substitutions
If you live in hot weather, like Florida, you can substitute the long sleeve gauze shirts with short sleeve linen tops and the jeans with either denim or light blue chambray shorts and the tan chino pants with tan twill shorts.
Style Tips
The White Button-down Shirt and Blue Button-down Shirt are both lightweight, breezy cotton shirts, but you can substitute regular cotton shirts (long sleeve or this short sleeve shirt), which are classic and timeless tops. I recommend rolling up the sleeves to your elbows, which will keep you cool and give your outfits a relaxed look.
I recommend the Grayson Hero Button-Up Shirt in "classic white" and "french blue" colors.
Use code "LEANNEBLACKMON" for $25 off your order!
You can roll up the pants legs a couple of times for a beachy look and will show off your shoes! If you would rather have sleeves on your white tee, you can substitute the tank for a short sleeve white tee.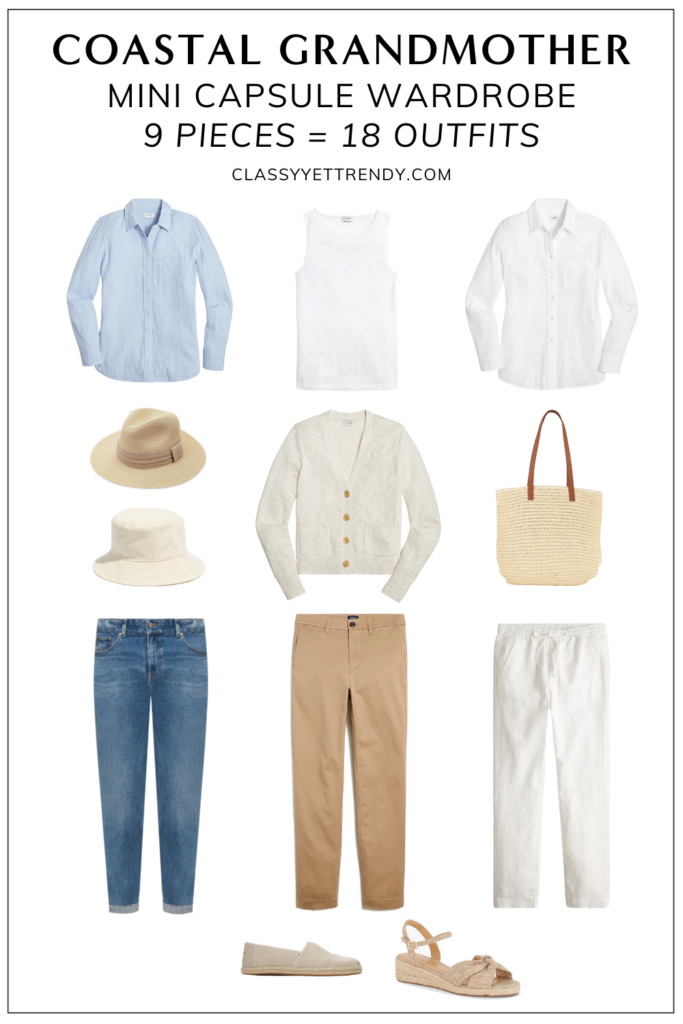 Shop The Capsule Wardrobe:

Shop The Accessories:

Here are 9 outfits to get you started wearing the Coastal Grandmother style…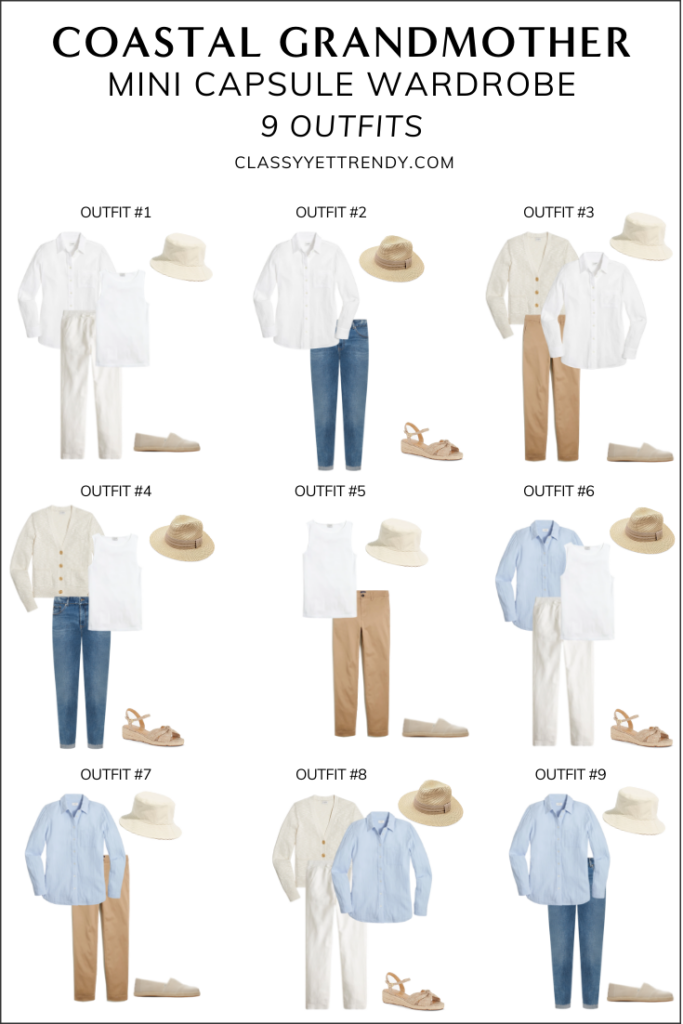 I hope you enjoyed this post!
Thank you for visiting the blog!