Two Ways To Wear A Linen Dress In The Summer
Thank you to Nordstrom and rewardStyle (LTK) for sponsoring this post. As always, all opinions are my own.
Before I buy any clothes or shoes, I always think of several ways to wear them in different outfits. The more ways I can wear a piece, I'm maximizing my wardrobe. Being able to style a piece in many different ways will also help you save more money on outfits. Instead of buying more clothes, you can wear the same piece time and again in different outfits!
I found this Caslon Striped Tiered Linen-Blend Dress at Nordstrom and immediately loved it for its design and the colors of the vertical stripes! And, this dress is very affordable at only $69! Caslon is an exclusive brand only at Nordstrom and is one of my favorite brands to wear. Nordstrom has so many gorgeous Caslon pieces for Summer made of breathable fabrics like cotton and linen! See the bottom of this post for several Caslon dresses I found!
Nordstrom carries lots of brand names you can shop! Just a few name brands at Nordstrom are Madewell, AG and Wit & Wisdom, plus Nordstrom also has their Nordstrom-Made Brands, which are exclusively at Nordstrom. One of the perks of shopping at Nordstrom is The Nordy Club, their rewards program! Whenever you shop at Nordstrom, your purchases earn you points, which in turn you receive in Nordstrom Notes. Then, you spend your Nordstrom Notes on anything at Nordstrom!
In this post, I'm styling this Caslon Striped Tiered Linen-Blend Dress two ways. You could also wear wear it:
As a Swimsuit coverup by the pool
Casually with sneakers
Dressy with a clutch and heels
As a Fall transition piece with a denim jacket and ankle boots
See the Instagram Reels video here or click below!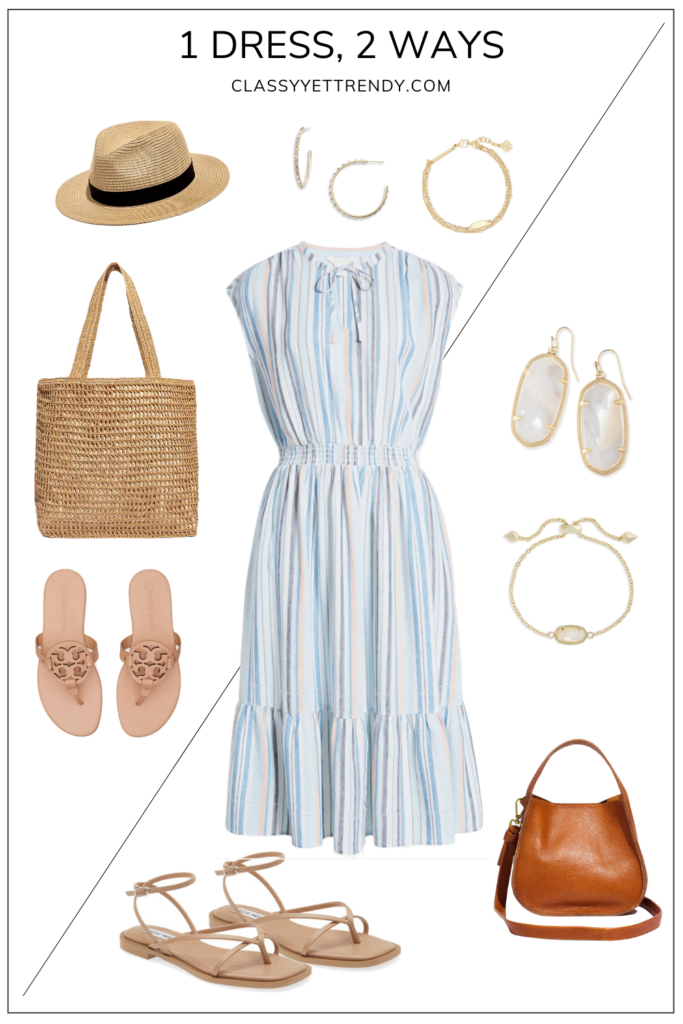 Outfit #1
The first way I styled this Caslon Striped Tiered Linen-Blend Dress is a casual look. This dress fits true to size and I'm wearing a Medium. I'm wearing it with Tory Burch Miller Sandals in the color "makeup", this Madewell Straw Hat and this Madewell Straw Tote. I added these Kendra Scott gold hoop earrings and Fern Multi-Strand Delicate Bracelet to complete the outfit.
You can get my entire outfit from Nordstrom: the dress, shoes, hat, tote and jewelry! Nordstrom offers free shipping to your front door of your house, plus if anything doesn't work, they offer free returns.
I would love to wear this outfit on vacation sightseeing or shopping! You could also wear this outfit lounging by the lake or pool!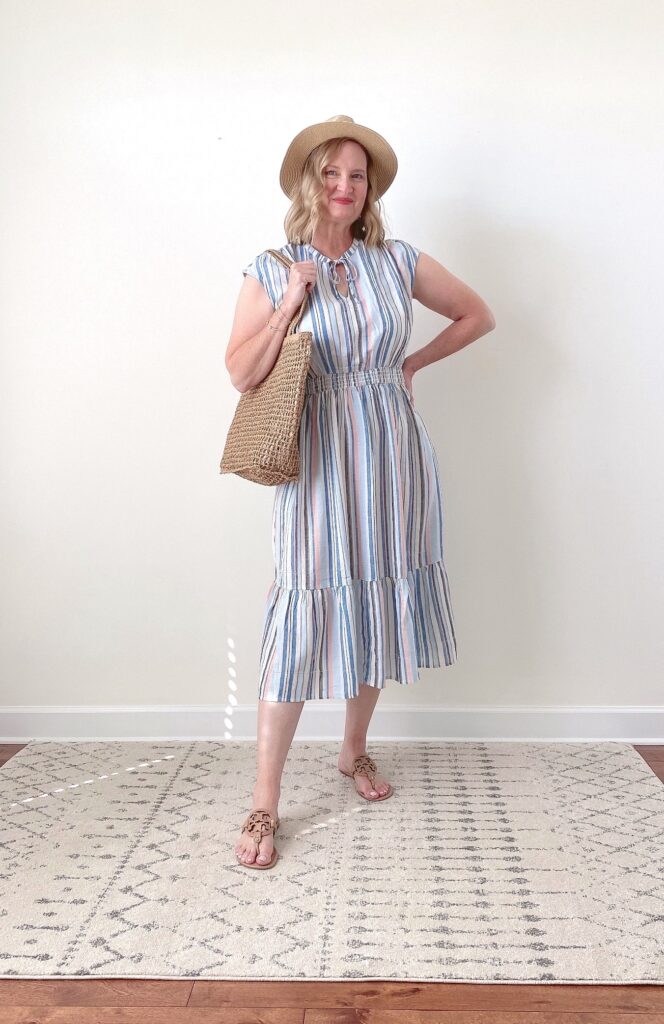 I absolutely love the style of this Caslon Striped Tiered Linen-Blend Dress and vertical stripes. The material is a linen-blend, so it does not wrinkle as easily as all linen would. The length on this dress is a midi-length, which falls between my knees and ankles (I'm 5'9″ tall). It has an elastic waist, which defines the waist and a tie neck, so you can tie it like I did or leave it untied for an open neckline.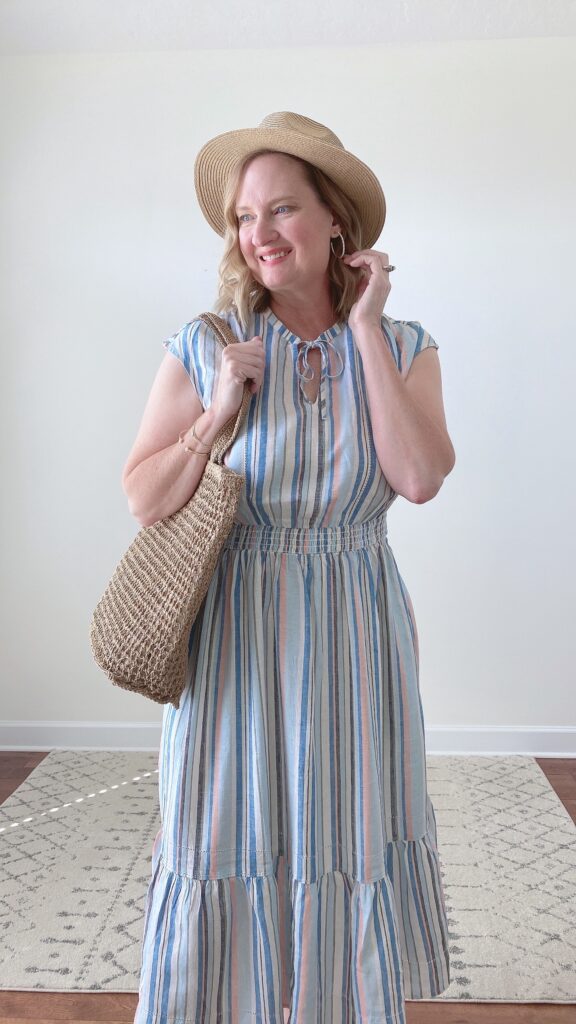 Here is detail of the tiered bottom on the Caslon Striped Tiered Linen-Blend Dress and the Miller sandals style. Tory Burch has updated the footbed of the Miller sandals to a softer footbed with extra padding and a soft memory foam sole. I'm wearing the original Miller sandals with the same style and color "makeup".
Shop Outfit #1:

Outfit #2
In outfit #2, I still kept the casual theme, but made the dress slightly dressy with these Steve Madden Agree Ankle Strap Sandals in the color "tan". I have been looking for a pair of sandals like these for a while and am so glad I found these sandals at Nordstrom! I'm also wearing my Madewell Sydney bag in the "burnished caramel" color, Kendra Scott Elle Pearl Drop Earrings, Elaina Pearl Adjustable Bracelet and Fern Multi-Strand Delicate Bracelet.
You could wear this outfit to a casual lunch or dinner on vacation, to church or out shopping since the Madewell Sydney bag is a crossbody style. You could also dress it up with heels and a clutch for a nice dinner at a restaurant!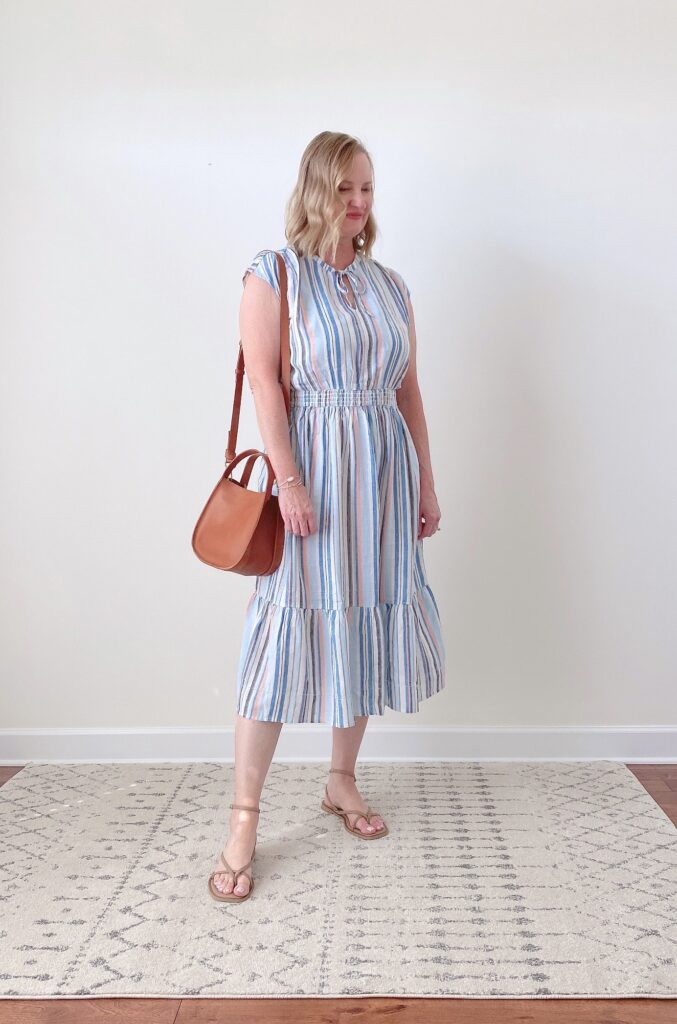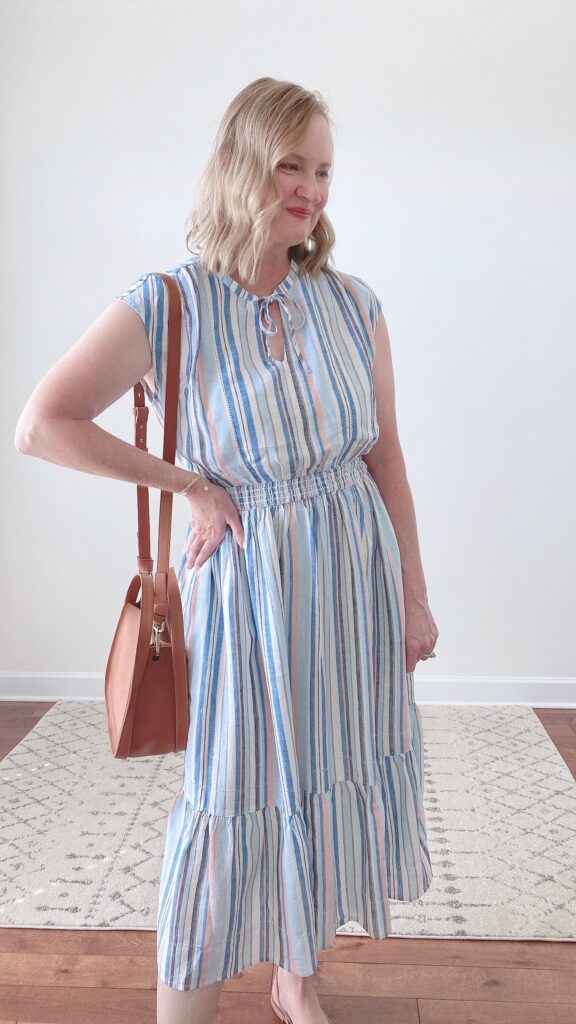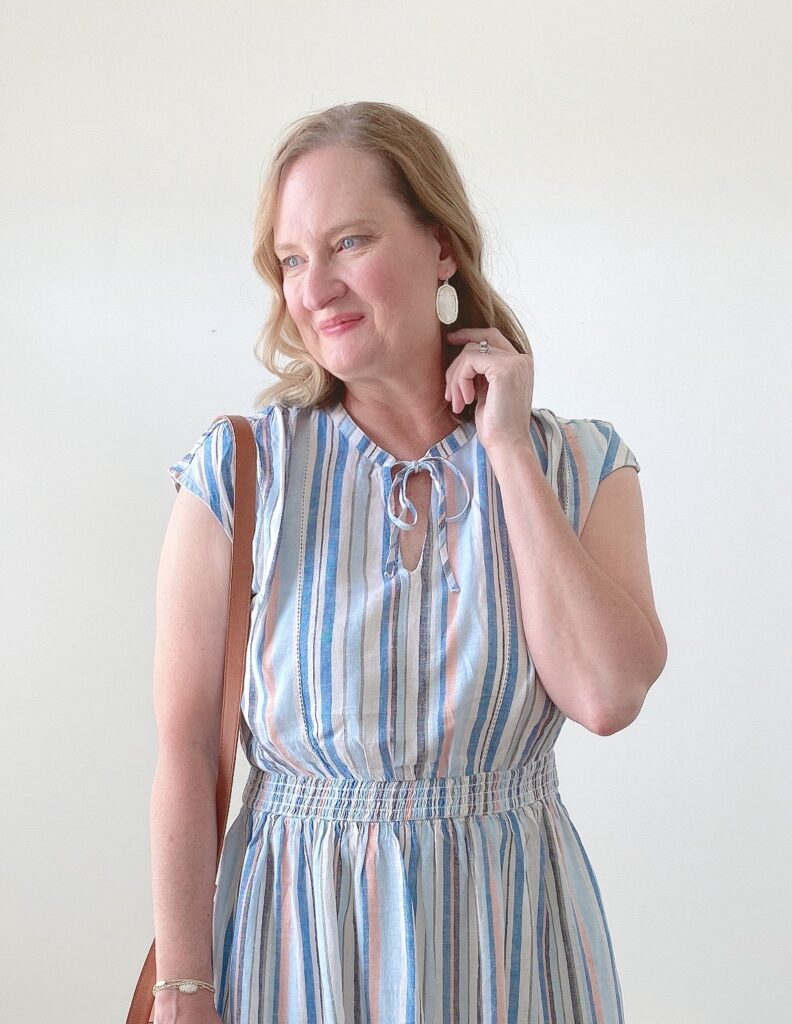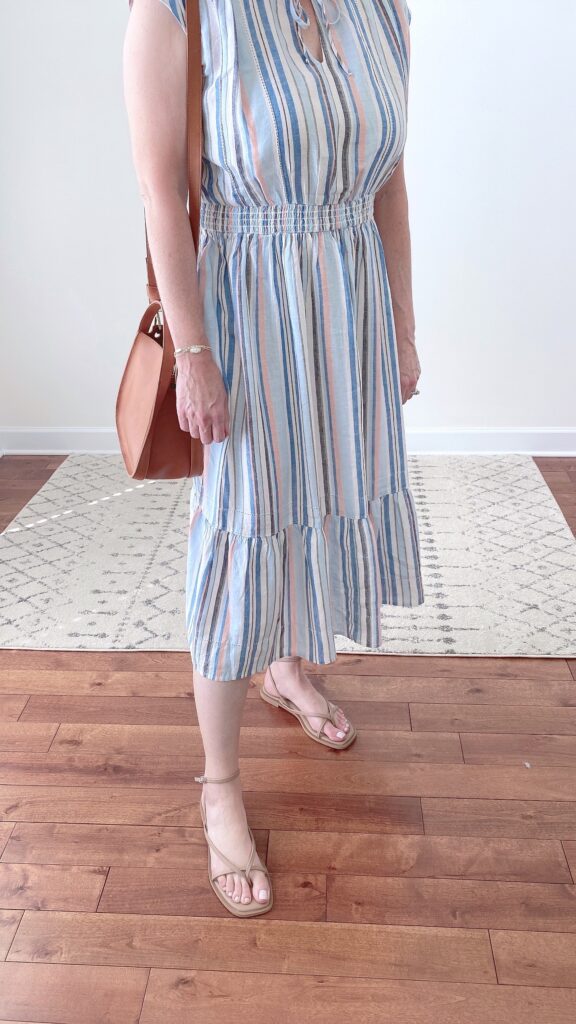 Shop Outfit #2:

Shop More Caslon Dresses:

I hope you enjoyed this post!
Thank you for visiting the Classy Yet Trendy blog!