How to Elevate A Spring Outfit
Thank you to AG Jeans and LTK for sponsoring this post. As always, all opinions are my own.
Spring is officially here, along with nice weather, green grass and flowers! My favorite season is Spring. I love all the greenery, fresh air and the light and airy fashion styles to reflect the season! After almost a year, we have finished building our house! We found a couple of acres for sale about three miles from where we lived, so we decided it would be a better place for us to live. The style of house we built is a craftsman/farmhouse. Since it is just my hubby and me, we decided to downsize and build a smaller, more efficient house. When it was finished, I had to take off from blogging and social media several weeks for us to prepare our other house ready to list for sale, move into our new house and unpack everything. We are officially moved in, but we have been finishing up some things on the inside of the house. The ground work and landscaping are complete and will soon plant grass. While it was nice taking a break from social media, I have never been more ready to get back to work! Now I can focus on creating capsule wardrobe content for you all, then in a few weeks I will be publishing the Summer capsules!
Since I work at home, I enjoy wearing casual outfits, but sometimes I like for my outfits to not look too casual, especially when going out. I like being able to dress up my outfits by adding dressy and feminine elements to make them look "elevated". When AG Jeans reached out to me about a collaboration, I quickly said "yes", since AG Jeans are at the top of my favorites list when it comes to denim! I have several pairs of AG denim in my closet, including the Mari (slim-straight style), Cigarette and Crop Flare.
One of my most favorite style of jeans to wear is one with a slender leg, a slightly shorter inseam and a flare at the bottom hem. The silhouette gives a feminine look with a style that you can dress up with pumps or dress down with sneakers! This style of jean is called a "Boot Crop" or "Ankle Flare". This pair of AG Farrah High Rise White Boot Crop Jeans is SO soft and stretchy and is made with AG's Hyper-Soft Stretch Denim, which is a blend of cotton, modal, lyocell, polyester and elastane. I also love the raw hem, which adds a bit of texture at the hem. I size up one size in AG Jeans (wearing a size 31). Whenever I shop for jeans, I look for jeans that are not only soft, but stretchy AND hold their shape. See all of AG Jeans Spring 2023 Collection!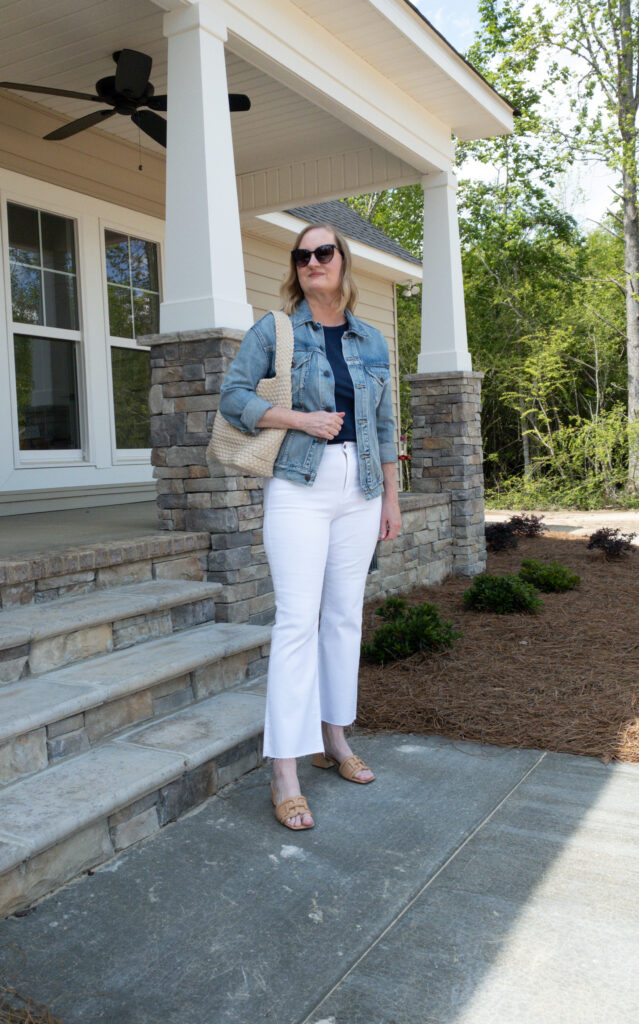 Outfit Details:
AG Farrah High Rise White Boot Crop Jeans c/o
J Crew Vintage Crewneck Tee in "navy"
ABLE Merley Denim Jacket in the "clean wash" color
Sam Edelman Waylon Sandal Heels in the "Beechwood" color
Naghedi Nomad Hobo Bag in the "ecru" color
Nordstrom Halo CZ Earrings in "gold plated silver"

A solid color tee goes well with these white jeans, like the J Crew Vintage Crewneck Tee in "navy" (size Large) I'm wearing. With this outfit, you can wear either a solid color tee, like navy, black or gray OR a accent color tee like pink, green or yellow. You could also wear a patterned top or blouse!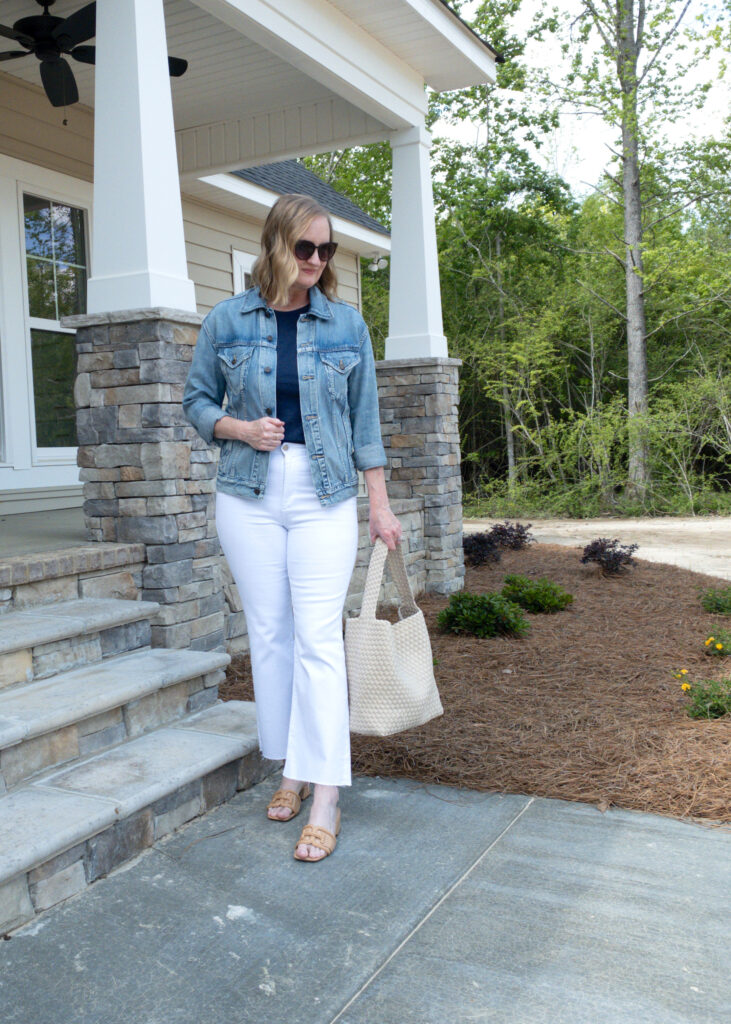 A pair of sandal heels can dress up your outfit, giving it an elevated look! I recently purchased this pair of Sam Edelman Waylon Sandal Heels in the "Beechwood" color (true to size 9) from Amazon. The color is a beautiful neutral tan that will go with so many outfits! As with all the Sam Edelman shoes I have ever owned, these Waylon Sandal Heels are super comfy. These sandals also come in the "rich cognac" color which is a gorgeous brown color. I look forward to wearing these shoes throughout the Spring and Summer with jeans and pants and to church with skirts and dresses!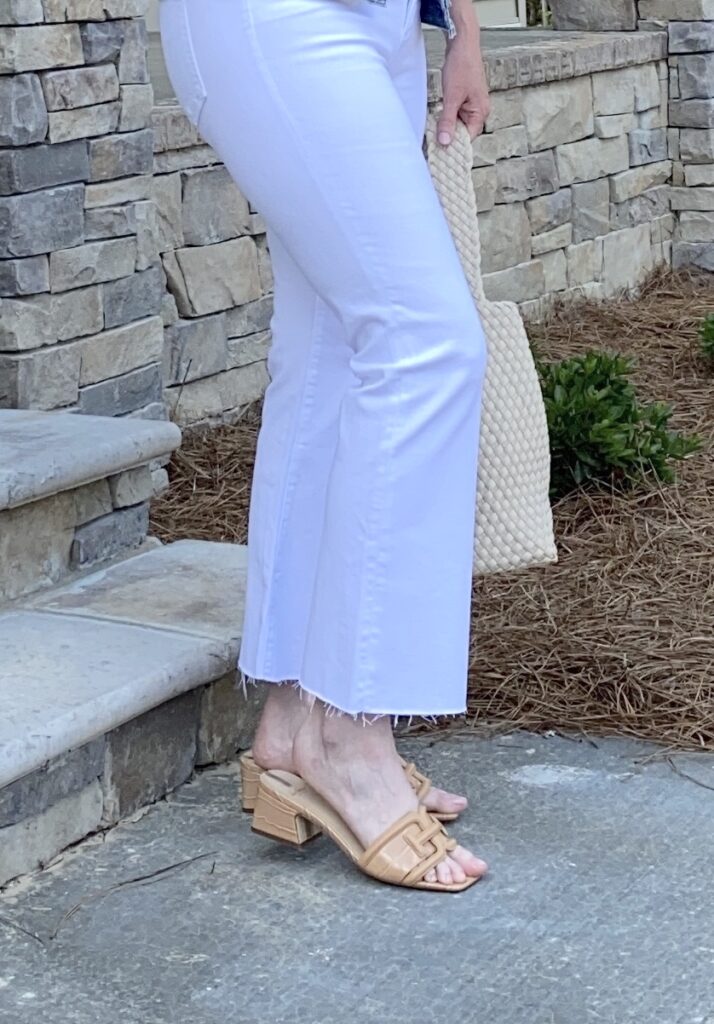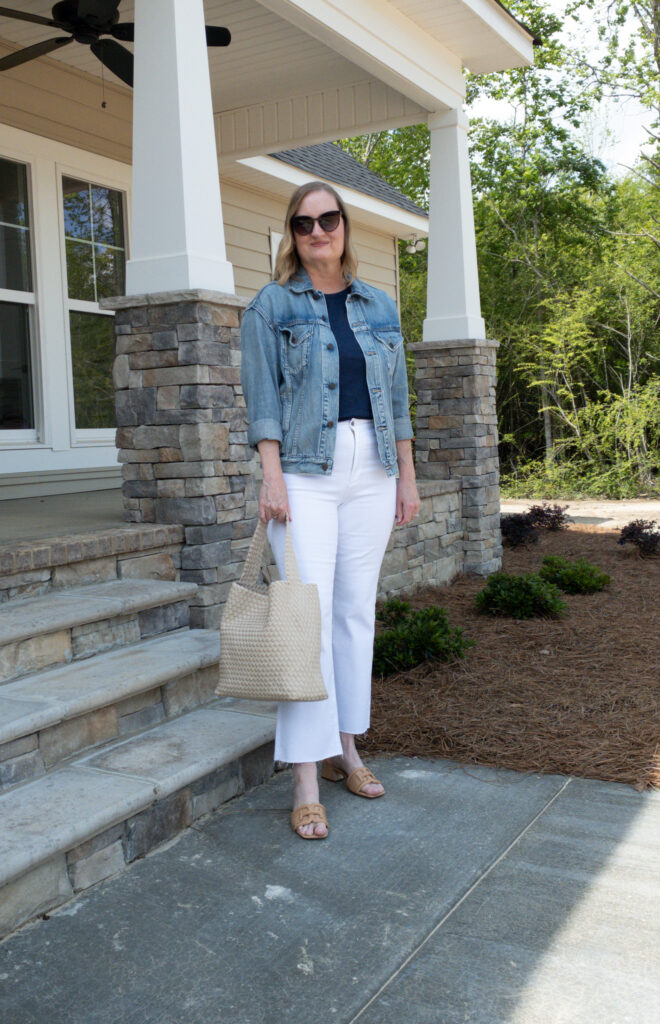 Another way to "elevate" your outfit is by adding a 3rd layer to complete your outfit, like this ABLE Merley Denim Jacket in the "clean wash" color (size Large). This denim jacket comes in three other colors including the new "sunbleached" color which is light and great for Spring. This is my most favorite denim jacket because of the cotton/lyocell material blend making it much softer than regular denim jackets.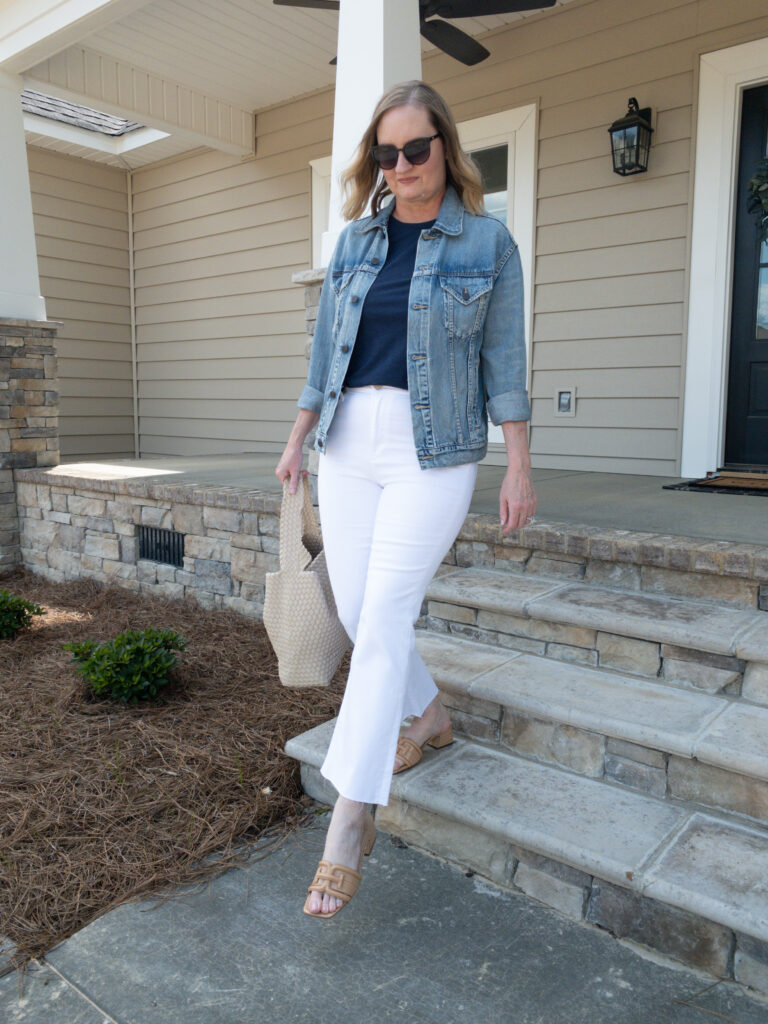 By adding a handbag with texture or structure, you can elevate your outfit! This Naghedi Nomad Hobo Bag in the "ecru" color will add some texture to your outfits. This is a trending bag made by an ethical and sustainable woman-owned company. It will look beautiful with your Spring and Summer outfits and you can also carry it to the beach!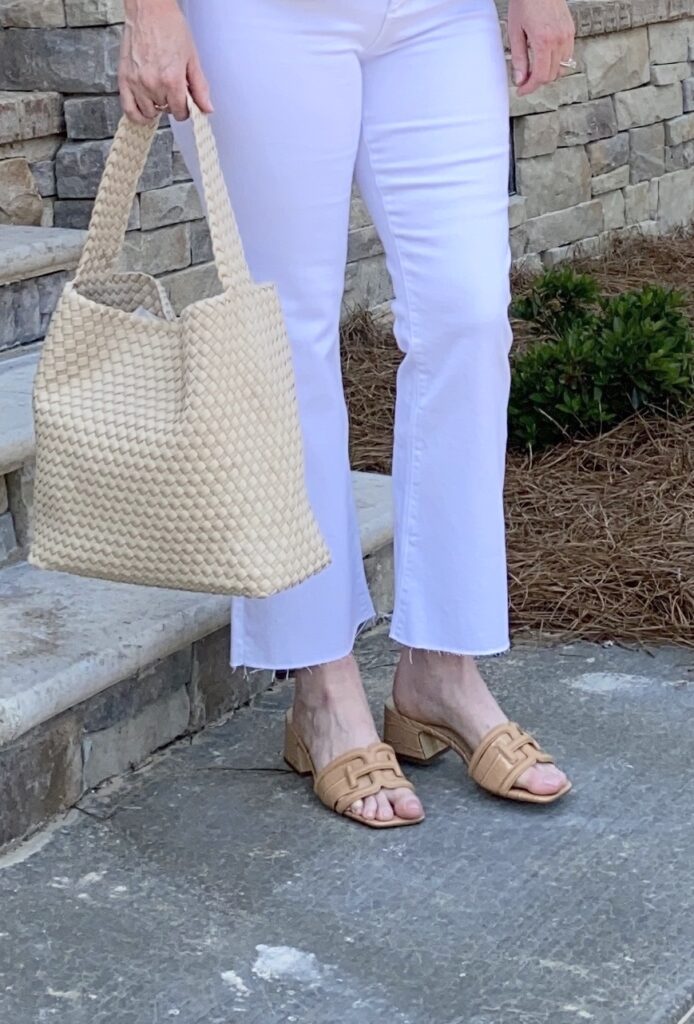 Here is a straight shot of the silhouette of the AG Farrah High Rise White Boot Crop Jeans I'm wearing…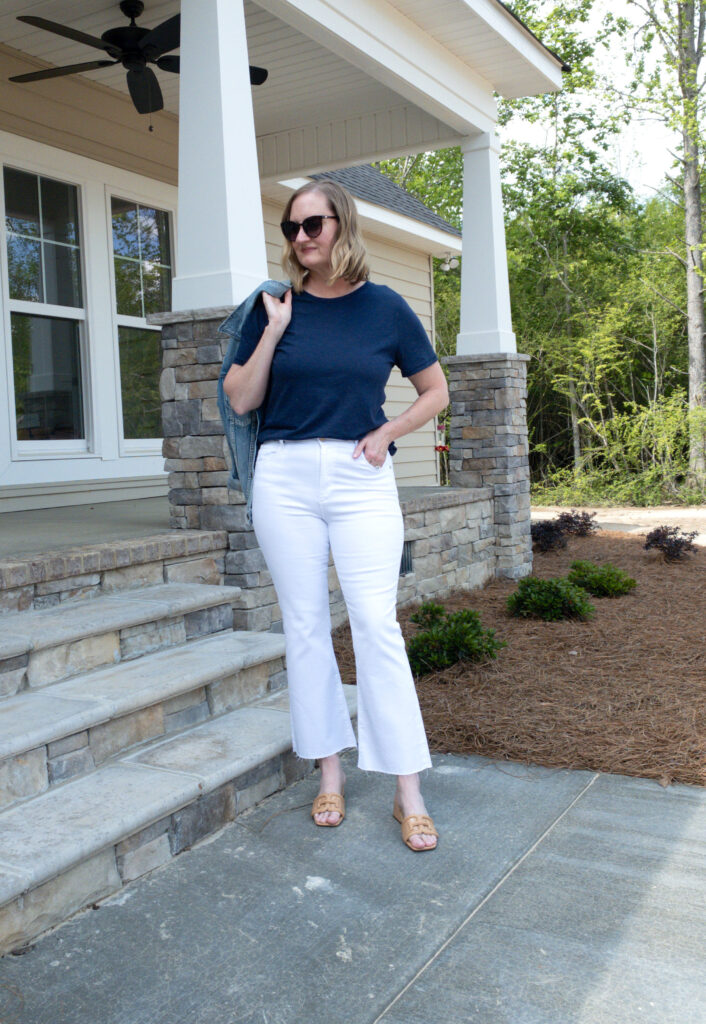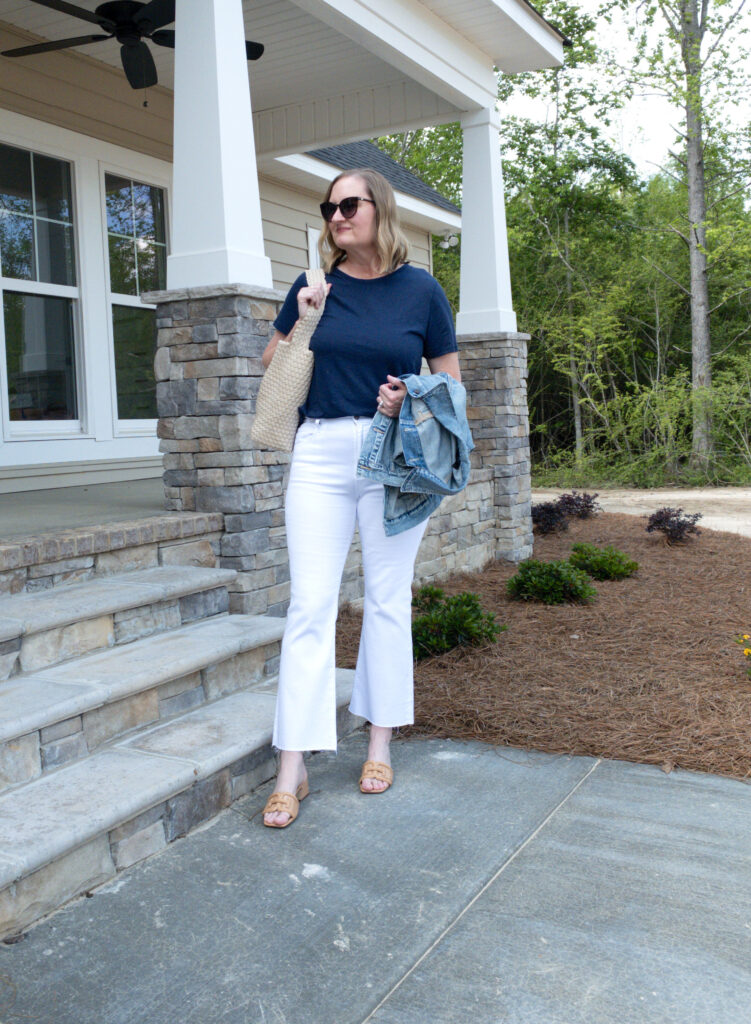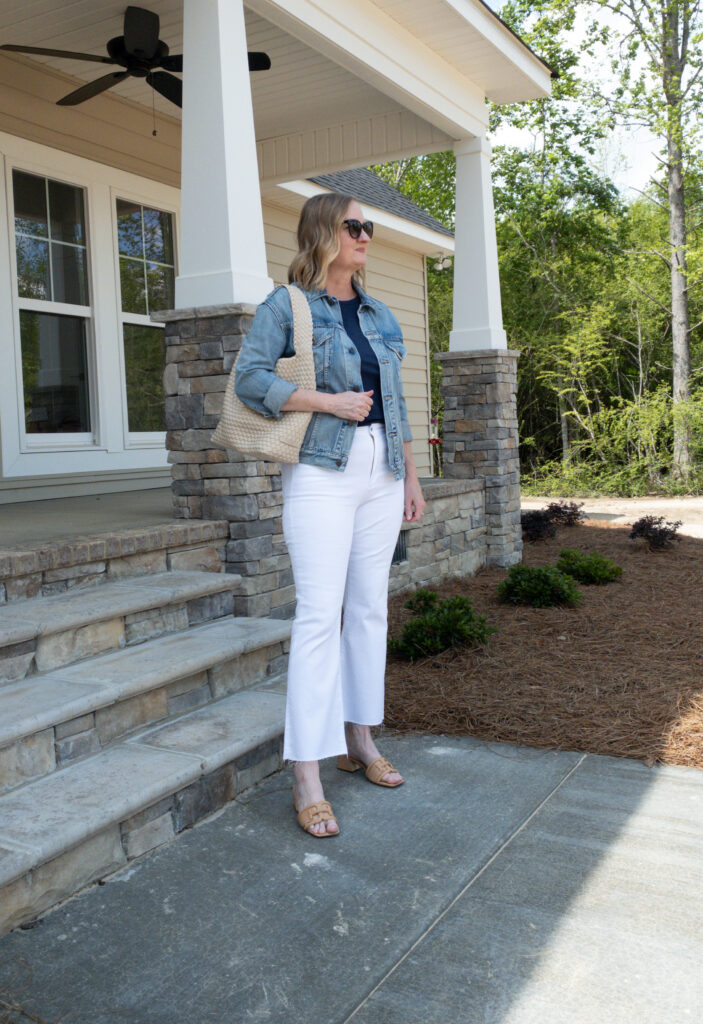 Thank you for visiting the blog!
I hope you enjoyed this post!