10 Summer Wardrobe Essentials Every Woman Needs In Her Closet
Summer is the easiest season to create outfits. Since it is too hot to wear layers, we rely on tops, bottoms and shoes in breathable fabrics and styles. When you create your Summer outfits, be sure and include these 10 must-have essentials.
Several of the wardrobe essentials included in this post are also in the women's Simplified Style®: Classic Casual – A Year-Round Foundation Capsule Wardrobe. In Simplified Style®, there are 400+ outfit combinations for the entire year, capsulea for all seasons, outfit calendars and more!
CLICK HERE to get your copy today!
Simplified Style®: Classic Casual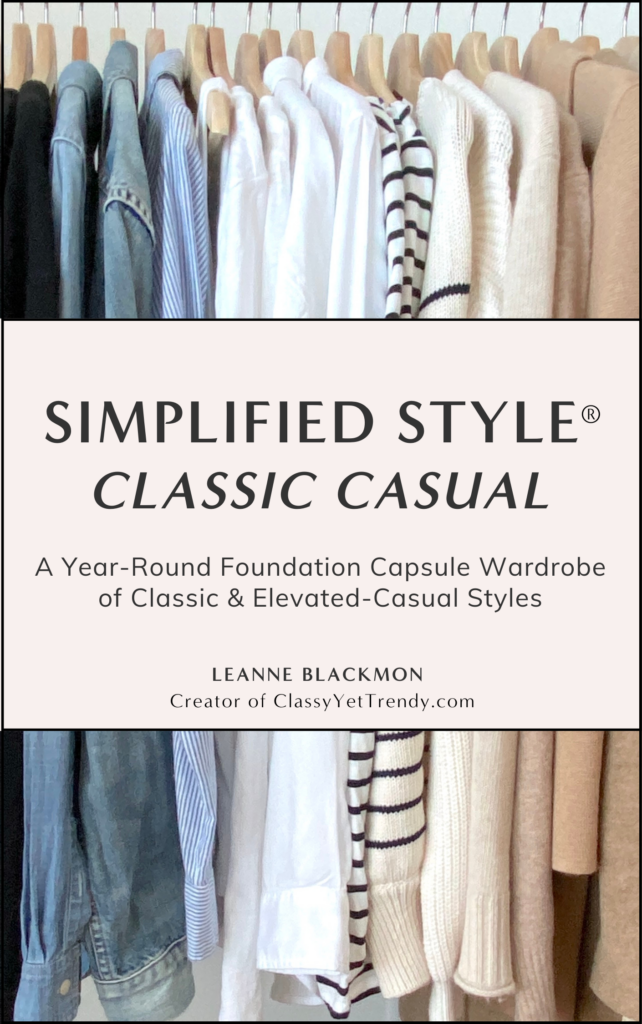 If you need a complete wardrobe for the season, then you may enjoy using one of my "ready to wear" capsule wardrobes in other styles available in the Capsule Wardrobe Store!
I've rounded up 10 essentials that are key pieces to a woman's wardrobe.  I personally have these items in my own Summer capsule wardrobe. Of course there are essentials of all kinds, but these are the ones considered wardrobe staples, pieces that you will reach for time and time again.  Plus, they are classic and timeless pieces that will last season after season.  There are always other options in case you don't favor wearing these essentials (I have noted other options below). This list is a popular list of 10 Summer essentials you may need. You may need more than what is on this list, or you may need to use alternates than what is shown, it is up to you!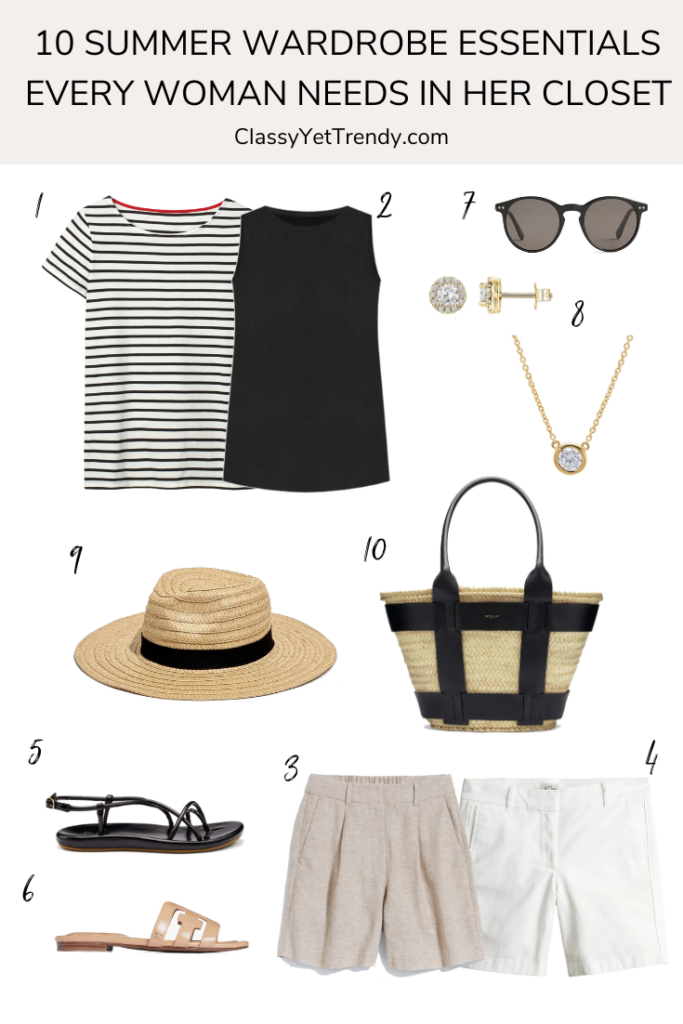 Shop The Post:
1 – Short Sleeve Tee: Tees are probably the most basic wardrobe staple, but they are the most versatile in a woman's wardrobe. It is recommended to have one or more neutral color tees in your Summer wardrobe: white, black (or navy), gray and/or striped tee. This Boden Striped Tee is the featured tee in this post.
2 – Neutral Color Tank: Like a tee, a neutral color tank is also a versatile piece to have in your Summer wardrobe. It will keep your arms cool in the heat, plus tanks look great with nearly any bottom piece in your Summer outfits, like a skirt, shorts or pants. There are different styles of tanks, whether you like a cutaway style or a boatneck style. If you get chilled in the a/c, you can layer a short sleeve shirt and wear it open over a tank. If you would rather not wear tanks, you can have multiple neutral color tees in your wardrobe. I personally have this Talbots Pima Bateau-Neck Tank (featured) in white, black and navy and love them!
You may also like:
10 Ways To Wear Black Linen Shorts
My 29-Piece French Riviera Casual Summer 2023 Capsule Wardrobe
Summer Vacation Capsule Wardrobe | 11 Pieces, 10 Outfits
Charleston Travel Diary: What I Wore, Visited & Ate On Our Summer Vacation
3 – Linen Shorts: Black and Flax neutral color linen shorts look great in a Summer wardrobe, especially tailored ones. But, you can also wear white and striped linen shorts. You can substitute linen pants for the shorts if you prefer wearing pants. I personally have these Black Linen-Blend Shorts and these Flax Color Linen Shorts in my own Summer capsule wardrobe.
4 – Chino Shorts: Chino shorts are primarily made of cotton, which is a breathable fabric, perfect for the hot Summer months and the chino style is classic and timeless. I enjoy wearing my J. Crew White Chino Shorts every Summer (I also have these shorts in navy). Neutral colors such as navy, black or stone colors will all look great in your outfits.
5 – Strap Sandals: There are several styles of strap sandals, so whether you prefer a thin strap or a thicker strap sandal, they will look great with your Summer outfits! Thin strap sandals are especially trending this Summer. I have these Olukai Waiau Sandal and love the anatomically contoured footbed which is very comfortable and the full-grain leather straps with buckle fastener make them great to walk in!
6 – Slide Sandals: Slide sandals are a go-to sandal every Summer since they are easy to wear and look great with your outfits! My favorite slide sandals I have in my own closet are these Sam Edelman Bay Slide Sandals in "almond patent", Steve Madden Hadyn Sandals in "cognac", which are polished casual standals. I also love my Birkenstock Arizona Birko-Flor Slide Sandal in "black" and my Birkenstock Big Buckle Sandals in "Antique Cognac Oiled Leather".
7 – Sunglasses: Sunglasses are a must-have when it is bright and sunny outside! You can opt for a budget-friendly pair, mid-price pair or a designer pair.
8 – Minimal Jewelry: Jewelry with a minimal style has been popular for a few seasons. Examples are simple necklaces, either chain or small pendants, stud earrings, small hoop earrings, simple style rings and dainty bracelets. It is especially good to wear minimal jewelry in the hot Summer months, since you don't want to wear anything heavy in the heat. You can choose either plated jewelry or pure yellow gold, white gold or sterling silver to last for years to come.
9 – Straw Hat: These hats not only look lovely with your outfits, but they keep your head cool and protect your head from the sun. I have this J. Crew Raffia Bucket Hat that I wore the whole time on our Charleston vacation last month in June. I have this Madewell Packable Straw Hat with black ribbon and love it! I also have this Lanzom Straw Hat that I bought on Amazon and it's a great quality hat.
10 – Straw Bag: Straw bags are lovely additions to your outfits! There are several styles and sizes of straw bags to choose from. The Loewe Leather Trim Basket Tote is beautiful and well made (similar budget style here) and the Demellier Santorini is a gorgeous bag!
A Bit Of Inspiration For Your Day:
"I will sing of your strength, in the morning I will sing of your love; for you are my fortress, my refuge in times of trouble." – Psalms 59:16