Summer Vacation Capsule Wardrobe | 11 Pieces, 10 Outfits
Summer is here and so is vacation season! Whether you go to the beach or sightseeing, you want to make sure you have lots of outfits on vacation without having to bring your closet with you!
I have got a Summer vacation capsule wardrobe for you! You can use this capsule wardrobe on its own for a small vacation, or expand it by adding a few more clothes and shoes for even more outfits! I shared this Summer vacation capsule wardrobe on my Instagram @classyyettrendy. Follow along on Instagram @classyyettrendy for more outfit ideas and see what I wear from my own capsule wardrobe in my closet!
The Color Palette
I kept the color palette to a minimum with only navy, white and denim. What's great about this mini capsule, is since all the colors are neutrals, it is easy to add more pieces in neutral colors or accent colors and/or patterns, like coral, pink, green, red, etc.
I'm using Navy as the base color for this capsule wardrobe, but you can also use black or any other color! Just replace the navy pieces with the color of your choice! For your swimsuit, you can use any style and any color or pattern, whether it is a top and bottom set like in this capsule or a one-piece swimsuit.
Get A Foundation Capsule Wardrobe For Your Closet
The idea for this blog post came from the popular capsule wardrobe, Simplified Style®: The Dressy & Casual Year-Round Core Closet Essentials Capsule Wardrobe, which several pieces in this capsule comes from. Simplified Style® is a complete classic and neutral-color foundation wardrobe for all 4 seasons of the year. It includes over 400 outfit ideas, wardrobe layouts for all seasons, outfit calendars, plus more!
Transform Your Closet & Always Know What To Wear!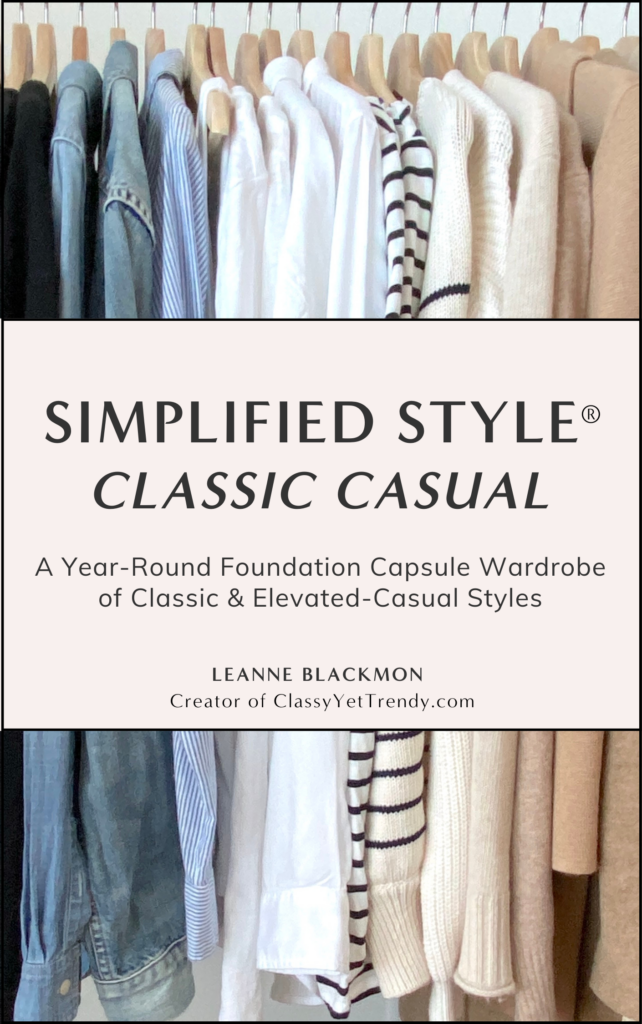 How To Build A Travel Capsule Wardrobe
I have a whole post dedicated to showing How To Build A Travel Capsule Wardrobe. You will learn how to plan your wardrobe, how to choose your clothes and shoes, what to wear on a plane (if you will be flying) and more! And, if you need more travel capsules and outfit ideas, see the Travel/Mini Capsule Wardrobes category here on the blog.
The Summer Vacation Capsule Wardrobe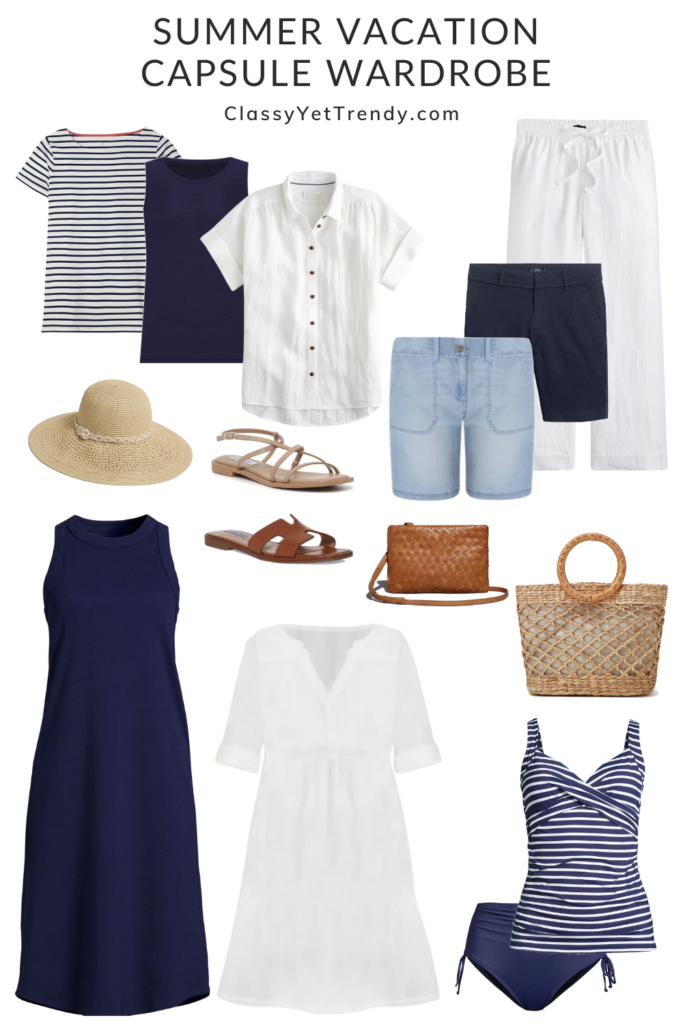 Shop The Capsule Wardrobe:
The 11 Pieces
Striped Tee – This top is a classic and timeless piece that is a simple pattern and adds a bit of definition to your outfits. This Boden Striped Tee has been in my wardrobe for several years. I love the style of tee, the soft cotton material, the relaxed neck design and the width of the stripes.
Navy Tank – This tank is a figure flattering shape that has a higher neckline so you can wear it on its own without being too revealing. I have this tank in my own closet in navy, black and white colors!
White Linen Short Sleeve Shirt – This is another top I have in my own closet! The J. Crew one is limited on sizes since it is so popular, but here is a similar one from Quince (I have this one too and love it!) and one from Eileen Fisher at Nordstrom.
Denim Shorts – I have seen these J. Jill denim shorts in the store and they are so soft! They are stretchy and will hold their shape since they have spandex in the cotton/lyocell material mix. These are the blue "mediterranean wash" color.
Navy Chino Shorts – I highly recommend these shorts as I have the navy pair and also the white pair. I like the 7″ mid thigh length.
White Linen Pants – I love these pants since they have a wide leg and drawstring waist. They are very comfortable and aren't see through.
Blue Tank Dress – I included this style of dress, along with the white dress because they are multi-functional in this capsule wardrobe. You can wear this dress with sandals in the daytime AND it also works as a swimsuit cover up! You might also like this Jersey Tank Dress on Amazon!
White Gauze Tiered Dress – Like the tank dress above, you can wear this dress during the day, at night to dinner or to the pool or beach as a cover up! You may also like this cotton gauze button-down dress, this cotton gauze dress or this white linen dress.
Swimsuit Tankini Top & Bikini Bottom Set – I consider this 2-piece set as one piece in the capsule wardrobe. These pieces are chlorine-resistant and comes in many sizes.
Cognac Slide Sandals – These sandals will go with all your outfits and they are very comfortable! They look like the Hermes designer sandals, but are way less, plus they are on sale!
Strappy Tan Sandals – These sandals look great with your casual outfits and dresses. Thin strap sandals are trending this Summer, so you will be in style wearing these shoes!
The Accessories
Straw Tote Bag – Straw bags are always popular in the Summer season and adds texture to your outfits. This one from Amazon is only $39.99 and is lined!
Woven Leather Crossbody Bag – Madewell bags are some my favorite bags, so when I saw this one I knew it belonged in this capsule wardrobe as an accessory! This is the "desert camel" color, which will pair well with the neutral color shoes in this capsule.
Straw Hat – When you are at the beach, sitting by the pool or sightseeing on vacation, you need a hat to keep you cool the sun off your head. This wrapped rope straw hat is lovely and you may also like this straight crown straw hat.
The Outfits
Here are several outfit ideas for your Summer vacation using all the pieces in the capsule wardrobe, along with the accessories. You can use this capsule wardrobe on its own for a small vacation, or expand it by adding a few more clothes and shoes for even more outfits!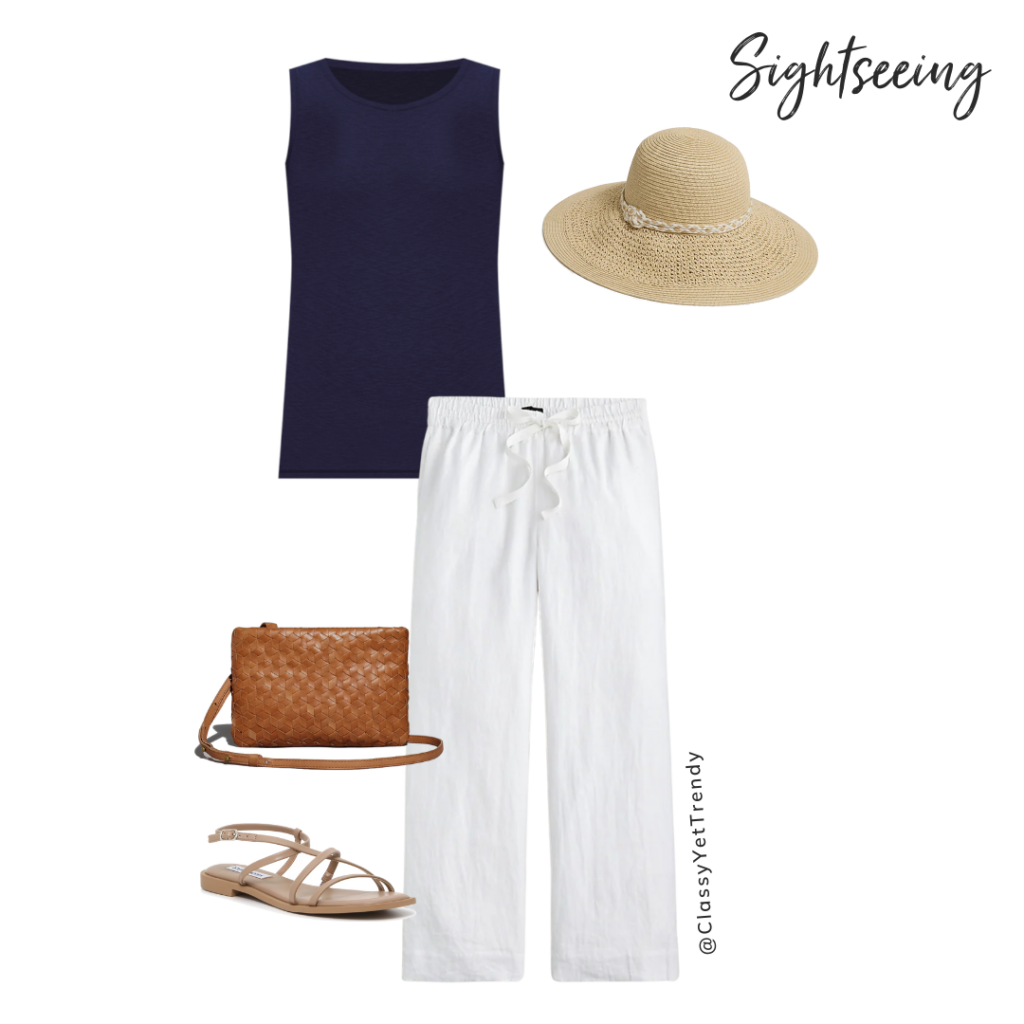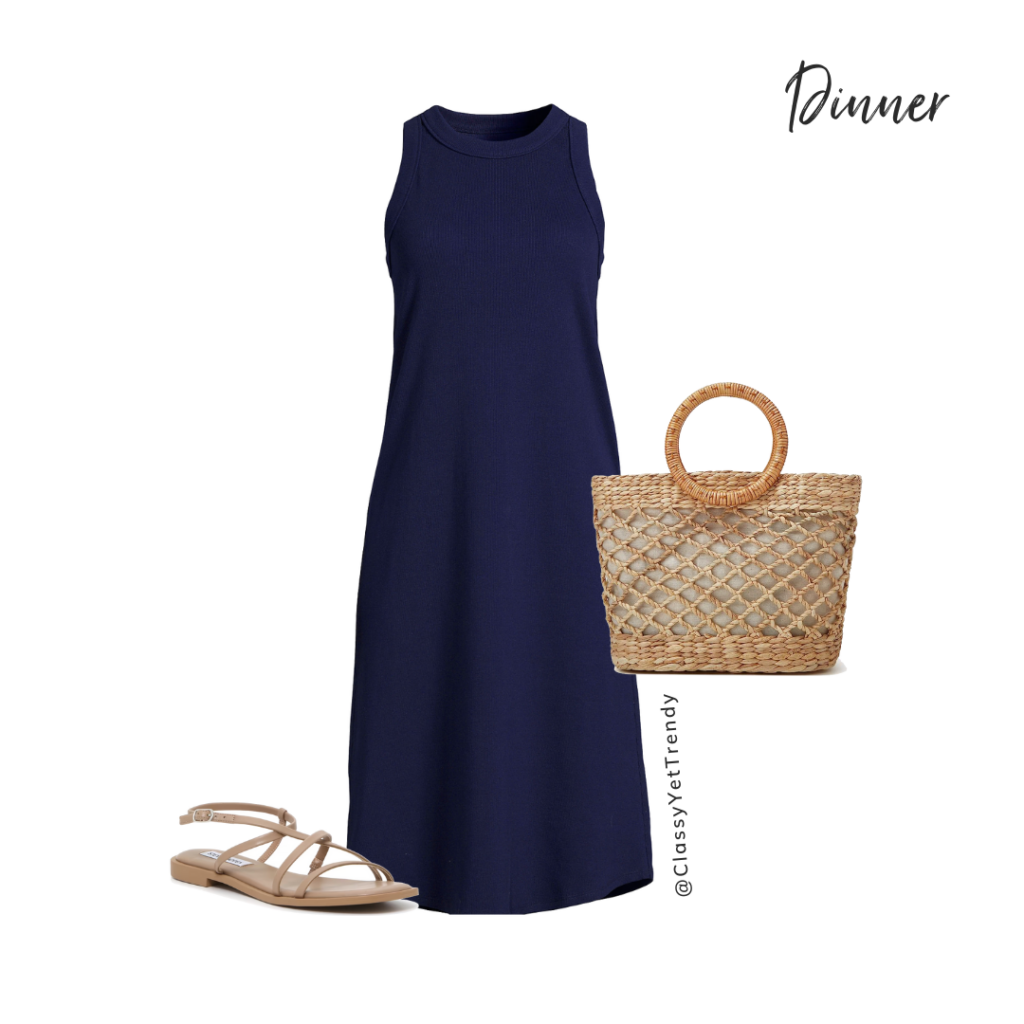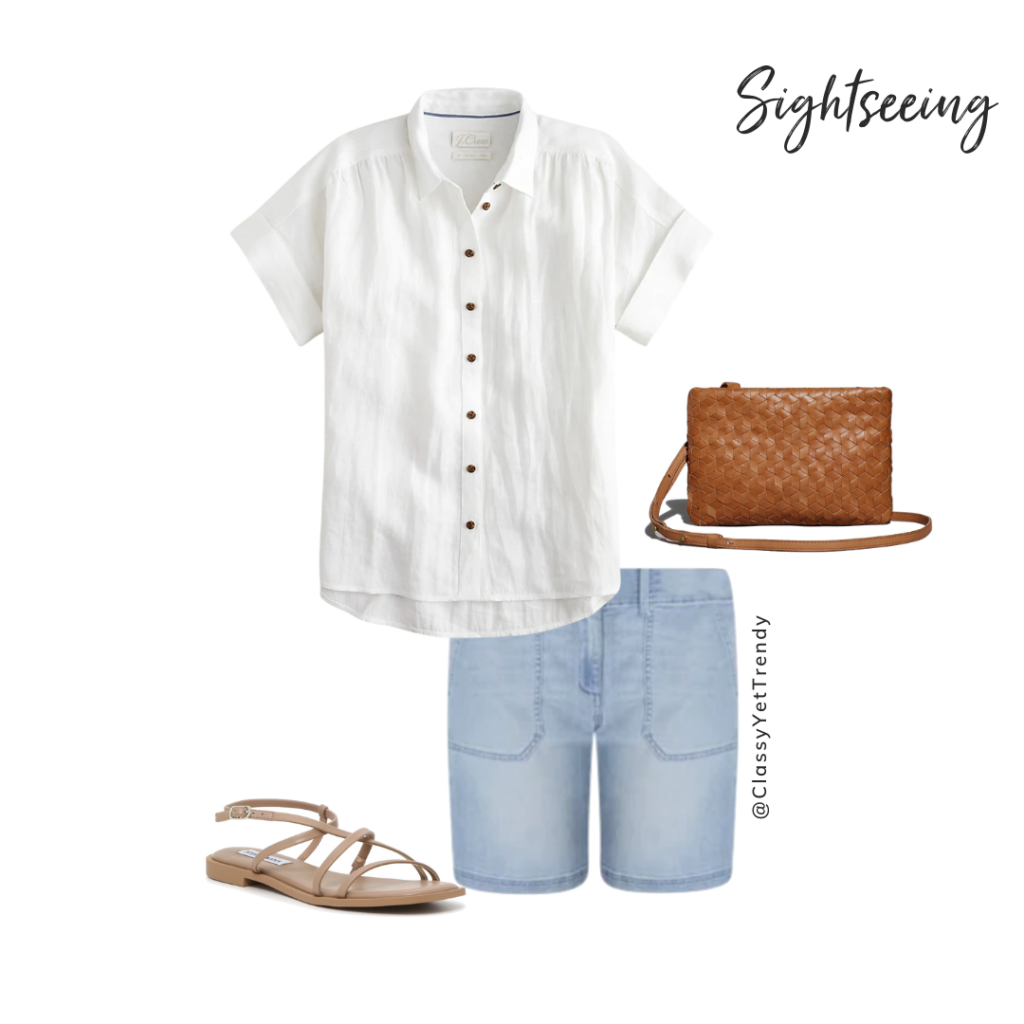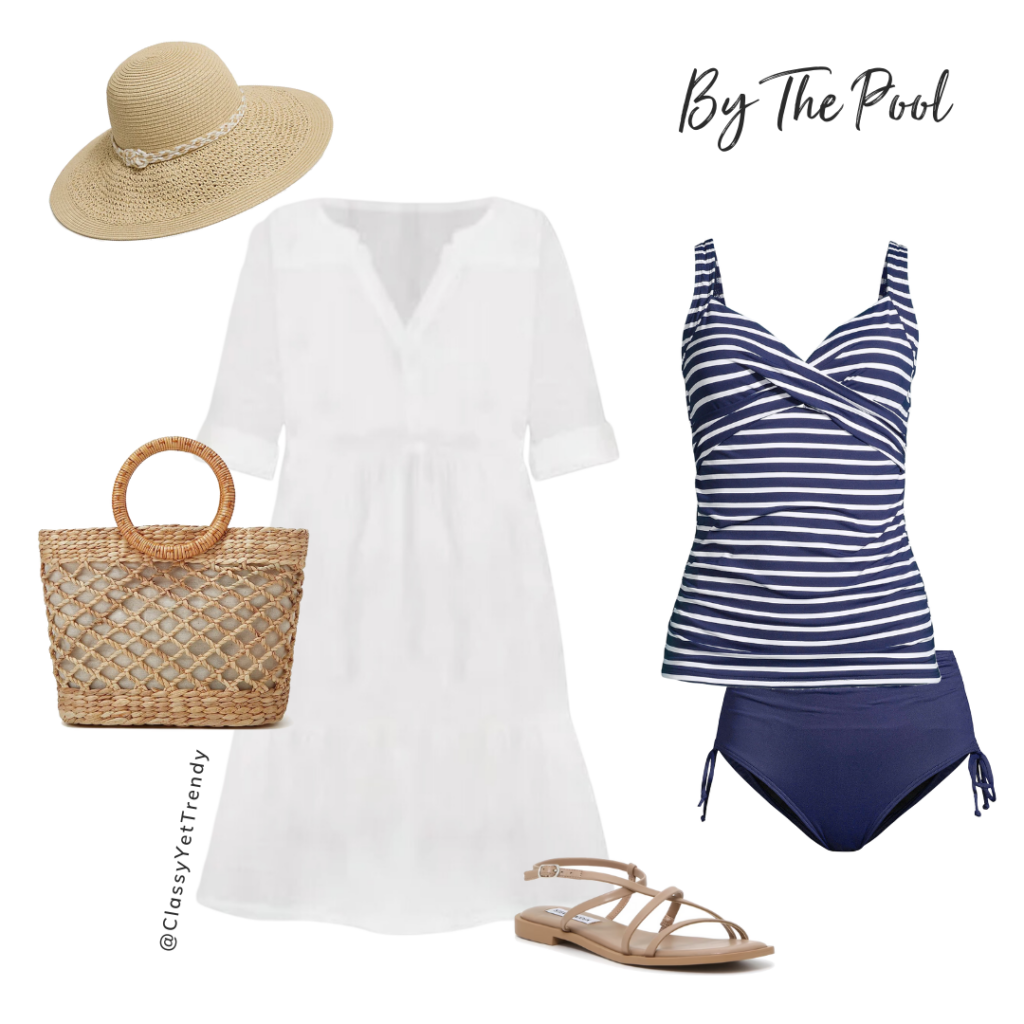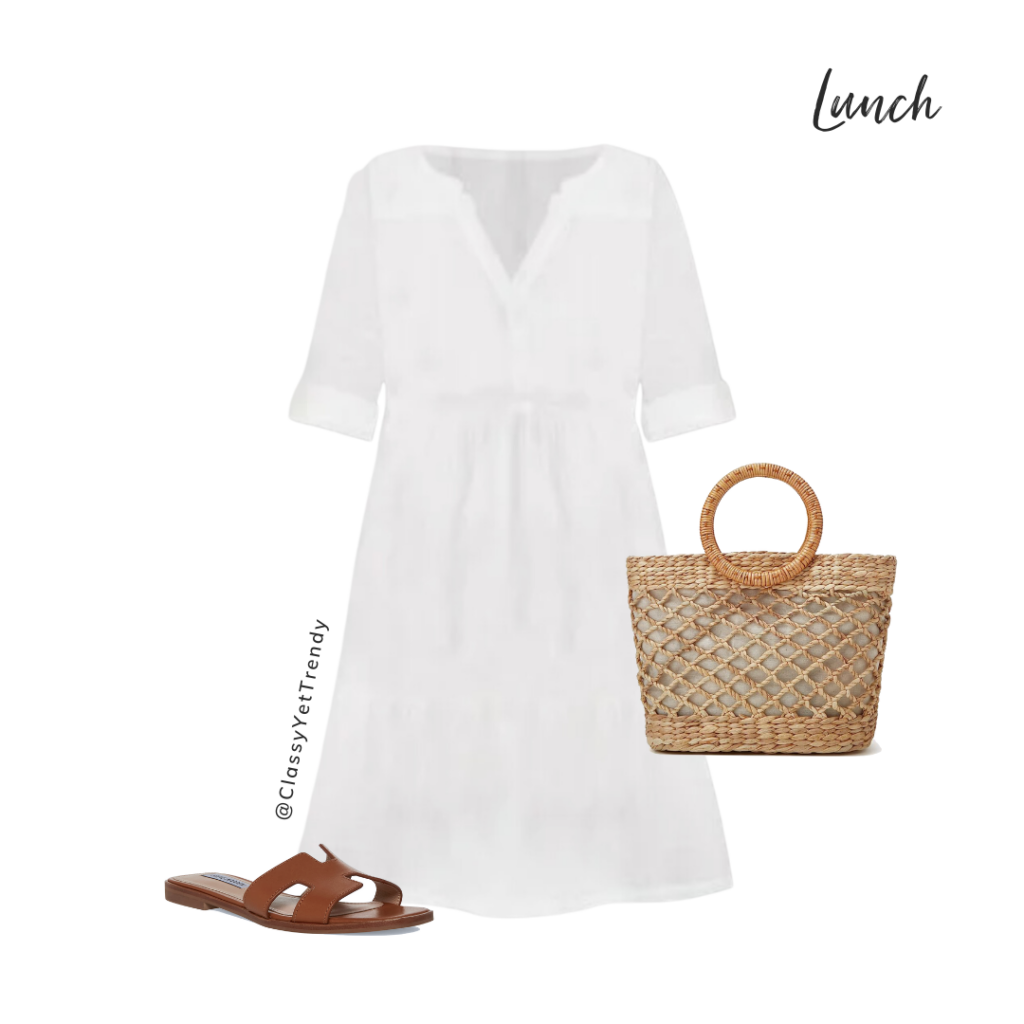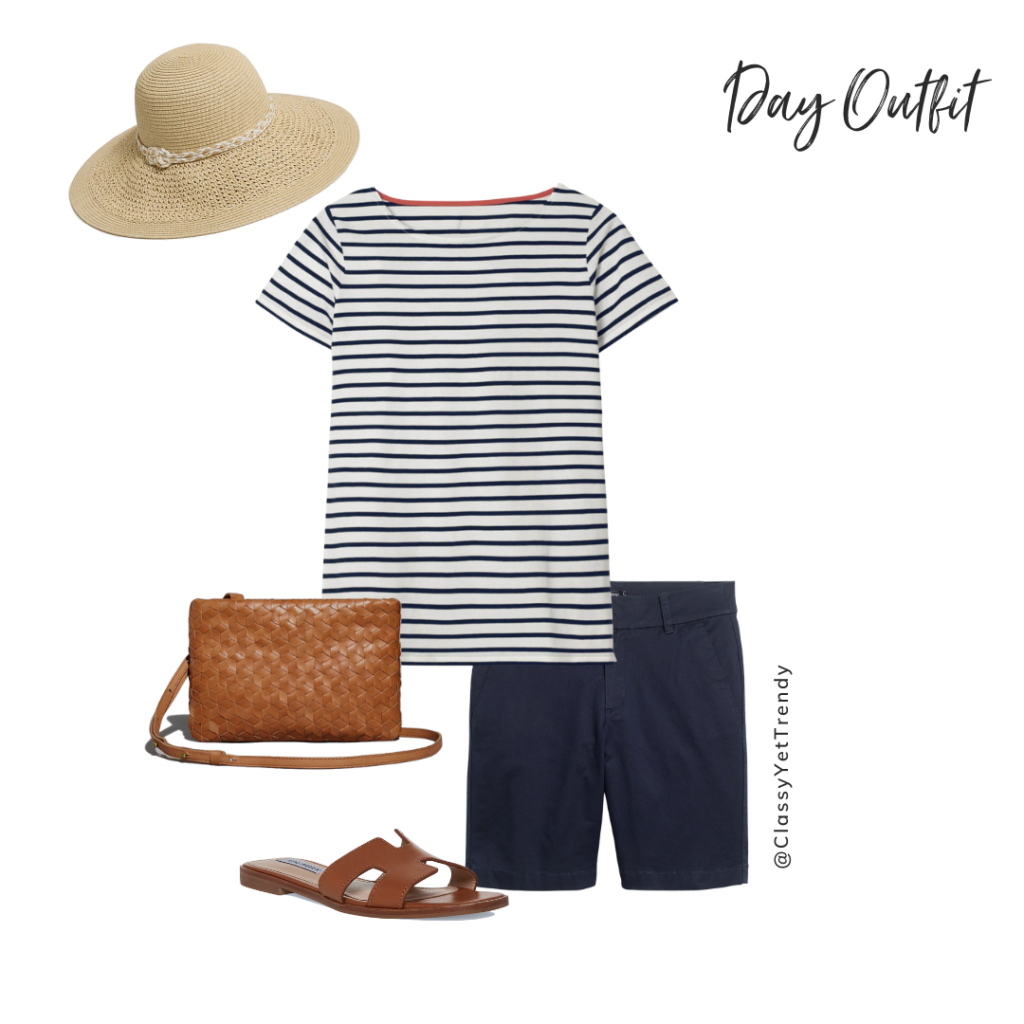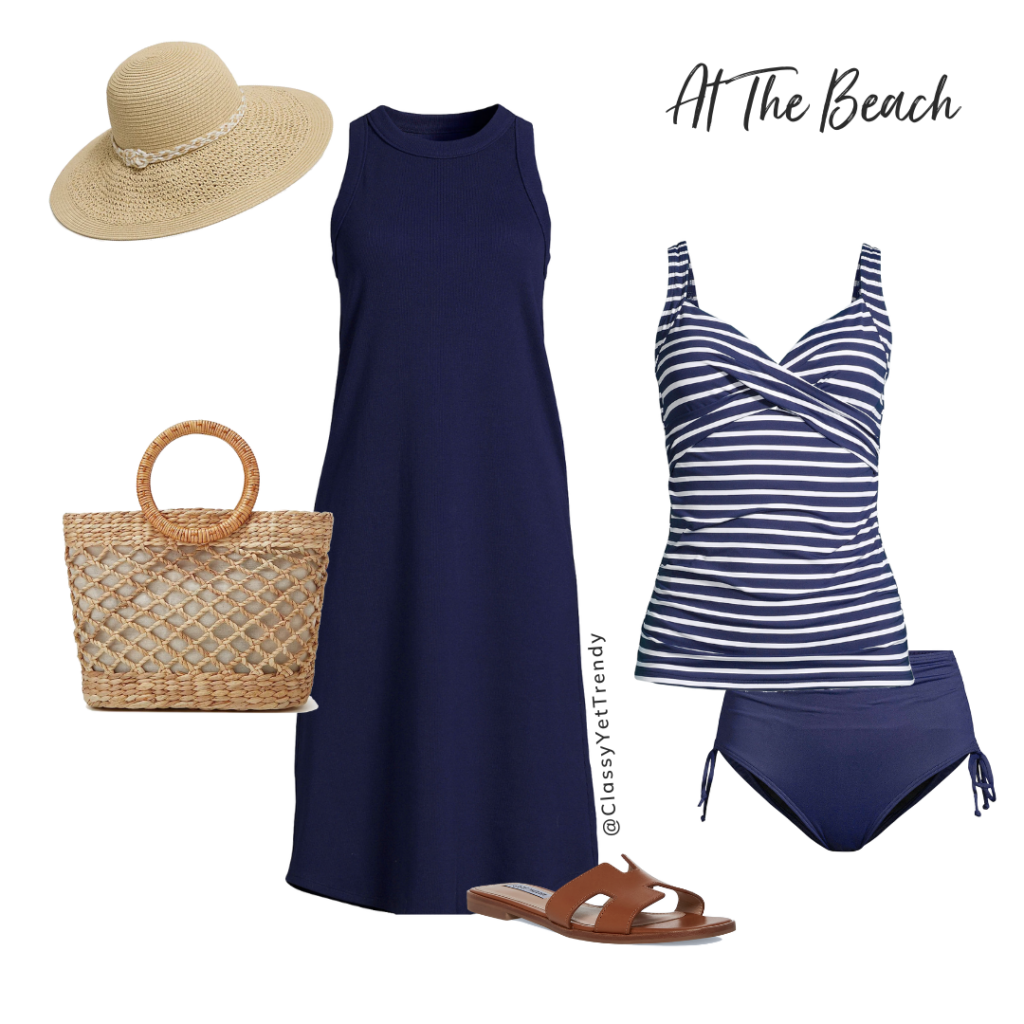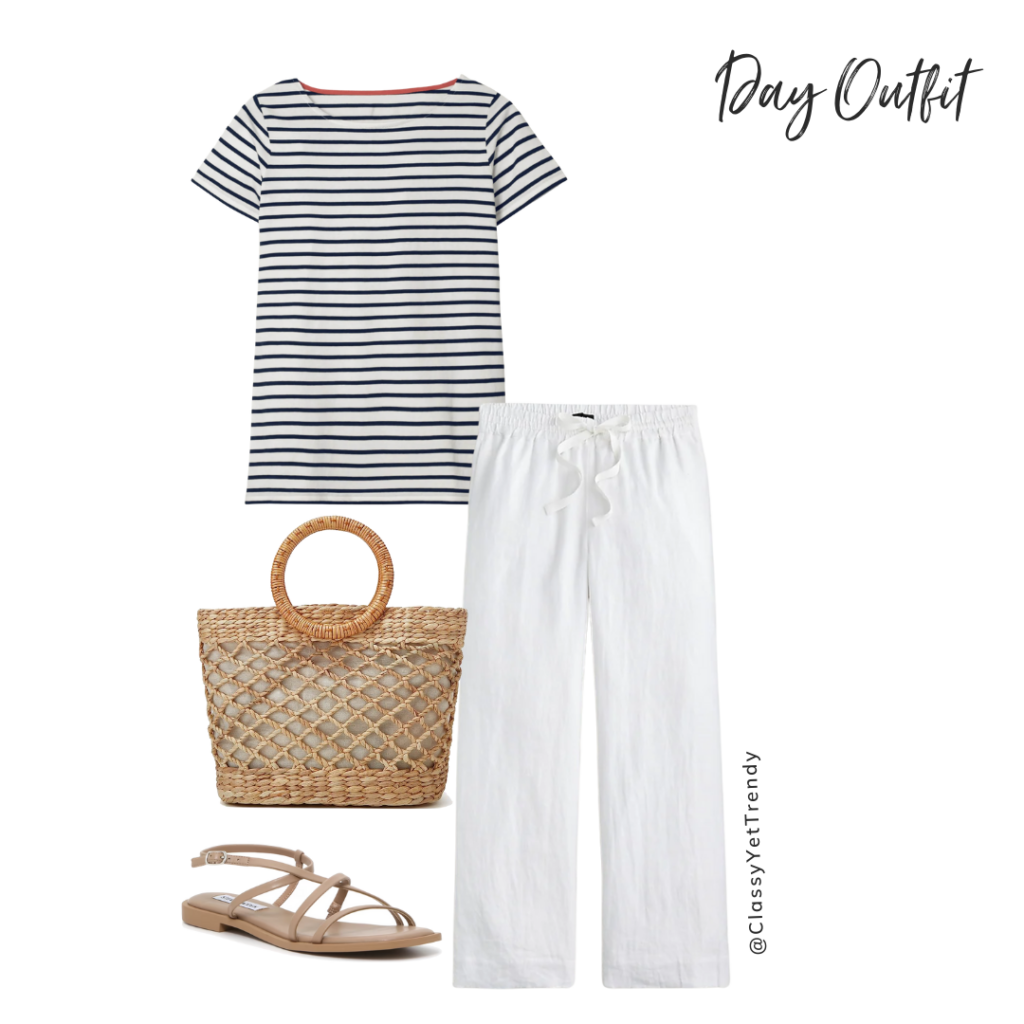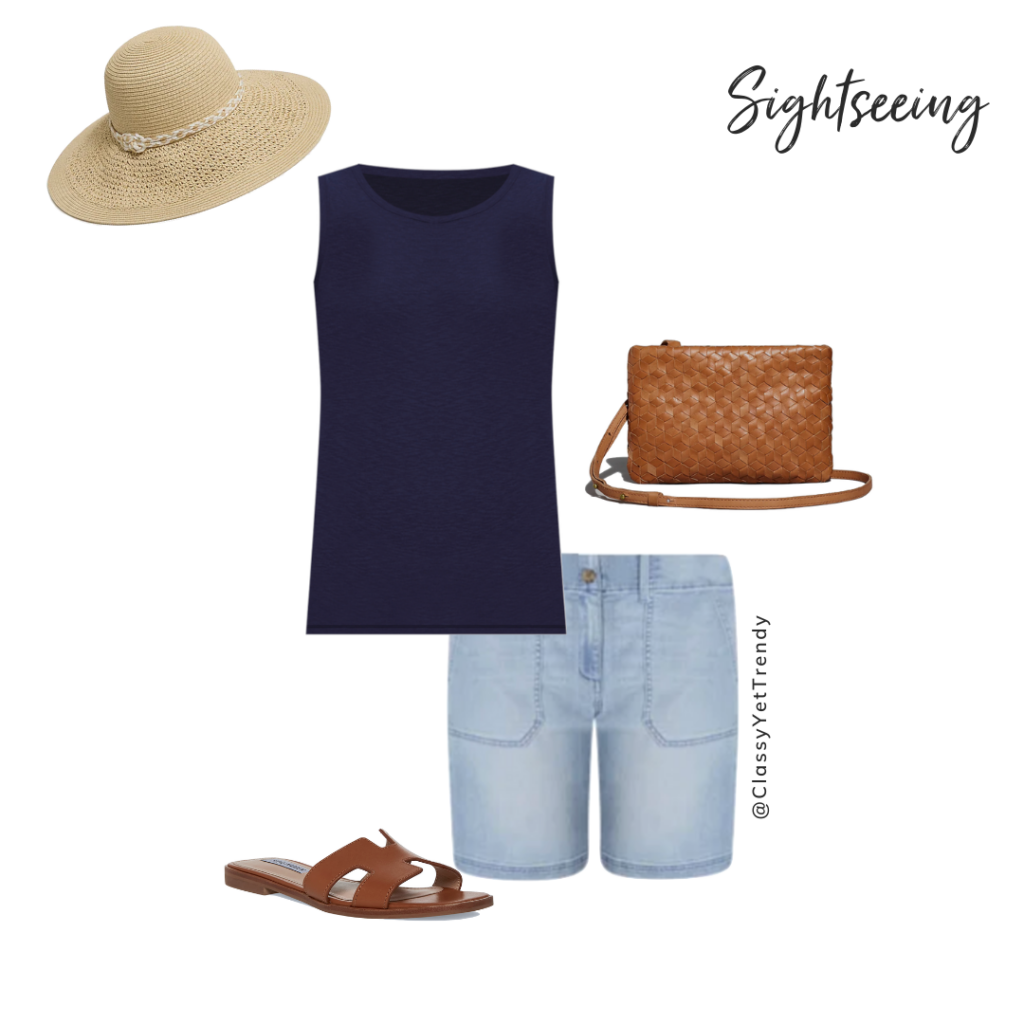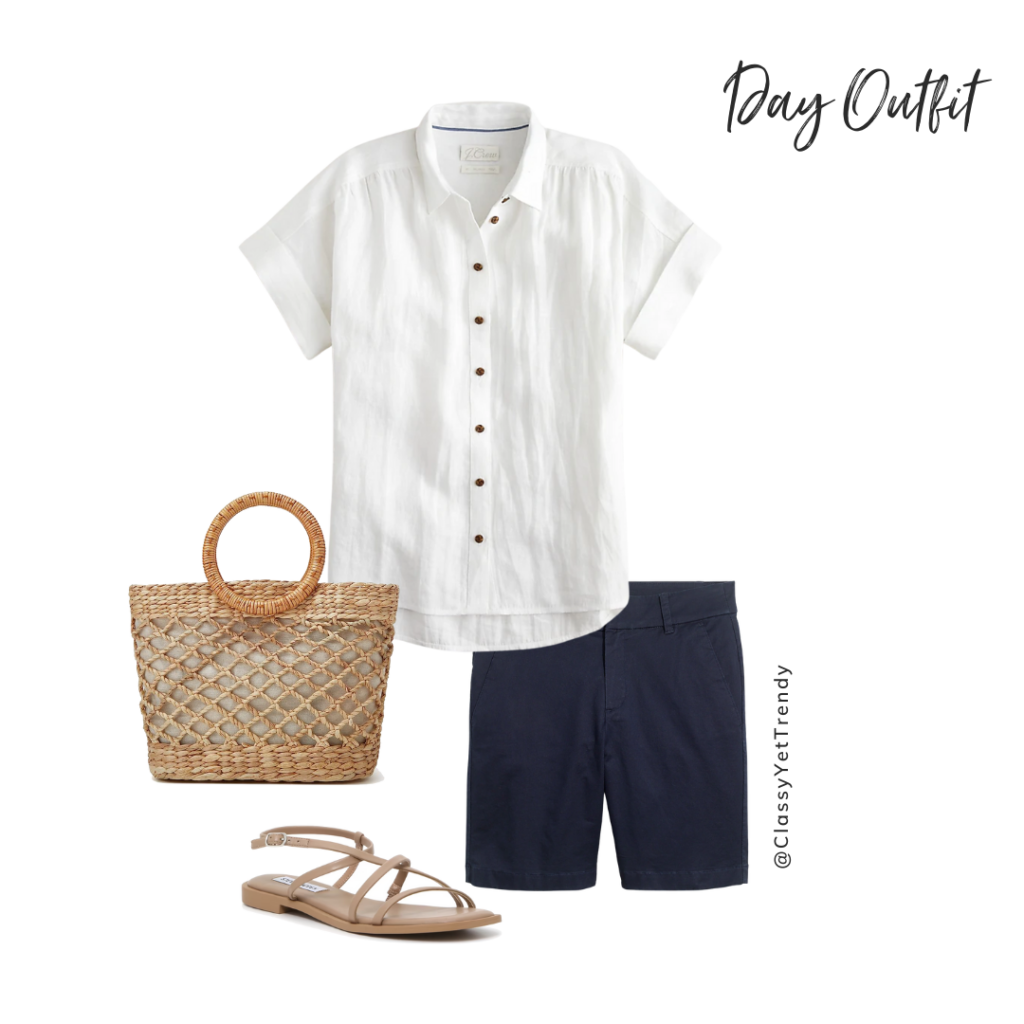 Shop The Post
I hope you enjoyed this post! Which outfit is your favorite?
A Bit Of Inspiration For Your Day:
"Cast all your anxiety on him because he cares for you." – 1 Peter 5:7