Smart-Casual Fall Mini Capsule Wardrobe
Sweaters are an easy piece to style in the fall season and are so versatile. You can wear them casually with jeans or pants and dress them up with skirts.
I took 3 sweaters in neutral colors from my own closet to create a Smart-Casual mini capsule! These are classic styles that can be styled in many outfits, not just smart-casual, but also everyday casual and dressy. Just add your bottoms, shoes and layers and you are good to go! I shared this sweater outfit mix and match today on my Instagram @classyyettrendy. Follow along on @classyyettrendy for more outfit ideas and see what I wear from my capsule wardrobe!
I just added the Quince Cashmere Fisherman Sweater in "Ivory" (only $99.90!) and the Quince Mongolian Cashmere Sweater in "Oatmeal" (only $50!) to my wardrobe and I couldn't be happier! I have been looking for a fisherman-style sweater and a cool tone light brown sweater for a while, so when Quince reached out to me to see if I wanted to try any of their sweaters in a collaboration, I couldn't believe they had the sweaters I was looking for!!! These sweaters are beautiful and I couldn't be more pleased! Even though this post is not sponsored, these Quince sweaters were kindly gifted to me. Both sweaters are very soft and they are very low priced to be quality cashmere!
What Is Smart-Casual Style?
Smart Casual is a blend of two styles. The "Smart" is refers to business workwear style and the "Casual" refers to everyday, comfortable style. Smart Casual gives you more flexibility with your outfits and is suitable to wear more places that just the workplace.
Smart Casual style includes well-fitted, neat and office-appropriate pieces that are slightly less formal than a business-casual or business-professional dress code. Smart casual is much more elevated and put-together than just casual wear.
Where Can I Wear Smart-Casual Outfits?
You can wear Smart Casual style mostly anywhere! Here are a few places to wear your outfits:
Workplace – Some workplaces allow smart casual in their dress code, so check to see if you can wear smart casual to your workplace.
Events – like luncheons, conferences or meetings.
Weddings and Graduations
Shopping
Restaurants
To find out more about the Smart-Casual style, see this post I published last year, "How To Create A Smart-Casual Capsule Wardrobe: 10 Pieces / 9 Outfits".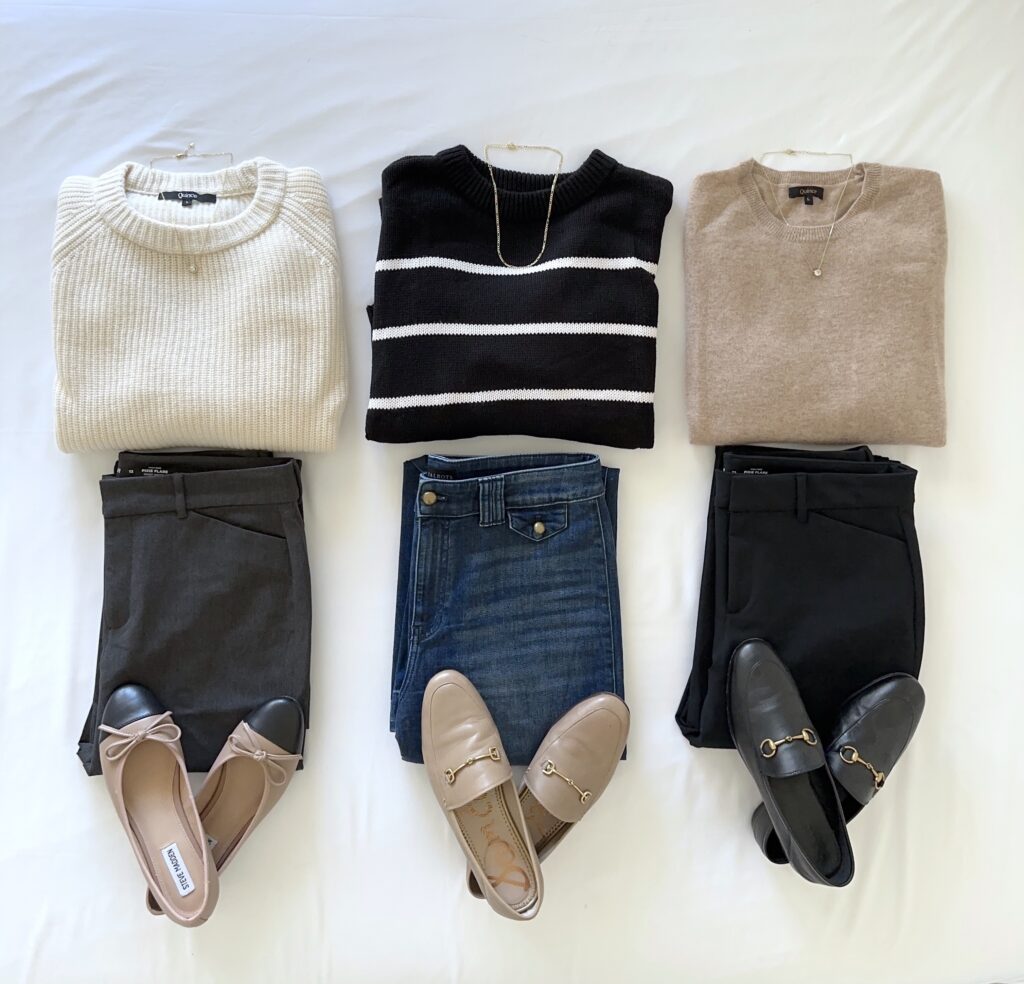 The Sweaters (left to right):
Quince Cashmere Fisherman Sweater in "Ivory" Only $99.90! c/o
Amazon Black Striped Sweater
Quince Mongolian Cashmere Sweater in "Oatmeal" Only $50! c/o
The Bottoms (left to right):
Old Navy Pixie Flare Pants in "Dark Heathered Gray"
Talbots Wide Leg Trouser Pants
Old Navy Pixie Flare Pants in "Black Jack"
The Shoes (left to right):
Steve Madden Ellison Cap Toe Flats in "Natural" Chanel-inspired style!
Sam Edelman Bit Loafers in "cedarwood"
Gucci Brixon Horsebit Loafers in "Black Leather" / Also love these Sam Edelman Black Bit Loafers
Handbags and necklaces shown:
Demellier Midi New York Black Tote
Demellier The London Bag in "Taupe Smooth"
Pavoi Gold Pendant Halo Necklace
Pavoi Gold Paperclip Chain Necklace
Pavoi Gold Bezel Necklace
Here are the pieces I picked out for this Smart Casual mini capsule wardrobe. You can swap the jeans for another pair of pants or a skirt and feel free to swap the shoes for any other neutral color shoes or pumps you have in your closet that coordinate with this capsule! I added two coats in the outfits. You can also add a blazer or jacket too.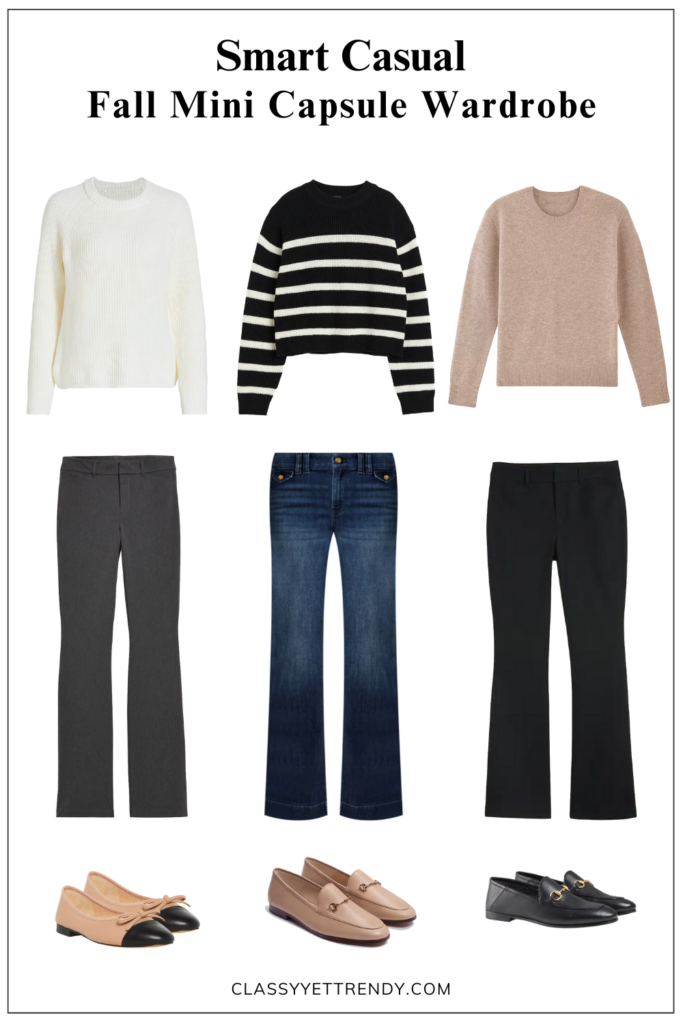 Shop Them Here:
6 Outfit Ideas
Here are a few ways to mix and match the pieces to make 6 outfits. You can make more combinations, plus additional looks by adding different jackets, cardigans, blazers, etc.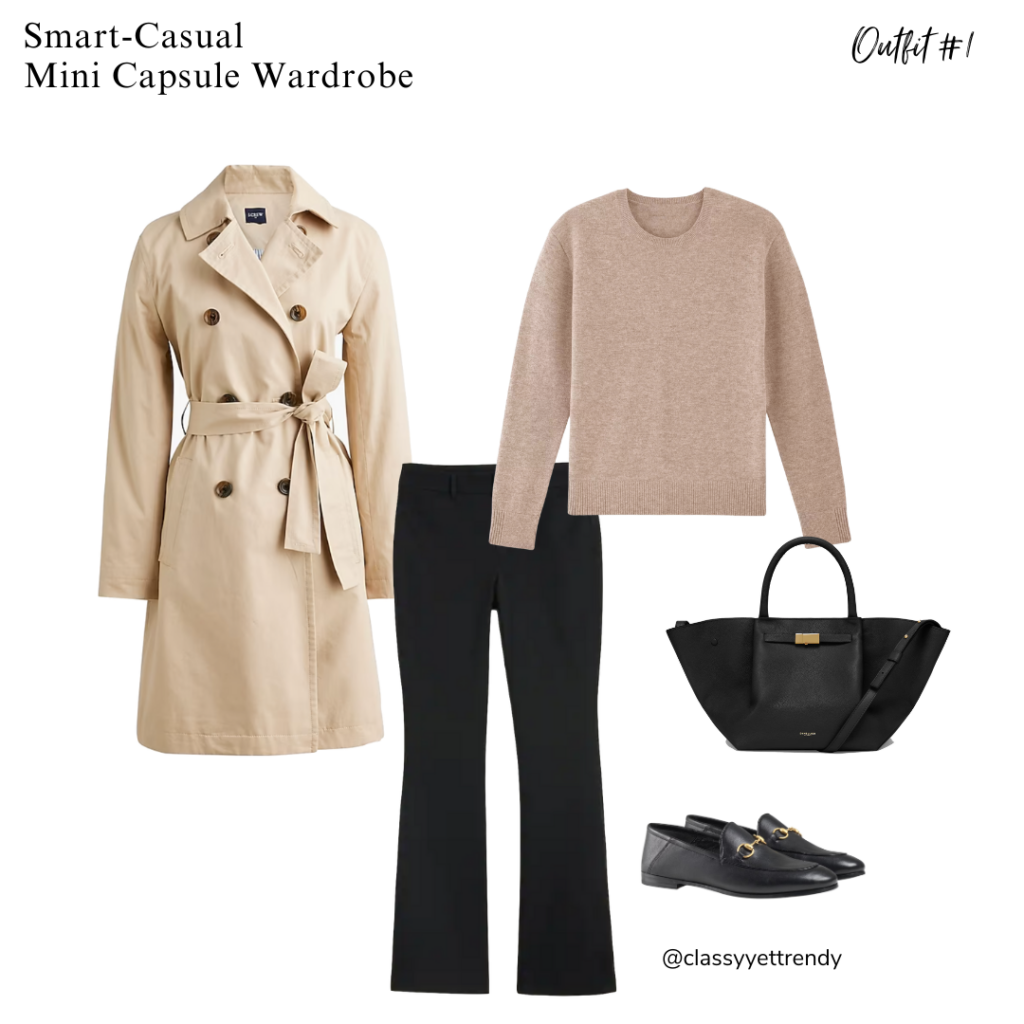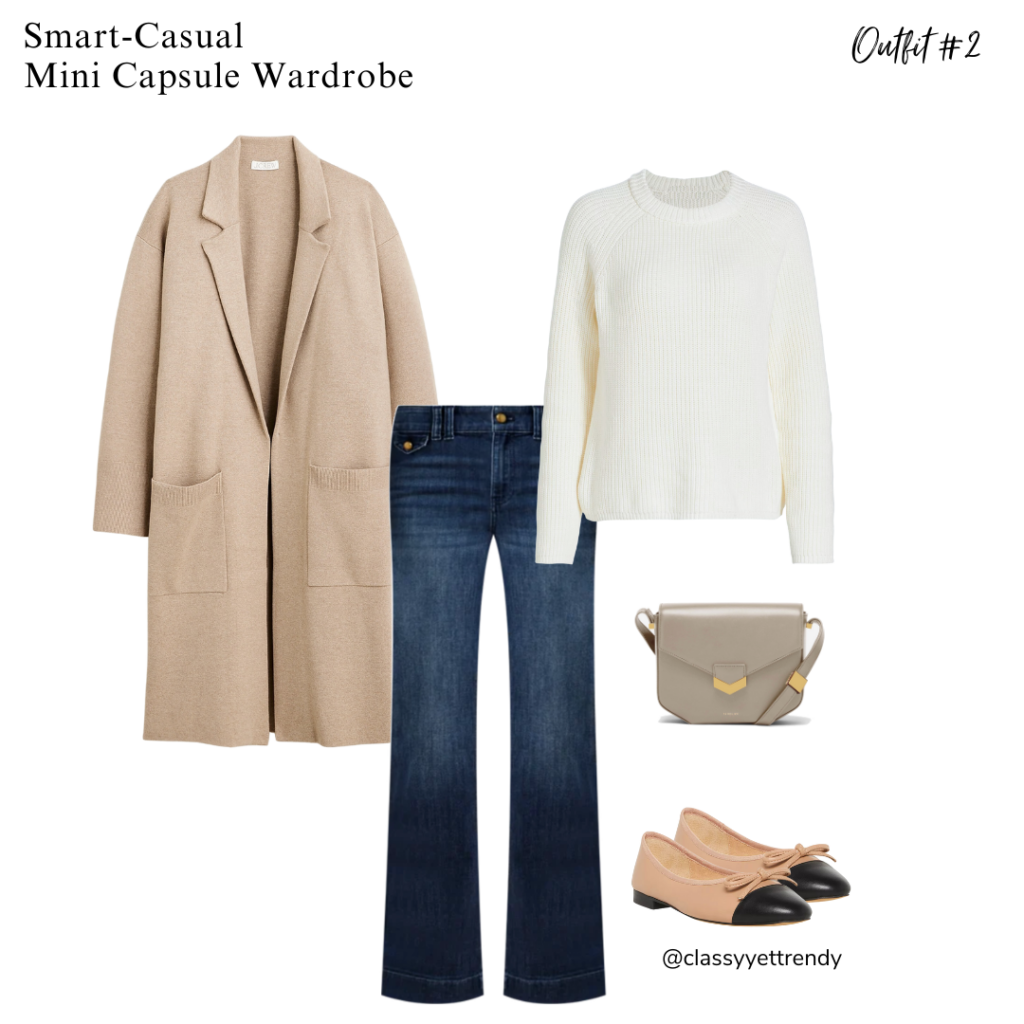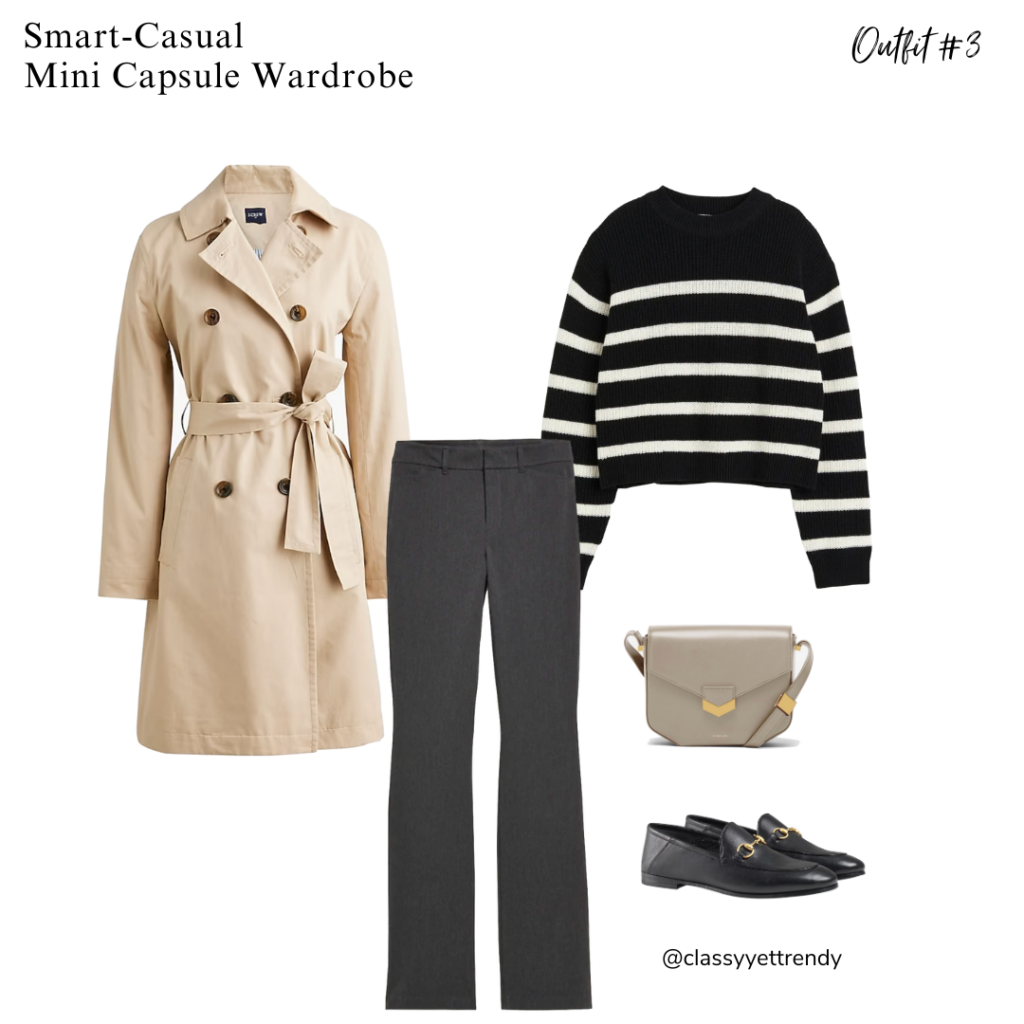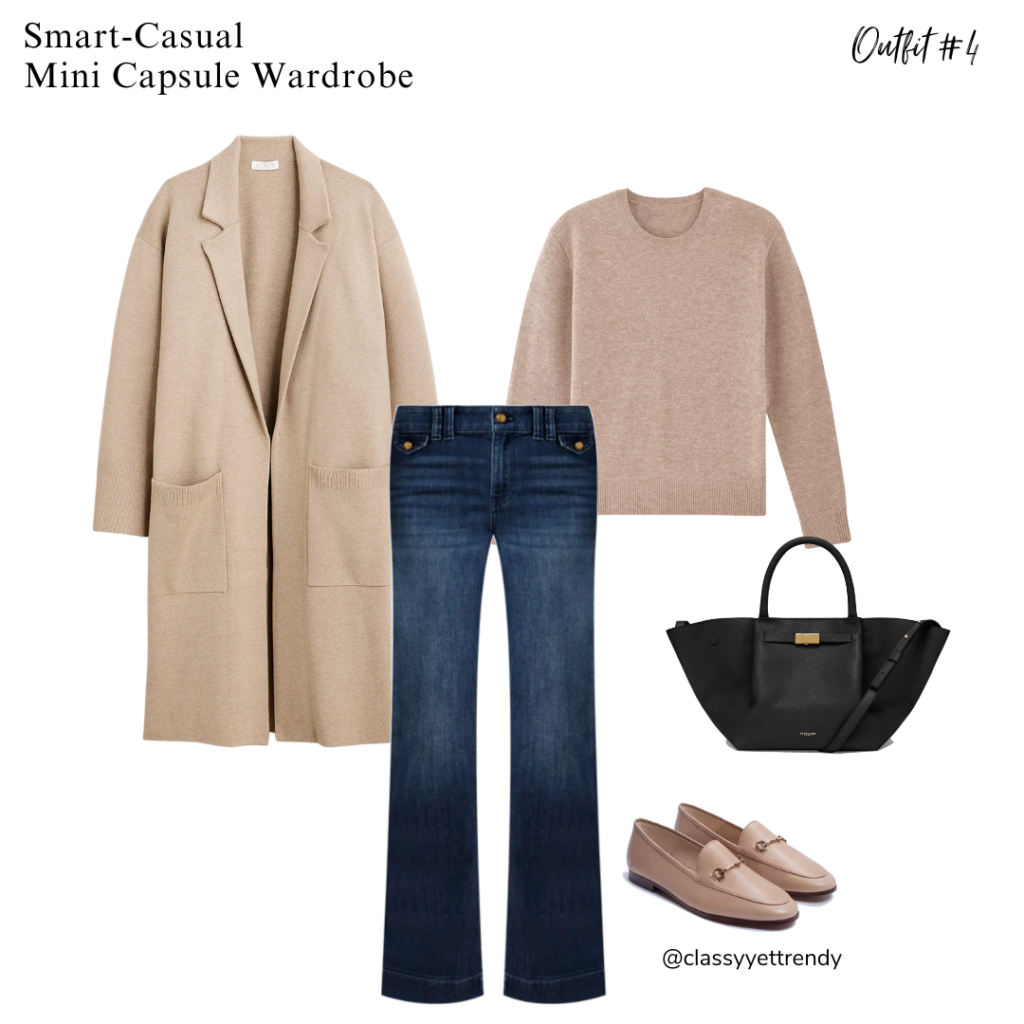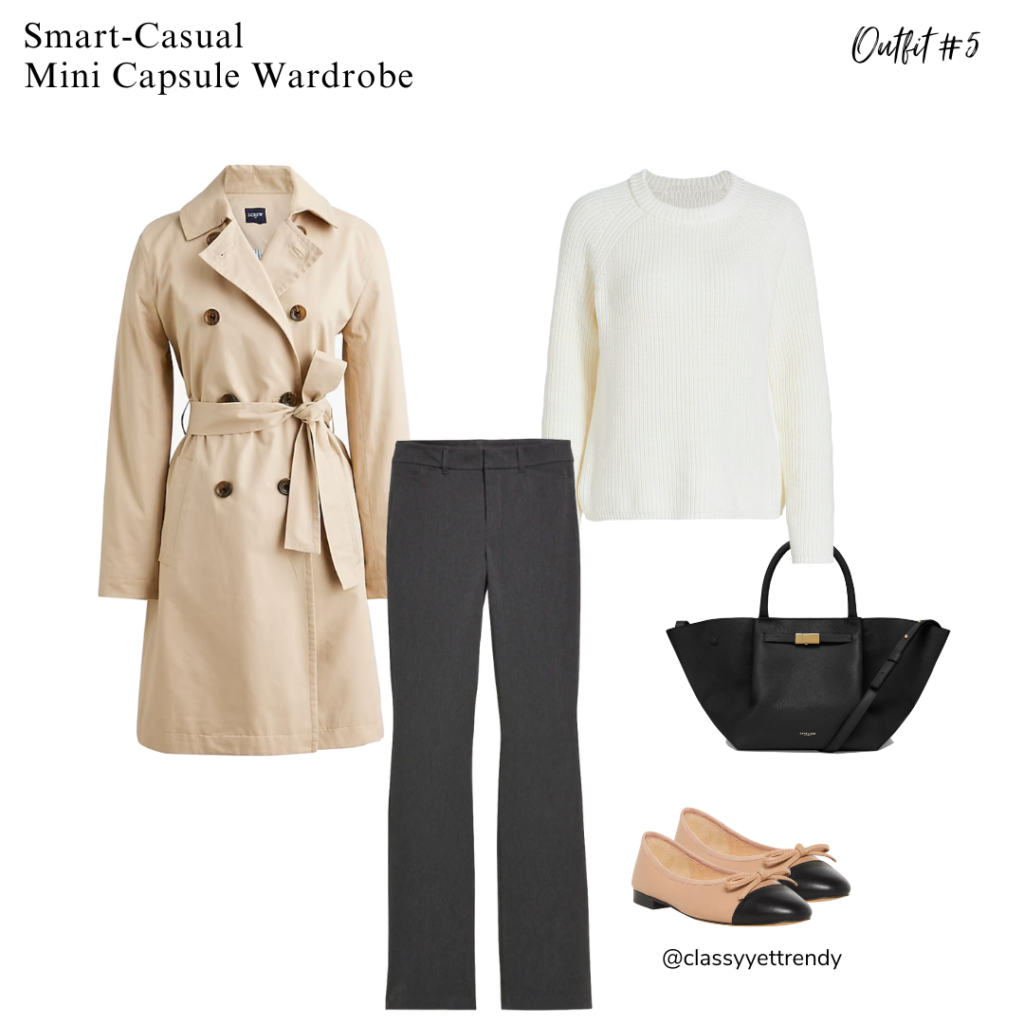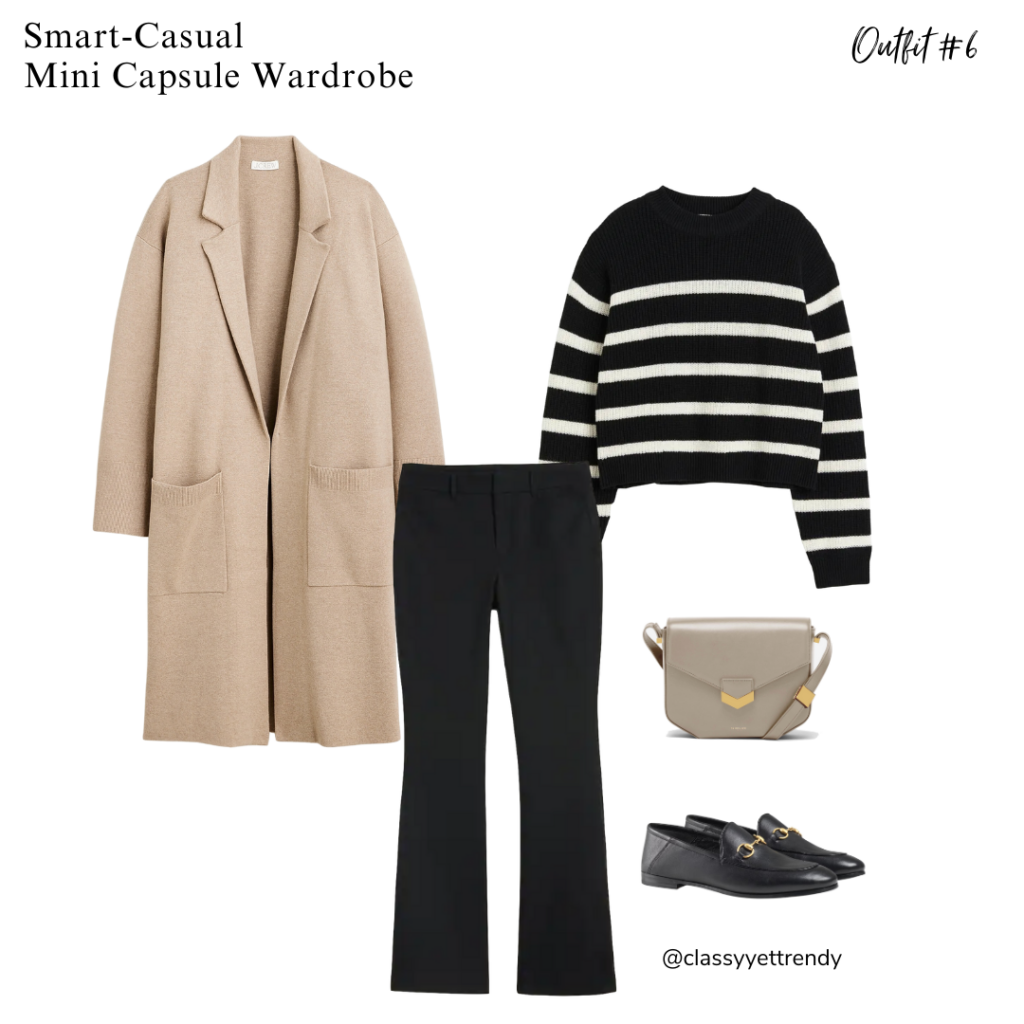 Shop the Post:
A Bit Of Inspiration For Your Day:
"For it is with your heart that you believe and are justified, and it is with your mouth that you profess your faith and are saved." – Romans 10:10