I don't know if you all are familiar with
ShopStyle
, but I want to share with you why I use it everyday. It's an App that lets you search and shop for clothes, accessories, home decor and more, compare prices, save items as your favorites and receive alerts when your favorites go on sale!
Here's a screenshot of the App on my iPad: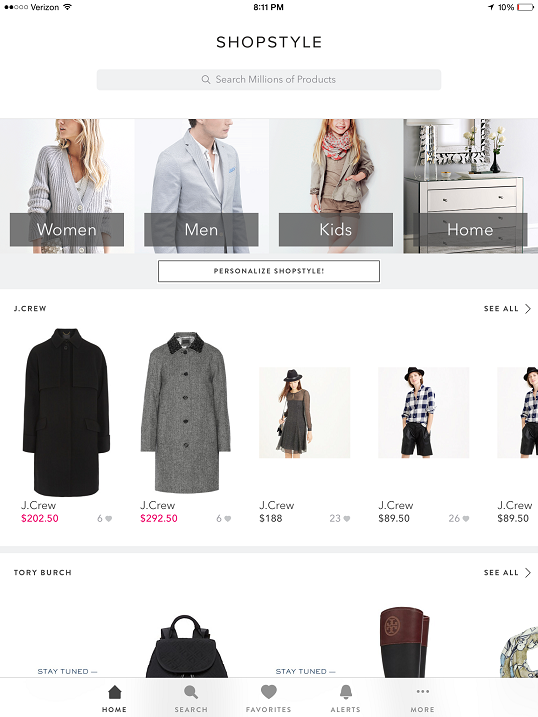 Here are 5 ways I use ShopStyle:
1.
Easy To Use
: The
ShopStyle App
is so easy, it's really simple to use. The menu is at the bottom and the screens are easy to navigate!
2. Search For Items: Browse the latest fashions by brand or category including women, men, kids, bags, shoes, furniture, home decor, kitchen gadgets and lots more. For example, say I'm looking to buy a gray cardigan. I can search for "gray cardigan". I can search by lowest price, most popular, the newest items and the latest price drop. I can even narrow the search down by category, brand, store, price, discount, size or color. I use this feature the most.
3. Set Items As Favorites: See an item you love and don't want to forget where you found it? You can click on the heart just below the item and it will save it to your favorites. You can even view all your favorites at once.
Here's a few items on my Favorites page: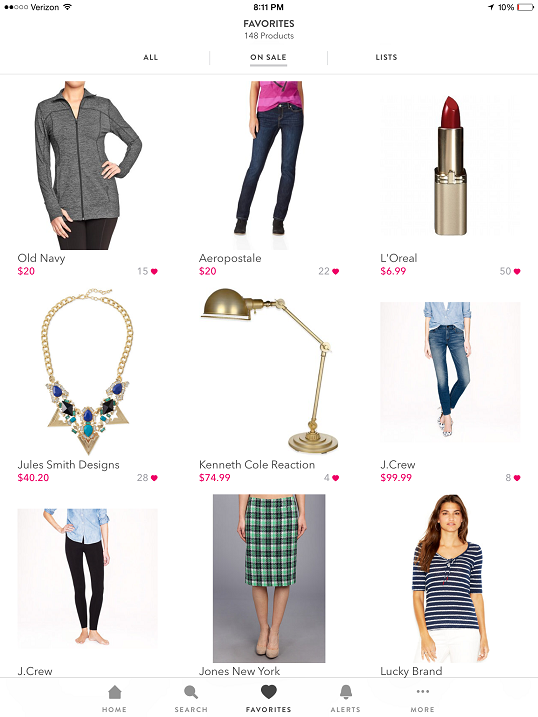 4. Receive Alerts When Your Favorites Go On Sale: I set the App to receive alerts when my Favorites go on sale. This is super neat because you will receive a notification on your home screen when an item goes on sale.
5.
Buy Directly From The Retailer
: There's no need to go out of the
ShopStyle App
and try to find where the item is on the retailer's website. While in the
ShopStyle App
, click on the item and you'll go directly to the retailer's page where you purchase the item from the retailer.