Create a Mixable Wardrobe on a Budget Series: Part 1: The "Starter Kit"
The "Create a Mixable Wardrobe On a Budget" Series
Learn how to create a classic wardrobe within your budget!
What is a "Mixable Wardrobe"?  It's interchangeable pieces that can be mixed with each other to create many outfits, also known as a Capsule Wardrobe.  Do you want to create a mixable wardrobe that has personality and style and is trendy too?  Do you think that it's impossible to have this kind of wardrobe while you're living on a budget?  You can have this kind of wardrobe and also stay with your budget!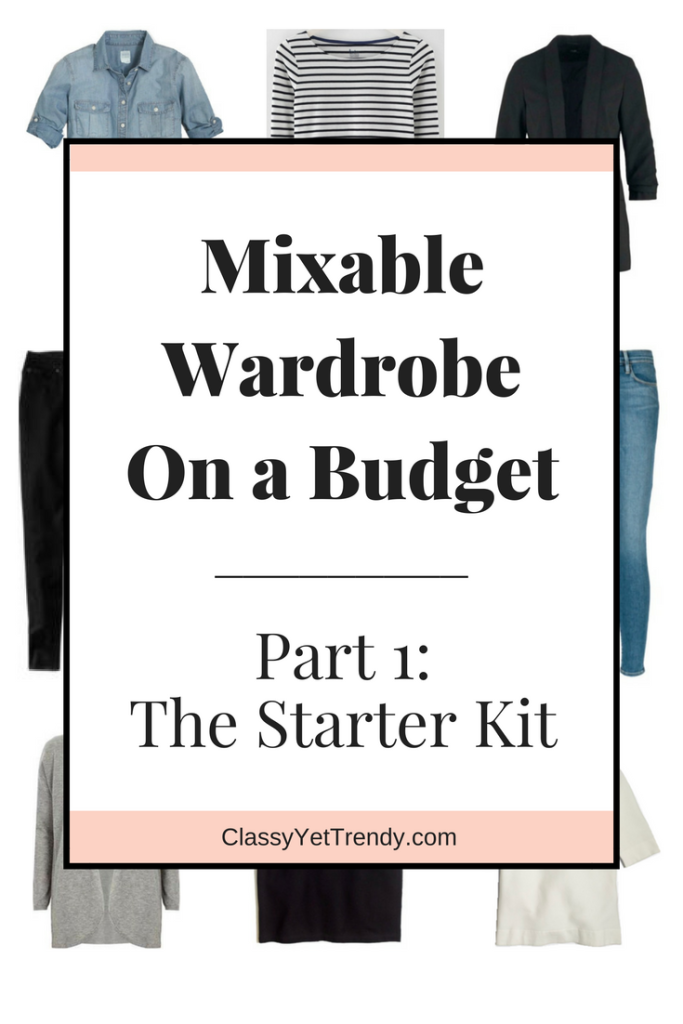 Let's get started with:
Part 1: The "Starter Kit"


Chances are, you may have a few of the essentials to creating a mixable wardrobe already in your closet!  Let's start by going through your closet to see what you have.  If you have these pieces, set them aside for your 10-piece "Starter Kit":
If you don't have these, put these on your shopping list.  These are all key pieces essential to creating a mixable wardrobe.  If you don't have a few of these pieces, you can click on the items below to go directly to the retailers' page.
Click on the images to shop:


Things To Consider When 
Creating Your Mixable Wardrobe:


1.  Establish a Clothing Budget
How much do you have to spend on clothes and accessories each month?  Establish a budget and plan your purchases around it.  At the beginning of the month, write down which pieces you want to add to your wardrobe.  Compare retailer prices with the ShopStyle App or go to ShopStyle.com.   Save the most money by following my 8 Ways To Get At Least 53% Off Retail.  Another way to shop for clothes is at thrift stores.  Shop for pieces that look unworn.  I shop at thrift stores a few times a year.  In the past I've found a few pieces that are still new with the tags still attached!  If you're wanting to save the most money, thrift stores are an option.


2.  Buy Clothes That Fit Well
Have you ever bought a shirt or a pair of jeans that just don't fit right?  If you don't like the way it fits, that item may end up unworn sitting in your closet because you don't feel good wearing it.  When you are building a wardrobe, always remember to have clothes that fit well.  If it is too tight, too loose, itches, doesn't hold its shape or rides up, get rid of it.  Follow my "Dressing Room Test": When you are shopping, always try on clothes in the dressing room.  While you have the piece on, go out of the dressing room to the big mirror and see how it looks on you.  Does it fit well?  How does the color look on you?  Walk around in the dressing room area and see how it feels when you are walking.  Does it feel good while you are walking?  Is it not too tight or too loose?  While you still have the piece on, sit down on the bench or chair in the dressing cubicle.  How does it feel when you are sitting?  If it passes all these dressing room tests, then buy it!
3.  Buy Versatile Pieces
When I'm shopping for clothes, even it's a trend item, ask yourself, "Can this piece be worn in a least 2 outfits?"  You get the most wear for your money when you can wear piece of clothing in more than one outfit.
4.  Discard Clothes Not Worn In a Year
If you haven't worn a piece of clothing in a year, get rid of it.  It's taking up valuable space in your closet.  If you haven't worn it in a year, chances are you won't wear it.  You can donate it to Goodwill or sell it in a Garage Sale.
5.  Keep Clothes That You Love
Do you have a few items that when you wear them you feel good about yourself?  Keep them!  Remember, dressing well and feeling good about your appearance gives you confidence!
6.  Clothes Are An Investment
When buying clothes on a budget, think of them as an investment.  Buy clothes that are made well and will last several seasons/years.  Just because something is on clearance, doesn't make it worth buying.  Instead of buying 2 or 3 shirts on clearance that aren't mixable with other pieces, invest that money in 1 shirt that can be worn several ways, with many other pieces.   If it's a quality-made item on clearance and is mixable with other pieces in your closet, then buy it!  Buy clothes that can be washed.  I avoid "Dry Clean Only" items.  It's cheaper to wash items at home than to have them professionally dry cleaned.
Where To Get Style Inspiration:
There's several ways to get fashion inspiration and you don't have to spend a dime!  Are you looking for outfit ideas or wondering how to wear those new brown booties you just bought?  Check out these sources for great style inspiration:
 How To Make Your Clothes Last For Years
If you want your clothes, especially your key pieces, to last for years, wash them in Cold Water.  Avoid putting them in the dryer!  The heat breaks down the fibers and causes shrinkage.  Instead hang them up on hangers and allow them to air dry.