Fall To Winter Transition Essentials
These pieces can be worn now, then wear layered in the Winter!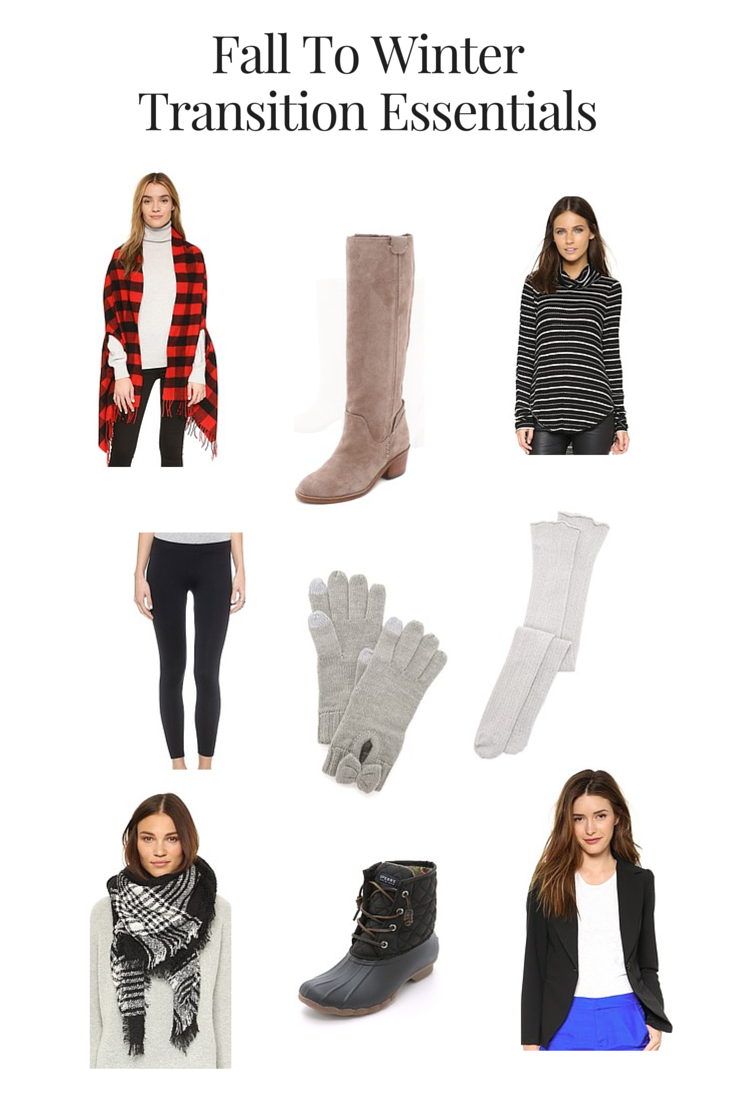 You can find all these pieces here:
over the knee socks
plaid blanket scarf
Kate Spade gloves (adorable!)
blazer jacket
Sperry boots
leggings
turtleneck top
poncho
suede tall boots
When it comes to buying clothes and accessories, a great way to make the most of your money is to buy pieces that will transition from one season into the next.  All these pieces will do just that!  If you buy them now, in the Fall, you can wear them with light layers.  Then, when the weather turns cold, wear them with more layers to stay warm.
Here's how to transition each piece:
over the knee socks
Fall: with jeans and suede boots
Winter: with jeans or leggings and Hunter boots
plaid blanket scarf
Fall: with a long sleeve tee and jeans
Winter: with leggings, sweater and coat
Kate Spade gloves
Fall: with plaid blanket scarf , a long sleeve tee and jeans
Winter: with black tights, wool skirt and v-neck sweater
blazer jacket
Fall: with a white button-up shirt and skinny jeans
Winter: with a turtleneck top, skinny jeans and plaid blanket scarf
Sperry boots
Fall: with white button-up shirt, poncho and jeans
Winter: with turtleneck top, sweater and leggings
leggings
Fall: with a tunic top
Winter: with  turtleneck top, sweater
poncho
Fall: with white button-up shirt, and jeans
Winter: with long sleeve tee, leggings and black tall boots
suede tall boots
Fall: with white button-up shirt, sleeveless tunic sweater and tweed skirt
Winter: with  turtleneck top, ivory sweater and jeans