Classic Fall Uniform (Trendy Wednesday #142)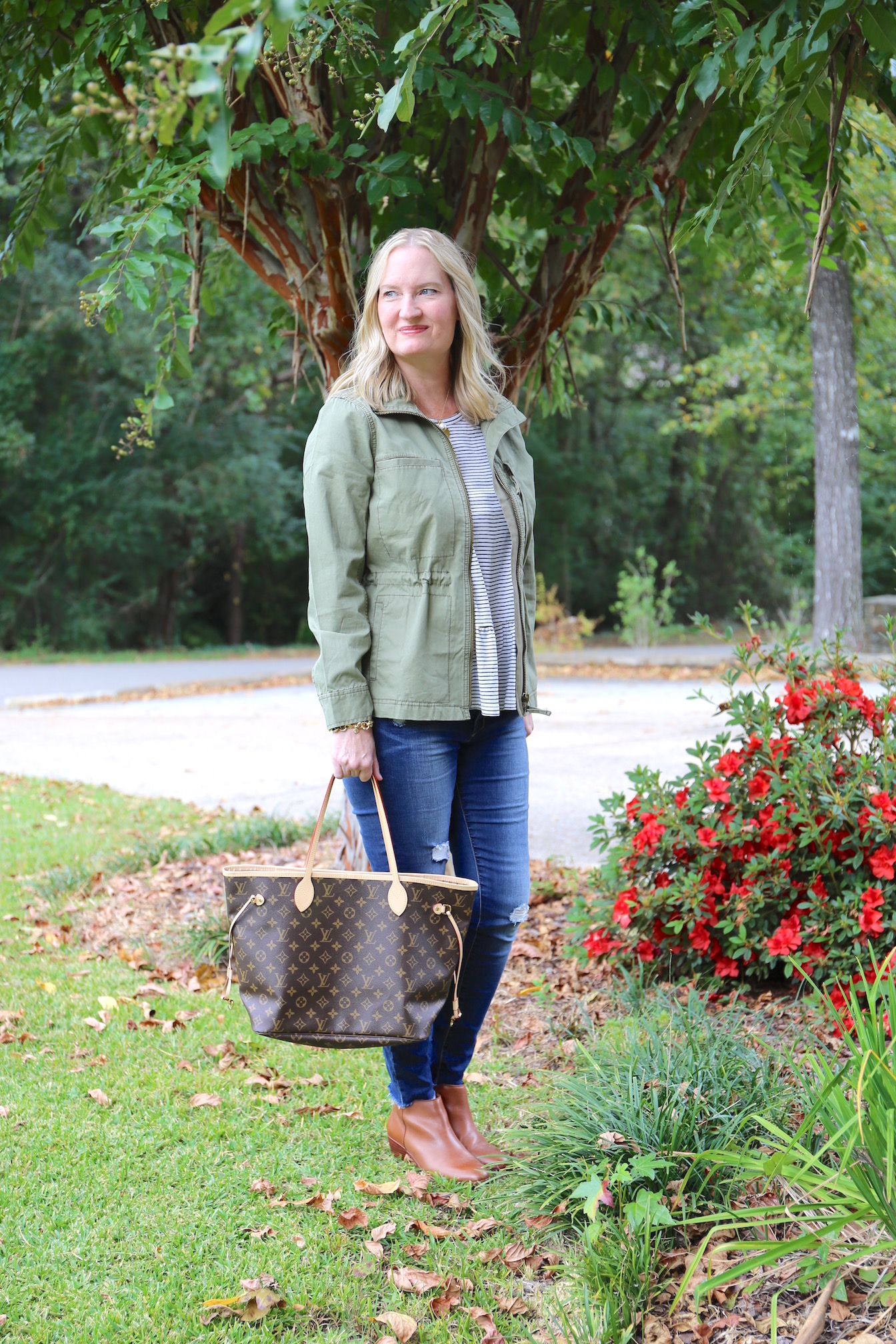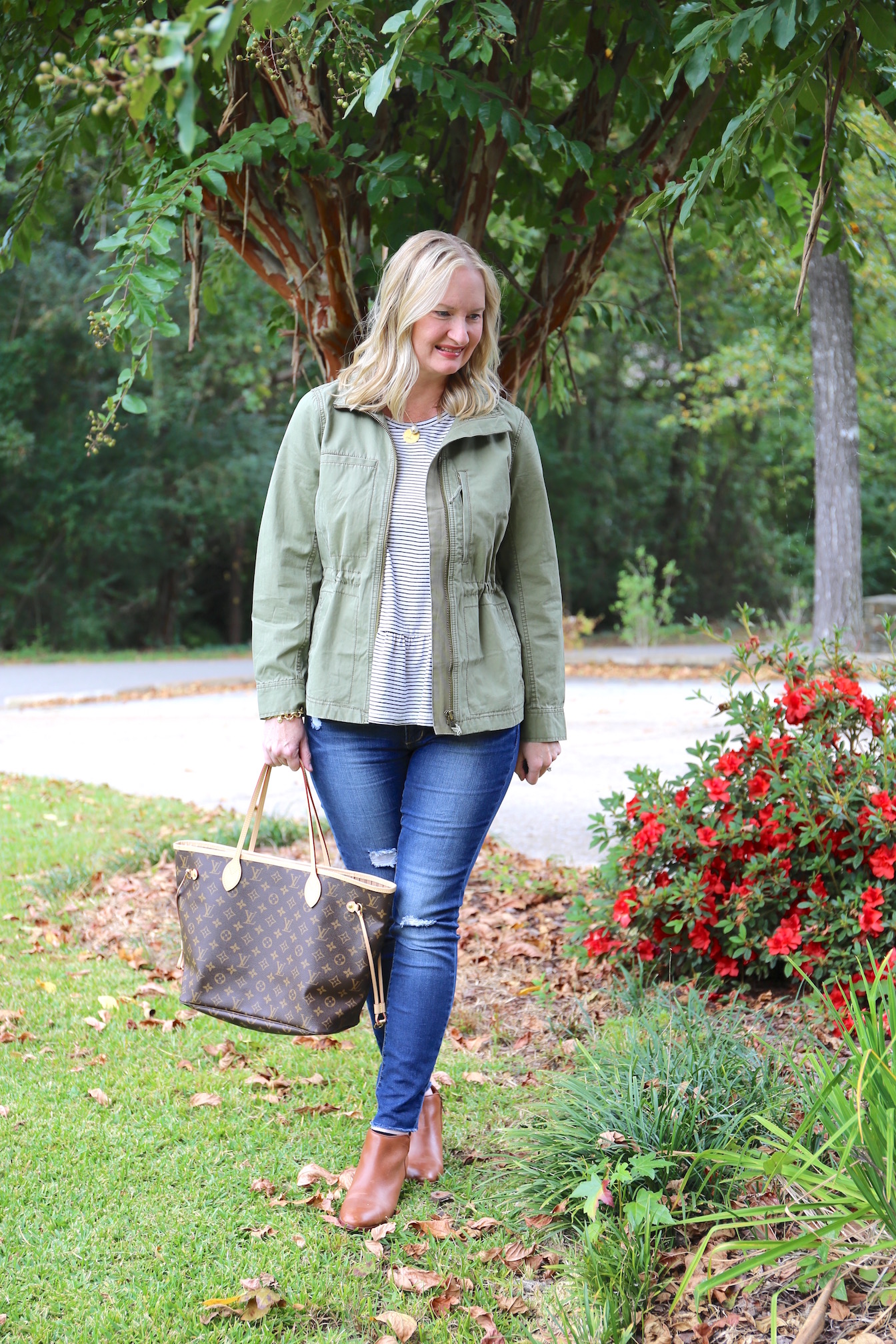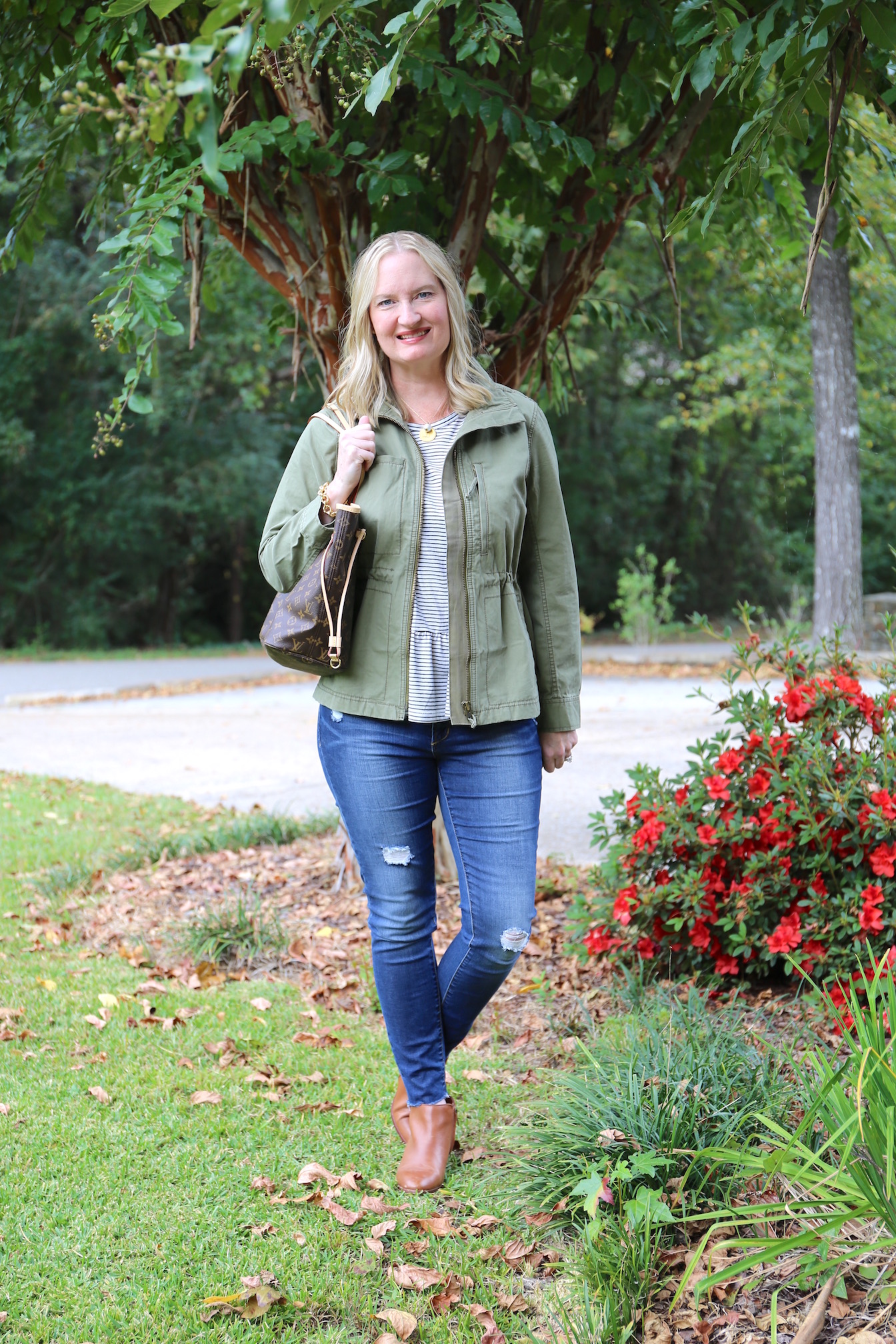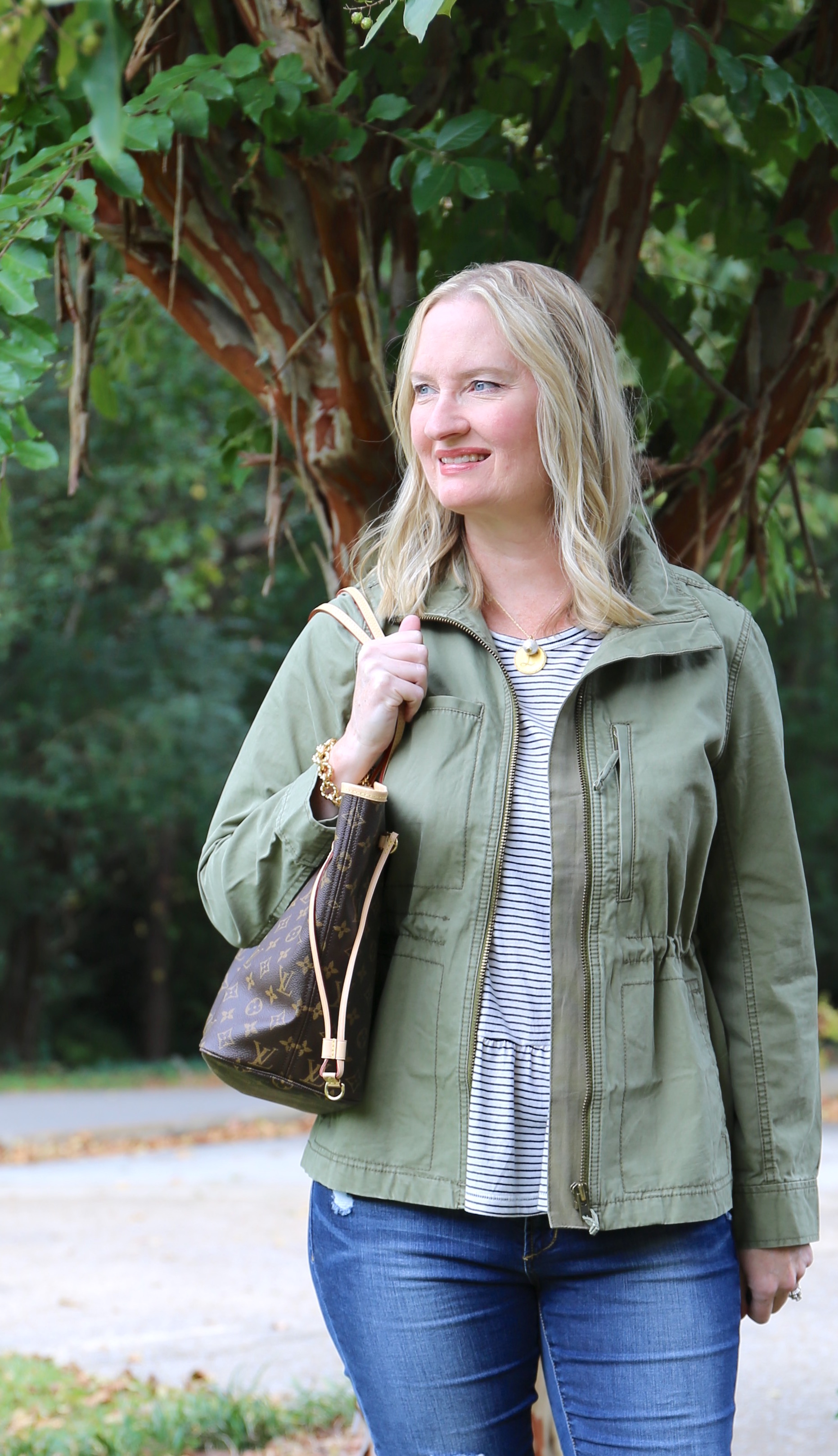 Outfit Details:
striped peplum tee (long sleeve version) / plus-size option
fleet jacket in "military surplus" / plus-size option
gold hoop earrings
initial necklace
gold link bracelet
distressed jeans / plus-size option
Neverfull MM Tote (mid-priced option, budget option)
cognac booties (similar)
Did everyone have a great Halloween yesterday?  This was the first year that we didn't go trick-or-treating.  My daughter has been sick the last couple of days and wasn't able to go to school.  So we just stayed home.  We had a few trick-or-treaters that stopped by our house and we gave out candy.  In between trick-or-treaters, we watched a scary movie.
The outfit I'm wearing today is a classic Fall uniform: striped top, utility jacket, jeans and ankle boots.  You can't go wrong wearing this combination.  Striped are always a pattern that is in-style and jeans are a wardrobe staple.  And, when you add the green color of a utility jacket and the warm tone of the cognac ankle boots, all the pieces compliment each other.
I enjoyed participating in the Fall 10×10 challenge a couple of weeks ago, but it's good to be wearing my Fall capsule wardrobe again.  You can see all the outfits I wore for 10 straight days in the 10×10 challenge.  The 80's temps have long gone (at least I hope so), so I'm able to wear mostly all of my capsule wardrobe.  There's a couple of pieces that are still too warm, so hopefully I can wear those soon.
This past weekend, my family and I went to the Walker Stalker Convention in Atlanta, GA.  I don't watch much tv (as I'm either working, spending time with my family or on the internet), but we do watch The Walking Dead.  My daughter and I got interested in the show last year.  Before I started watching it, I used to think "why like a show about zombies?"  My daughter asked me to watch the first episode on Netflix with her.  That was it, I was hooked!  For two months, we binged watched all 6 seasons when we could, just in time for the start of season 7.  The convention this past weekend was awesome!  We were able to see many of the cast members too!
For those who are anxiously awaiting the release of the Winter 2018 capsule wardrobe eBooks, I'm diligently working on the first one eBook, the "Essential".  I've picked out all the clothes and shoes!  It should be released by Friday, if not sooner!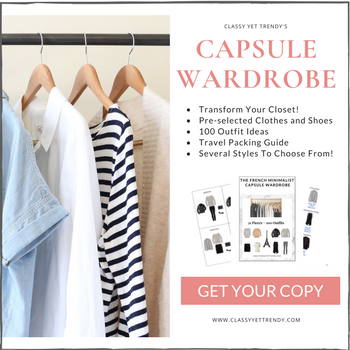 The two featured bloggers from the last linkup are:


1.  Please follow your Host 
2. Link up to 5 posts: 
it can be about fashion, style, beauty or lifestyle

(linkup to your blog post and not your main page)
3. Please include a link back to this post or place my linkup button in your post.
4.  Now, add your post(s) below!  I hope you enjoy the linkup and enjoy meeting other bloggers!
Each week I feature 2 bloggers from the previous link,
so link-up your blog posts for your chance to be featured!