How To Create An Outfit In 4 Steps!
See how to create an outfit in 4 Steps & look fabulous!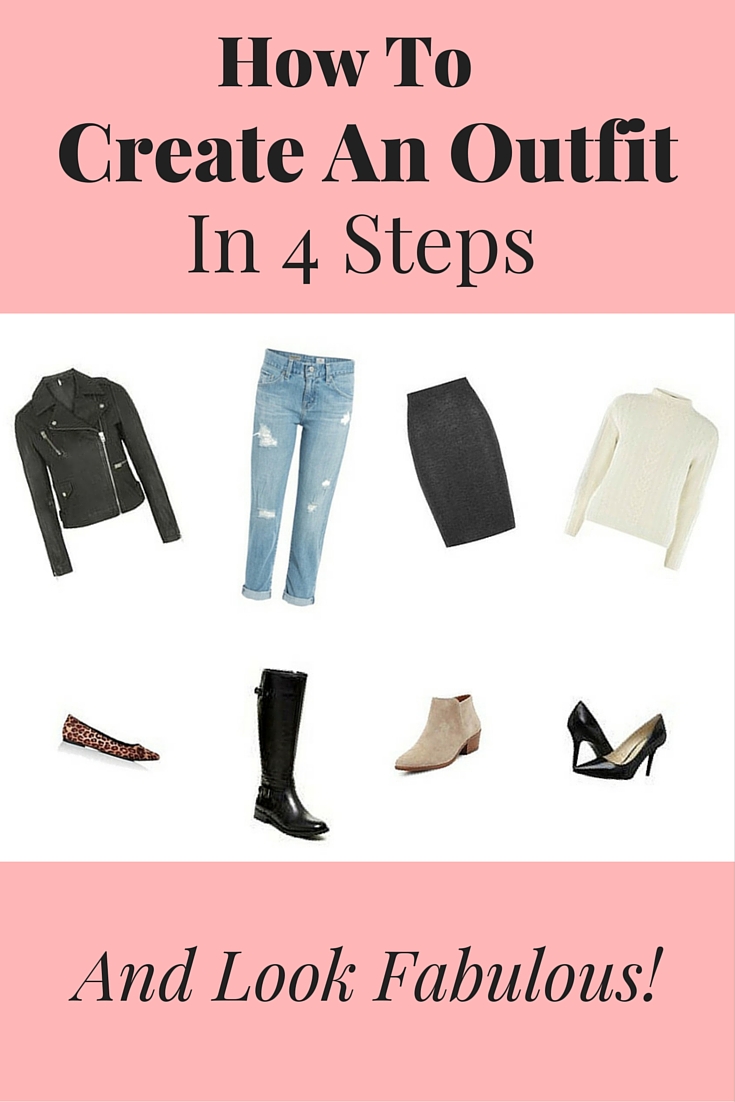 Do you have trouble getting dressed because you just don't know what to wear?  You want to look great, but where do you start to look fabulous everytime?  Creating an outfit is easy!  You just do one step at a time and then you're done!
In my teen years, I would buy a top and pants at the same time and they both HAD to match as an outfit.  I would get home, wear it one time and the next time I didn't really want to wear that same outfit.  So, the pieces would just hang in my closet.  I didn't know how to create an outfit!  Over the years, I've been better at matching my clothes, but I didn't really know how to make use of my wardrobe.  A couple of years ago, in researching how to create my very first capsule wardrobe, I learned HOW to create an outfit and HOW to wear ALL my clothes in my closet!  When you have a capsule wardrobe, your clothes mix and match with each other giving you the ability to many several outfits.  And, you save money too, by not having to buy clothes you don't need!
For this guide, I'll teach you the basics of creating an outfit.  Of course, the more confident you get in creating outfits, you'll be able to mix patterns or even wear same patterns.  For more outfit ideas, I recommend The Essential Capsule Wardrobe e-Book. You can also look on Pinterest for those outfit ideas.
Follow these easy steps to create your everyday outfits…and Look Fabulous!
Step 1: Determine How You Want To Dress

Do you want to look casual and wear jeans, a tee and flats?  Do you want to look dressy and wear a skirt or a dress and heels?  Keep this in mind when creating your outfit.
Step 2: Start With One "Base" Item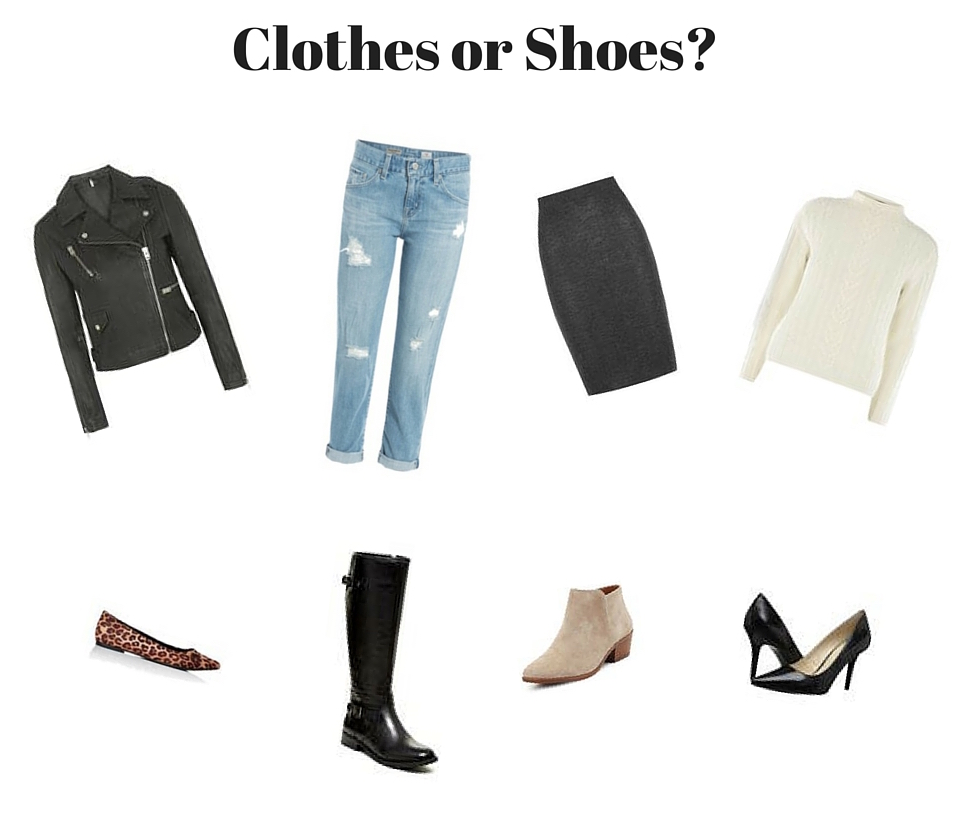 Start by picking out one item, which will be your "Base" item, shoes or clothes.  For example, as you are getting ready for the day, you think, "I want to wear my leopard flats to work today", or, "I really want to wear that striped sweater when I go shopping."  You've got your first piece picked out. If you don't know what you want to start with, pick out a piece in your closet you haven't worn in a couple of weeks.
Step 3: Start Building Your Outfit
If you picked SHOES as your "Base" item:
Patterned Shoes

(leopard, stripes, flowers, etc): look great with Solid Colors.  
Shopping Sources: ivory cable sweater // boyfriend jeans // burgundy jeans // chambray shirt // gray pencil skirt // leopard flats  
Select Your Top and Bottom
If you're dressing up, a white or ivory top is an excellent neutral piece to wear with patterned shoes  If you're going casual, then choose a graphic tee or light solid color top.  If you picked a light-color top, then choose a darker bottom.  
Solid-Color Shoes

 (black, nude, brown) Looks great with either Solid or Patterned Clothes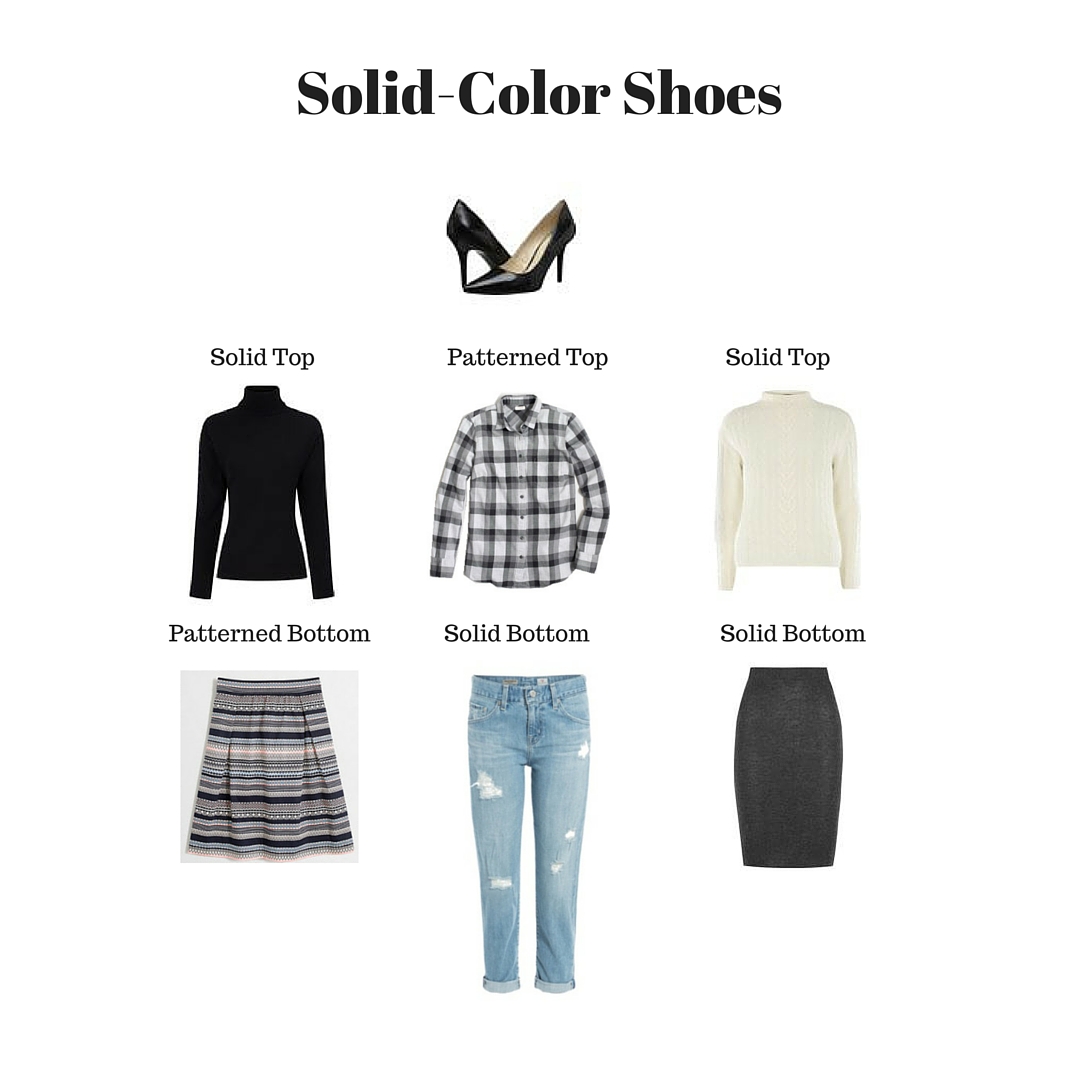 Shopping Sources:   black pumps //  black turtleneck // striped skirt //  plaid shirt // boyfriend jeans // ivory cable sweater // gray pencil skirt    
Select Your Top and Bottom
If your shoes are solid-colored, your top or bottom can be patterned or solid.  You usually wear either a patterned top or bottom, or vice versa.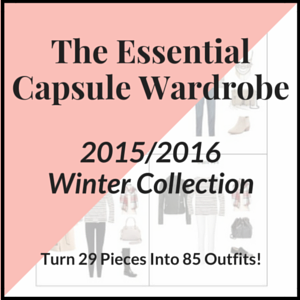 If you picked A CLOTHING ITEM as your "Base" item: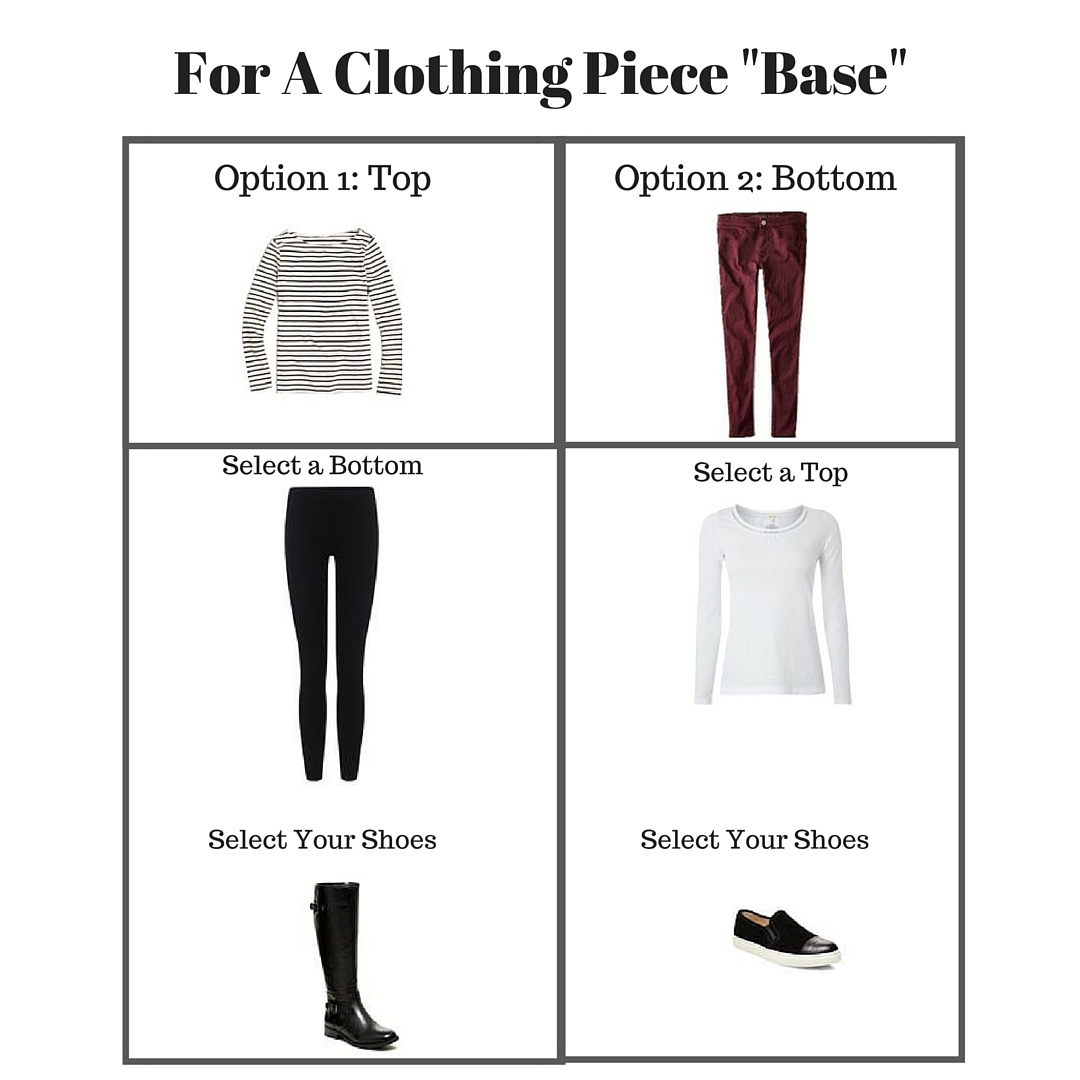 Shopping Sources: striped top // black leggings // tall black boots //   burgundy jeans // white long sleeve tee // black sneakers
If you picked a 

Top
Solid-color tops look great with a solid-color skirt, pants, jeans or layer it with a sleeveless dress.  You can also wear solid-color tops with a patterned bottom piece. If your top is patterned, stick with a solid-color bottom.
If you picked a

Bottom
Solid-color bottoms, like pants, jeans, skirts and leggings, look great with other solid-color tops and patterned tops. If your bottom piece is patterned, then stick with a solid-color top.
Select Your Shoes
If you have a solid-color top and bottom, you're open to either solid or patterned shoes.  If either your top or bottom is patterned, then wear solid-color shoes, like nude or black.
Option: Add a 3rd Layer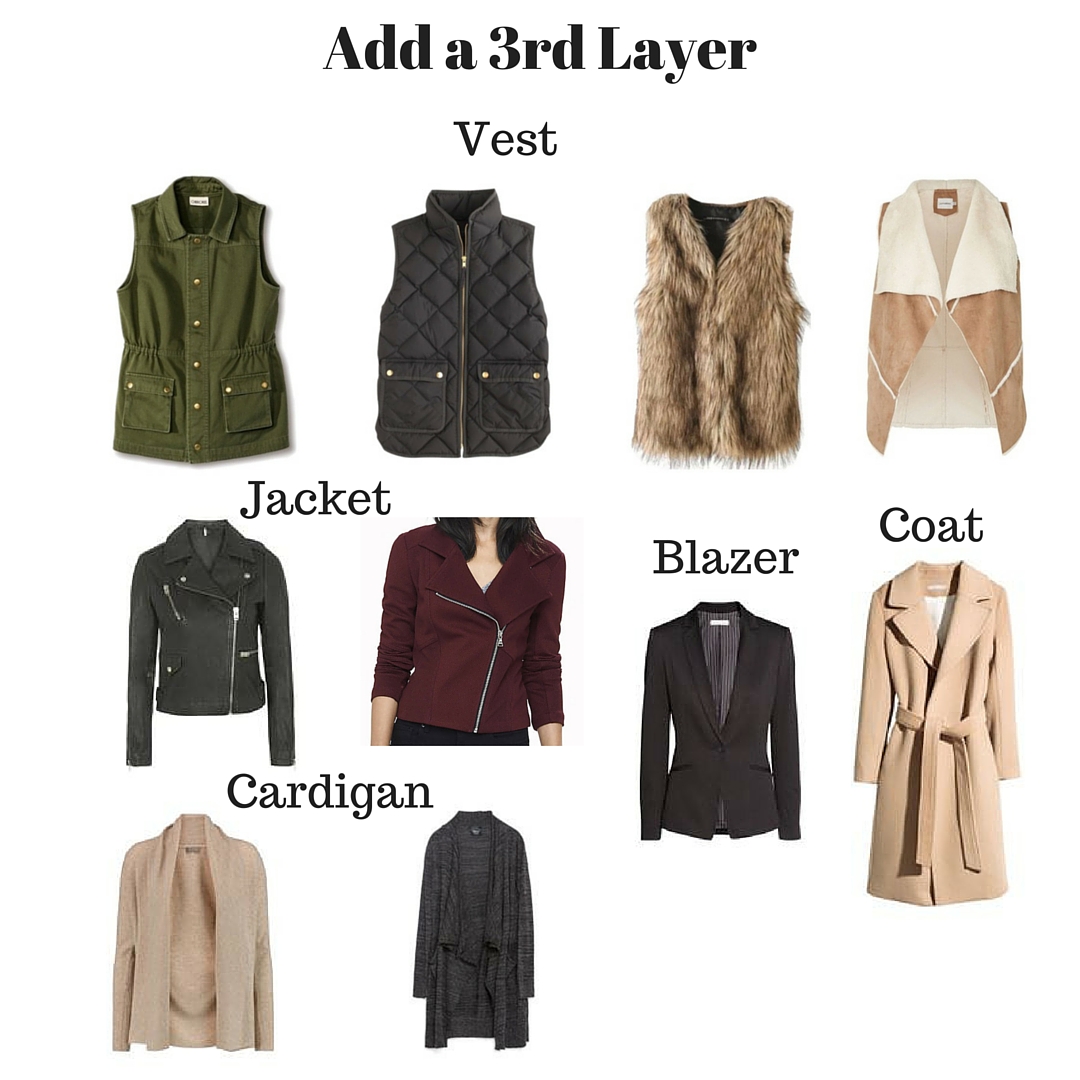 Shopping Sources:  utility vest // black puffer vest // faux fur vest // shearling vest // black faux leather jacket // burgundy jacket // black blazer // camel coat //
taupe cardigan // gray cardigan
If the weather permits (if it's not too warm), wear a 3rd layer.  This can be a vest, jacket, poncho or blazer.  By adding a 3rd layer, you instantly add interest to an outfit.
Step 4: Accessorize!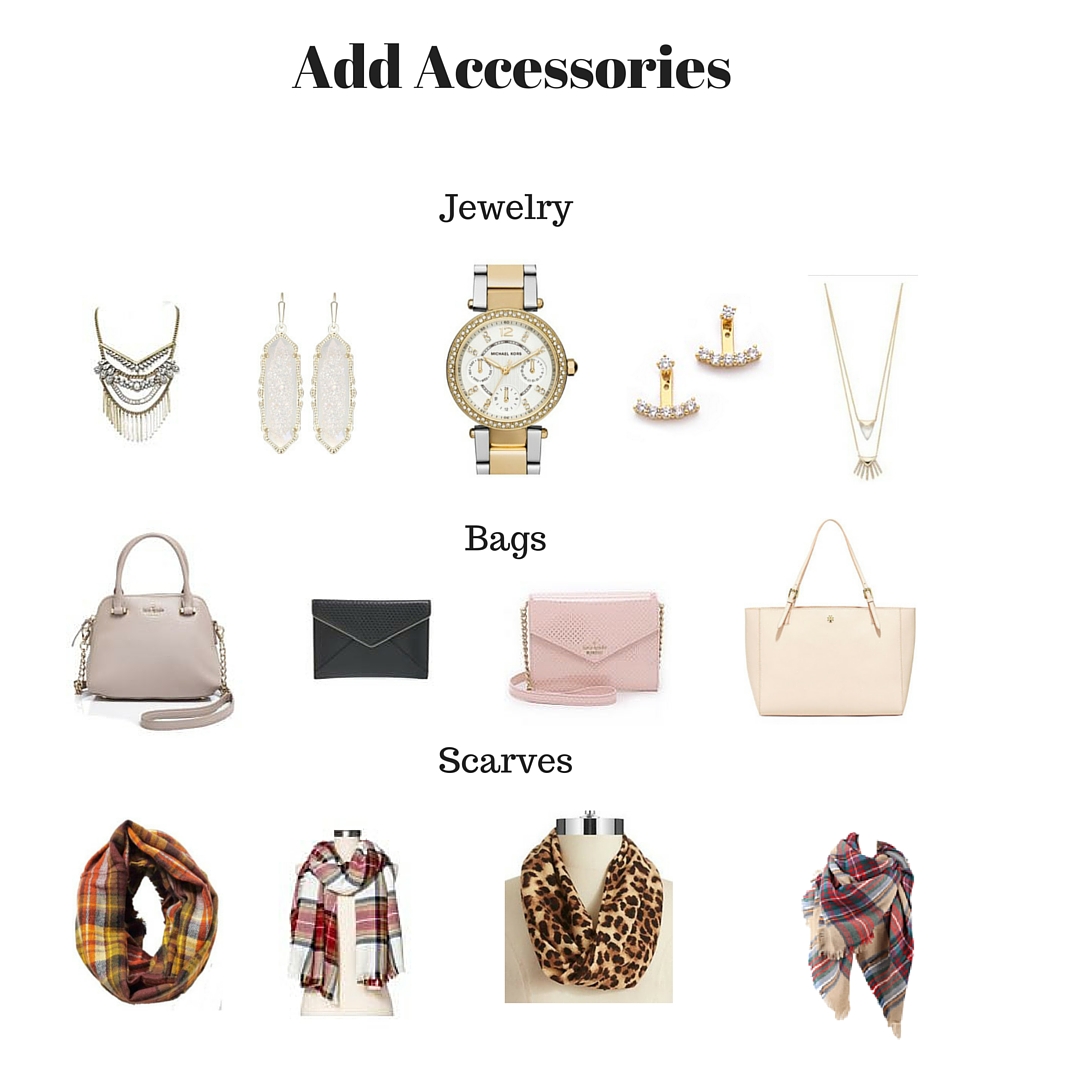 Shopping Sources:  statement necklace // stone earrings // gold/silver watch // ear jackets // pendant necklace // taupe bag // black clutch // pink crossbody // pink tote
multi-color plaid scarf // red plaid scarf // leopard scarf // blanket scarf
Ok, you're outfit is almost complete.  Now, to add the final touches.  You can add a necklace, earrings and/or bracelet.  You can wear one or all three!  A big trend is statement jewelry, like a bold necklace or bold bracelet.  Be sure to match the metals, like all gold or all silver.  If you stick with one bag, go with either black or nude.  If you like to carry a different handbag everyday, make sure it goes well with your shoes.  Instead of wearing a necklace, wear a scarf!  Scarves can add color to a solid, plain outfit!
A few tips for creating a fabulous outfit:
Contrast: Clothes look great when there is contrast.  If you're wearing a light-colored top, then wear a darker bottom.  Examples: white tee and indigo or colored jeans, striped top and solid-color bottom, dark-colored top and light-colored pants.
Layers: Layers create interest in an outfit and make the outfit look complete.
Matching Accessories: If your outfit is simple, say a white tee and jeans, match the color of your handbag and shoes.  Your outfit will look "put together" everytime.
Matching Metals: If you wear gold jewelry, a good idea is for the hardware on your handbag and/or shoes is the same.  Same for silver jewelry.
Shoe Color: Black and Nude shoes go well with almost any outfit.  Patterned shoes (leopard, stripes, flowers) go well with solid-color outfits.
Pinterest: Look for outfit ideas on Pinterest.  You can do searches like, "plaid shirt", "skinny jeans", or "pencil skirt", and it will display outfit ideas.  You can even create a board for your outfit ideas!