Last Month Top 10 Best Sellers: March 2020
Find out the Top 10 Best Selling Items you all have been buying the most during the month of March!
Hi ya'll! Can you believe that March came and went so quickly? So much happened last month with everything going on with the worldwide virus! Since all the commotion of getting prepared to stay at home during this social distancing time, things have slowed down a good bit.
Each week I look at my Shopstyle Collective (the affiliate company I'm a member of) analytics to see what items you all are buying, so I know which products to feature here on the blog! And to0, I share with you all what items I buy for myself and like to wear.
Here are the Top 10 best selling items during March 2020: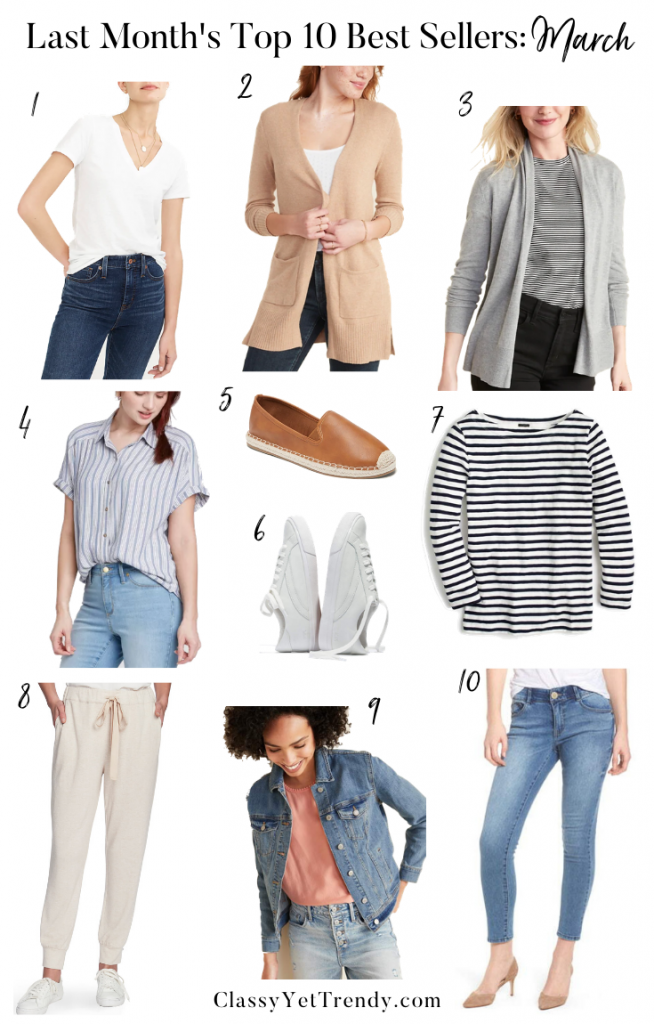 1. V-Neck Cotton Tee – I bought this tee a few weeks ago in the black, white, gray and navy and this tee is SO GOOD! I did a full review in this post, "J Crew Factory T-Shirt Review." I love wearing them so much and included the black, white and gray colors in My 29-Piece Neutral Capsule Wardrobe I created to wear while I am staying at home due to the virus quarantine.
2. Open Front Cardigan – This was the #2 best selling item in March. I have this cardigan in the pink color and it's one of my favorite cardigans (my other favorite is the #3 item below, the open front cardigan). This cardigan is SO SOFT and you can wear it with jeans or you can wear it as loungewear with your tees and leggings or joggers! It comes in several colors. I've also seen the Oatmeal, Camel and Heather Gray colors in person when I bought the Pink color and they are all so pretty. It also comes in Olive and Black as well. You can see me wearing it in the Pink color in my post on Instagram below, @classyyettrendy (you can shop my outfit below here).
3. Short Shawl-Collar Open-Front Cardigan – I love this cardigan and it seems you all do too, since it's the #3 best seller for March. I have this cardigan in the Light Gray Heather color and what I like about it is that it's a shorter length and is lightweight. Plus, it drapes really well over tees and shirts. You can see me wearing it in the Light Gray Heather color in my post on Instagram below (you can shop my outfit below here).
4. Striped Short Sleeve Button-Down Camp Shirt – This shirt reminds me of the Madewell Central Shirts. This camp shirt at Target comes in 4 colors to choose from. My favorite is the blue stripe color. When I did a Target Try-On Session in February, I tried on the "beige" stripes color and is was SO SOFT!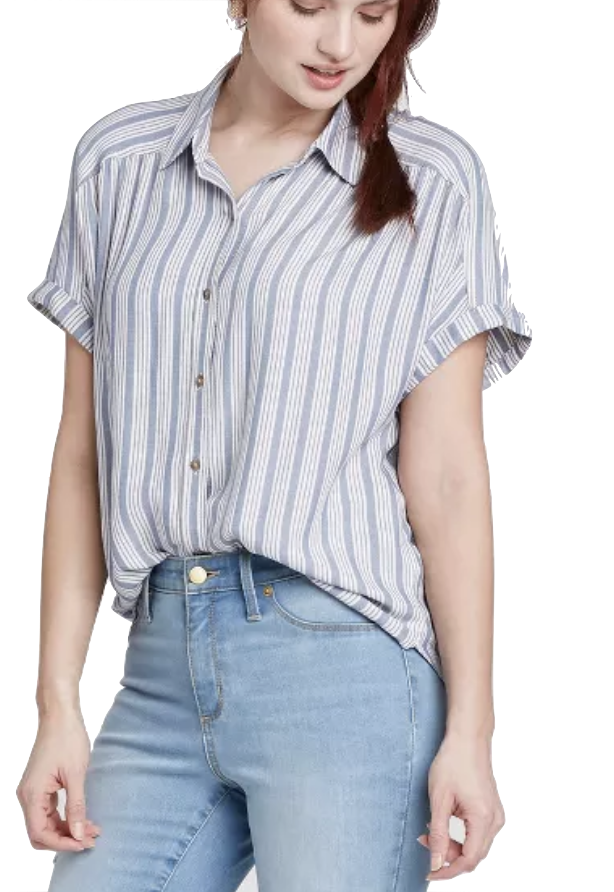 5. Espadrille Flats – This style of shoe are a budget-friendly dupe to the popular espadrille flats that are always popular in the Spring. These faux-leather shoes comes in brown or black colors. You can also choose from several espadrille styles at Old Navy here.
6. White Sidewalk Sneakers – These shoes are in the #6 spot of the March best sellers. I have these sneakers and they are SO comfortable! With sneakers, I like to wear no-show socks in the same color of the shoe, so I wear white no-show socks with these sneakers.
7. Striped Boatneck Tee – This top made it to the Top 10 again! This has been a staple at J Crew for several years and for good reason…it's a great top! I have had this one for a few years and love to include in my capsule wardrobes. Just wash it in cold water and hang to dry to extend the life of this top and you will love wearing it. If you like to wear black in your capsule wardrobe, this tee will coordinate with black. Even though the color is "ivory/navy" the stripes are dark enough that it will go with black or navy.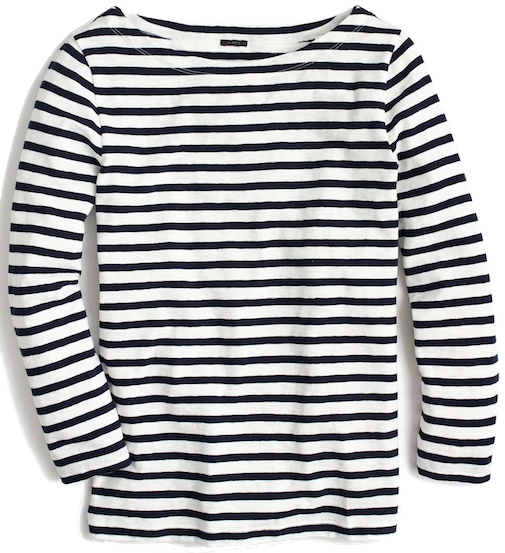 8. Cozy Knit Jogger Pants – With lots of you buying loungewear to wear while we are staying at home, this jogger pants have been a best selling item! These joggers come in either white or beige, have a drawstring waist and pockets.
9. Denim Jacket in "New Medium Authentic" – This jacket is just the right color of denim and is under $40, a great budget-buy! When I did an Old Navy Try-On Session in February, I tried this denim jacket on, like it so much that I bought it for myself.
10. Wit & Wisdom Light Wash Ankle Jeans – Right now, I have two favorite pairs of jeans that I wear ALL. THE. TIME. My Madewell Skinny Jeans in the "danny" wash and this pair of Wit & Wisdom Jeans. If I compare the two jeans to which one looks better on me, I think it would be this pair in the #10 best selling spot. Several readers have sent me emails saying that they love this brand of jeans…now I know why! When I wear these jeans, I feel great!!!
Shop The Post: