What I Wore In Nashville, Tennessee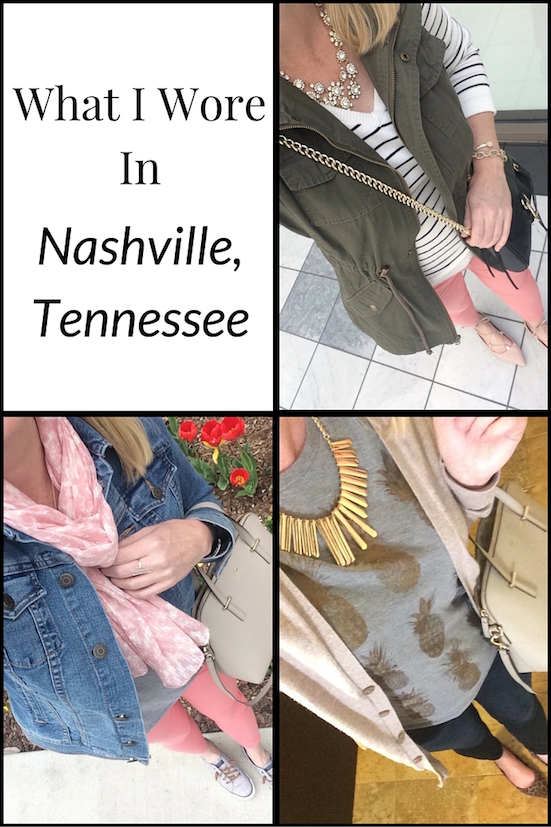 My husband, daughter and I went on a Spring Break weekend getaway in Nashville, Tennessee.  It's just over 3 hours away from where we live, so it doesn't take too long to get there.  This made my 4th visit to Nashville.  For those of you that have children, is it a parent-thing to want to fit in an educational stop on your trips?  My parents were like that and I am grateful that they did.  I've been to just about every museum and historical house in the Southeast (or so it seems that way).  I grew up appreciating history and art and I still love both subjects to this day.  We arrived in Nashville on Saturday and left for home Monday afternoon.  I didn't like being gone out of town on Easter, but being that my daughter has visitation every other weekend with her dad, that was our only weekend during Spring Break that we could go.
Here's what we did in Nashville and what I wore each day:
Day 1
During our visit to Nashville, we walked downtown on Broadway and visited Ernest Tubb's record shop, the Johnny Cash Museum, went in a few shops and ate at The Stillery.  That evening we went to the Green Hills Mall and ate a late supper at The Grill in Nordstrom.  Being a blogger, I've shopped online and love their clothes!  The nearest Nordstroms are in Atlanta and Nashville which are equally 3 hours away.  This was the first time I got to walk in a Nordstrom.  I wish we had a Nordstrom in Birmingham (hint, hint to Nordstrom!).  Anyway, as I was saying before I starting raving about Nordstrom…we ate at The Grill and the food was delicious!  We didn't have time to shop when we were finished as they were getting ready to close.  I would be back before our trip was over!  I wore my gray v-neck tee, denim jacket, pink scarf, coral ankle jeans and Sperry sneakers.  When we arrived at our hotel, the tulips were in full bloom on the grounds and they were beautiful!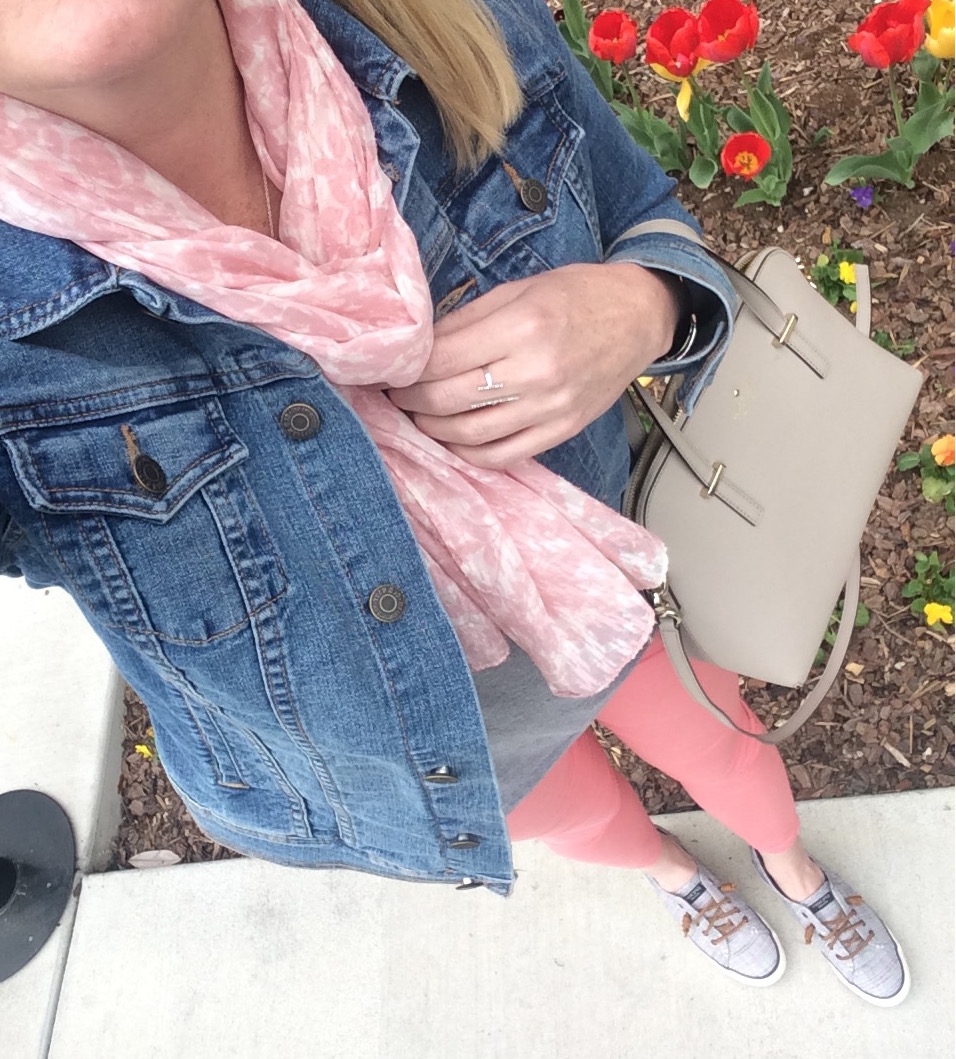 Outfit Details:
gray v-neck tee (similar)
denim jacket
pink scarf (similar pattern)
silver & rose gold horseshoe necklace c/o Uncommon Goods
Charming Charlie silver bar ring (love this one!)
silver/rose gold hammered cuff c/o Uncommon Goods
Kate Spade Maise bag
coral ankle jeans
Sperry sneakers
Shop the Post:
Day 2
Sunday we toured The Hermitage, President Andrew Jackson's home.  I recommend visiting The Hermitage.  The house and grounds are beautiful.  I recommend adding the wagon tour to your ticket.  The wagon tour covers most of the grounds that you would have to normally walk to see it all.  Walking on the grounds and touring the stately home, I appreciate what he did in his lifetime.  He accomplished a lot, but with the help of a lot of people.  I don't want to go into politics, but I'm just glad that era is over and everyone is appreciated for what they do today.  Sunday I wore my pineapple graphic tee, taupe cardigan, jeans, gold fringe necklace, Kate Spade Maise bag and leopard flats.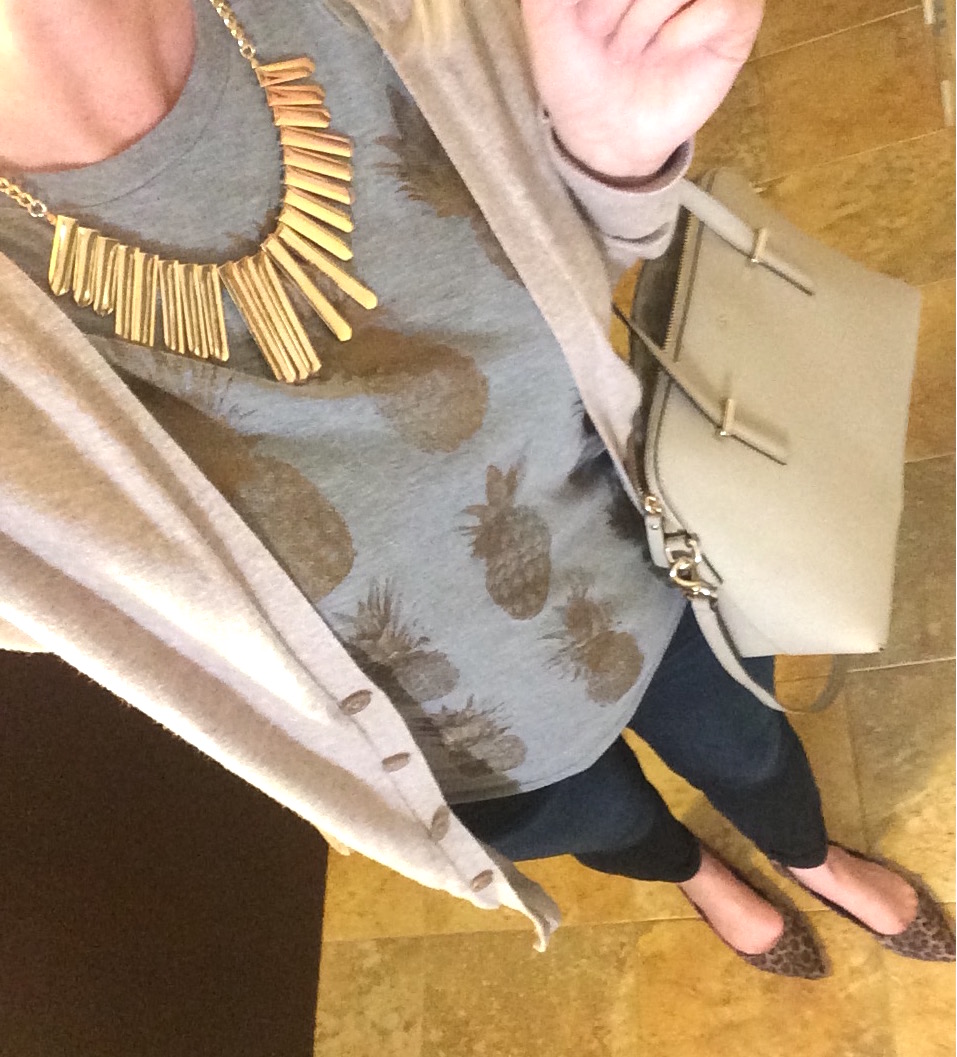 Outfit Details:
pineapple tee (J. Crew Factory sold out), love this one & this one
taupe cardigan (similar)
Paige denim jeans
gold fringe necklace (similar)
Kate Spade Maise bag
leopard flats
Shop the Post:
Day 3
Monday morning we went back to Green Hills Mall and what was the first store we went in?  Nordstrom!  Oh, I was so excited to finally be able to shop there!  When we walked in, the Topshop section was there.   Then, Cupcakes and Cashmere and Madewell clothes.  They had a display in the middle of one side of the store with Sole Society and Baublebar items, beautiful!  Downstairs were the accessories, shoes and handbag sections: Kate Spade, Michael Kors, Kendra Scott, all the designer brands were there, including beautiful Christian Louboutin heels!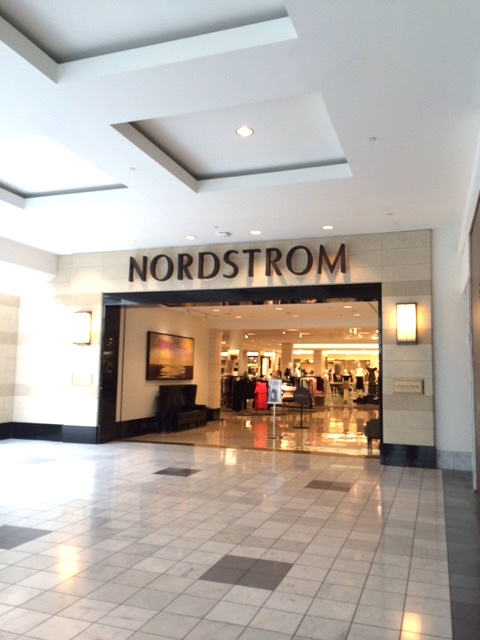 The ultimate department store…Nordstrom!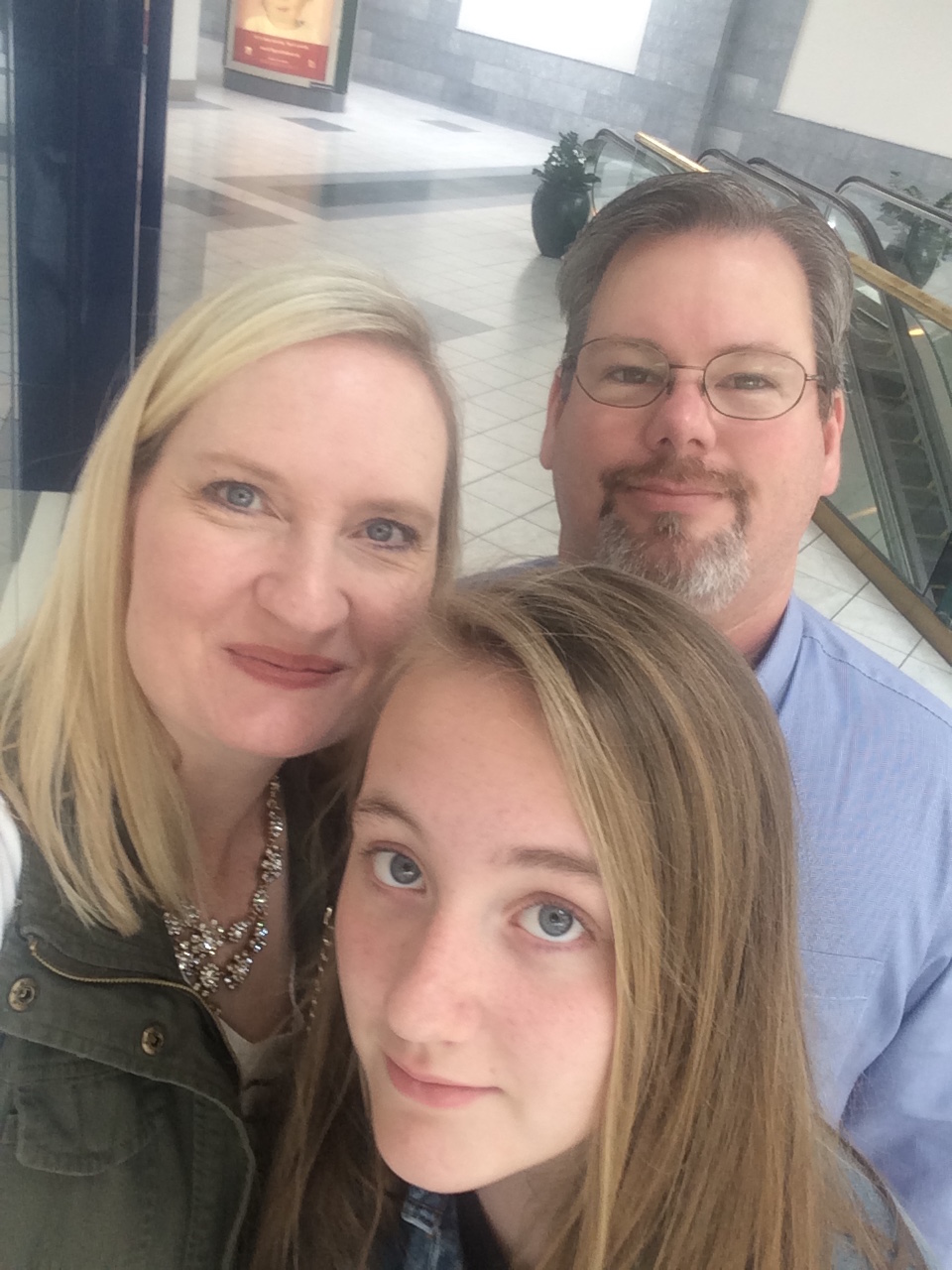 Time to take a selfie!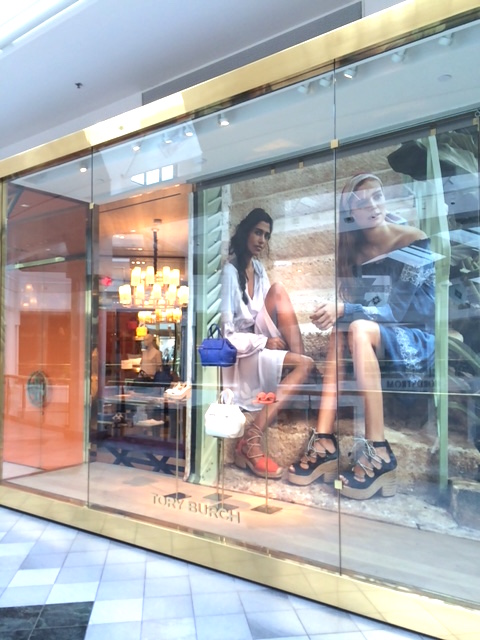 The Tory Burch store!
I visited the Kate Spade store to look at their watches.  I have been wanting a silver watch for some time now and thought I would have a good selection at this mall.  Kate Spade is one of my most favorite designer brands so I was excited to see this store.  Although they had several watches to choose from, I didn't see the exact watch I wanted.  The store was gorgeous though!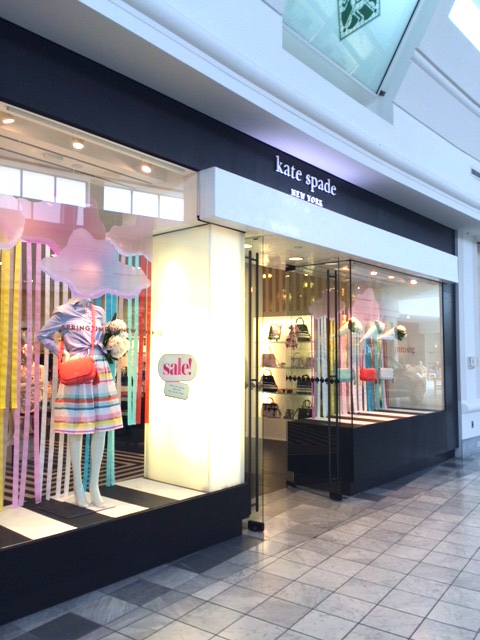 The Kate Spade store
We went back to Nordstrom and I purchased the Kate Spade "Monterey" stainless steel watch.  It is just the right size and is a lightweight watch, lighter than my Michael Kors watches.
Shop Kate Spade watches:
After shopping, we headed toward Hurricane Mills, Tennessee and toured Loretta Lynn's Ranch.  I have watched the Coal Miners Daughter movie several times in my life.  I've always admired Loretta Lynn and how her life has been changed from being from a poor country life to being a celebrity because of both talent and determination.  For a few years, I listened to country music, but not too much now.   But, with all music I appreciate the songwriting that goes into country music.  Her tour bus was parked behind the mansion next to her house and she had just performed at the Grand Ole Opry this past weekend.  When we were touring the mansion, the tour guide said that if her tour bus is here then she's home.   By how the tour guide said it, I think she may have been in her house just next door.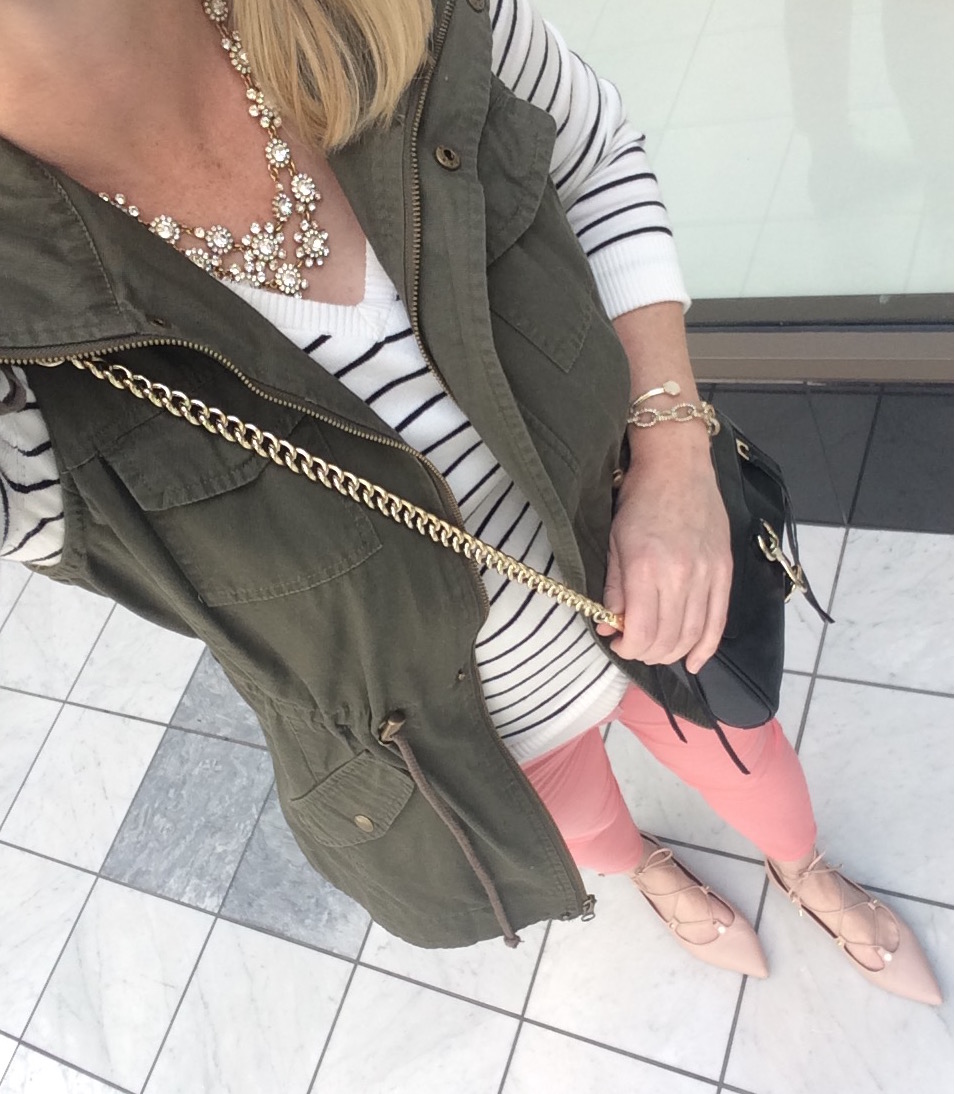 Outfit Details:
striped sweater (similar, similar)
olive utility vest
crystal necklace (similar)
Kendra Scott cuff bracelet (similar)
pave link bracelet
Rebecca Minkoff MAC crossbody c/o Shopbop
blush lace-up flats (SO comfortable!)
coral ankle jeans
Shop the Post: