What I Bought From The Nordstrom Anniversary Sale #Nsale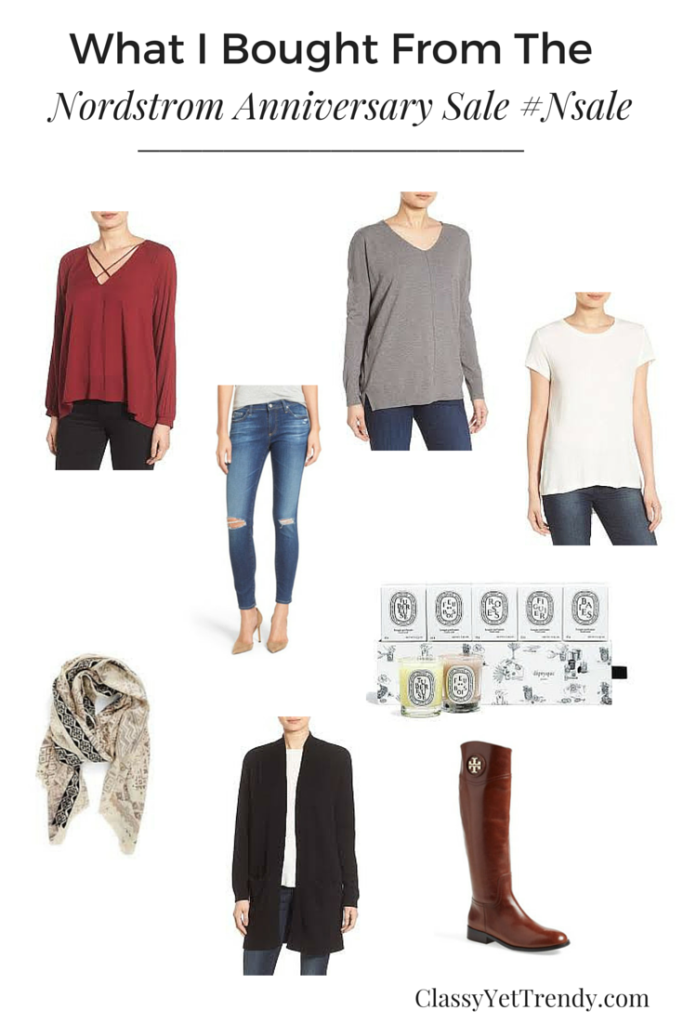 Have you shopped the Nordstrom Anniversary Sale?   I bought a few things last week during the beginning of the sale, during "Early Access" for Nordstrom cardholders.  I had to shop the sale online, since the two closest Nordstrom stores are each about 3 hours away.  I almost always try things on before I buy to make sure they fit right.  Even if I shop my favorite stores, I always like to try on the clothes, just to make sure I don't have to return them.  Since I had to shop online for this sale, I used the sizing chart on each item to guess my size.
Of course, with having a capsule wardrobe each season, I have to shop consciously and make sure what I buy will 1) last for more than one season and 2) will coordinate with at least 3 other items in my wardrobe.  There are several items in this #Nsale that would fit in a capsule wardrobe perfectly!
Friday when I came home from work, there was a BIG box at my doorstep…the Nordstrom sale items arrived!  I took the box in house and immediately opened it.  What was the first thing I tried on?  The Tory Burch riding boots!  Here's a review of the items I bought:
Dreamers by Debut Seam Detail Pullover Sweater in Charcoal:  The Charcoal color is currently not available.  They have it available in Olive, which is a beautiful color.  If I didn't already have a cardigan in this color I would have bought the Olive.  I purchased this sweater in a Large, but it seems like it's a little bigger than what I like.  The color is beautiful and it is SO SOFT!  I'm going to have to send this one back and hope they have it in a Medium.
BP High/Low Stretch Knit Tee in Ivory: I love this tee!  The material has a ribbing effect and wears well.  I like the high/low design.  They also have it in olive.  Both colors would look great with cardigans this fall.
BP Open Front Cardigan in Black:  This color is currently not available, but this cardigan looks beautiful.
Hinge Artisan Patchwork Scarf in "Gray Combo":  This sweater is BIG, but it's soft and the design looks great.  I'm not sure if it will be a little too big for me to wear in our mild winters here in the South.
Lush Strappy Long Sleeve Woven Blouse in "Cabarnet": This color is limited in sizes.  This Lush V-Neck Crepe Blouse is a similar design and is gorgeous!
Tory Burch Ashlynn Riding Boot in "Almond Leather":  The sizes are limited on this boot.  They also have it in black.
AG "The Legging" Ankle Jeans: OMG these jeans fit perfectly!  I thought my Joe's Jeans were the best fitting jeans…these AG jeans fit almost identical.  I've always heard rave reviews about AG jeans and I'm glad I took a chance and ordered these.  I used to think that it was ridiculous to pay over $100 for a pair of jeans, but I can tell a BIG difference between a $30 vs. $200 pair of jeans.  The higher price you pay, generally the fit is much better, they are stretchy and hold their shape ALL day.
Diptyque Votive Candle Set: This one is not available currently.  Here's a link to the larger size.  I hope they get more in because this would make great Christmas presents.  They all smell wonderful!
That's it.  Come back Wednesday during the Trendy Wednesday Blogger Link-up to see me try on what I bought!