10 Must-Have Winter Essentials
These 10 must-have Winter essentials are perfect investment pieces that you will love to wear!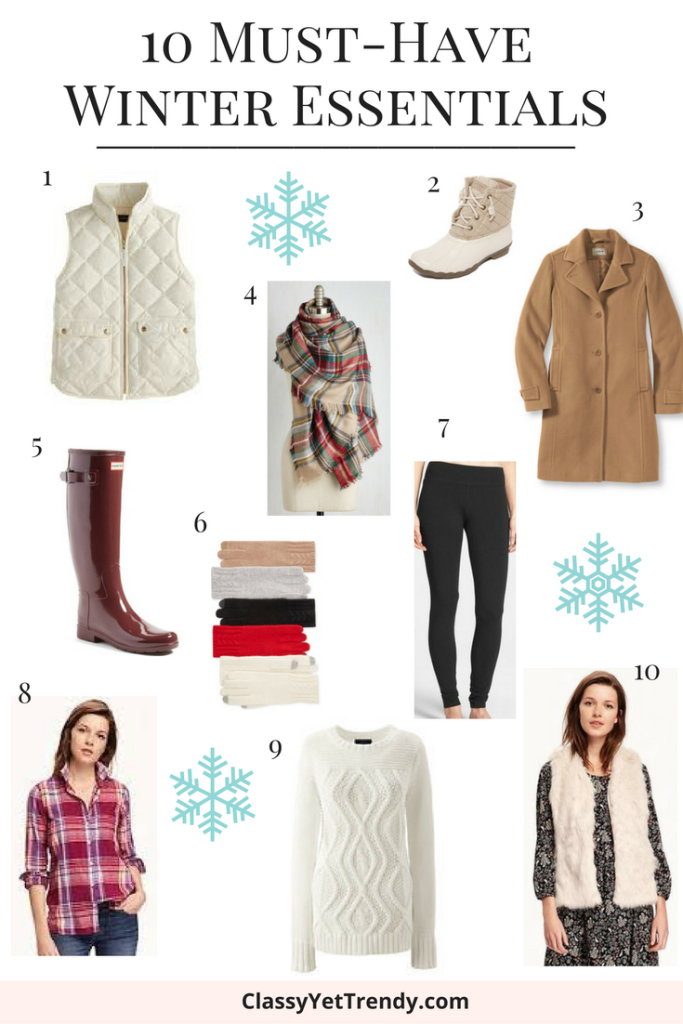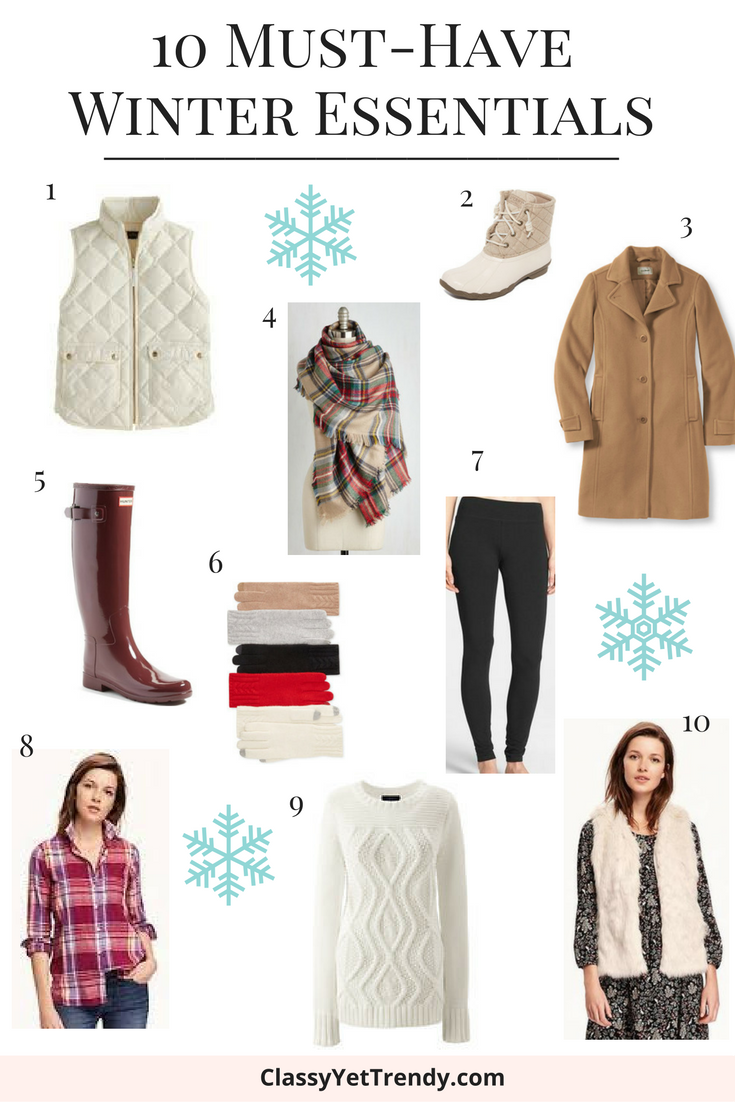 Do you have any of these Winter essentials?  These clothes, shoes and accessories are perfect for the Winter season.  They are always in style year after year!  They are classic pieces, yet stylish enough to make a statement.  Several of these 10 items will even coordinate well with each other!
1. Ivory Puffer Vest: This piece will go with just about anything in your closet, even a slightly casual dress and heels.  It's warm enough to wear with a turtleneck sweater and jeans or a tunic sweater and leggings.  Just add a blanket scarf and you won't have to wear a winter coat in the milder climates or on a warmer winter day.  Here's a budget-friend version of the puffer vest that is just as beautiful!
2. Quilted Wool Booties: These are popular in the Winter due to their warmth and thickness.  They look great with jeans or leggings.  Boots by these brands, Sorel, LL Bean and Sperry all are excellent choices in this type of boot.
3. Lambswool Coat: This popular coat is just that because it's a classic fit and style and the solid color, particularly camel, goes well with everything.  The camel color provides just enough color, but is still a neutral color.  This budget-friendly version of a wool blend coat will be easier on your wallet!
4. Plaid Blanket Scarf: This type of scarf has been going strong for several years now.  The taupe, deep red, emerald, mustard and sky blue colors will coordinate well with several of your outfits.
5. Hunter Rain Boots: Whether you live where it snows often or you just like to keep your feet warm, these boots are for you.  They are water proof, yet very stylish.  Here's a pair of rain boots for about half the price of Hunters.
6. Cashmere Tech Gloves: If you don't have a pair of these, you need a pair!  They are soft, keep your hands toasty warm and you can keep them on your hands while you use your cell phone or other tech device.
7. Black Leggings: These are an absolute must-have for Winter.  They can be worn with sweaters, under casual dresses or with tunic tops.  Charcoal gray is an ideal color too.
8. Flannel Plaid Shirt: I just love wearing plaid shirts!  They are one of the most popular patterns to wear in the Fall and Winter.  Flannel plaid shirts are certainly the way to go in the Winter.  They keep you warm while adding style to your outfits.  Here's a budget-friendly flannel plaid shirt in several pretty patterns.
9. Cable Sweater: There's just something about a cable sweater in the Winter!  The cable design in the sweater looks beautiful in this sweater!
10. Faux Fur Vest: This vest has been popular the last few years in brown, but Winter White looks like it will be even more popular this year!