Casual Plaid (Trendy Wednesday Link-up #95)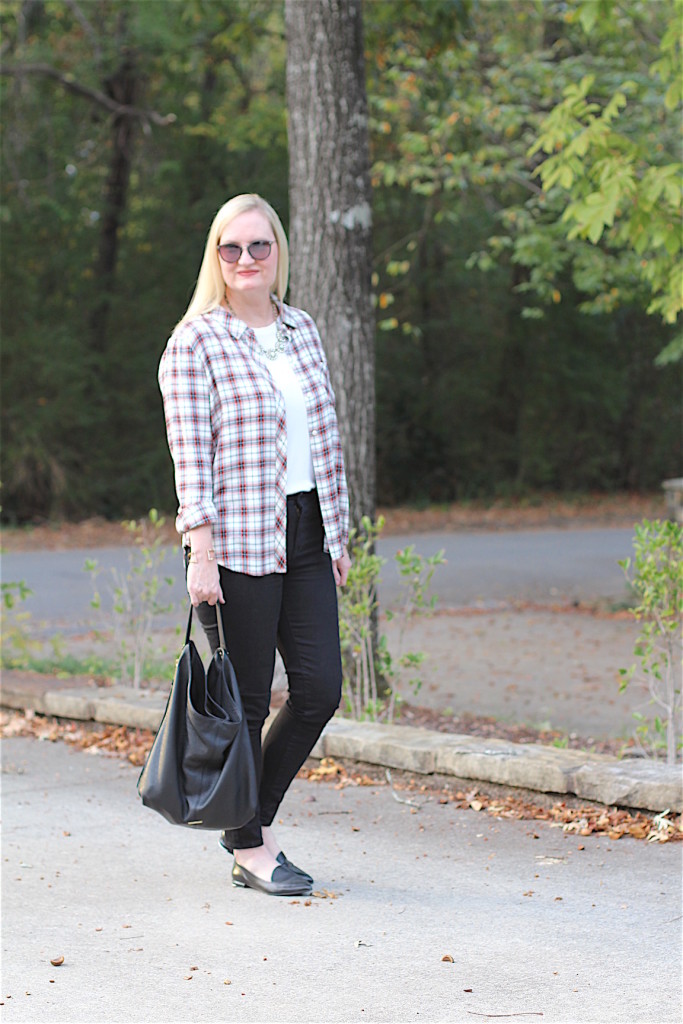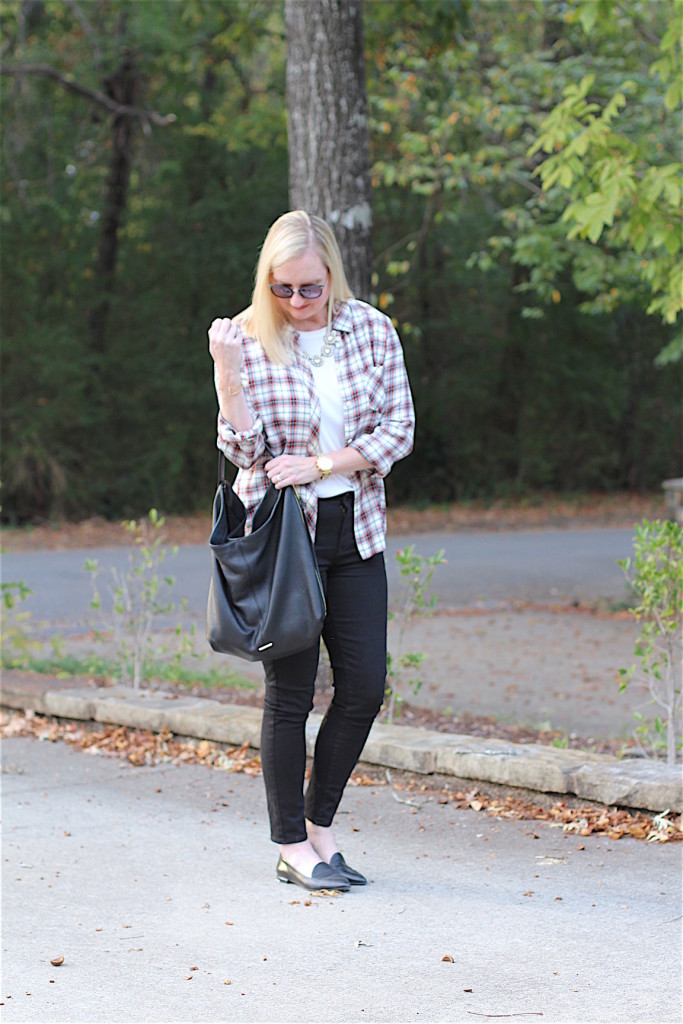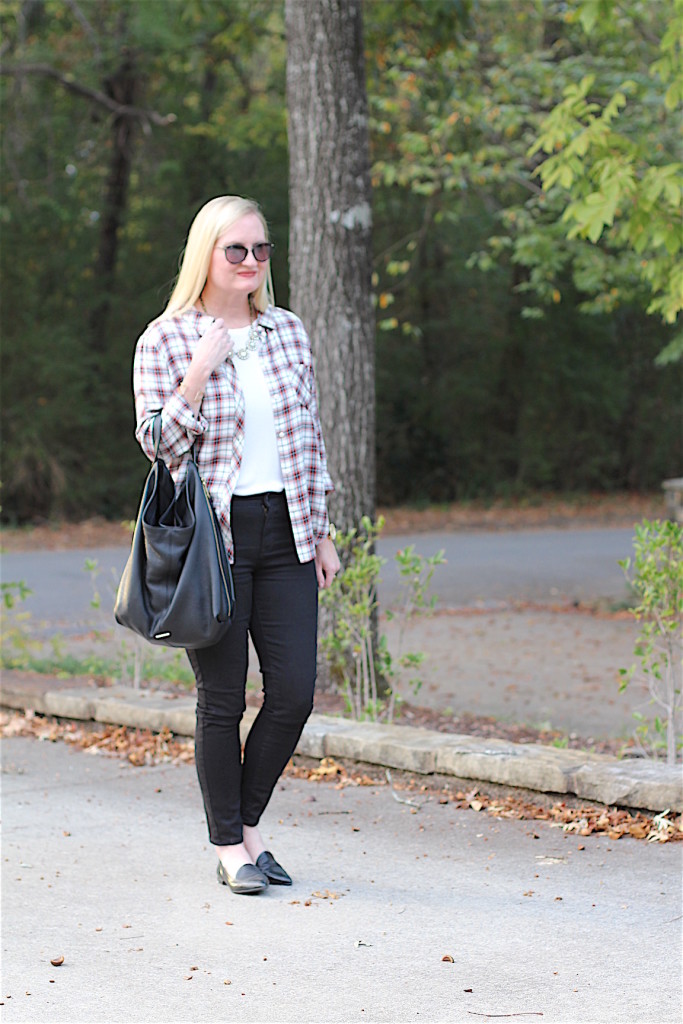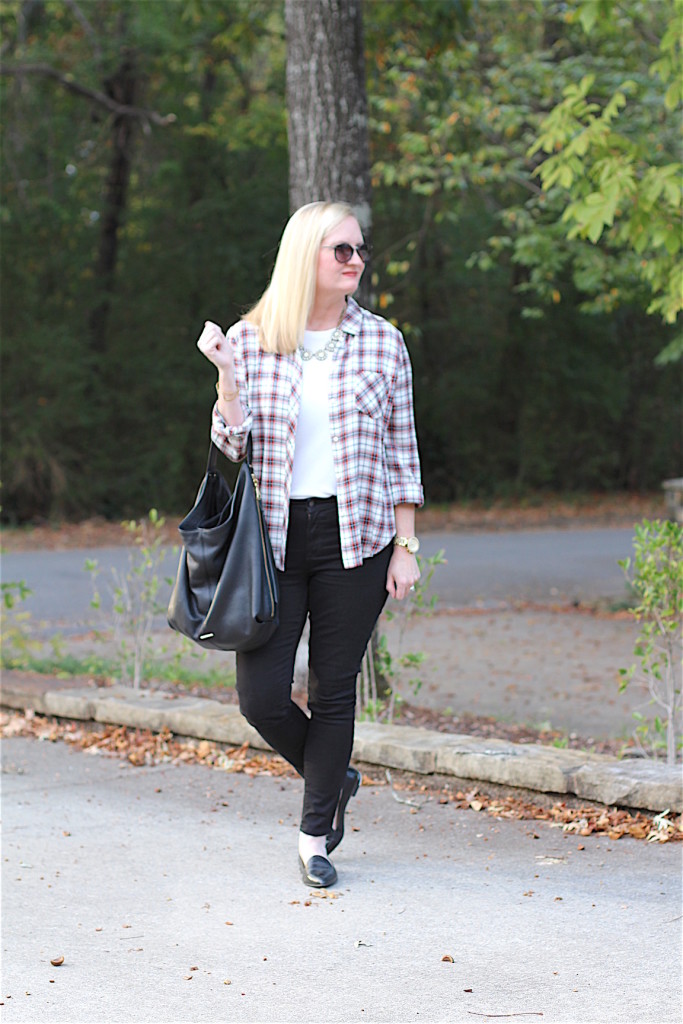 I love to wear plaid in the Fall!  Other than leopard, it's my favorite pattern.  Do you know how many different plaid patterns there are?  It can get kinda confusing when you're shopping online!  The other day I was looking online at plaid shirts and didn't realize how many different colors and patterns exist!  I bought the one I'm wearing a couple of months ago when I was writing The Essential Capsule Wardrobe: Fall 2016 Collection e-book (it's one of the shirts in the e-book).  I ordered this shirt online and when it arrived, the pattern was perfect and the material was SO soft, I just had to keep it.  You can find this plaid shirt at Bloomingdale's and Lord & Taylor.
Another item that is new in my capsule wardrobe are these Old Navy High-Rise Rockstar Built-In Sculpt black jeans.  My pair of black jeans were faded from a couple years of wear, so I needed to replace them.  I've never known Old Navy to have these type of jeans, so they may be a new item.  They also come in gray ("Stone Lake").  The gray's materials is thicker than the black color, but the gray might be warm in the winter.  They fit more snug than the regular Rockstar jeans, but they hold their shape ALL DAY!  One thing that's aggrevating to me about some jeans is that they loosen up throughout the day and I have to keep pulling them up.  Does that happen to you?  These jeans don't do that and I just love them!
I'm still loving these Modern Point loafers from Everlane!   If you're thinking about ordering a pair, they are worth it!  I ordered a half size up, but you may want to order a full size up.  They were snug when I first got them, but the leather stretched a bit, so they are comfy now.  They are such a polished and professional looking shoe.
The first of the Winter capsule wardrobe e-books will be available in the online store this weekend.  I've finished creating all the outfit collages (ALL 100 outfit ideas!).  Now, I've got to link all the products, create the e-book, create all the images/banners and list it in the store.  Whew!  There's so much work that goes into creating the capsule wardrobe e-books, but I LOVE creating them and I absolutely love helping you all with outfit ideas and to help you get dressed easily everyday!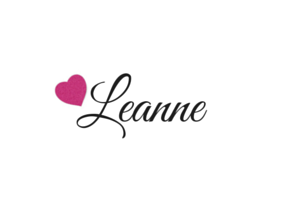 The two featured bloggers from the last linkup are:


1.  Please follow your Host 
2. Link up to 5 posts: 
it can be about fashion, style, beauty or lifestyle

(linkup to your blog post and not your main page)
3. Please include a link back to this post or place my linkup button in your post.
4.  Now, add your post(s) below!  I hope you enjoy the linkup and enjoy meeting other bloggers!
Each week I feature 2 bloggers from the previous link,
so link-up your blog posts for your chance to be featured!