A Trip To Savannah (Trendy Wednesday #116)
Last week was Spring Break and the schools were out.  I managed to take a couple of days off from work and spend an extended weekend in Savannah, Georgia with my husband and daughter.  It was beautiful weather there, great for exploring the town.  We left last Thursday and drove 5 1/2 hours to get there.  I'll share a few highlights of our trip and a few recommended places that, if you decide to go, you would enjoy too!  Two apps that I used to navigate us on the trip, was Google Maps and Yelp.  Google Maps, for navigation and Yelp, to find great places to eat.
For the Trendy Wednesday link-up, I'll share a couple of snapshots of the outfit I wore Saturday, while we were walking downtown.  For my fashion blogger friends, please link up your style posts at the bottom of today's Trendy Wednesday post.  As some of you may know, I've been doing a "10 x 10 Challenge" (see the blog post here from last Monday).  That made packing the suitcase easier, because I packed a few pieces from the challenge.  I packed two pairs of shorts too, just in case it was warm.  I'm glad I did, because Friday and Saturday it was in the mid 80's.  I still wore my "10×10 Challenge" tops though!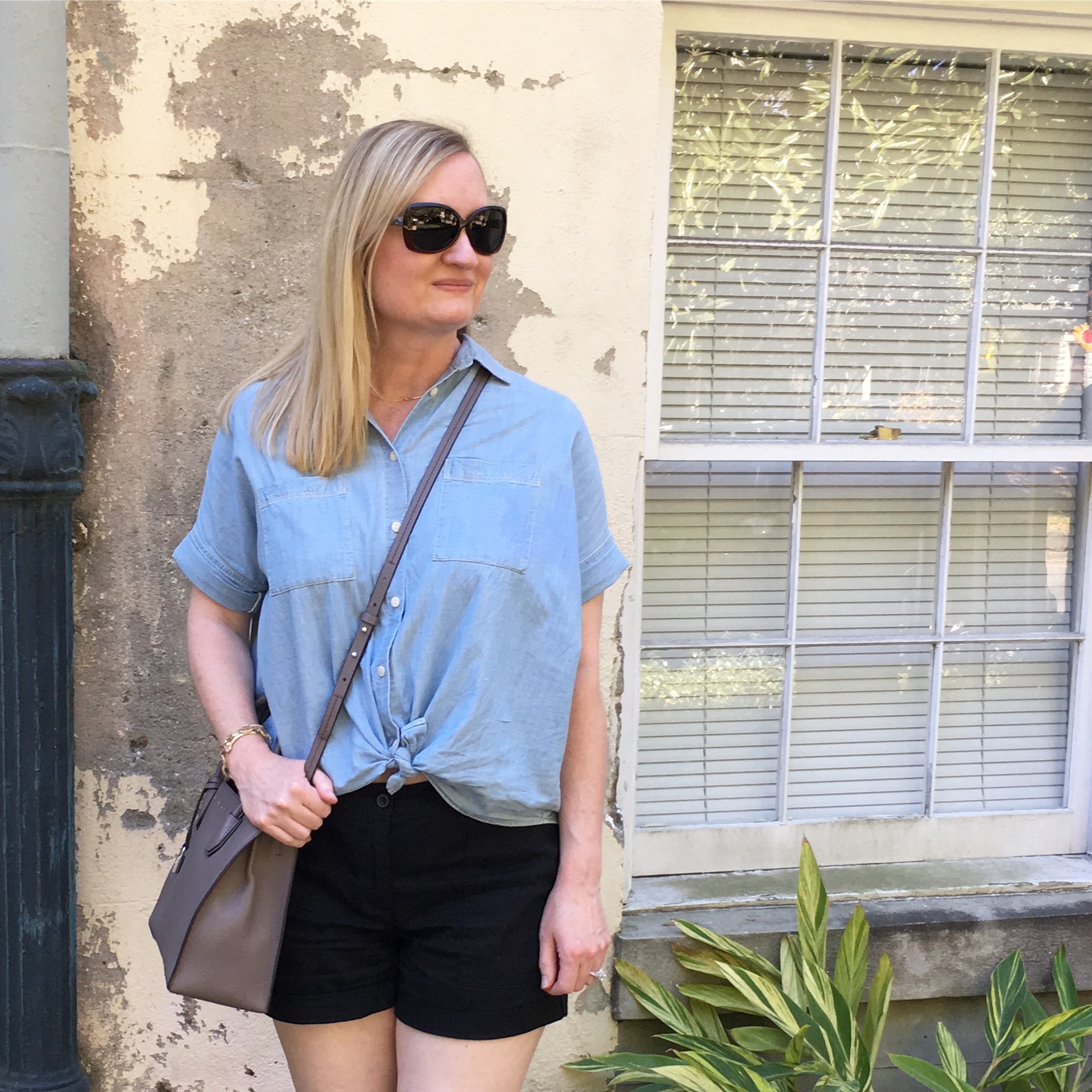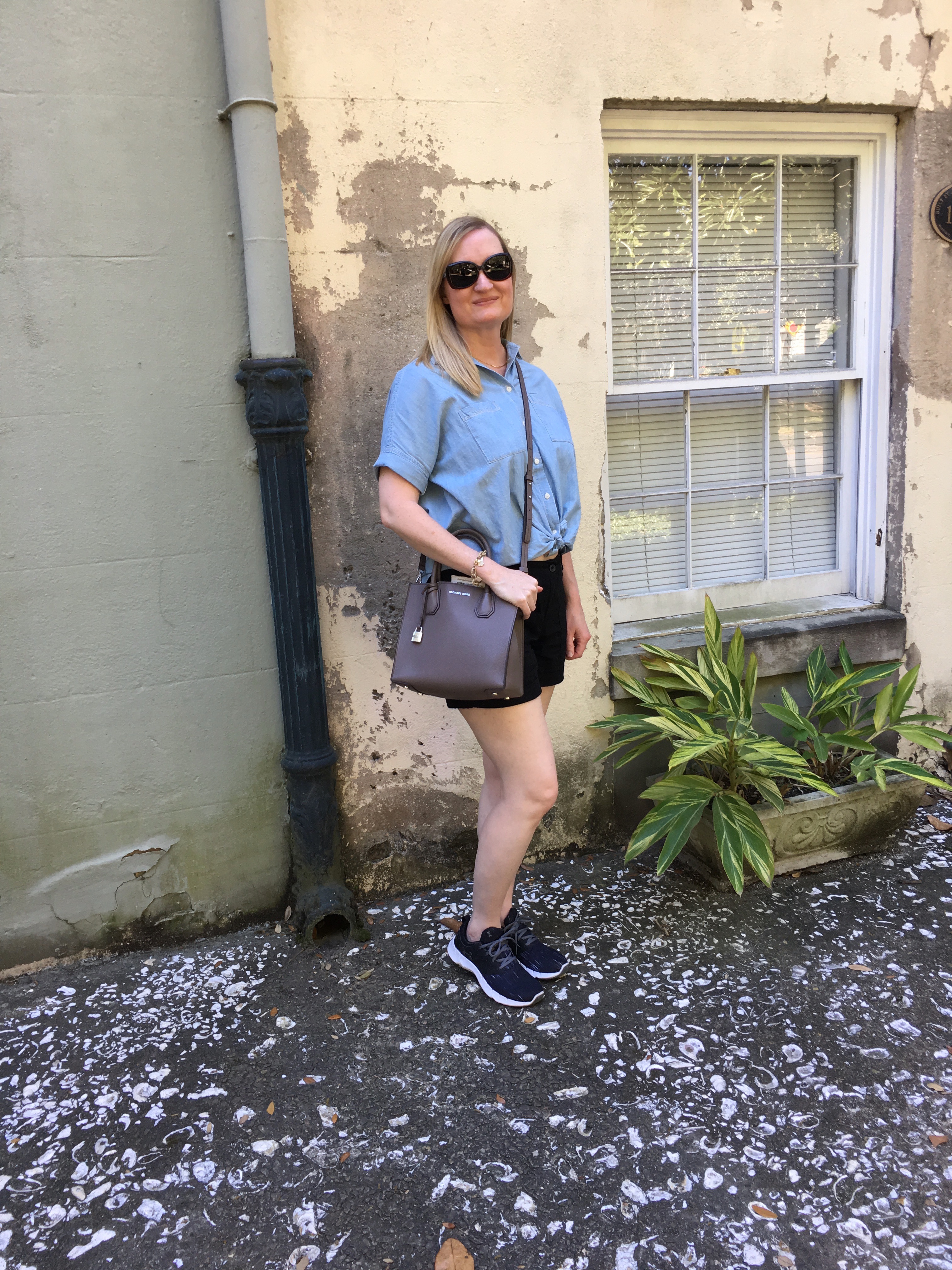 Outfit Details:
chambray courier shirt
gold bar necklace
pave link bracelet
cuff bracelet (similar Kendra Scott style)
black twill shorts (similar, similar)
crossbody bag
black sneakers
The white things you see in the concrete above in the photo are seashells!  The city evidently used them in several places maybe as "filler" for the sidewalks.  While we were walking downtown, we saw a few of the sidewalks that were this way.  Neat huh?!
Here are a few highlights from our trip to Savannah: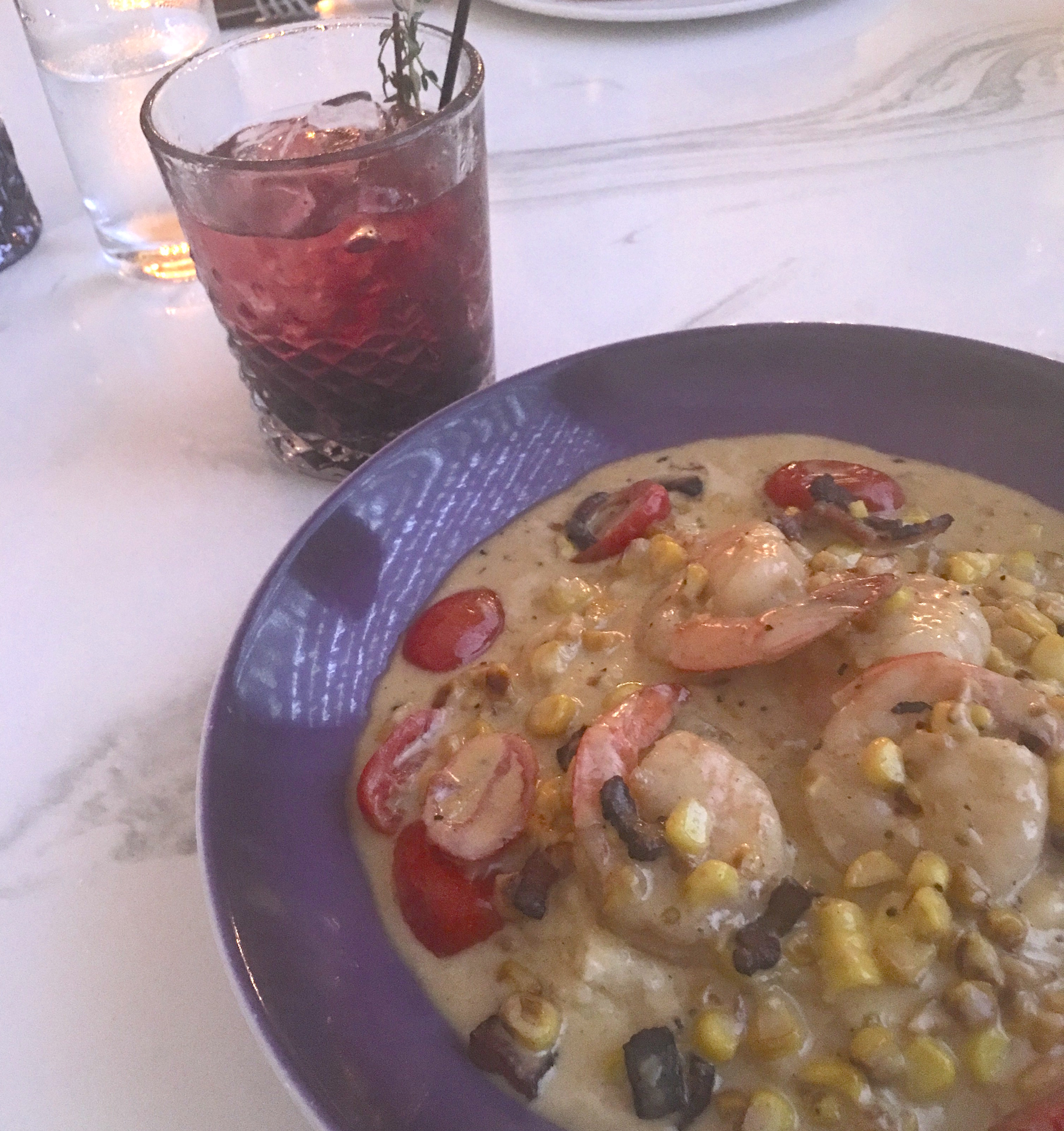 After we arrived in Savannah on Thursday, we ate that evening at Kitchen 320 restaurant in B Historic hotel.  It was next to the hotel we stayed at, the Courtyard by Marriott, downtown.  The foot was so delicious!  I started off with the Berry Thyme cocktail, which was smooth and refreshing.  I normally don't drink cocktails, but I had to try one from the menu.  I ordered the Georgia White Shrimp (shrimp and grits).  The manager said the shrimp was fresh from the coast and a few the vegetables in the dishes were grown in Savannah.  It was great dining experience that I highly recommend if you visit Savannah!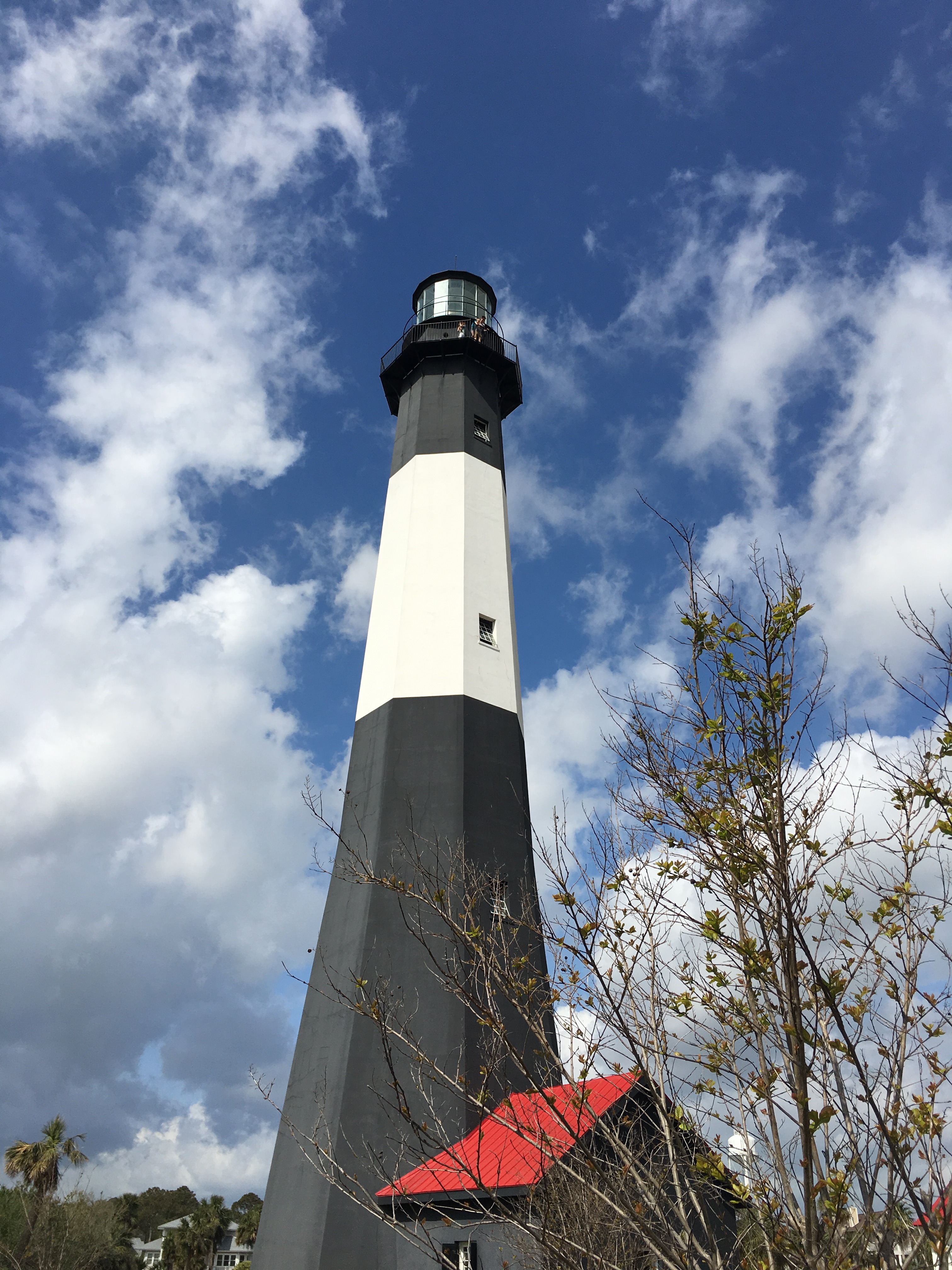 Friday, we headed to Tybee Island.  First, we visited the Tybee Island Lighthouse.  It was something to see!  Several of the old houses around it have been restored.  You can see all around the island from the top.  We also visited Fort Pulaski while we were there.  If you like historical national parks, this is a must-see!  Lots of interesting history there.  My husband really liked it!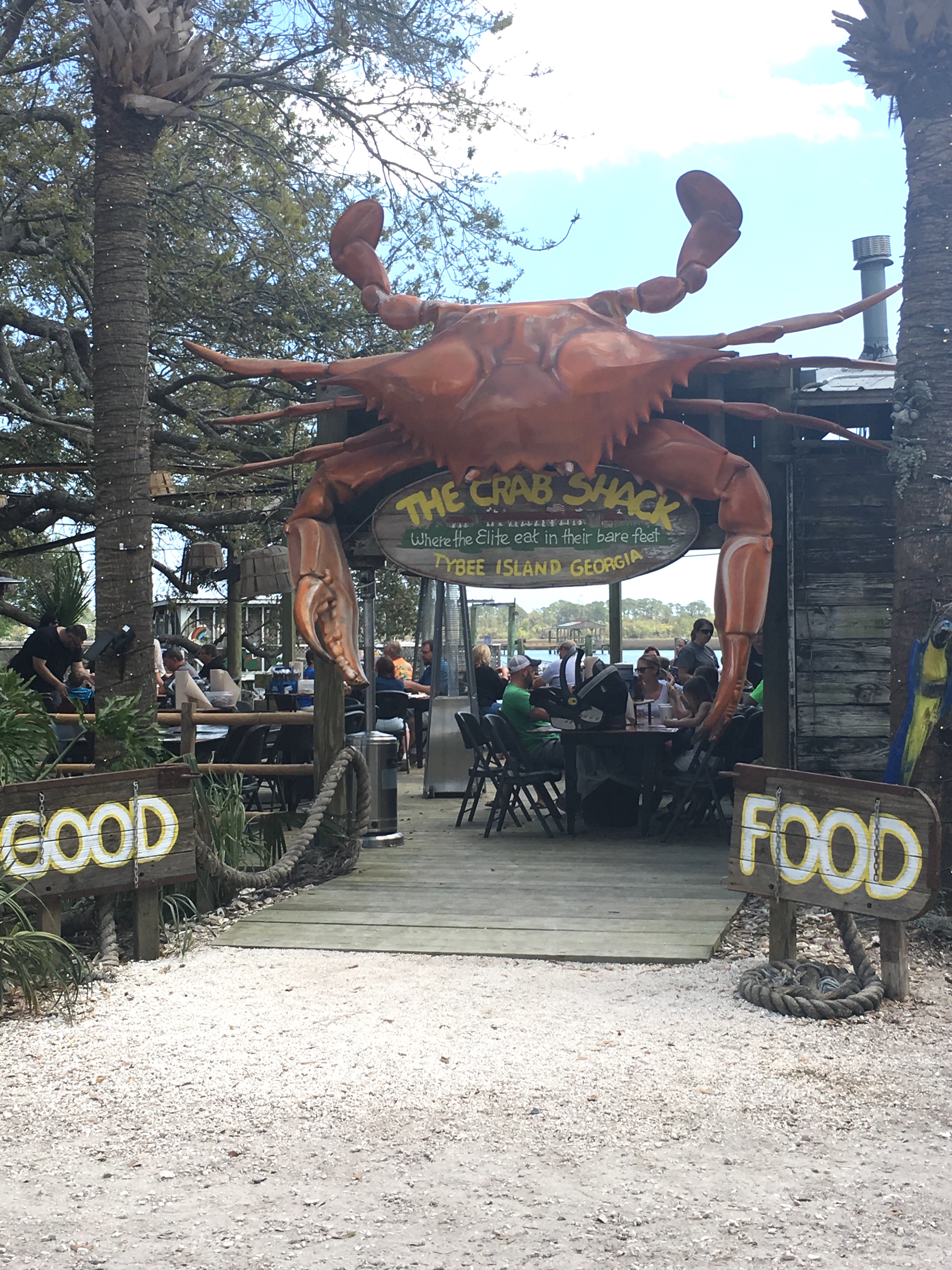 All the walking around at the lighthouse and Fort Pulaski worked up an appetite.  One of the park rangers suggested we eat at The Crab Shack.  He said it's off the beaten path, but the food is fabulous.  He also said, "don't let the big crab scare you."  I had to snap this photo; yep, there's the huge crab!  He was right, the food is fresh and delicious!  It's mainly an outside restaurant.  The restaurant sits next to the water and the views are gorgeous!  So glad we ate here!  I highly recommend it.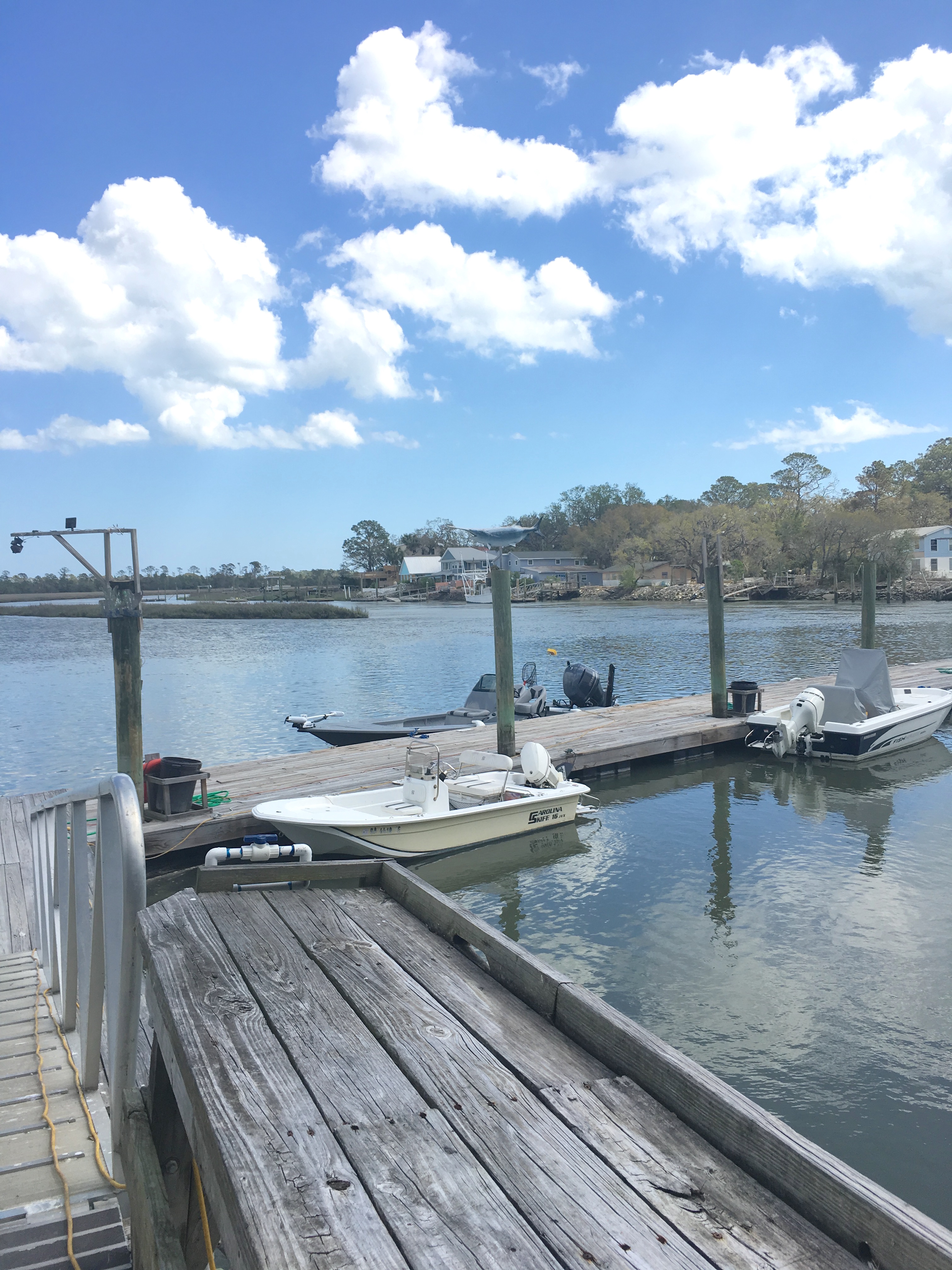 The Crab Shack even has it's own gift shop and behind it is a short pier with this beautiful view of houses next to the water and a few boats.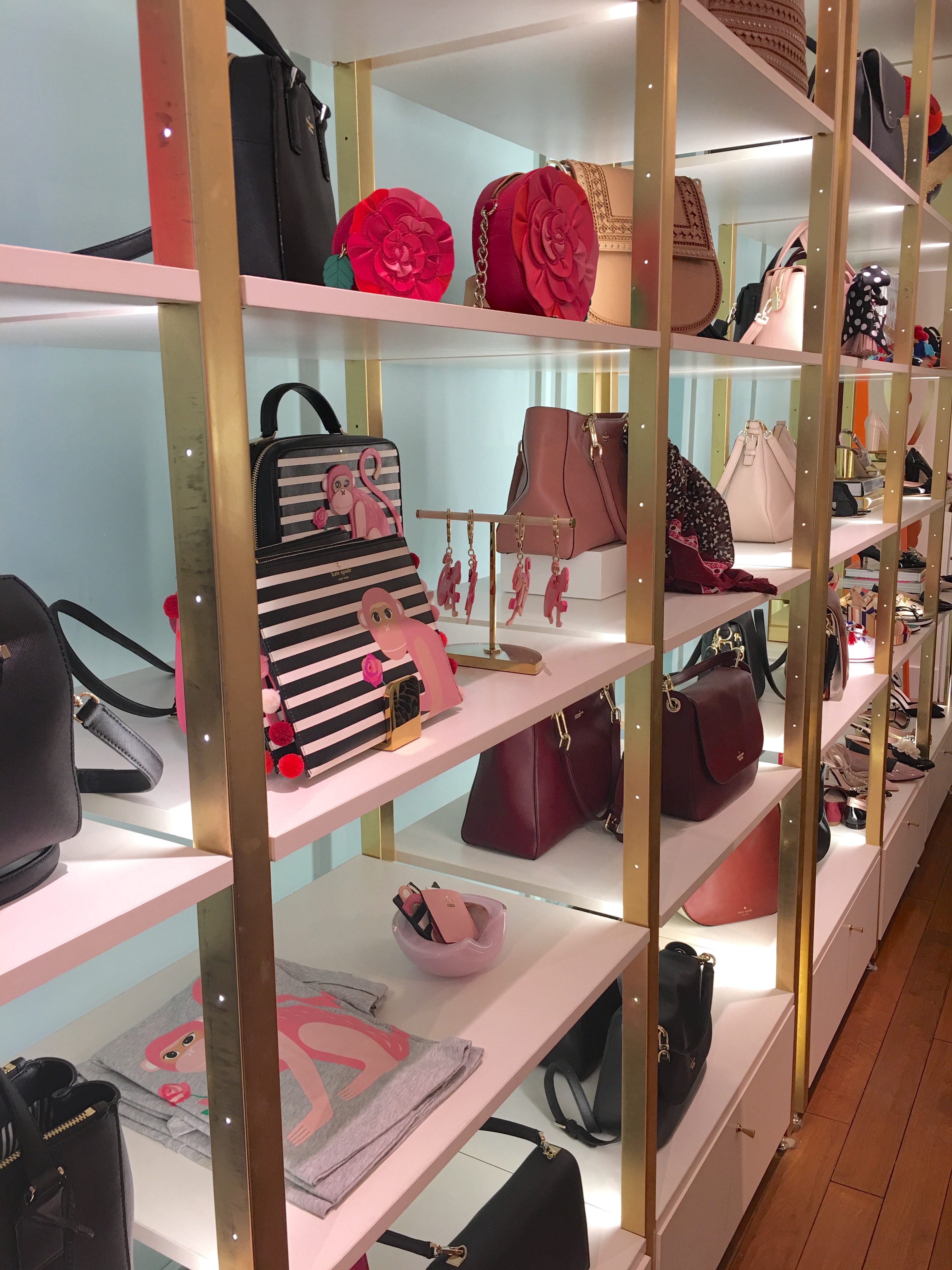 We returned to Savannah to our hotel and freshened up a bit.  We took a short walk to West Broughton Street, up 2 blocks from our hotel.  Oh my goodness, there were shops after shops, including well known brand stores such as Kate Spade (yes, I'll take one of each from the photo above!), Kendra Scott, J. Crew and Urban Outfitters.  There were local shops such as The Paris Market, Savannah Bee Company and Dress Up Boutique.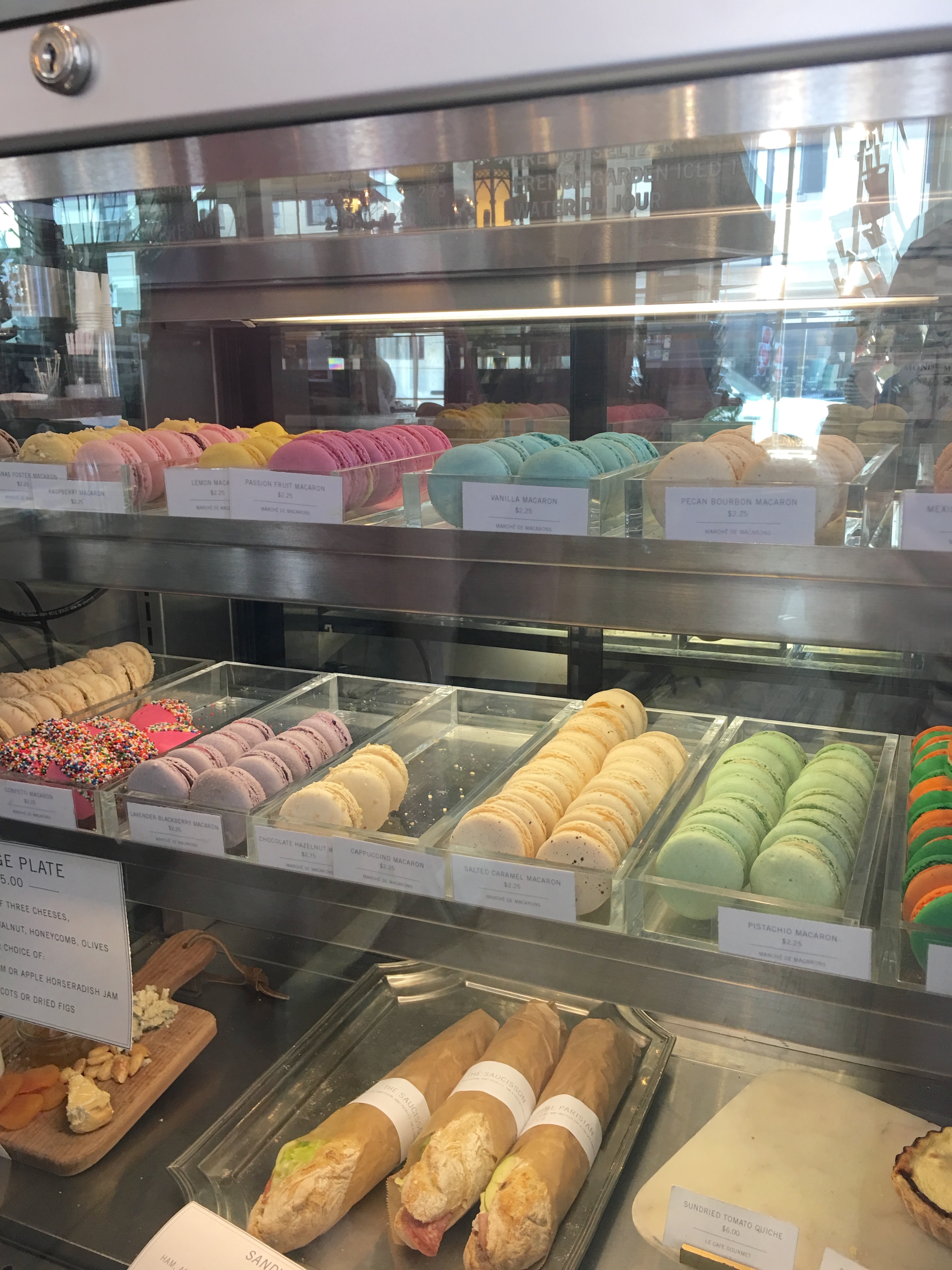 You absolutely must visit The Paris Market if you are in Savannah!  OMG!  There are many things in the store directly from Paris.  As you are browsing in the store, you will hear Parisian music playing throughout the store.  From the tall ceilings to the vintage wooden floors, you will love shopping here.  In the corner of the store, they have a bistro, where you can order many flavors of macarons.  We ate the vanilla, pistachio, raspberry and confetti flavors.  Macarons are one of my most favorite desserts!  These were absolutely delicious!  Downstairs, is the kitchen and home section.  If you're looking to add a few of these items to your home directly from France, this is the place to find them.
For supper, we ate at The Lady and Sons restaurant, which was one block up from West Broughton Street.  When we walked up to the building, it looked small.  But, there are 3 floors to this restaurant.  We had to wait about 20 minutes for a table to eat, but while you are waiting you can browse in the gift shop adjacent to the restaurant.  We ate the all-you-can-eat buffet.  The food was absolutely delicious…the best Southern food that I've eaten in a while!  After we ate, we went back to the gift shop and bought a few milk glass shaped candles, canned pickles and a few Paula Deen dessert mixes.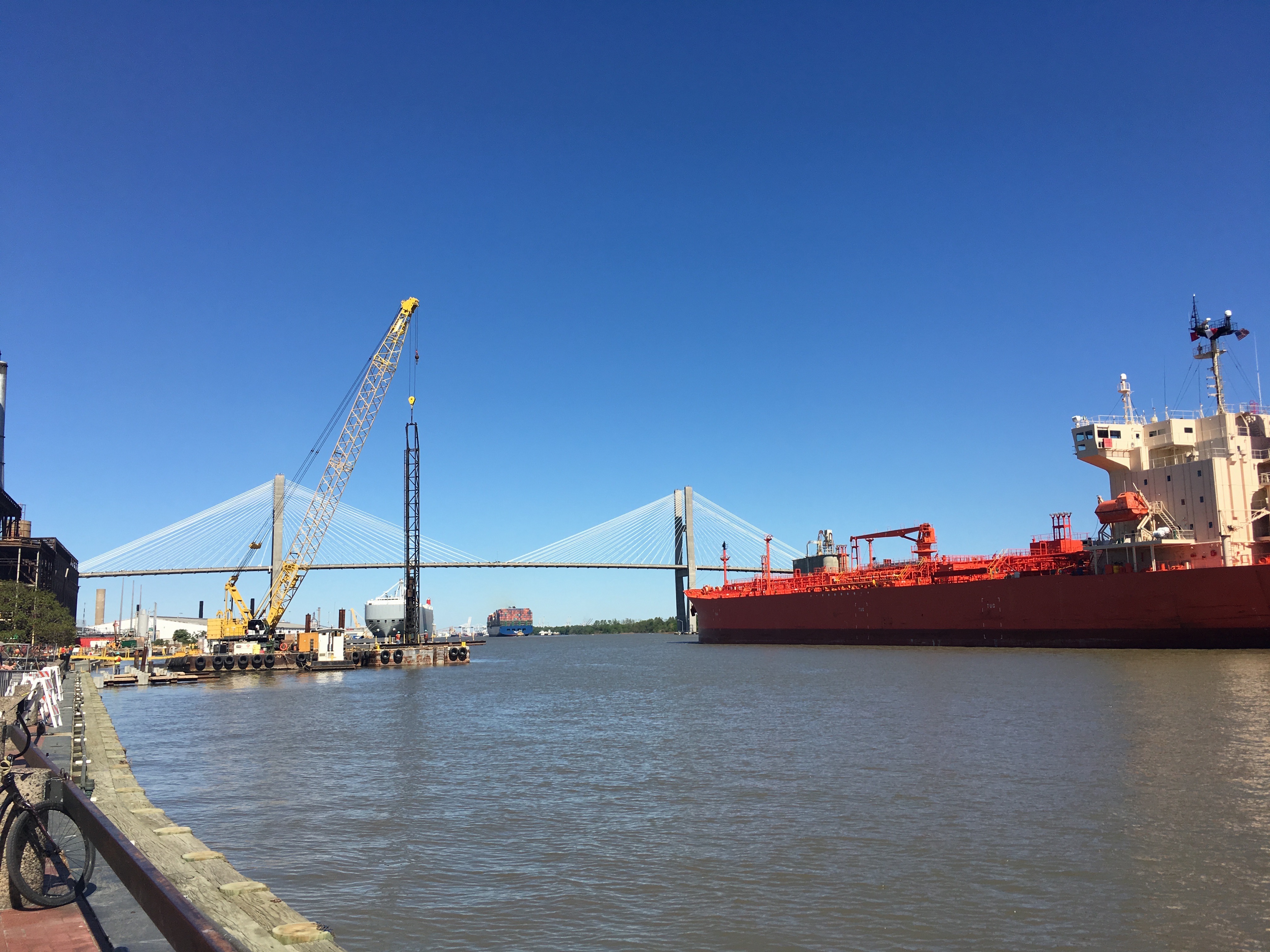 Saturday, we headed toward River Street.  We saw several huge barges carrying cargo!  It was sunny and a nice breeze was blowing.  The weather was perfect.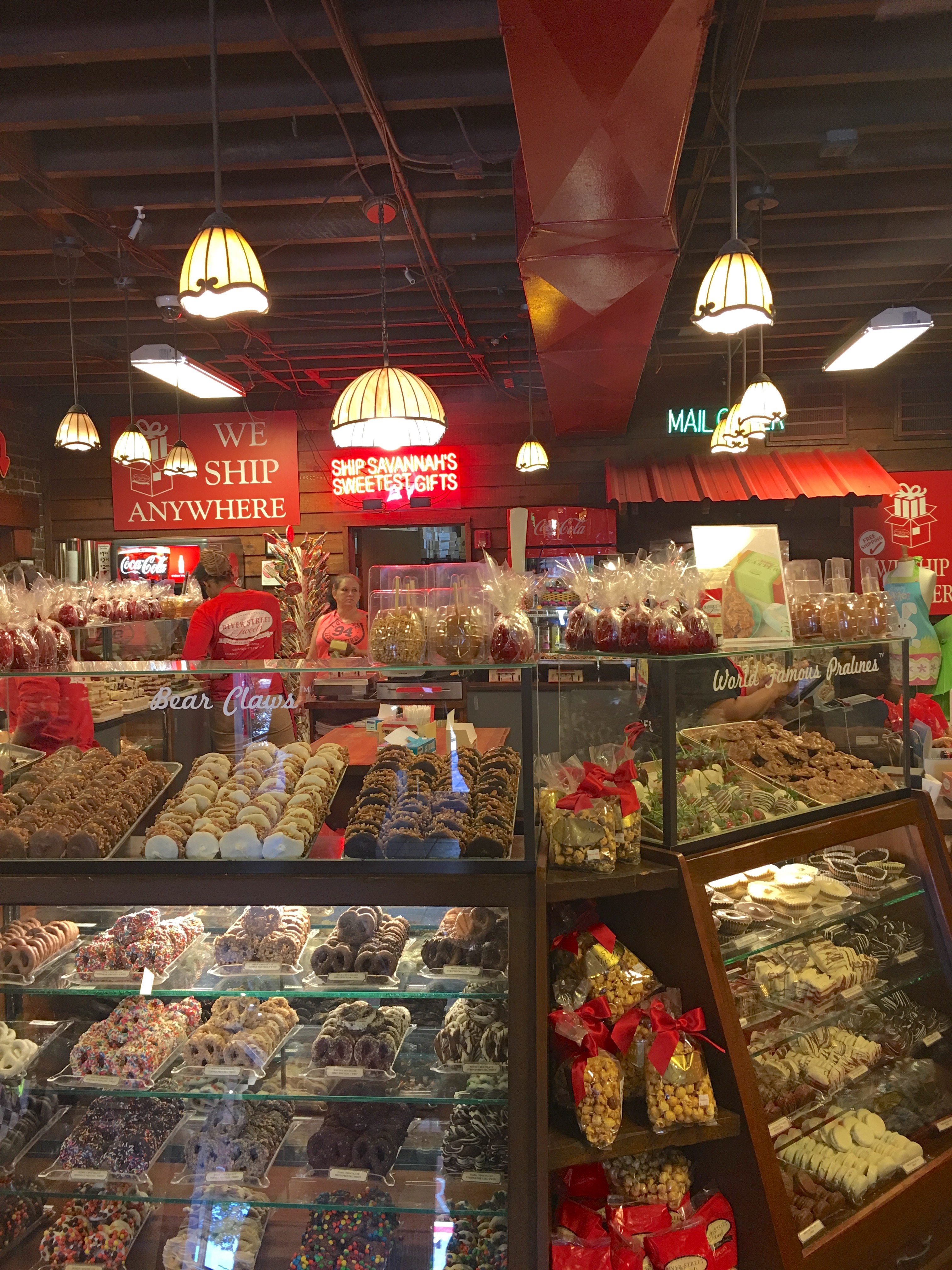 We stopped at Savannah's Candy Kitchen for some ice cream.  We didn't buy any candy, but the whole store smelled delicious!  The candy store is on one side and the ice cream parlor is on the other.  We went for the ice cream.  I got Strawberry Gelato and my daughter got Birthday Cake ice cream.  I had never had gelato before and it was fabulous.  It's my new favorite!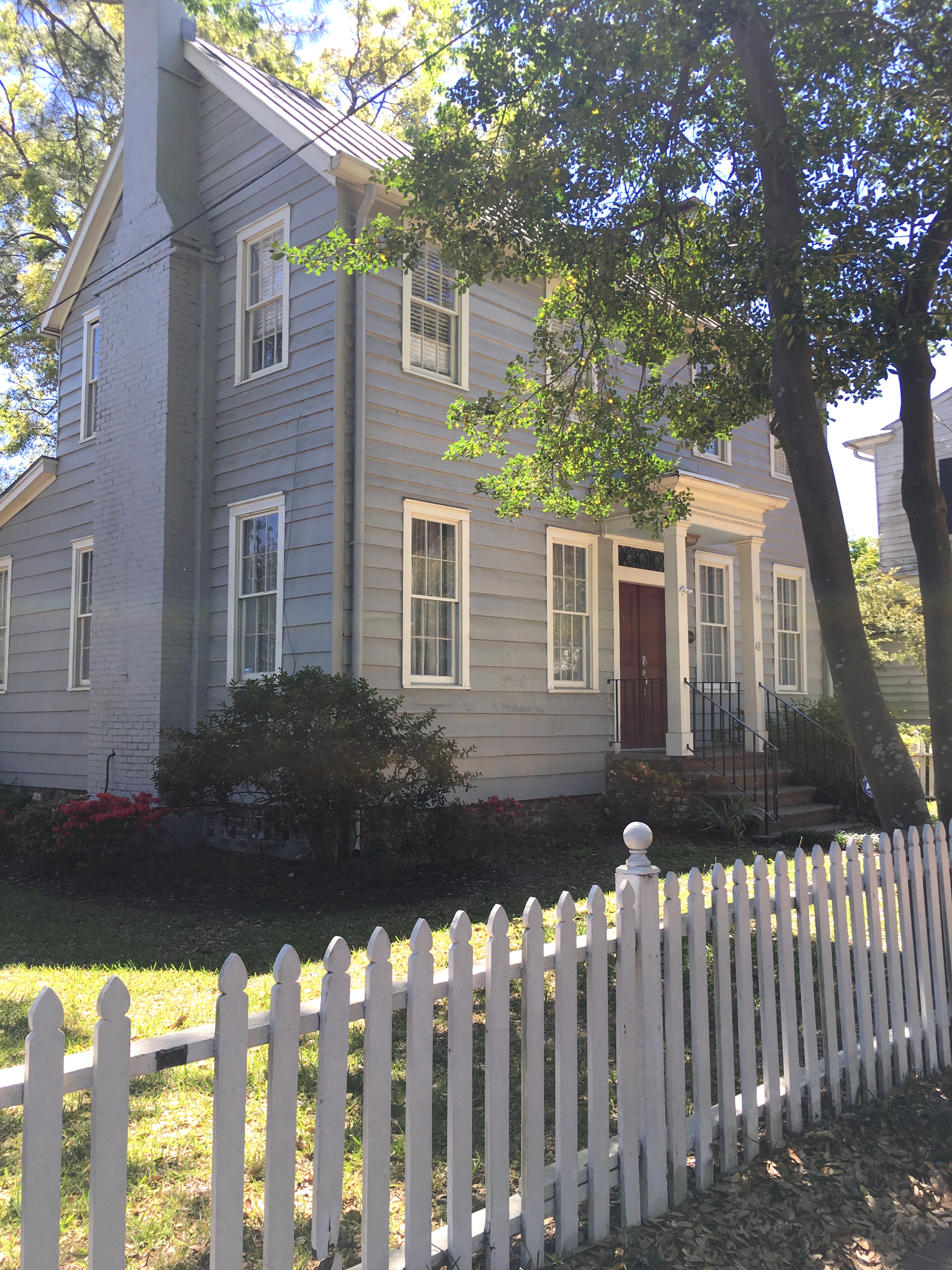 We left River Street and headed toward Cathedral of St. John the Baptist.  While we were walking, we saw several old houses, including the one above.  In downtown Savannah, you'll see mostly old houses like this one.  Almost every one is kept in excellent condition.  I thought this one was pretty because it had a picket fence in front!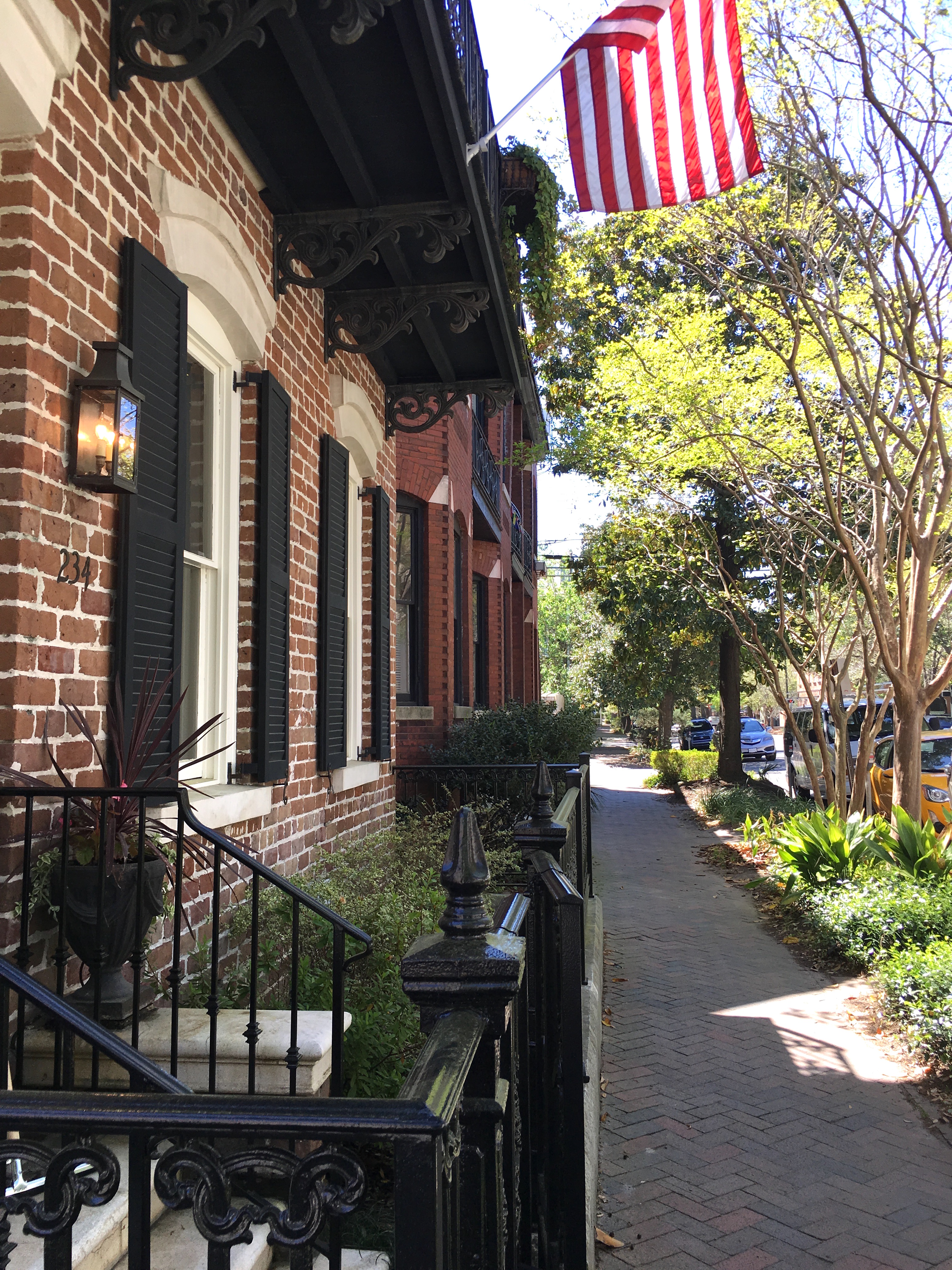 Here's a couple of houses that are absolutely beautiful!  I snapped this photo during our downtown walk.  From the brick exterior, to the working shutters, to the wrought iron fence, all the details reflect the charm of these Southern houses.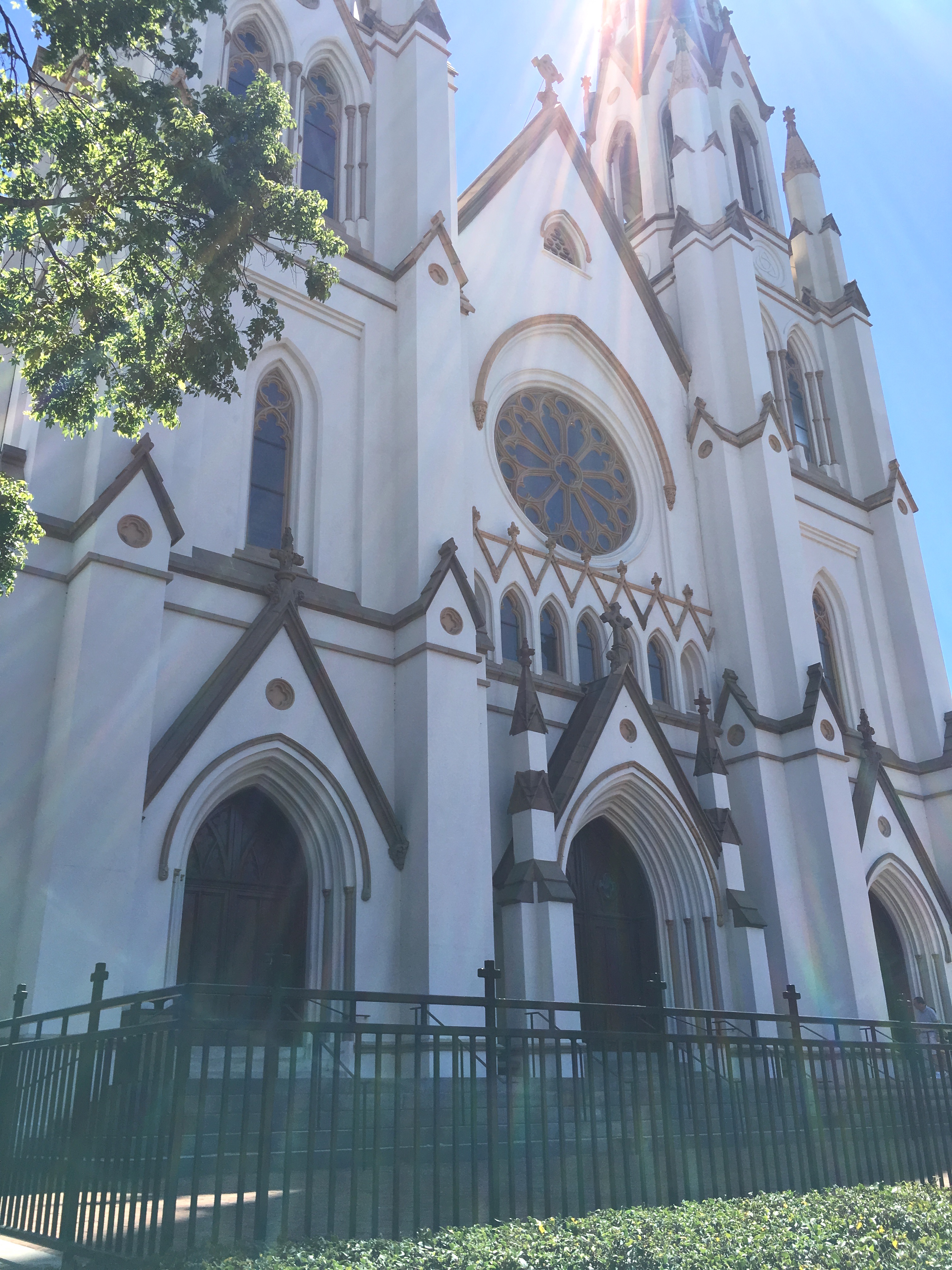 When we made it to the Cathedral of St. John the Baptist, I was in awe of how beautiful this cathedral is.  It reminded me a lot of the Washington National Cathedral in Washington D.C.  I visited there during a band trip when I was in high school.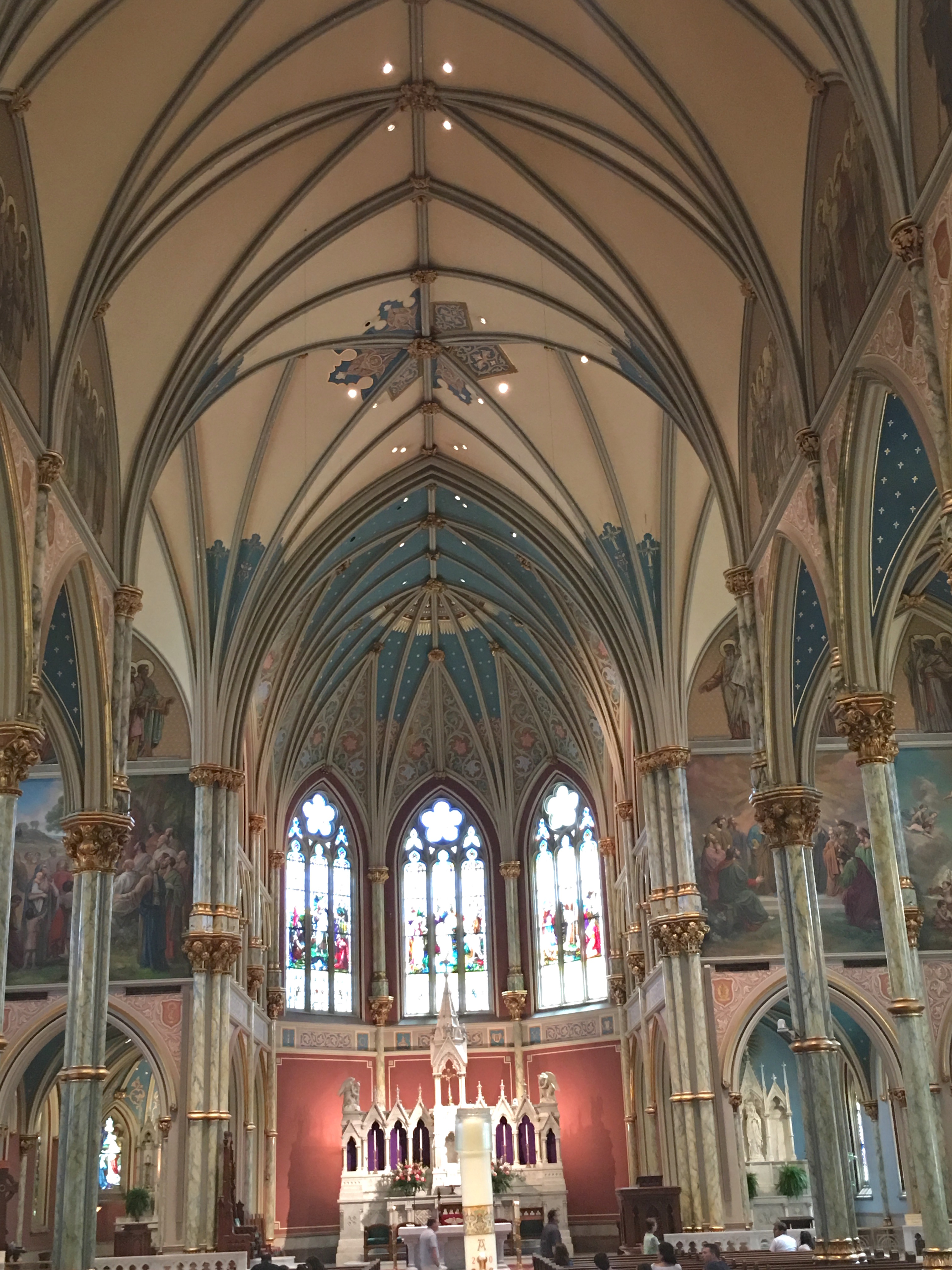 The inside of the cathedral is spectacular!  I recommend that the cathedral be a stop on your tour list!  We ate lunch at Mellow Mushroom Pizza on West Liberty Street.  We were starving from all the walking and the meal satisfied our craving for pizza!  After we ate, my husband went back to the hotel to take a nap.  My daughter and I walked back toward West Brought Street.  She wanted to look in a few shops we didn't stop at the day before.
We are usually not ones for walking a lot during a trip, mainly because of safety reasons.  In downtown Savannah, EVERYBODY walks.  I can't tell you how many people we saw walking.  We felt totally safe during our entire stay in Savannah, which is something rare these days.  So when my daughter and I took off walking by ourselves, we felt safe.  Of course, we walked during the daytime.  At night we noticed not many people were out walking, but probably by that time everybody is exhausted from all the walking they did during the day!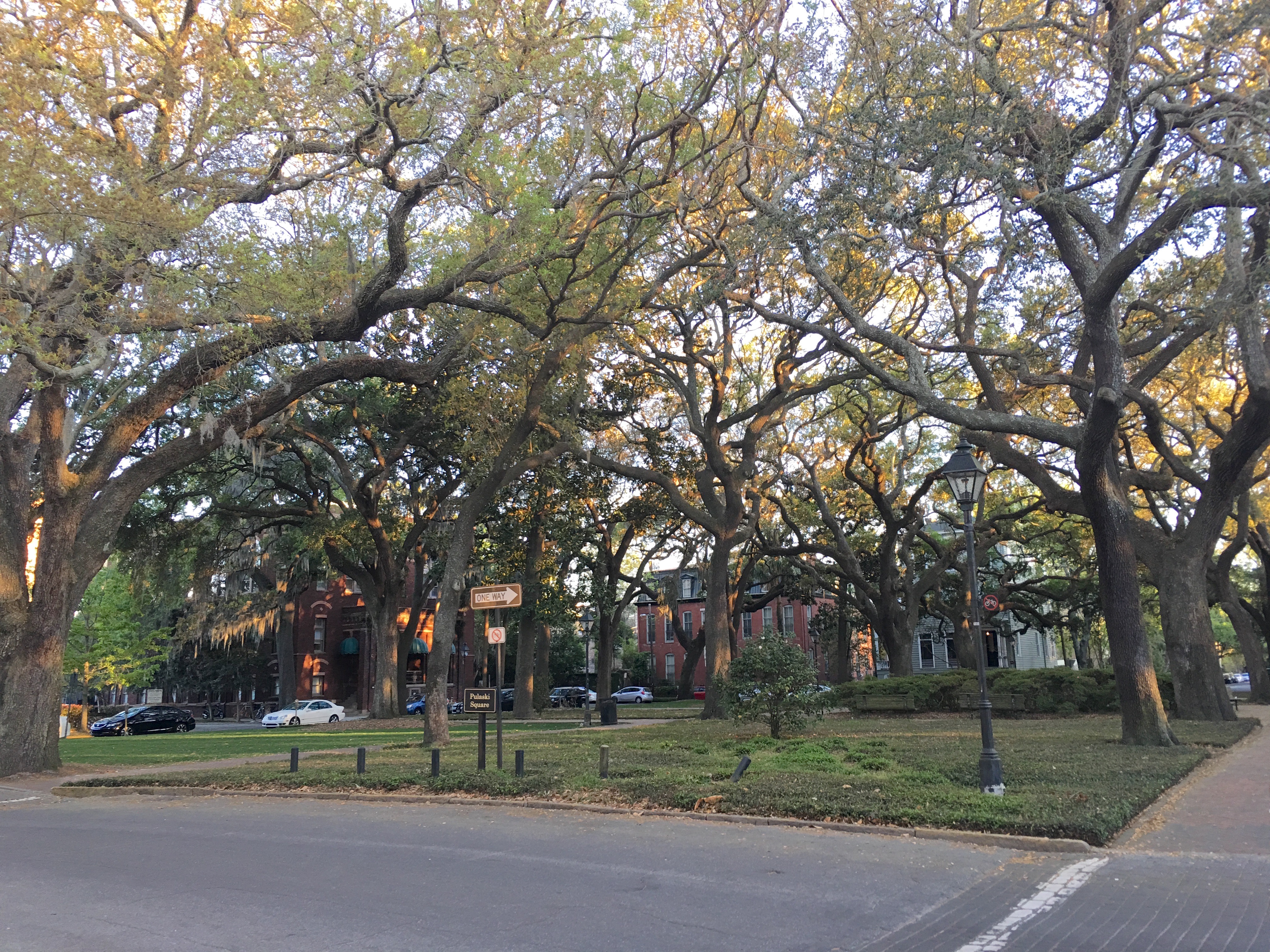 On the way back to the hotel, we walked down Barnard Street.  Since the city has several "squares", which are like little parks, I wanted to see a couple of them.  We walked through Telfair Square, Orleans Square and Pulaski Square (see the photo above).
We had only two full days in Savannah, so there were a few things we didn't get to see, like the Bird Girl Statue in Bonaventure Cemetary, the multi-tier fountain in Forsythe Park or the Mercer Williams House.  I definately want to go back soon to visit again.  I recommend visiting Savannah, Georgia, which is one of the most beautiful historic cities I've visited.  You'll never want to leave the beach, downtown or the good food!


The two featured bloggers from the last linkup are:


1.  Please follow your Host 
2. Link up to 5 posts: 
it can be about fashion, style, beauty or lifestyle

(linkup to your blog post and not your main page)
3. Please include a link back to this post or place my linkup button in your post.
4.  Now, add your post(s) below!  I hope you enjoy the linkup and enjoy meeting other bloggers!
Each week I feature 2 bloggers from the previous link,
so link-up your blog posts for your chance to be featured!