8 Types of Tees and How To Wear Them
When it comes to tees, or t-shirts, there are several different types.  It seems just a few years ago that there was either the crew neck or v-neck style.  Now, there are many styles.  Plus, with all the colors and patterns available, you could stock your whole closet with them!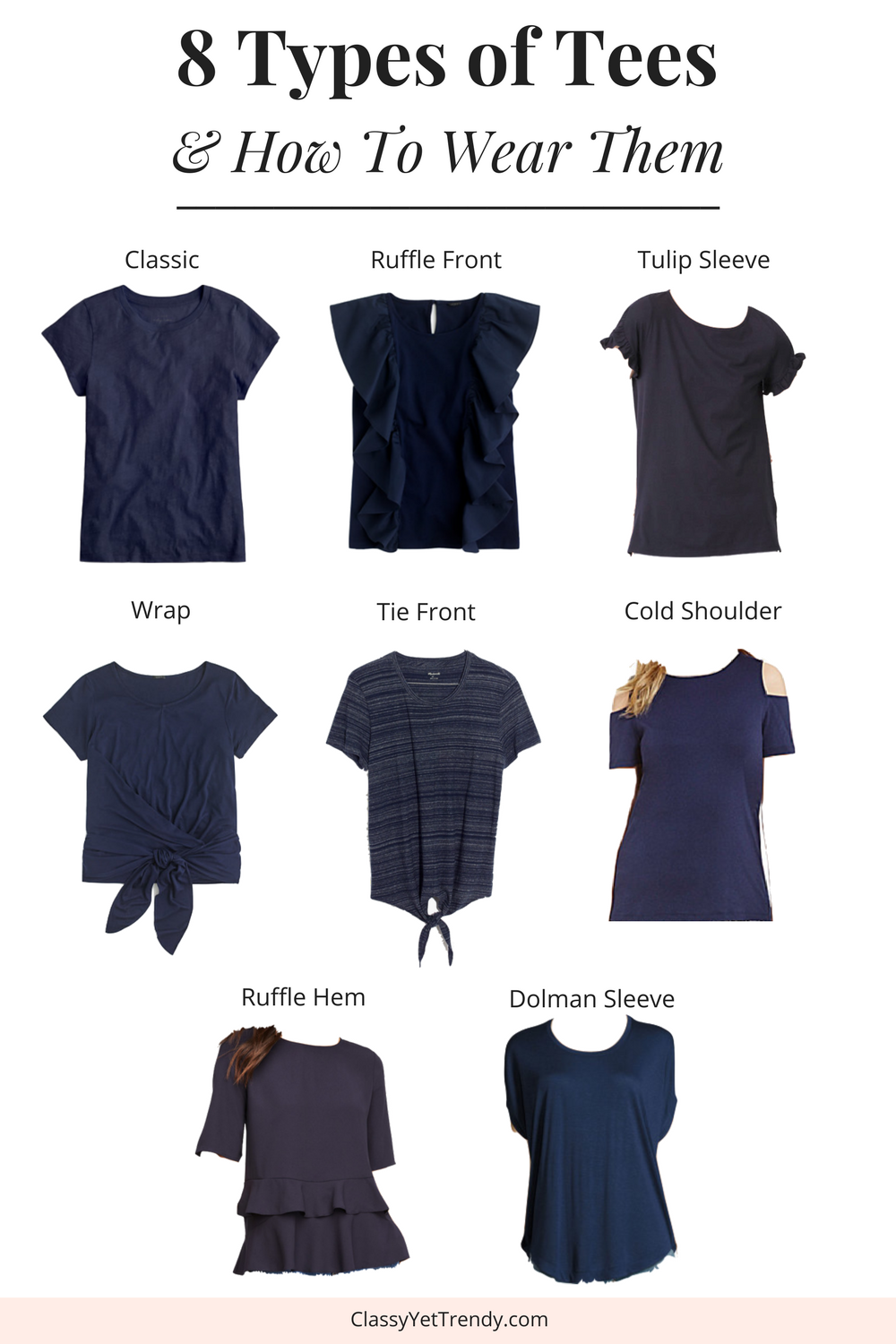 Last week in the Trendy Wednesday Link-up #122 post, I wore my dolman sleeve navy tee.  When I was finding a similar style tee to link, I discovered several styles of navy tees.  I didn't realize how many types there are!  The main ones that you'll recognize, in the collage above, are the classic crew neck, ruffle front, tulip sleeve, wrap, tie front, cold shoulder, ruffle hem and dolman sleeve.  The dolman sleeve is similar to the classic tee, except that the sleeves are more open and the bottom is more loose.  Isn't this tulip sleeve darling?  I love how there is a little ruffle around the edge of both sleeves.  The ruffle front is so pretty too.  It looks like a tee you could wear to work with dress pants or out on a date night with a skirt.  The tie front tees are on-trend this Spring and will probably be just as popular in the Summer.  The tie front tees in white are fabulous to wear!  If you're not quite into the off-the-shoulder trend, this cold-shoulder tee barely shows your shoulders.
Do you want 100 Outfit Ideas from just 26 Items in your closet?
Do you want to get dressed quickly?
Do you want to save $1,000's a year?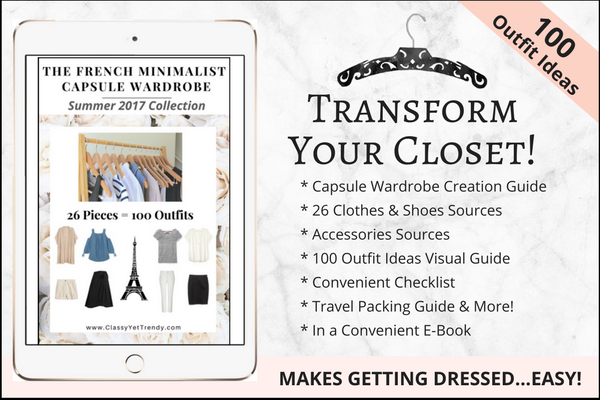 You might be wondering how to wear all these types of tees.  I've got a few outfit ideas for you!  Each outfit include ideas for shoes and bags too!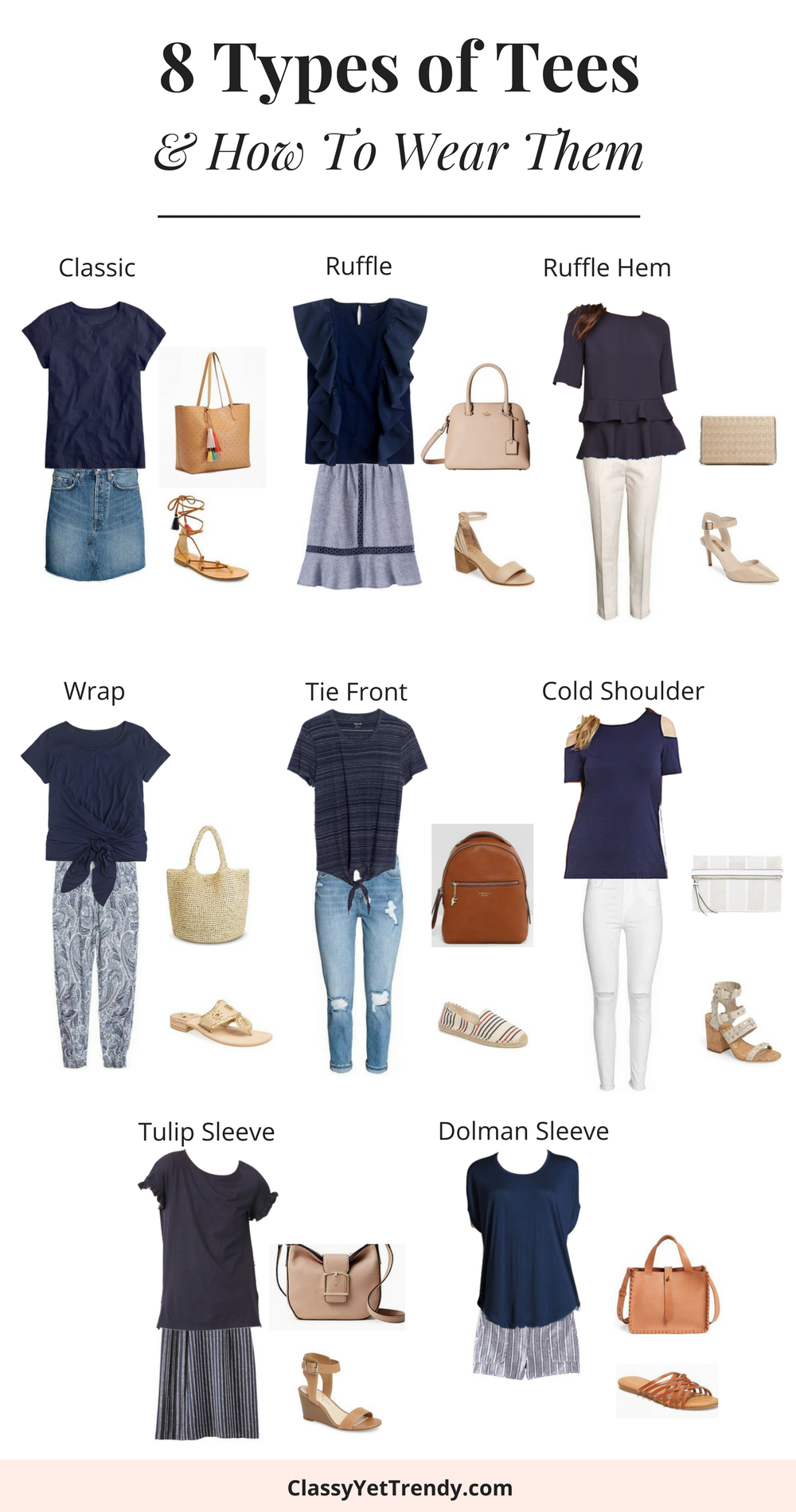 Classic Tee Outfit: classic tee | denim skirt | tassel tote | lace-up sandals
Ruffle Tee Outfit: ruffle tee | chambray skirt | handbag | block heel sandals
Ruffle Hem Tee Outfit: ruffle hem tee | linen-blend pants | straw clutch | ankle strap heels
Wrap Tee Outfit: wrap tee | pattern pants | straw handbag | thong sandals
Tie Front Tee Outfit: tie front tee | distressed jeans | small backpack | espadrilles
Cold Shoulder Tee Outfit: cold shoulder tee | white jeans | white clutch | block heel sandals
Tulip Sleeve Tee Outfit: tulip sleeve tee | striped skirt | crossbody bag | wedge sandals
Dolman Sleeve Tee Outfit: dolman sleeve tee | striped shorts | mini leather bag | huarache sandals