See 10 ways you can style a kimono and what pieces to wear in your Spring and Summer outfits!
A kimono is a lightweight layering piece you can wear in the Spring and Summer. It's especially a great piece to wear in the Summer, when you want to wear a layer but it's too hot to wear a cardigan or denim jacket. Since a kimono is breezy and the style is open and flowy, you can easily wear it over a tee and shorts or with a pair of linen pants and top.
What's great about having a kimono in your closet, is that you can wear it casual or dressy. Add it to your tee, shorts and sneakers outfit for a casual vibe, or add it to a solid color dress and heels to complete your outfit.
What Is a Kimono?
Traditionally, a kimono is a Japanese garment and the national dress of Japan. In modern fashion, a kimono is an open lightweight garment with flowy sleeves that is typically designed with a pattern on the material.
A kimono is included in my capsule wardrobe eBook, The Stay At Home Mom Capsule Wardrobe: Summer 2020 Collection. The Stay At Home Mom Summer 2020 Collection is a complete wardrobe plan of all the neutral-color basic pieces, plus a few trending items for your closet. It includes shopping sources for Regular, Plus and Petite sizes, plus 100 outfit ideas, so you can wear a different outfit every day of the Summer!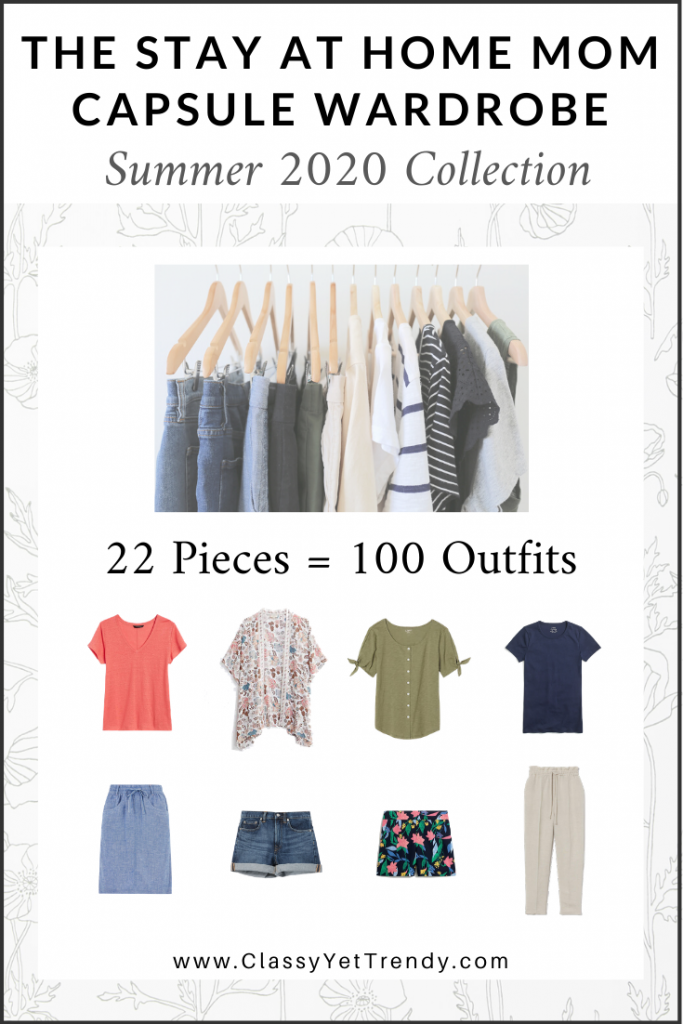 How to Care For Your Kimono
Check the label in your kimono for any specific care instructions. If it is machine washable, the recommended way of washing your kimono is to wash on cold temperature, gentle cycle. Adding a bit of liquid fabric softener to the washing machine is optional, but will help the kimono keep its softness. Hang the kimono to dry. Avoid drying your kimono in the dryer, as it may shrink and the heat from the dryer will damage the fibers in the material.
The Kimono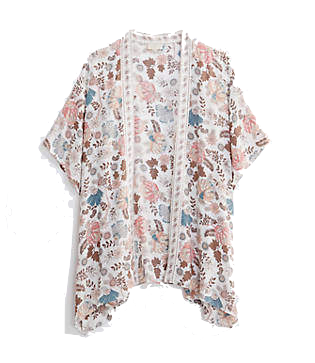 Shown above: Garden Kimono
Also love this pattern kimono & this pattern kimono!
Shop These Kimonos:
Here are 10 ways to wear a kimono, from The Stay At Home Mom Capsule Wardrobe: Summer 2020 Collection. In the Stay At Home Mom Summer 2020 Collection, there are regular, plus and petite size shopping sources for both investment and budget prices (note: due to limited availability from retailers, there are no petite sizes for the kimono in the eBook).
Outfit #1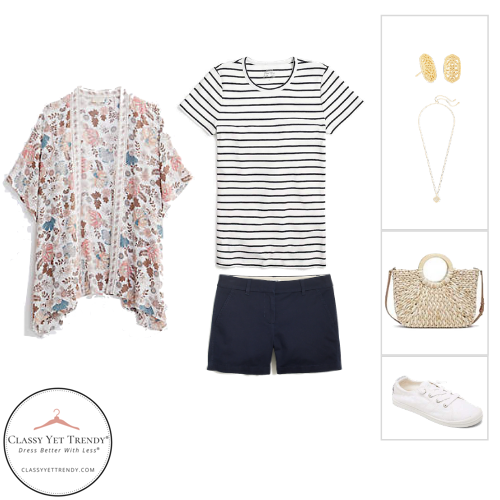 striped tee / navy shorts / kimono
earrings / necklace / straw bag / white sneakers
Outfit #2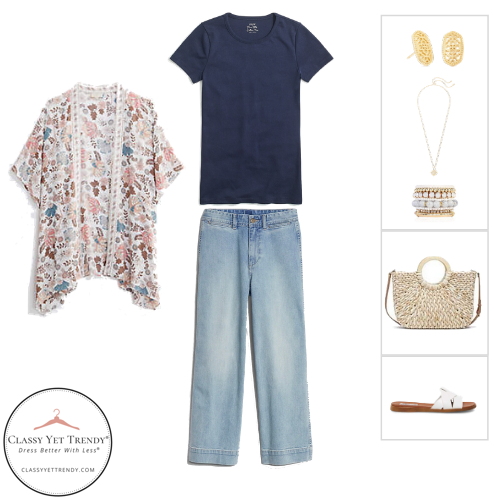 navy tee / wide leg crop jeans / kimono
earrings / necklace / bracelet / straw bag / white sandals
Outfit #3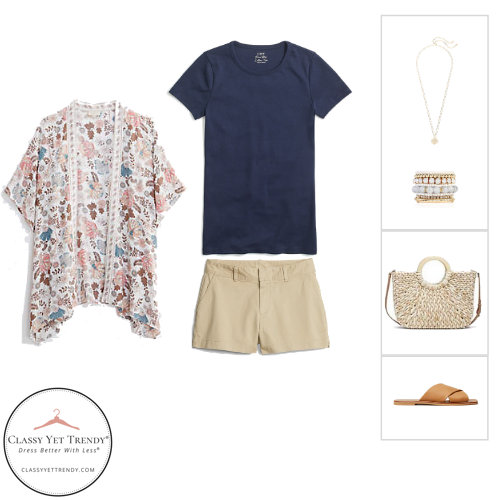 navy tee / beige shorts / kimono
necklace / bracelet / straw bag / slide sandals
Outfit #4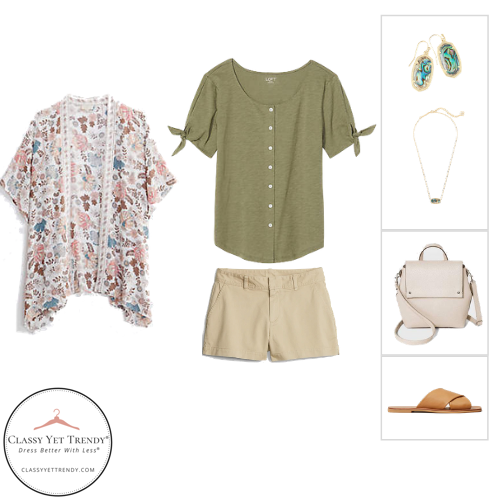 green tie sleeve top / beige shorts / kimono
earrings / necklace / backpack / slide sandals
Outfit #5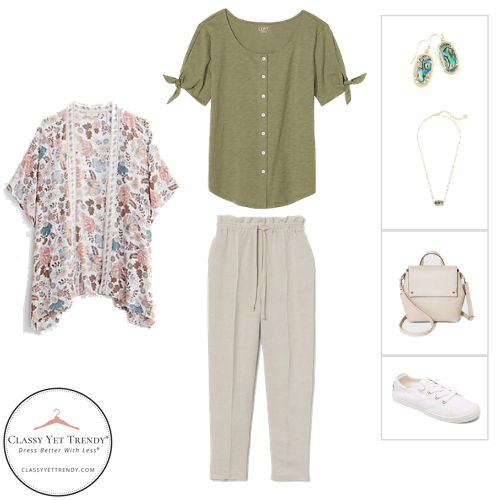 green tie sleeve top / linen pants / kimono
earrings / necklace / backpack / white sneakers
Outfit #6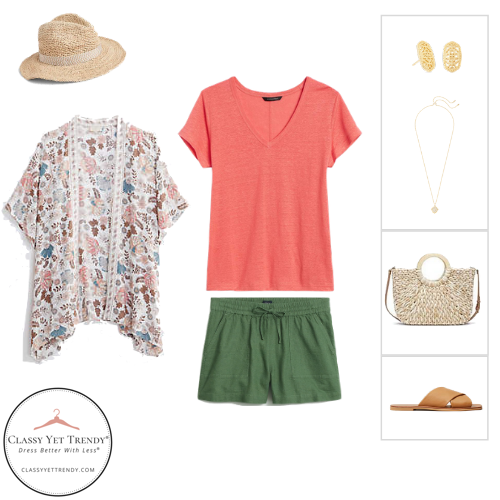 coral tee / green shorts / kimono
earrings / necklace / straw bag / slide sandals / straw hat
Outfit #7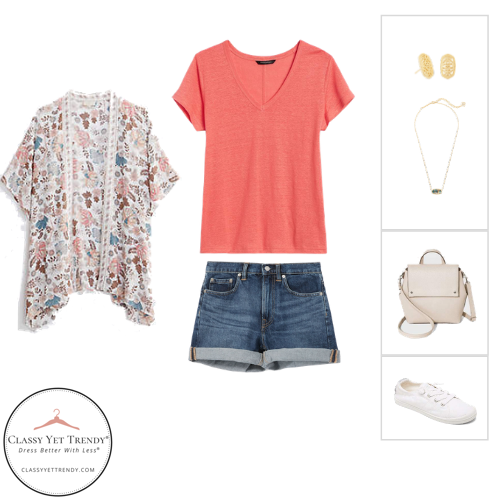 coral tee / denim shorts / kimono
earrings / necklace / backpack / white sneakers
Outfit #8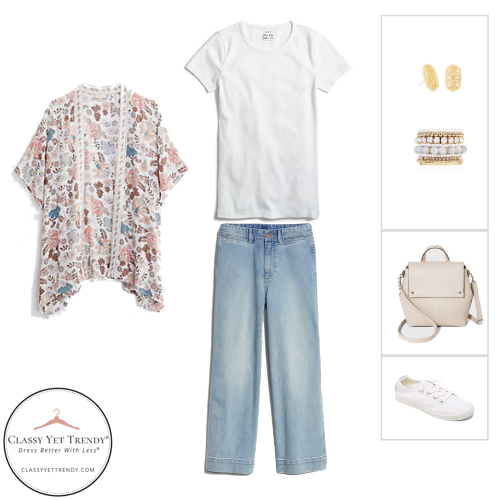 white tee / wide leg crop jeans / kimono
earrings / bracelet / backpack / white sneakers
Outfit #9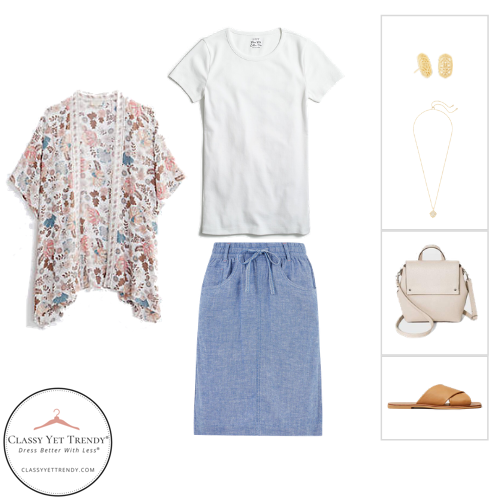 white tee / chambray skirt / kimono
earrings / necklace / backpack / slide sandals
Outfit #10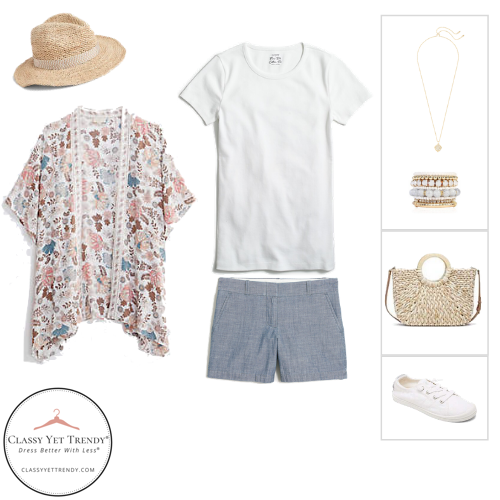 white tee / chambray shorts / kimono
necklace / bracelet / straw bag / white sneakers / straw hat
How I have worn a kimono in the blog post, "Loft Try-On Session":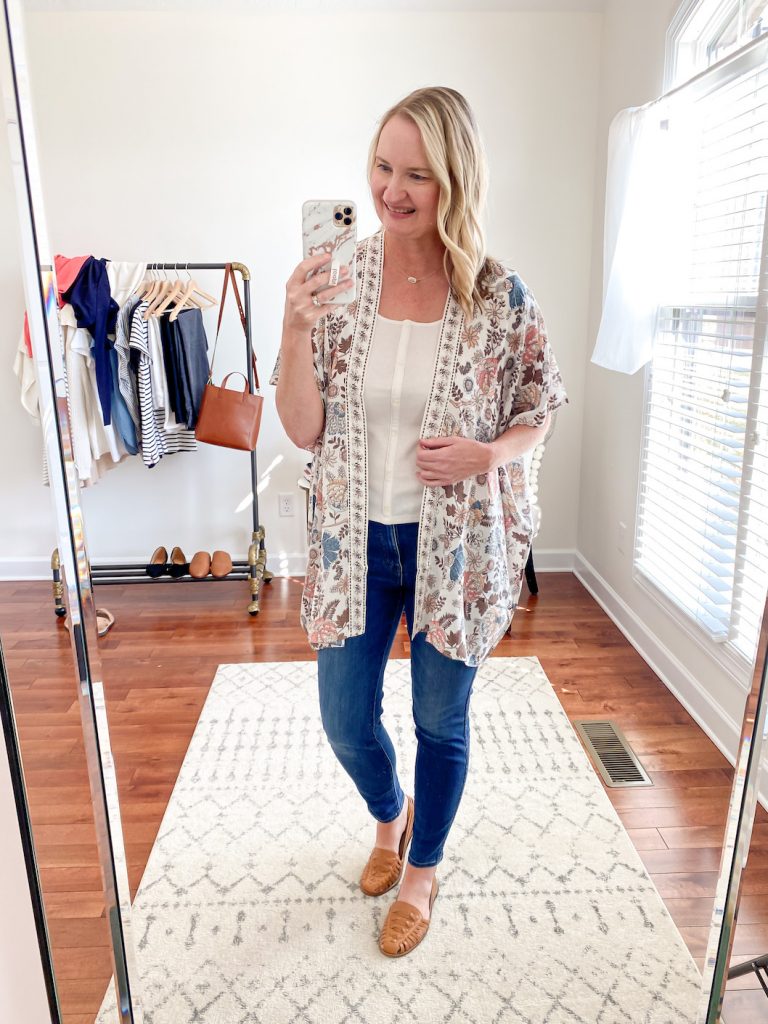 Outfit Details:
Button Trim Tee
Garden Kimono
Skinny Jeans in "Danny" wash
Huarache Sandals
And, on my @classyyettrendy Instagram account:
Outfit Details:
white scoop neck tee
Garden Kimono
Ab-Solution Skinny Jeans (darker wash)
Bay Slip On Sandals
Sea Green Chrysocolla Necklace
Sea Green Chrysocolla Earrings
Gold Cuff Bracelet
I have told you these things, so that in me you may have peace. In this world, you will have trouble. But take heart! I have overcome the world. – John 16:33