How To Create a Wardrobe On a Budget
You can create a wardrobe you'll love, even if you're on a budget!
Do you need to create a wardrobe for your new career in the workplace?  Do you want to expand your wardrobe and add a few skirts or a couple of trendy tops?  Are you needing a few pieces for your capsule wardrobe?  When it comes to creating a wardrobe or adding to our wardrobes, money sometimes is a big factor.  If you are limited on funds, there are several ways you can build a wardrobe, while still staying on a budget.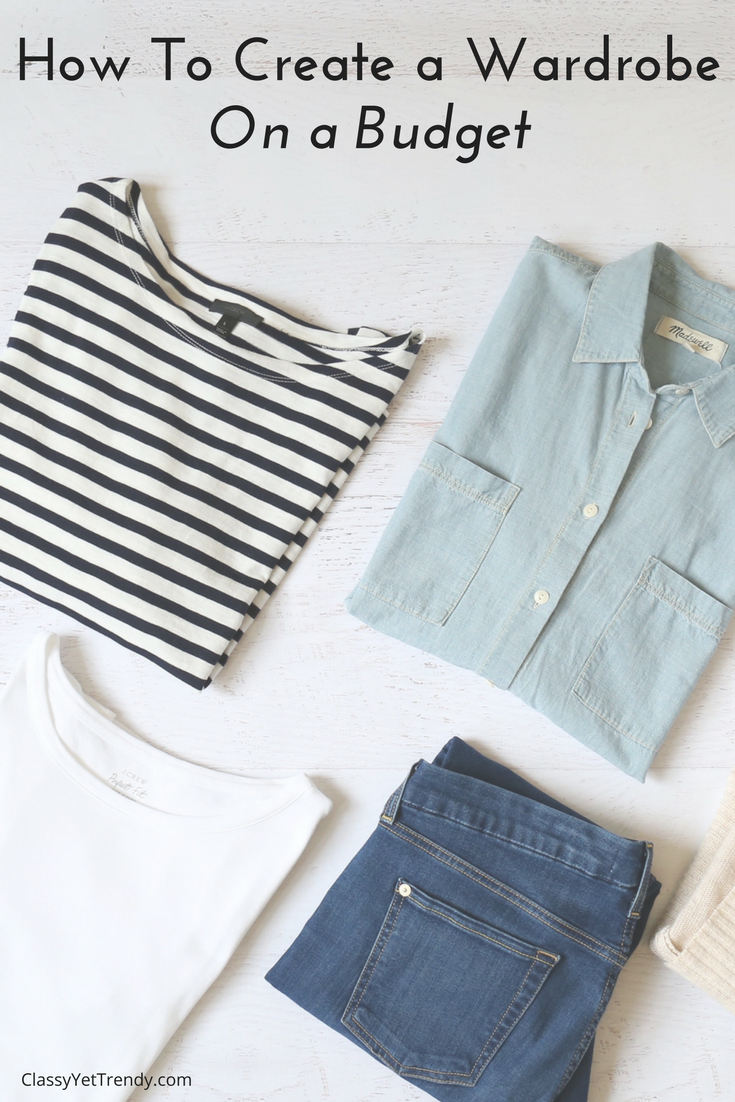 1 – Shop Thrift or Consignment Stores
Just few years ago when I was wanting experimenting with capsule wardrobes, I needed to buy several things, but I was limited on funds.  I shopped at a few nice thrift stores and a consignment store.  I was surprised to find brands such as Loft, J. Crew, Ann Taylor and more upscale clothes there.   I thought I had hit the jackpot!  I found an almost brand new black pencil skirt, a dark denim skirt, a few sweaters, a couple of cardigans and a few tees.  The best part is that they looked almost brand new and they were just a few dollars each!  Look for items that still look new and buy those.  Also, look for well-known brands, like Loft, J. Crew, Ann Taylor, Madewell, etc.  You'll get the most wear from those brands.
[clickToTweet tweet="Find out several ways to create a wardrobe on a budget!" quote="Find out several ways to create a wardrobe on a budget!"]
2 – Shop at End of Seasons and Major Holidays
If you are looking for specific pieces to buy, wait until the end of the seasons or around major holidays.  That's when retailers mark down their clothes and shoes.  Major holidays are Thanksgiving, Christmas, New Years, Memorial Day, 4th of July and Labor Day.  Last year I bought a Madewell cardigan, that originally retailed for $98, and was on clearance at the end of the season for $35!
3 – Shop at Budget-Friendly Stores
Stores like Old Navy, Target, Nordstrom Rack, H&M and Everlane sell clothes that are budget-friendly.  These stores have basic essentials that are inexpensive and are worth buying.  Favorites from Old Navy are their tees, pixie pants and cardigans.  I love Everlane's tees and they start out at $16!
4 – Shop Online Second Hand Sites
Sites like Thred Up and Poshmark are online second hand stores.   I have sold several items on Poshmark and I love selling my clothes there.  I've never purchased anything from Thred Up but I know of a few that have and they like it.
5 – Use shopstyle.com To Find Bargains Online
I use the affiliate site of shopstyle.com and that's my go-to site when I'm wanting to find clothes, shoes and accessories for the capsule wardrobe e-books and even for myself.  There's thousands and thousands of everything you need to create or add to your wardrobe on ShopStyle!  It's an online search tool to find almost anything you need for your closet.  They even have homegoods too!  You can search on an item and you can narrow it down to a store, color, size, price and more.  I found a few pieces at bargain prices that you may need for your closet: