Cognac is a popular color in fashion.  The warm color tone pulls together an outfit and also adds texture.  When we think of cognac we usually are reminded of a leather sofa or the variety of brandy, but in the fashion world, it's an essential color that can add interest to an outfit.  It is one of my favored colors to wear in shoes and bags!
Cognac Details:
 ankle boots These are gorgeous!
leather jacket, plus-size option
braided tassel bag
medium leather tote Have it & love it!
belt
slip-on sneakers
cascade vest Plus-size!
block heel pumps
skirt, plus-size option
Cognac can instantly add warmth to an outfit.  It looks fabulous with warm color tones, but when you wear it with black or white, the color pops!  The most popular way to add the cognac color to your wardrobe is with shoes or a bag.  Cognac looks fabulous in a suede jacket or leather jacket or even a skirt.  Cognac pairs well with any of the outfits in my latest capsule wardrobe eBook, The Essential Capsule Wardrobe: Fall 2017 Collection, where you will receive a pre-selected reference of 20 tops, bottoms and layers (with several shopping sources in case you don't have any of them), 100 outfit ideas, a step-by-step guide to creating your own capsule wardrobe, checklist, travel packing guide and more!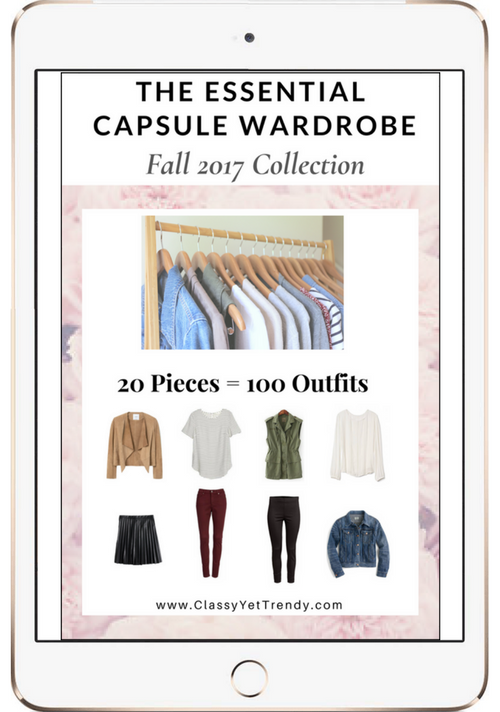 I have this medium leather tote and love it!  Hence the name, it is smaller than the large tote and roomier than the small crossbody tote.  I also have these ankle boots in the cognac color.  I bought them last year and being that they are Sam Edelman, they are both comfy and look great too.
I've rounded up a few cognac clothes, shoes and accessories for your wardrobe:

Plus-Size Options: