How To Create A Wardrobe For Moms
When you become a mom, your life changes.  Before kids, you got to do anything you wanted anytime, without limits.  But now that you are a mom, your time is limited to do things for "just you".  Instead of taking care of just yourself, you have another little human to take care of too.  But, it's all worth it!  When we have children, our life seems complete.
When we have kids, sometimes the way we get dressed changes too.  Before kids, your favorite outfit may have been a crisp, white shirt, pants and heels.  Now, you may find yourself lucky to even get a shower until later in the day.  Those tees, leggings and slippers may be your favorite outfit now.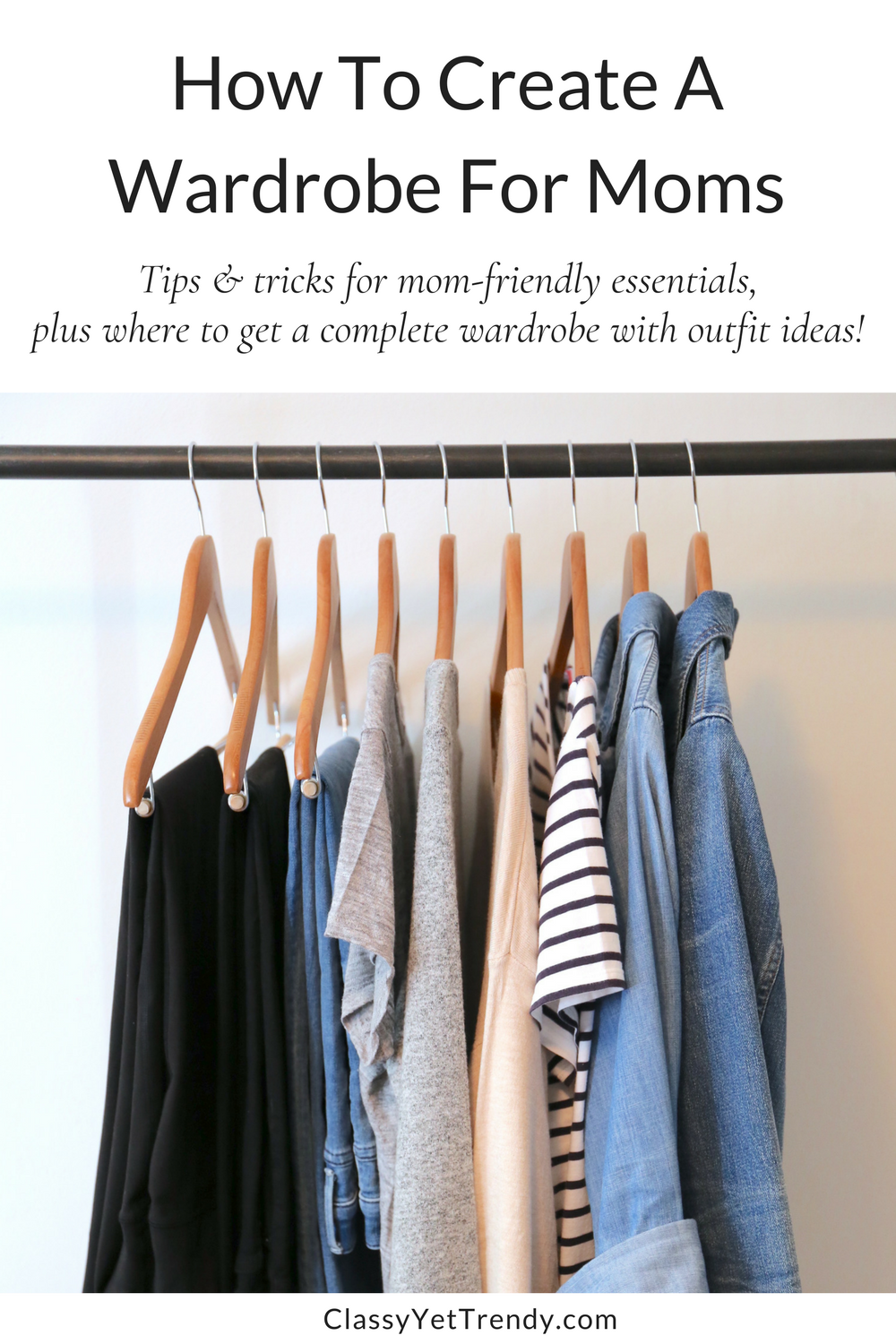 When we dress well, we tend to feel better about ourselves.  Instead of relying on wearing a tee and leggings everyday, you can add a few more items to your wardrobe.   By doing so, you'll be ready to go out anytime, whether it is running errands, walking in the park with your little one in their stroller, or going out for lunch with other moms.
Here's a few tips on how to put together some mom-friendly outfits.  Several of the items mentioned are in my latest capsule wardrobe eBook, The Stay At Home Mom Capsule Wardrobe: Fall 2017 Collection.  This 55-page eBook has all the clothes, shoes and a few accessories picked out for you and where you can find them all, 100 outfit ideas so you'll get dressed quickly, a travel packing guide which uses a few pieces to create 7 outfits, plus more.  It's basically a mom's wardrobe survival guide!   You'll also want to search for "mom outfits" on Pinterest for hundreds more outfit ideas!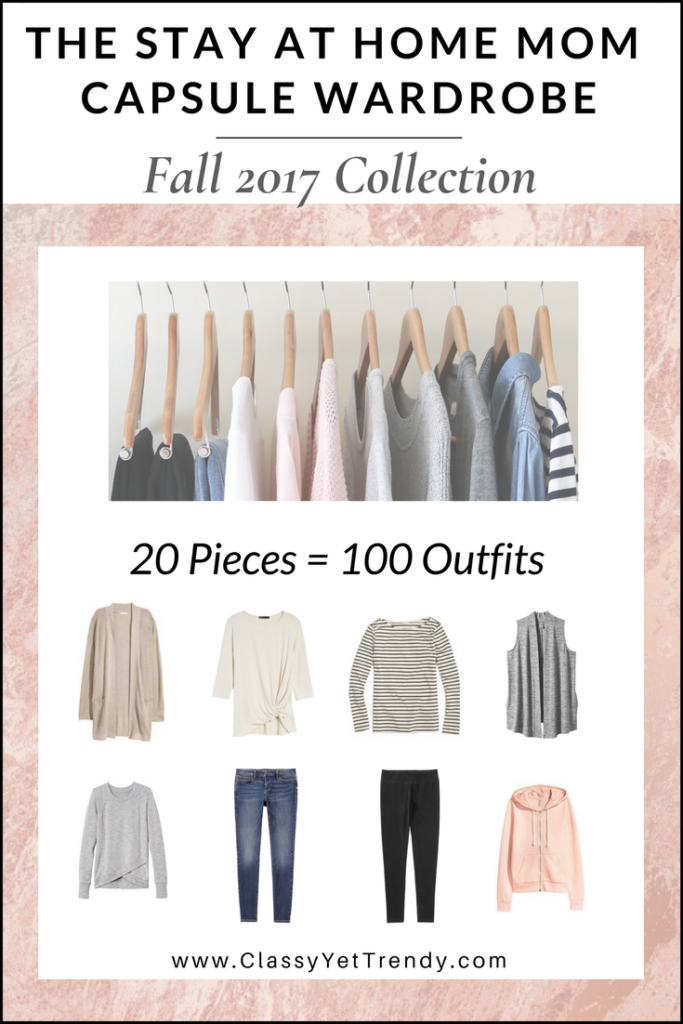 Comfort Is Key!
Being a mom of a baby or toddler requires a lot of activity.  There's a lot of moving around, bending and squatting when we take care of our kids.  So, you want to wear clothes that allow you to move around and be comfortable.  Not only are leggings comfortable, but jeans that stretch are a plus too!  These hi-rise jeggings (similar plus-size) are made with Lycra DualFX technology (to put it simply, they stretch but hold their shape).  They come in several colors too.  Plus, they are budget-friendly.  If you want to invest in good high-end jeans, this high waist AG pair and this Paige Verdugo pair hold their shape all day.  If you want a more casual-looking, but fitted jean, these slim boyfriend jeans (plus-size) are the answer.  They are more fitted through the legs than regular boyfriend jeans.  Yoga pants (plus-size) are also good for moms too.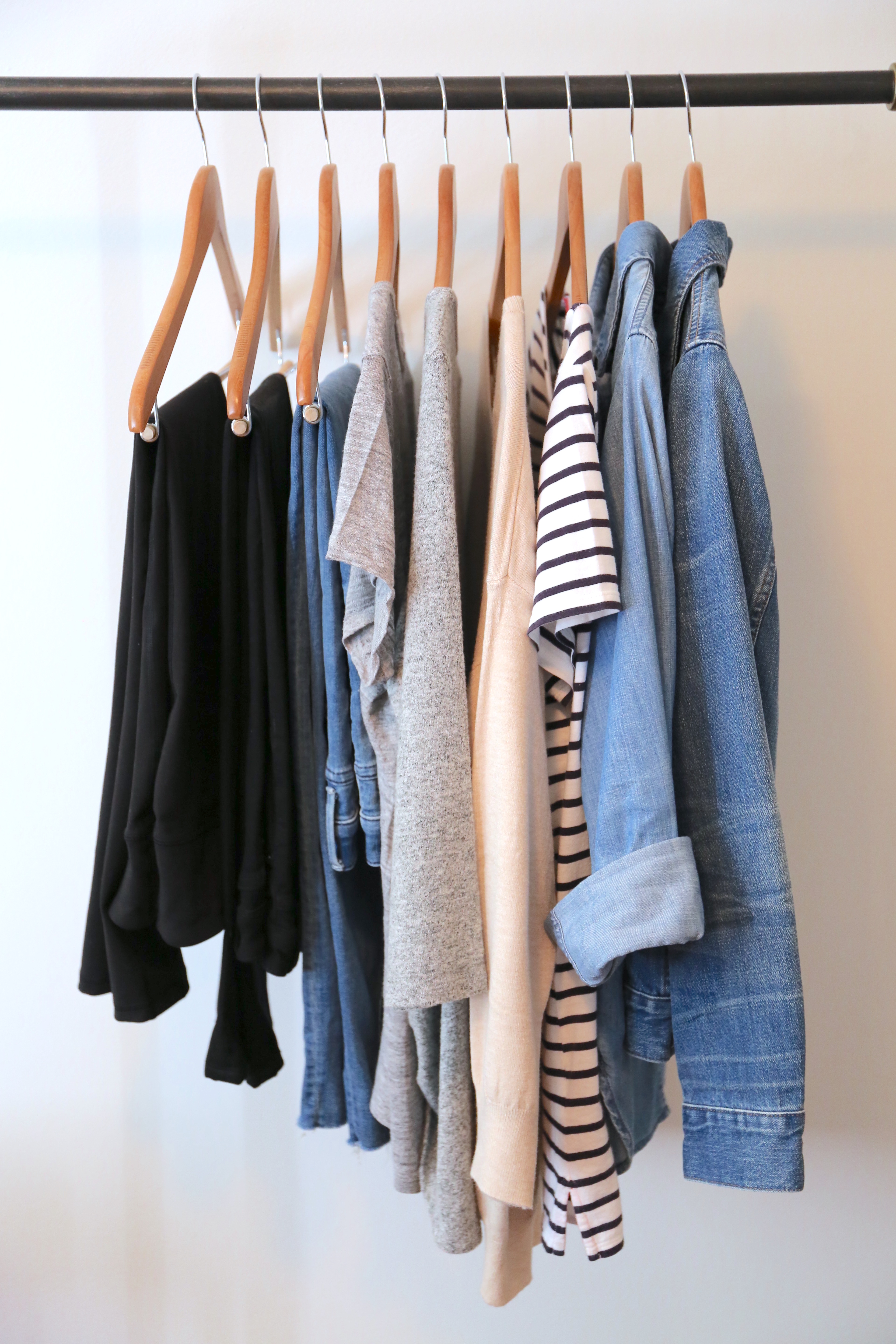 Mom-Friendly Clothes
Left to Right: black leggings / black skinny jeans / raw hem jeans / gray tee
gray twist fleece top / beige tunic sweater (similar) / striped tee / chambray shirt / denim jacket
Avoid Frumpy Clothes
Whether you are a new mom or a mom of a 5-year-old, you may have days that you are tired and reach for just anything in your closet to wear.  But, if you have to go out and run a few errands, you want to look good.  When you choose clothes to buy, avoid buying frumpy-looking clothes…clothes that are baggy and don't accentuate your figure.  Instead of buying a sweatshirt, opt for one that is more trendy, like this twist front fleece top (plus-size).  It will feel so comfortable, yet you will look fabulous in it too!  You can wear it with jeans and it's long enough that you can wear it with leggings too.  Add a striped tee to your wardrobe to add interest to your outfits, like this striped crewneck boyfriend tee (plus-size option).  It is long enough to wear with leggings but also has a fitted look so you won't look frumpy.
Machine Washable Fabrics
We all know that having a baby, it's inevitable that spit-ups will happen.  They always seem to happen when we're out in public and away from our washing machine!  The best clothes to have in your closet are machine washable ones, so they can be easily washed.  The best fabrics are ones that are cotton based.  Plus, cotton-based fabrics breathe better than polyester or similar ones.  This longer-length chambray shirt (plus-size) will not only be comfortable, but easy to care for with it's cotton fabric.
Clothes That Camouflage Stains
Getting spit-ups from your baby or food splatters from your toddler on your clothes is something we all dread as moms.  You can forget looking great for the rest of the day if you're away from your washing machine.  If your baby has an upset stomach, a dark color top or a top with a camouflaging pattern, like stripes or dark florals.  The perfect color to hide accidents is black or navy, but you don't want to wear those colors all the time.  So, may adding one or two would be an option.  You could wear this black striped tee (plus-size) or this long sleeve burgundy tee (plus-size).  Scarves are the perfect cover-up for moms.  If you get a spit-up or other accident on your top, a scarf is a great way to disguise it!
Athleisure
Athleisure is a way to be comfortable, while still looking great.  Athleisure is a style of clothes that can be worn in or outside the gym.  What's great is anyone can wear athleisure and look good too!  To wear athleisure on an everyday basis, stick with pieces like tees, long sleeve tops, solid-color leggings and cardigans.  Popular athleisure brands are Zella, Athleta, Old Navy and Gap.  Athleta has all the drool-worthy styles in their lookbook, plus they even have a Plus-size collection!
Comfy Shoes
Making sure your feet last all day is important to a mom.  When you're moving around and are up and down all day with your kids, uncomfortable shoes should be the last thing on your mind.  Two no-brainer  mom-friendly shoes are athletic sneakers and slip-on sneakers.  Ballet flats not only are comfortable, but they also look great with leggings, jeans and casual skirts.
Here are a few outfits from The Stay At Home Mom Capsule Wardrobe: Fall 2017 Collection: