Black and Gray On a Snow Day (Trendy Wednesday #147)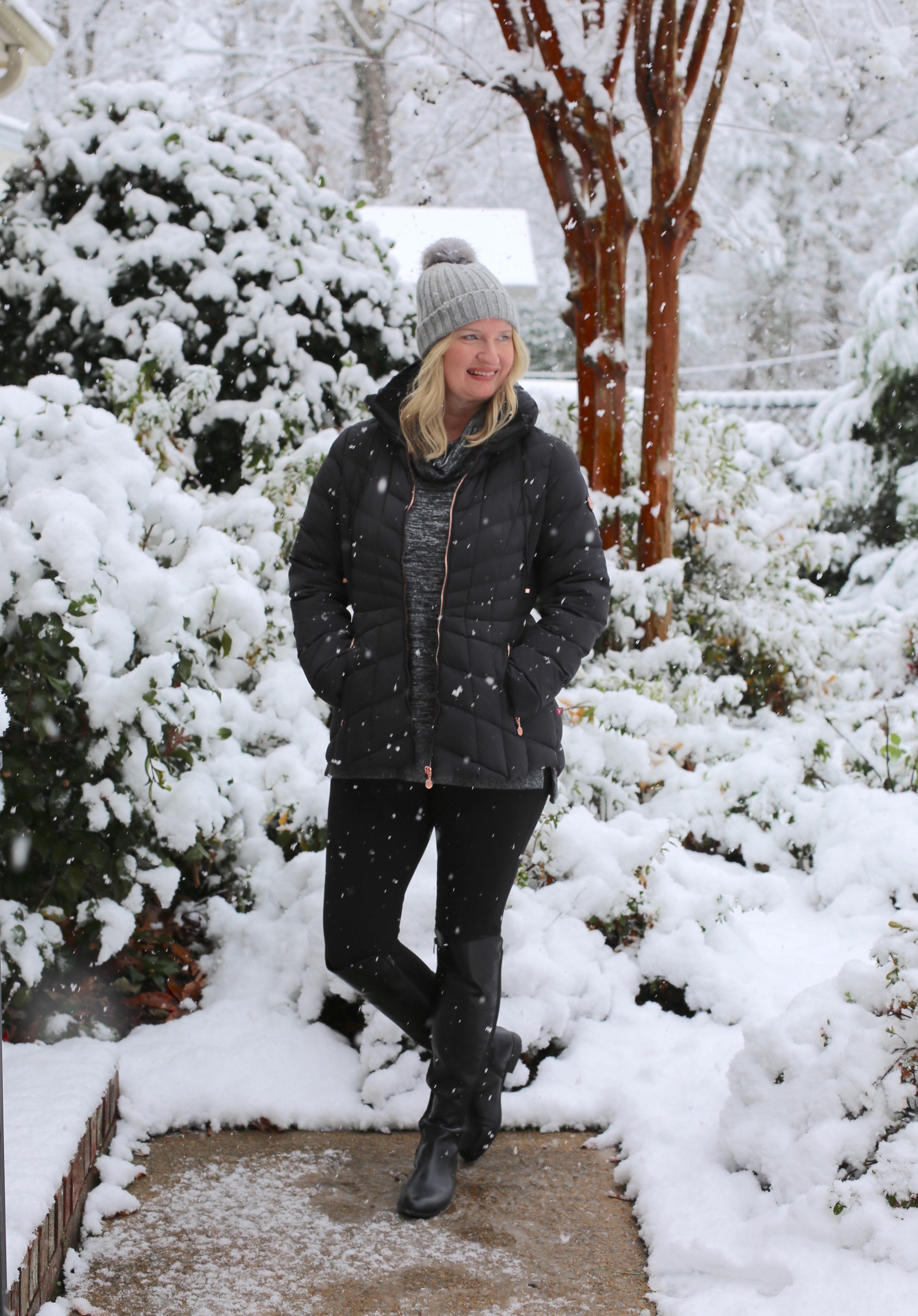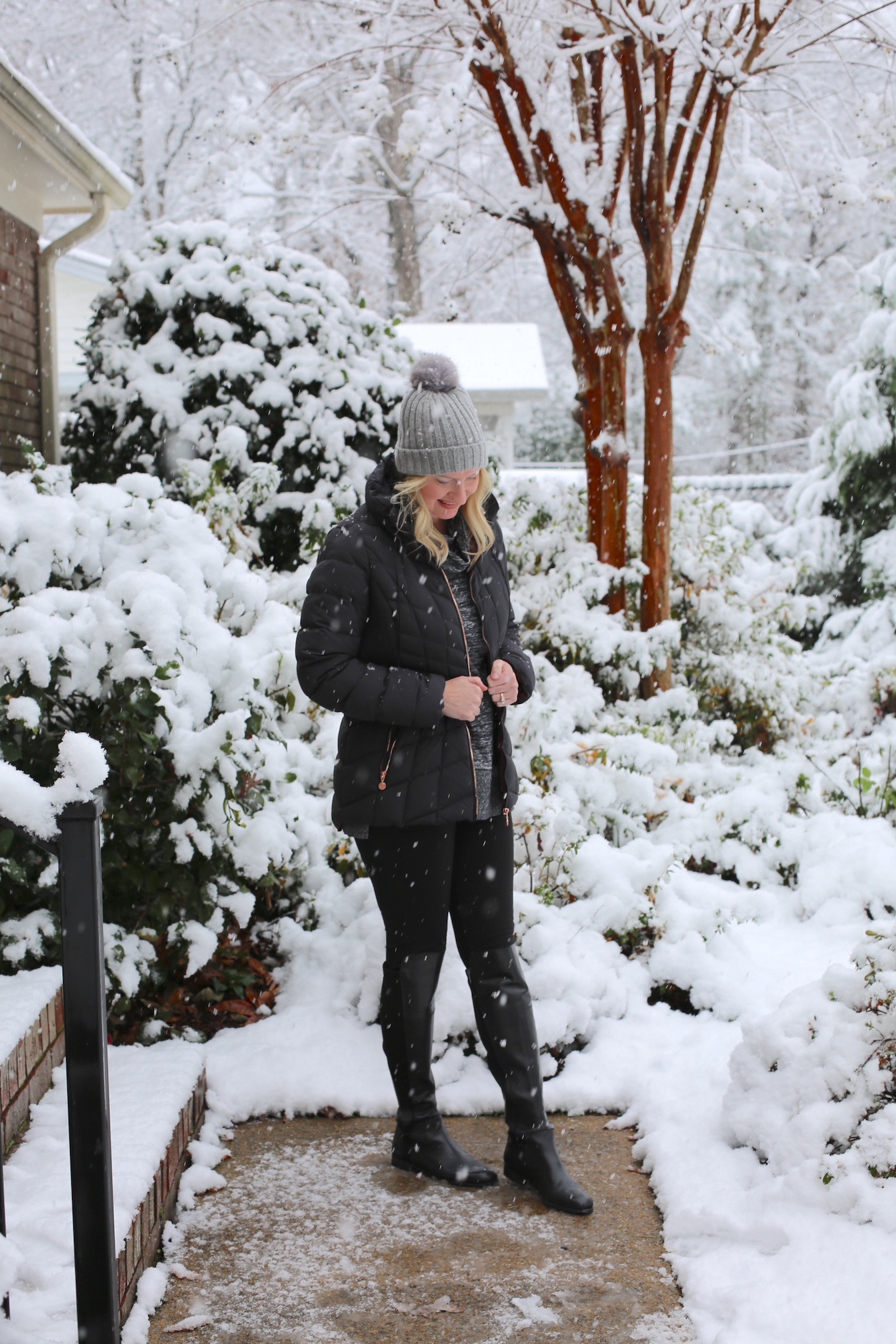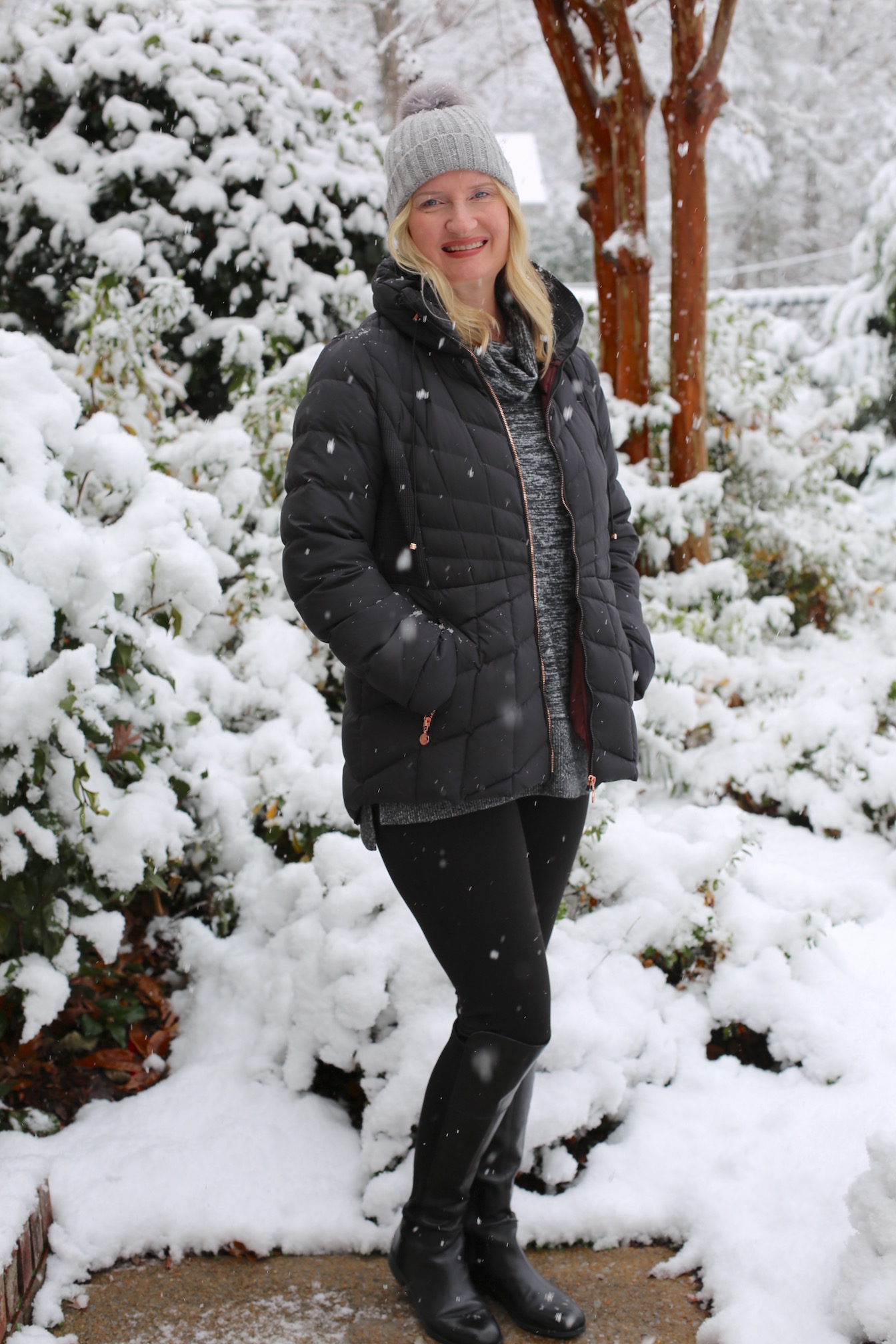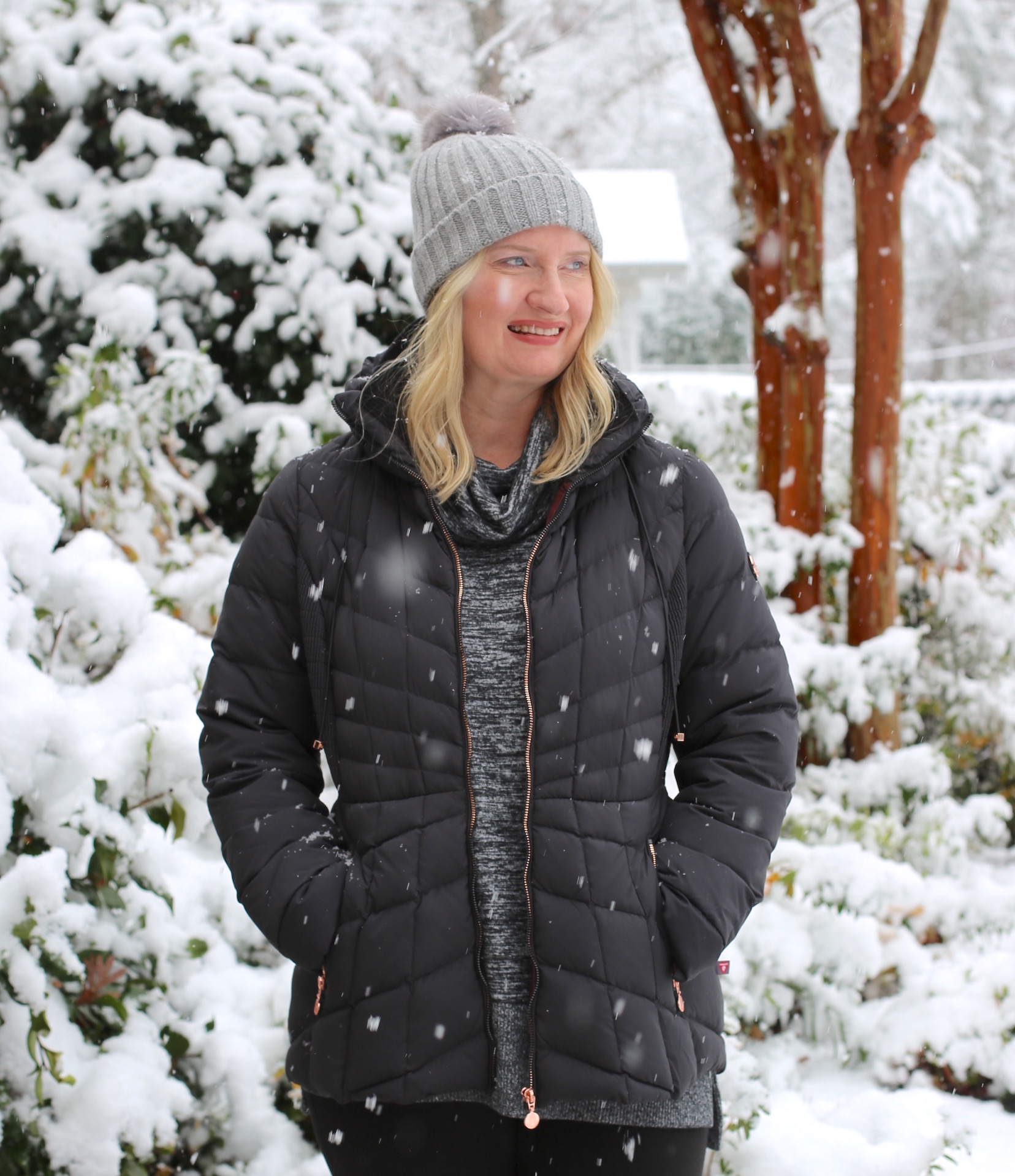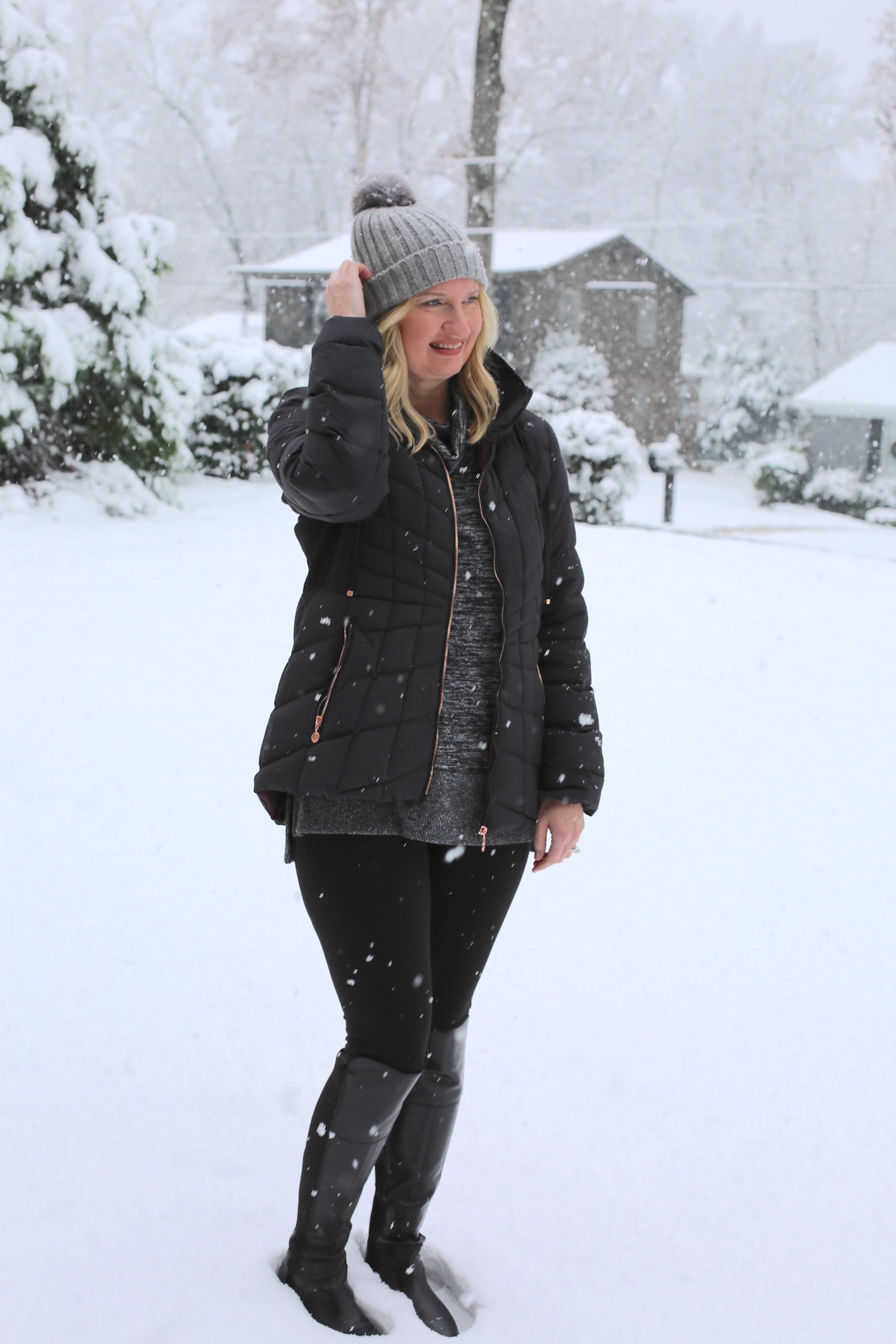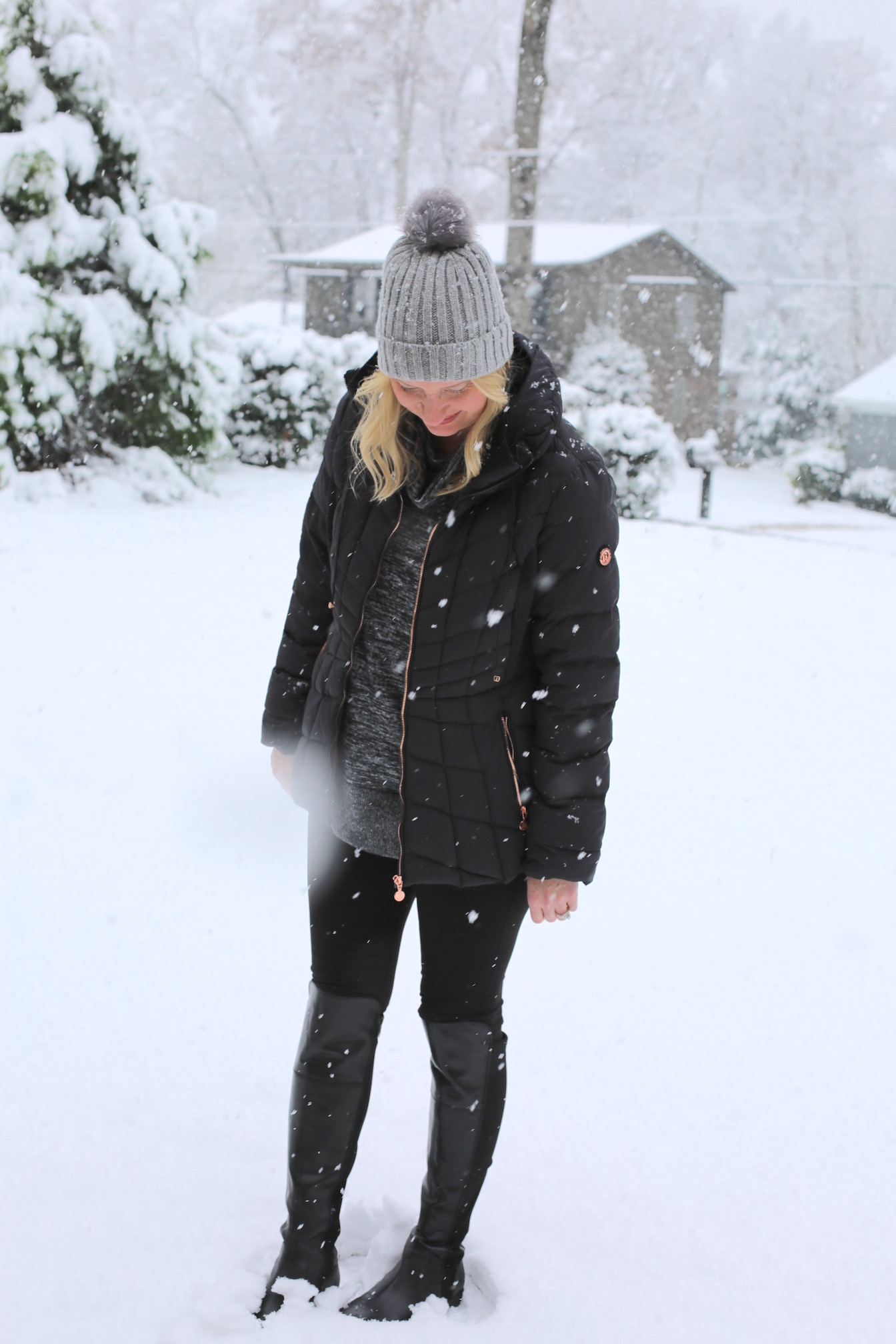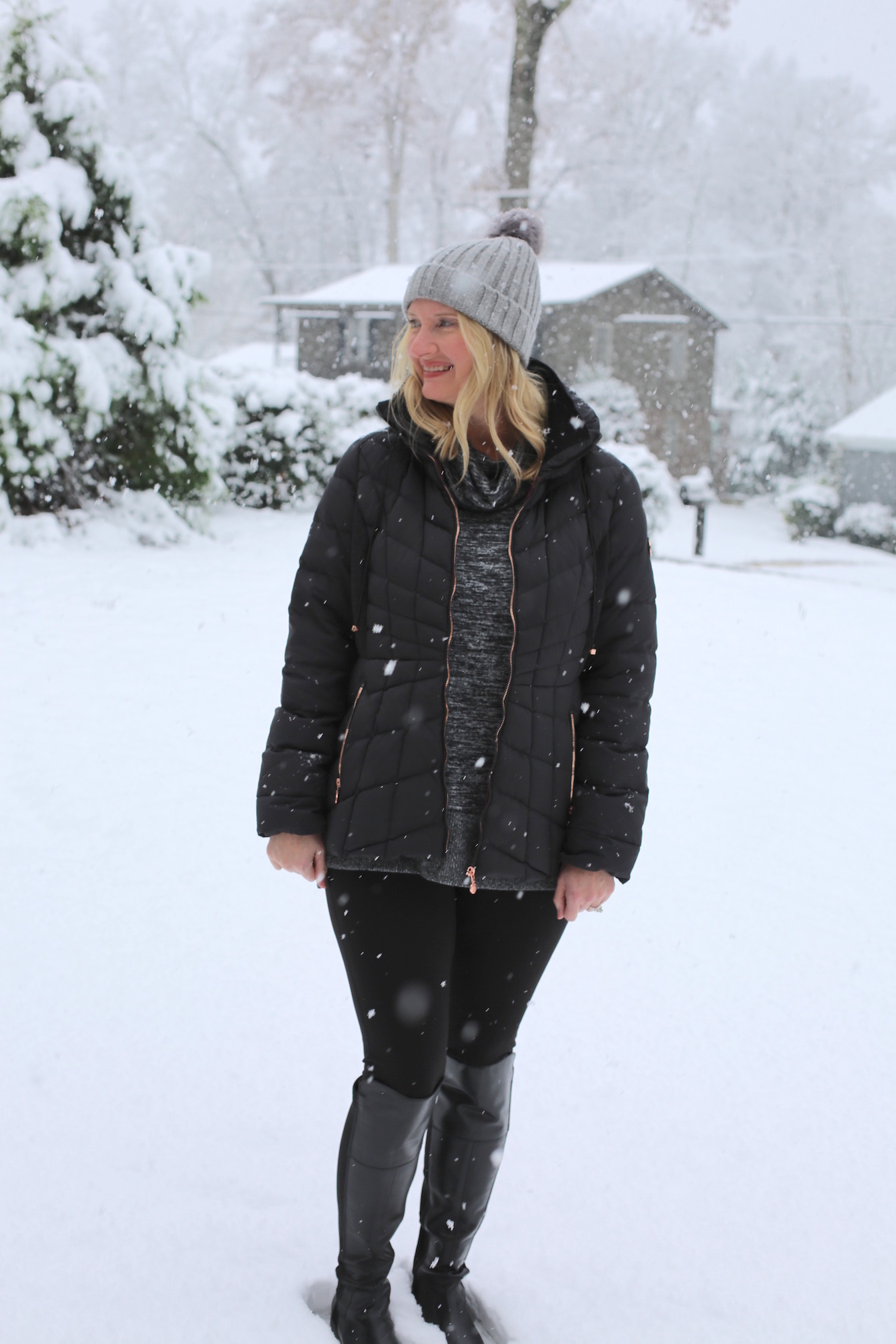 Outfit Details:
black cowlneck tunic (in my Winter capsule wardrobe) (plus-size option)
black ponte leggings  (in my Winter capsule wardrobe) (plus-size option)
gray pom pom beanie in "heather graphite" 
down & primaloft coat (Love, love this coat!) (also available here, hooded faux fur version) (plus-size option)
over-the-knee leather boots (similar here, here and here) (wide-calf option)
This past Friday we had snow in the forecast.  Since I live in the South, northern Alabama to be exact, we never expect to get much snow. Thursday evening, my daughter's school had delayed school 2 hours.  Well, I woke up to the school's text saying school was cancelled.  When it snows here in the South, nearly everything closes due to road conditions.
When we woke up Friday morning, there was snow on the ground, much to our surprise!  We thought that it might not snow, and if it did, it wouldn't accumulate.  That morning it had accumulated and was still snowing!  It snowed all day until late that afternoon.  We received 4-5 inches of snow!  We stayed at home all day and enjoyed watching it snow.  My daughter wanted to go outside and play in the snow.   So, we both got dressed, went outside and had a snowball fight!  She's always loved to play outside in the snow.  Even though she's 13 now, she still likes to have fun in the snow!  We didn't stay long outside because the snow was really coming down (see the photos above), so we went back inside and I made some hot cocoa, with marshmallows on top!  Later on, for supper, we had soup and grilled cheese sandwiches, yum!  It was an enjoyable snow day at our house.
I chose something warm and comfortable to wear out in the snow.  I wore my black marled cowl neck tunic and my black ponte leggings from my Winter capsule wardrobe.  This cowlneck tunic is already a favorite!  It is so soft and fits perfectly; it's new to my Winter capsule wardrobe.  I've worn it with my leggings, in the photos above, and I've worn them with jeans too.  My black ponte leggings are from Lou & Gray at Loft about 3 years ago and they are a great basic essential.  I love to wear leggings when it's cold as they always keep my legs warm.
I put on my Bernardo black down and primaloft coat (shiny version here) that I purchased from Nordstrom's Black Friday sale and this ribbed beanie with faux fur pom-pom.  I've never owned a down coat, but I was drawn to this coat because of the color, the rose gold hardware and that the company uses responsible down in their coats.  You can read more about Bernardo here.  When I received the coat in the mail, I tried it on and was really impressed by the craftsmanship, the fit of the coat and especially how lightweight and soft it is.  I'll be wearing this coat often this Winter!   I also included it in The Athleisure Capsule Wardrobe: Winter 2018 Collection eBook!  See a preview of this eBook with 10 outfit ideas!  I ordered this ribbed pom-pom beanie during J Crew's Black Friday sale.  At under $40, it's worth owning, as it is a cashmere-blend, and I love the faux-fur pom pom on the top!  I have the gray "heather graphite" color.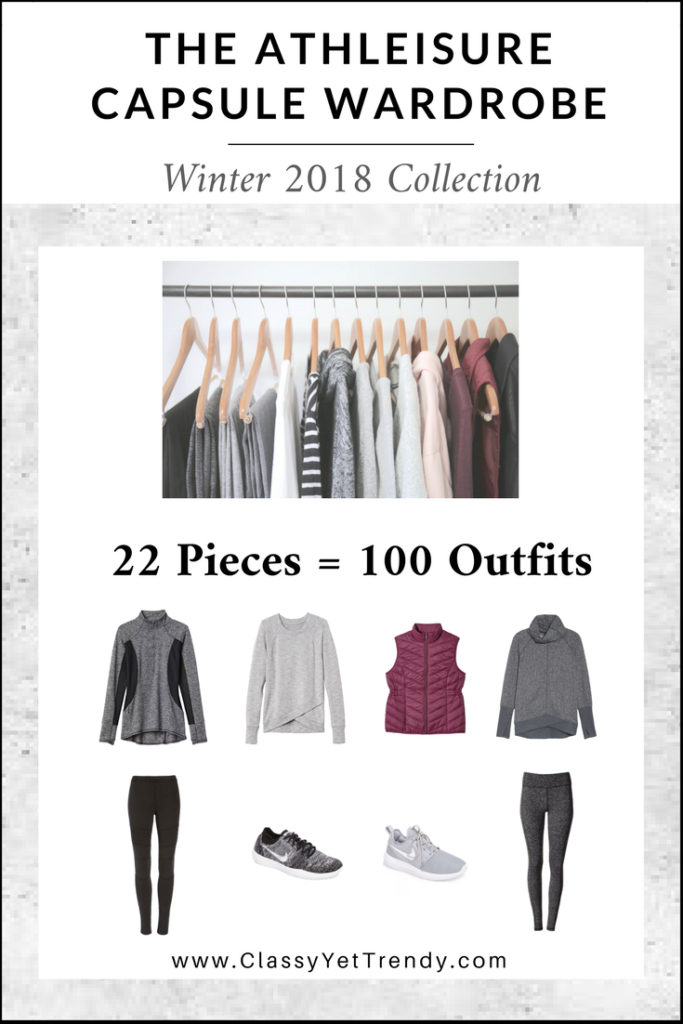 I decided to wear my leather over-the-knee boots out in the snow.  I knew these would be good for withstanding the snow.  I was going to wear my red Hunter boots, but I thought the black leather boots would look better with this outfit.  If we had snow often, I would invest in a pair of boots suitable for snow conditions, like these Sorel Tofino Faux-Fur Lined Boots or these Sperry for J Crew Shearwater Boots.  My boots are about 2 years old and I still love to wear them.  They are black leather on the front, then a stretchy material on the back that comes just below the back of my knees.  I love the way they are made because the material stretches when you need to sit down.  My exact pair are sold out, but I've found an investment pair here, a mid-price pair here and here and a budget-friendly pair here.


The two featured bloggers from the last linkup are:


1.  Please follow your Host 
2. Link up to 5 posts: 
it can be about fashion, style, beauty or lifestyle

(linkup to your blog post and not your main page)
3. Please include a link back to this post or place my linkup button in your post.
4.  Now, add your post(s) below!  I hope you enjoy the linkup and enjoy meeting other bloggers!
Each week I feature 2 bloggers from the previous link,
so link-up your blog posts for your chance to be featured!