My Winter 2017 Capsule Wardrobe
It's Winter, so it's time to create another capsule wardrobe!  A couple of weekends ago I switched my closet from my Fall capsule wardrobe to my Winter capsule.  This was my second all-casual capsule.  Before I started working full-time at home managing ClassyYetTrendy.com, my capsule wardrobes consisted of a mixture of dressy and casual clothes.   Then, in June when I left my job, I found that I could dress casual everyday.
My Fall capsule wardrobe was my first all-casual wardrobe.  It was easier creating my Winter capsule, as I knew what clothes I needed to wear everyday.  Since I work at home now, I like to wear clothes that are casual and comfortable, but that also look great for running errands, going to my daughter's school functions, eating out, going to the movies, etc.
In deciding what clothes I wanted in my Winter capsule wardrobe, first I needed to decide my base color, which is the first step in my post, How To Create a Capsule Wardrobe: A 5-Step Visual Guide.  I decided to have black as my base color and that I wanted to use mostly neutral colors.  Then, I picked two accents colors: burgundy and blush pink.  I knew I needed to include jeans and a pair of leggings, as those are the bottoms I like to wear.  I also knew I needed to include long sleeve tees, sweaters and cardigans.  I didn't include coats or shoes in my capsule.  I didn't include coats because we have mostly mild winter temperatures where I live, so I don't wear coats very often.  I did include 3 vests, as usually those are warm enough to wear all day if I'm going to be outside.  I didn't include shoes, because as I'm getting used to my new work-at-home lifestyle, I wanted to see what types of shoes will work with my Winter outfits.
I can remember just a few years ago when I didn't use a capsule wardrobe.  My closet used to be a complete mess!  I had too many clothes that didn't coordinate, clothes that didn't fit, clothes with colors that didn't look good on me, you name it.  I even had bad shopping habits!  I would buy an outfit…a top and bottom that would go together, not really thinking how I could wear the pieces with other clothes in my closet.  Plus, I loved to go clothes shopping.  When I was bored or having a bad day, I would go shopping and always felt like I had to buy "something" to feel good.  Shopping lead to a high credit card bill, so I was in debt.
I'm so glad I discovered a "capsule wardrobe", because it helped me dress better, I always have dozens of outfits ready to wear, I look great and feel better about myself, plus I shop with purpose for everything now (clothes, household goods, you name it!).  Having a capsule wardrobe literally changed my shopping habits for everything.  I think twice before buying anything, saving me hundreds of dollars every year!  I'm so passionate about capsule wardrobes, that I published Complete Wardrobe Plans each season, all in the Capsule Wardrobe eBook Store.
[su_quote]Thousands of women use these Capsule Wardrobe Plans each season for their closets![/su_quote]
Now onto my capsule wardrobe!  I have 28 items in my Winter capsule wardrobe.  My capsule wardrobe is a combination of the French Minimalist and the Essential capsule wardrobe eBooks.  I'm excited about having mostly neutral colors in this capsule, as I love black, white and gray!  These colors are so versatile and I can get dressed quickly and easily when I wear neutrals.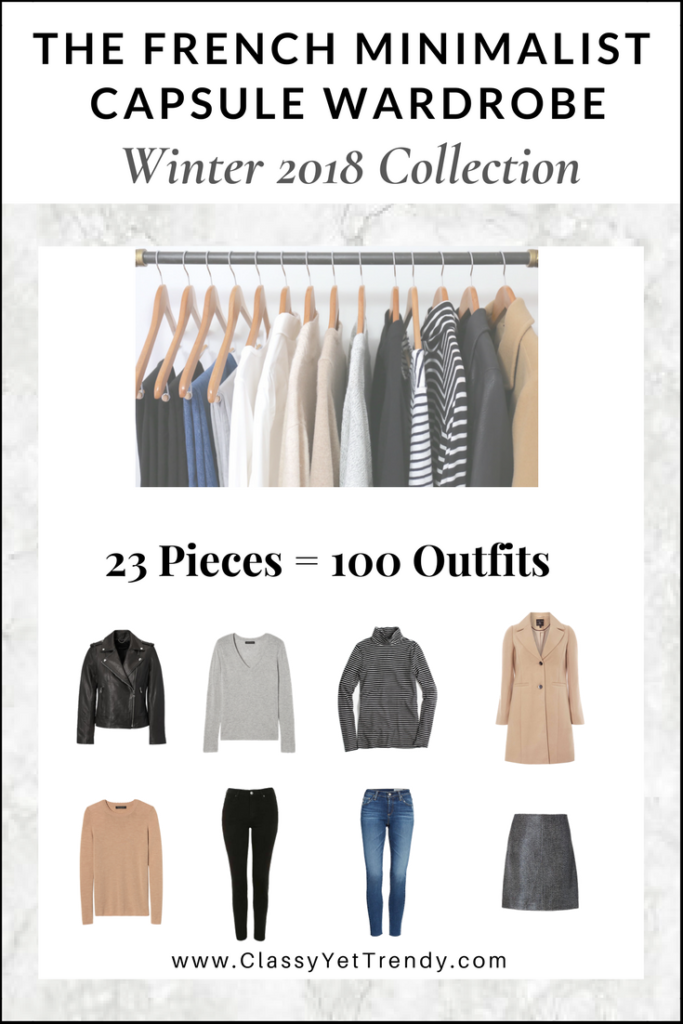 I created my capsule wardrobe using my 5-step process, which you can see here in this blog post, How To Create A Capsule Wardrobe: A 5-Step Visual Guide.
First, I took everything out of my closet, so that it was empty, like this…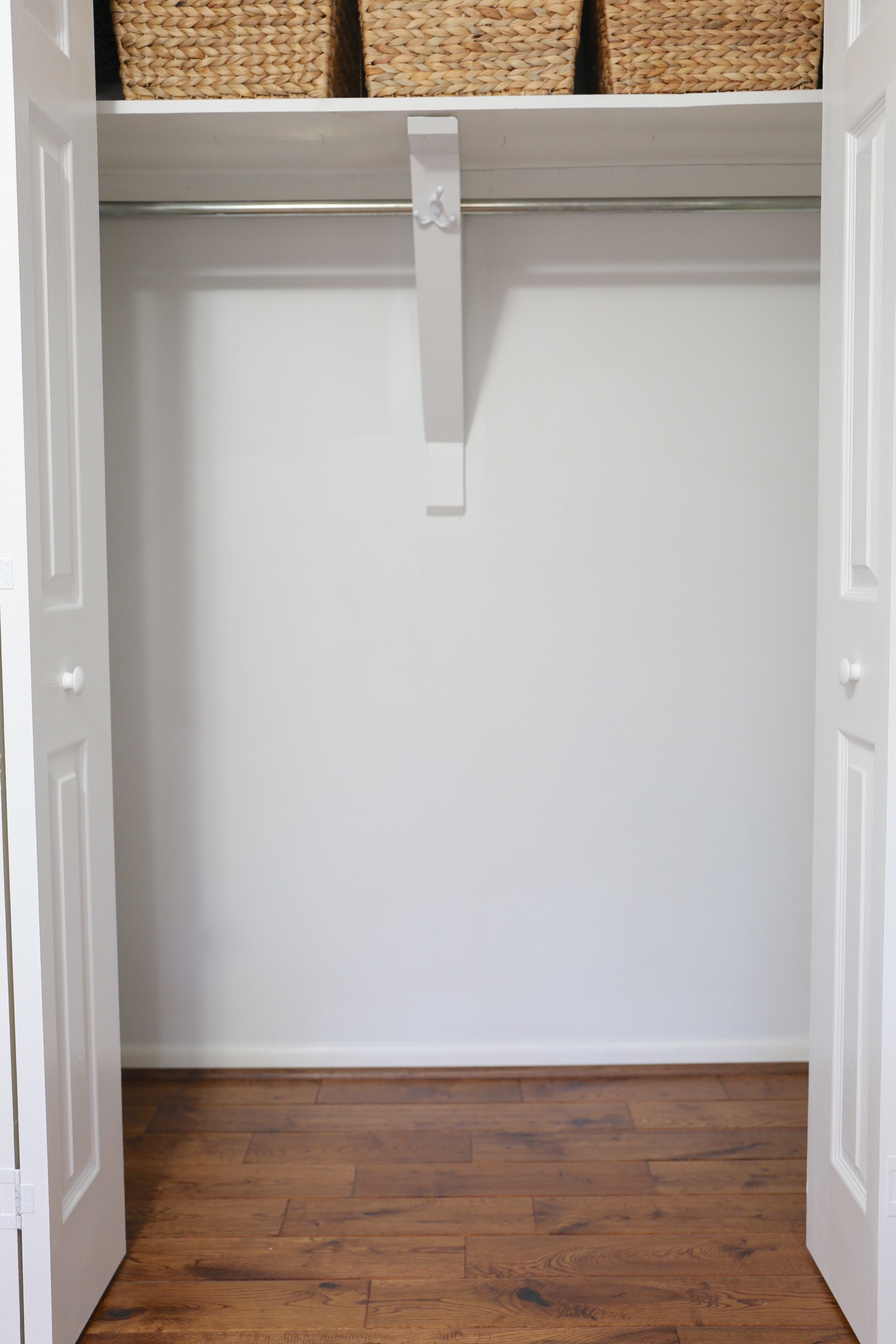 I hung my clothes from my Fall capsule that I wanted to have in my Winter capsule, in my closet.  I put the rest of my clothes from my Fall capsule in my storage bins.  I took out my Winter clothes from the bins that I thought about using in my capsule and put them in stacks for each type: solid tops, patterned tops, bottoms and layers.  I knew I may not include all of them in my capsule, but it gave me a starting point.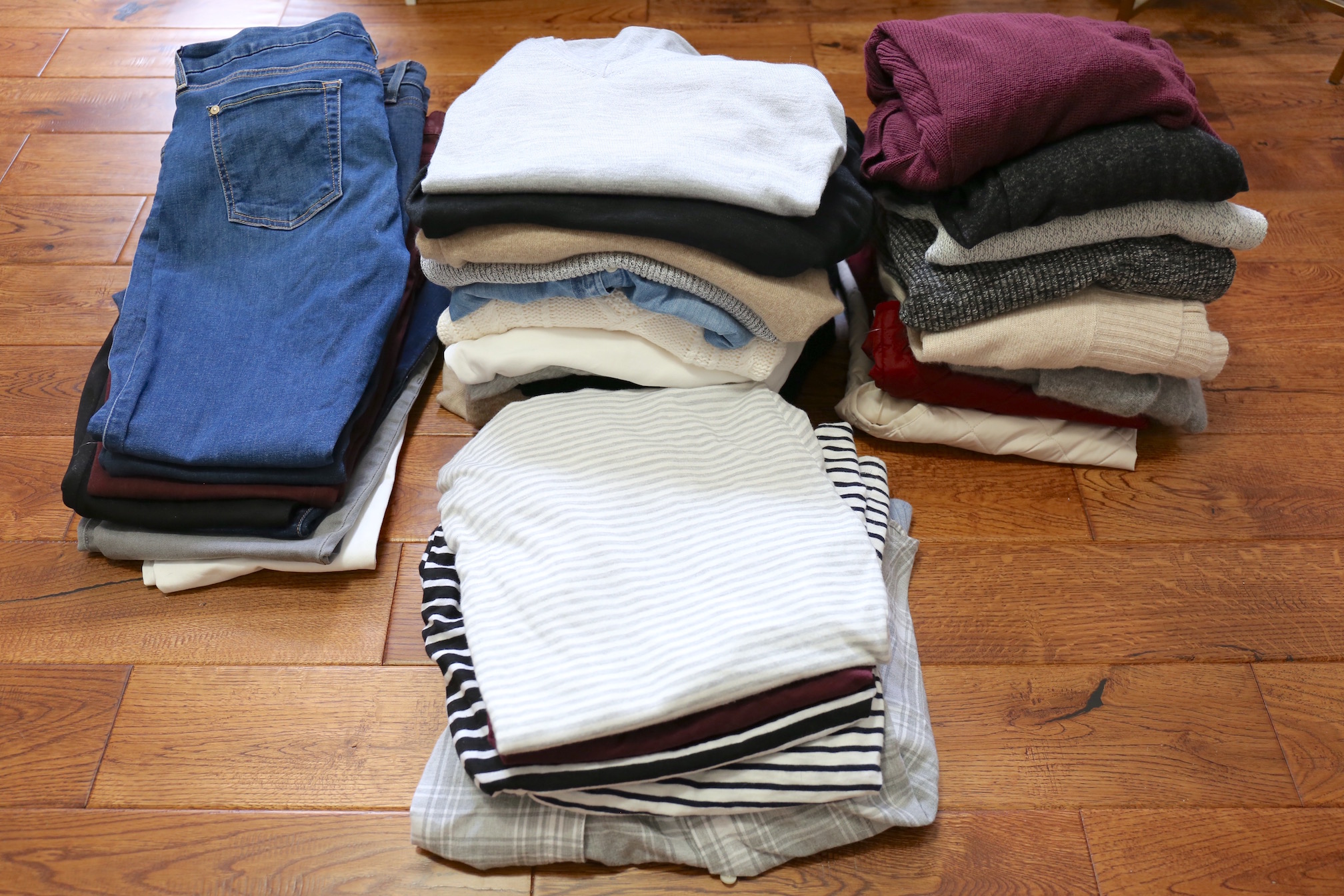 I went through the stacks of clothes, determined what I wanted to keep for my capsule, set aside a gray pair of jeans that were worn and needed replacing, then hung the clothes in my closet, using wooden hangers like these.  These velvet hangers also work well and these hangers are perfect for hanging skirts.  Then, I put any clothes that I wouldn't be using in the bins and set them back in my closet.  I have storage bins for different types of clothes: seasonal tops, denim and shorts, cardigans and sweaters and skirts and dresses.  It helps me organize my clothes so I know what clothes are in each bin.  You can use these exact bins to store your off-season clothes too!  If you need a clothes rack to hang your clothes on, here is my exact wardrobe rack (and it's on sale!).  This black pipe clothes rack and this wooden clothes rack will work well for your capsule wardrobe too.  This wooden wardrobe rack also comes in white.  And, I love this industrial pipe and wooden wardrobe rack from West Elm!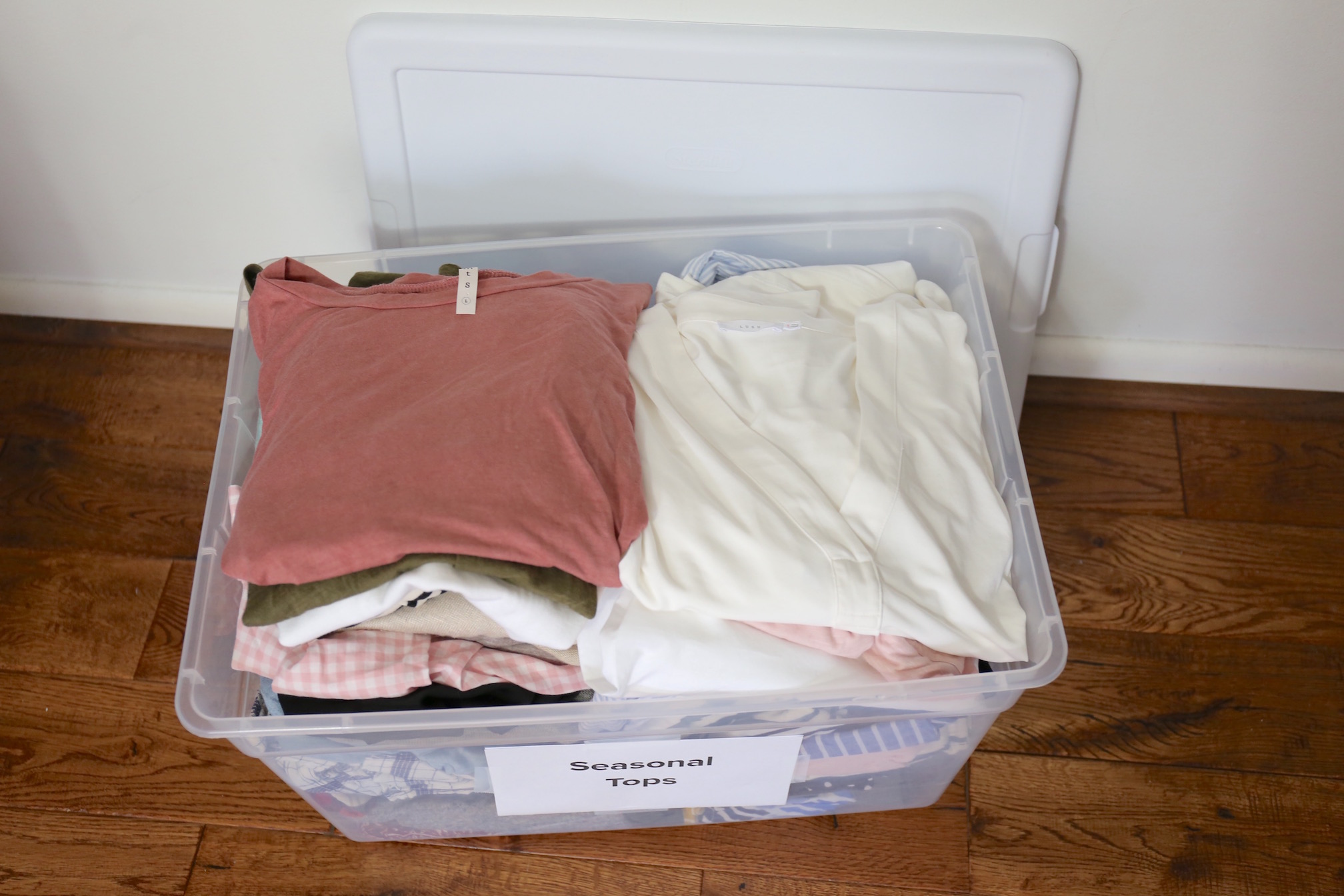 Capsule Wardrobe Storage & Equipment:
I made a list of items that I needed to complete my Winter capsule wardrobe and shopped for them online.  I shop mostly online, since it saves me time and I don't get distracted if I shop in a store.  So, here's what it is my Winter capsule wardrobe: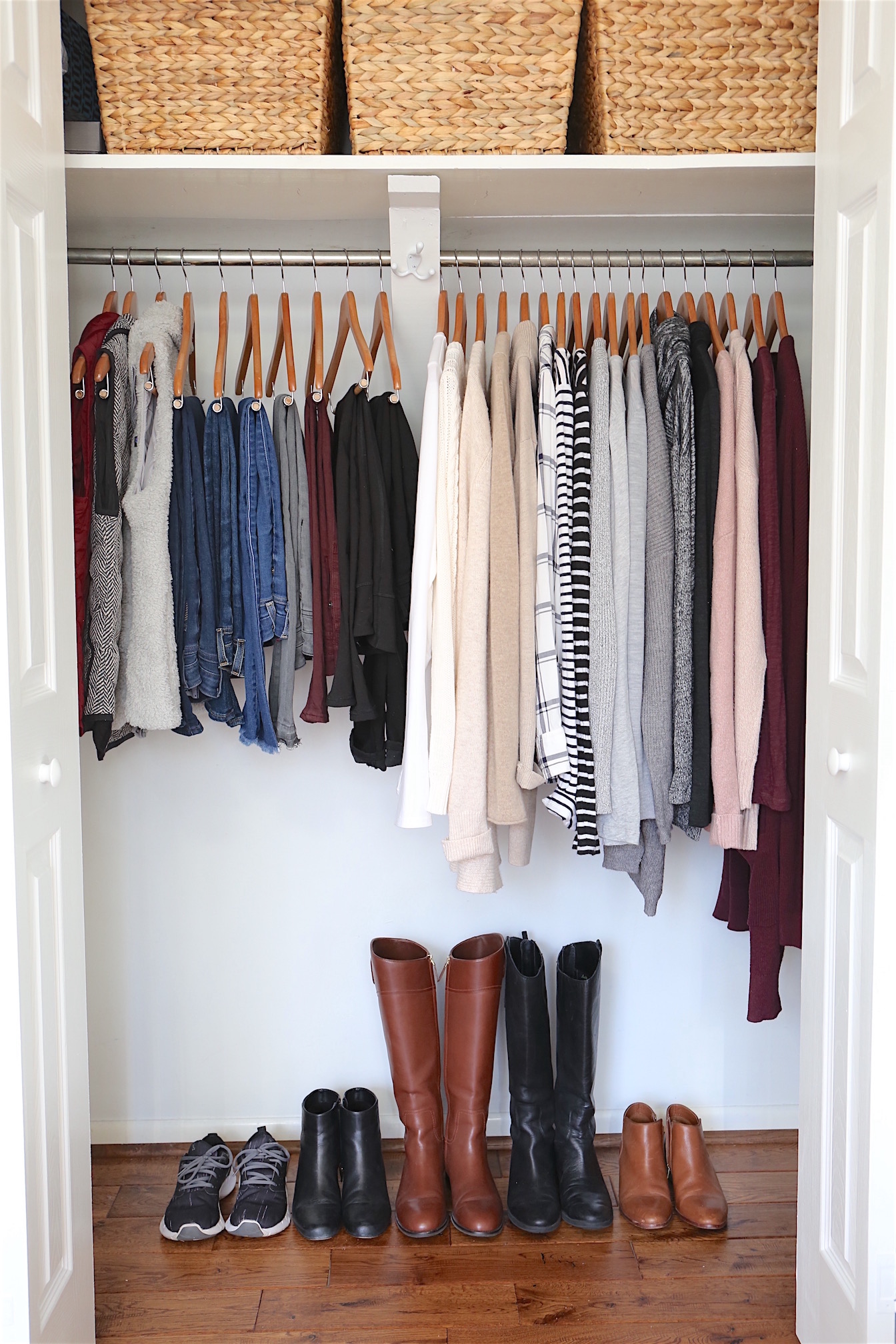 Tops:
white long sleeve tee (Banana Republic, new)
ivory cable sweater (Old Navy, new)
camel cashmere sweater (similar) (J Crew Factory, old)
tan cowlneck tunic sweater (Loft, new)
white/black plaid shirt (similar) (Target, last season)
white striped long sleeve tee (J Crew Factory, last season)
black striped long sleeve tee (Nordstrom, new)
gray mockneck sweater (similar) (Nordstrom, old)
black marled cowlneck tunic (Gap, new)
gray long sleeve tee (similar) (Nordstrom, old)
gray v-neck sweater (Banana Republic, new)
black jersey turtleneck (Banana Republic, new)
blush pink v-neck sweater (Nordstrom, new)
burgundy long sleeve tee (similar) (Nordstrom, old)
Bottoms:
dark wash skinny jeans (Paige via Nordstrom Rack, old) // SHOP THESE PAIGE JEANS
medium wash skinny jeans (AG via Shopbop, new)
raw hem skinny jeans (7 For All Mankind via Nordstrom, old)
gray skinny jeans (DL1971 via Nordstrom, new)
burgundy skinny jeans (Madewell, old)
black skinny jeans (DL1961 via Nordstrom, new)
black leggings (Loft, old)
Layers:
beige cardigan (similar) (local boutique, old)
dark gray cardigan (Nordstrom, new)
blush pink cardigan (H&M, last season)
burgundy cardigan (Nordstrom, last season)
burgundy puffer vest (similar) (Old Navy, new)
black herringbone puffer vest (J Crew Factory, old)
gray fleece vest (Nordstrom, new)
Although not included in my Winter capsule wardrobe, I have these coats and jacket in my closet:
Bernardo Down & Primaloft Coat
Blanknyc Black Faux Leather Jacket
LL Bean Camel Peacoat
SHOP THESE COATS
Here's a few scarves that I'll be wearing with my outfits:
Scarves (left to right):
pink shimmer scarf
camel cashmere scarf
green/navy plaid scarf
blush cashmere scarf (similar)
beige/gray plaid pom pom scarf (same print, but tassels)
gray plaid cashmere scarf
The Tops: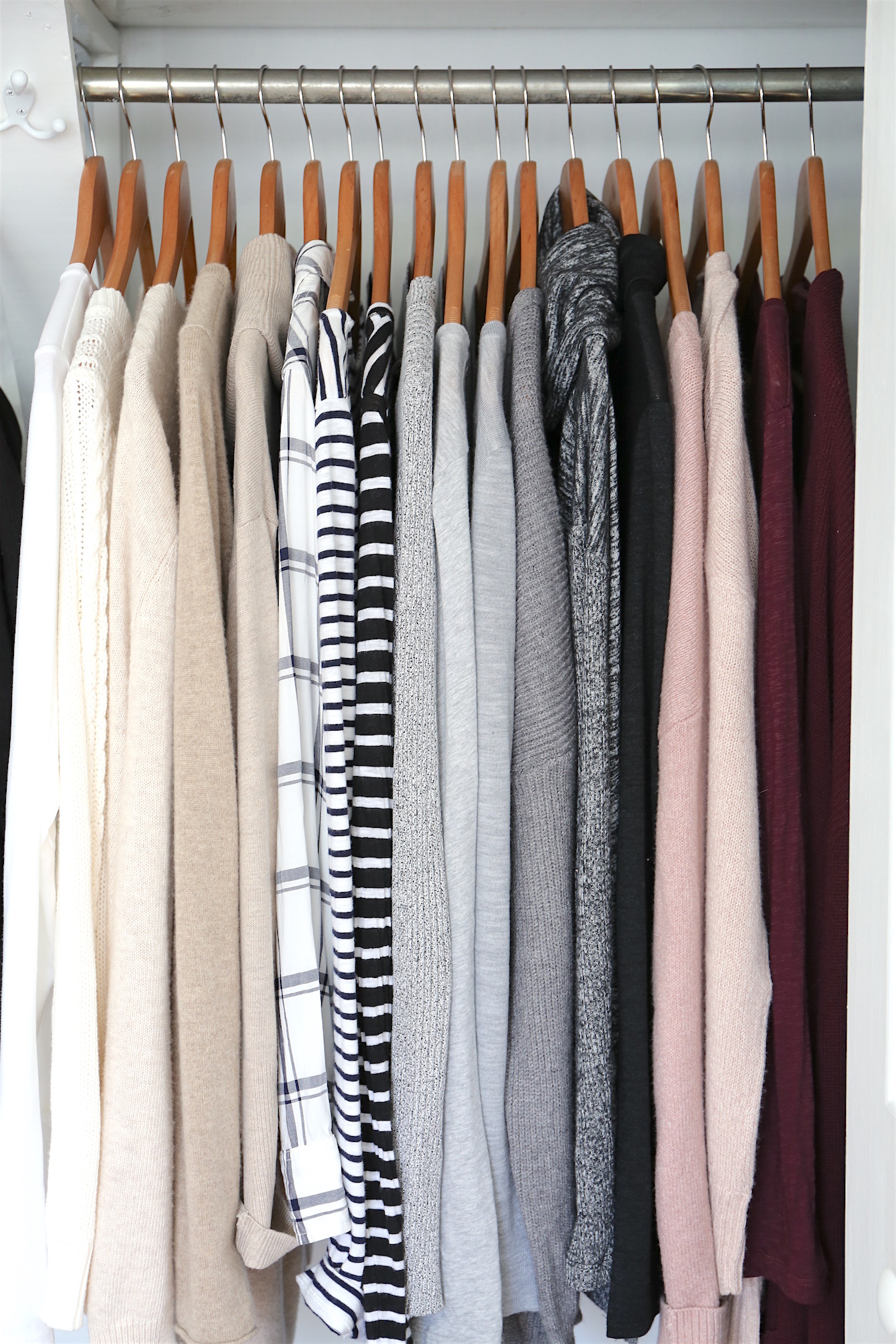 Tops (left to right):
white long sleeve tee (Banana Republic, new)
ivory cable sweater (Old Navy, new)
beige cardigan (similar) (local boutique, old)
camel cashmere sweater (similar) (J Crew Factory, old)
tan cowlneck tunic sweater (Loft, new)
white/black plaid shirt (similar) (Target, last season)
white striped long sleeve tee (J Crew Factory, last season)
black striped long sleeve tee (Nordstrom, new)
gray mockneck sweater (similar) (Nordstrom, old)
dark gray cardigan (Nordstrom, new)
black marled cowlneck tunic (Gap, new)
gray long sleeve tee (similar) (Nordstrom, old)
gray v-neck sweater (Banana Republic, new)
black jersey turtleneck (Banana Republic, new)
blush pink v-neck sweater (Nordstrom, new)
blush pink cardigan (H&M, last season)
burgundy long sleeve tee (similar) (Nordstrom, old)
burgundy cardigan (Nordstrom, last season)
The Bottoms & Vests: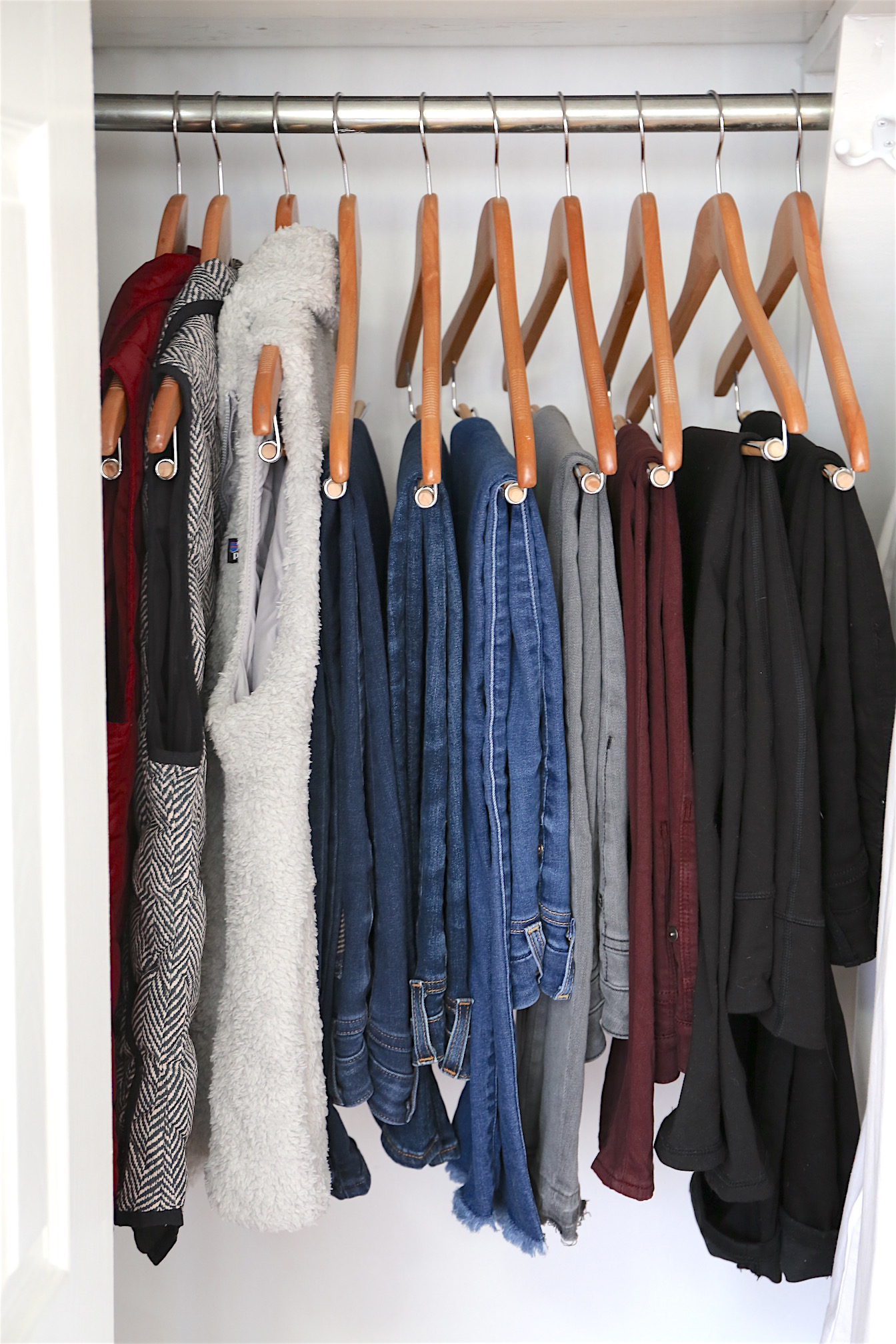 Vests & Bottoms (left to right):

burgundy puffer vest (similar) (Old Navy, new)
black herringbone puffer vest (J Crew Factory, old)
gray fleece vest (Nordstrom, new)
dark wash skinny jeans (Paige via Nordstrom Rack, old) // SHOP THESE PAIGE JEANS
medium wash skinny jeans (AG via Shopbop, new)
raw hem skinny jeans (7 For All Mankind via Nordstrom, old)
gray raw hem skinny jeans (DL1971 via Nordstrom, new)
burgundy skinny jeans (Madewell, old)
black leggings (Loft, old)
black skinny jeans (DL1961 via Nordstrom, new)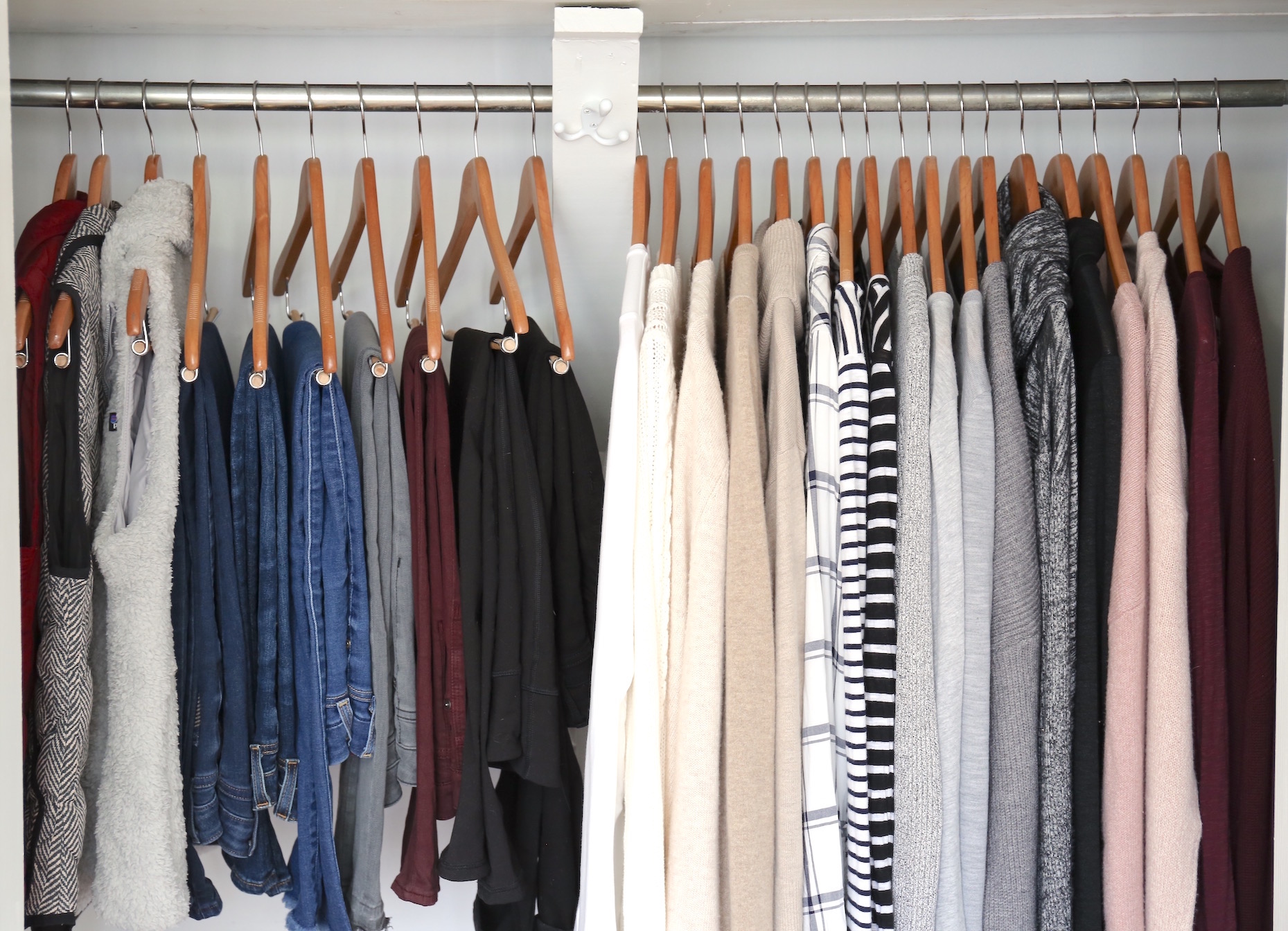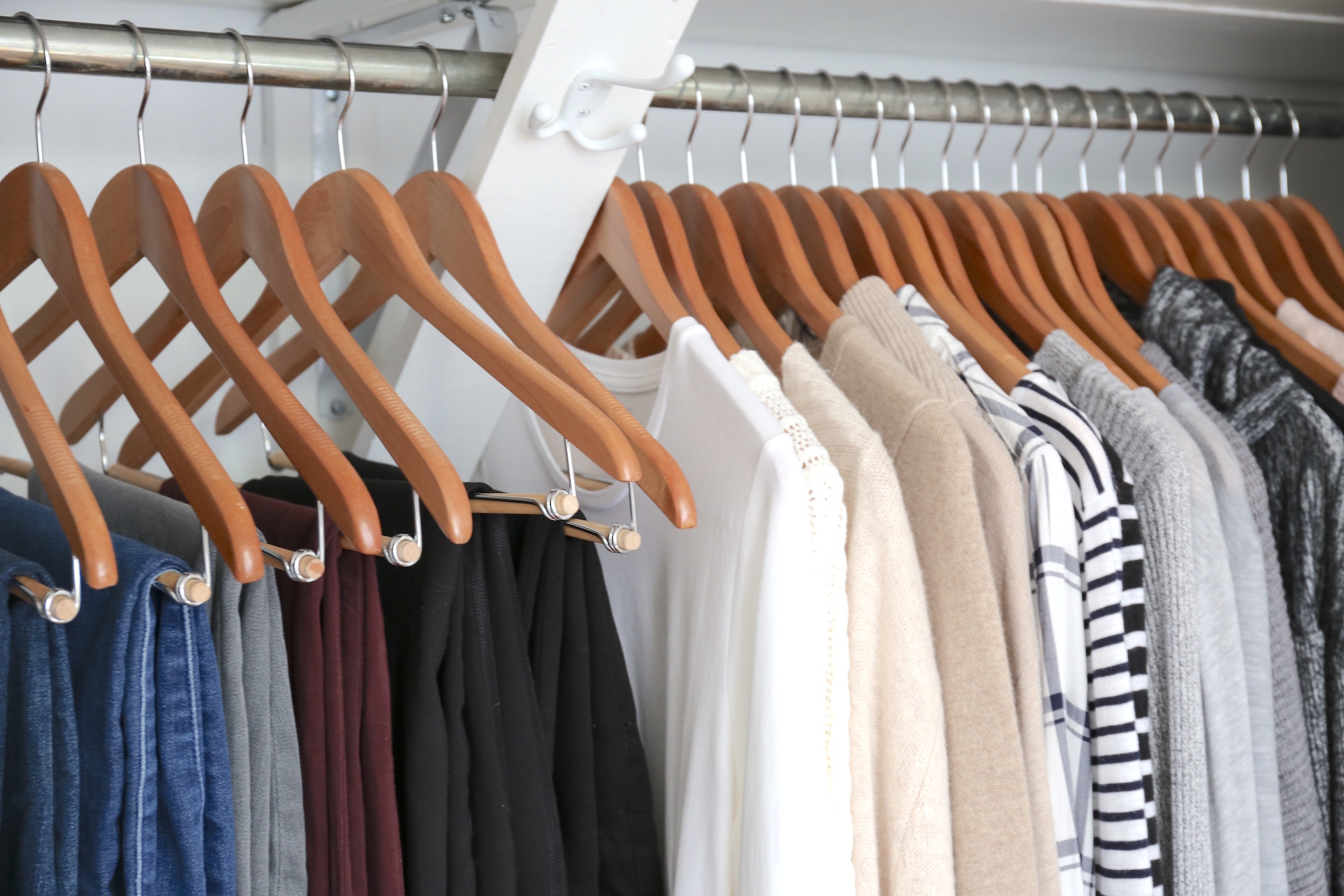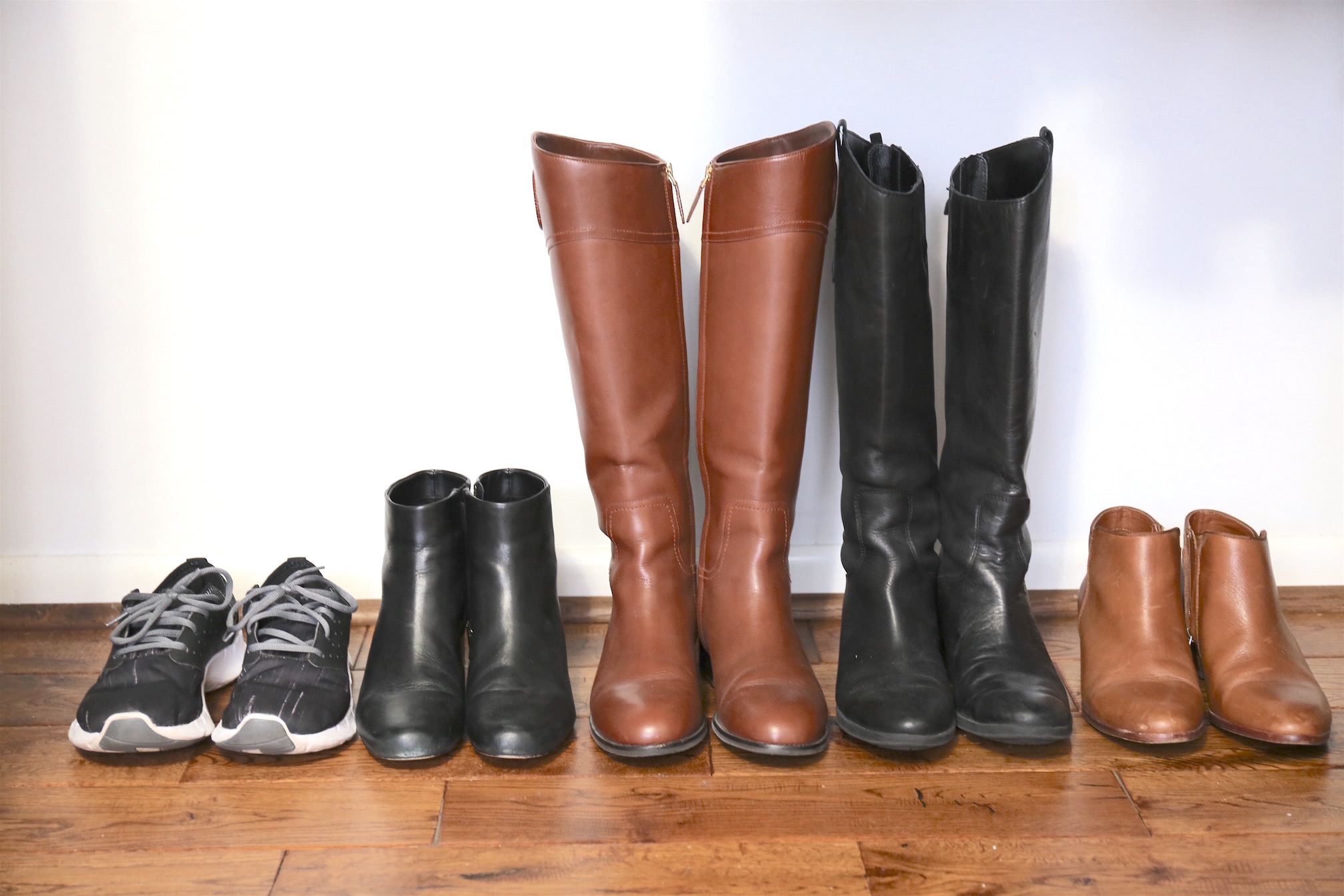 Shoes (left to right):
black sneakers (local sporting goods store, old)
black booties (Zappos, old)
Tory Burch riding boots (this year's style) (Nordstrom, old)
black tall boots (Belk, old)
brown booties (Shopbop, old)
SHOP THESE BOOTS