My Capsule Wardrobe: Fall 2017
This past weekend I switched out my capsule wardrobe.  I took all my summer clothes out of my closet, kept any pieces that I could wear in the Fall and packed everything else away.  I was really looking forward to creating my Fall capsule wardrobe because this is the first time I'll have an all-casual capsule, and here's why…
I left my 9-5 job at the end of July to work for myself.  I was both excited and scared about quitting my job, but I felt that it was something I needed to do.  I could either continue to work at a job where I was overstressed and responsible for way too much, or follow my heart and do what I felt I needed to be doing…being a full-time blogger, eBook author, photographer, graphics designer and helping other women create the closets of their dreams!  For the first time, I'm going to really love what I'm wearing because it's what I want to wear, everyday.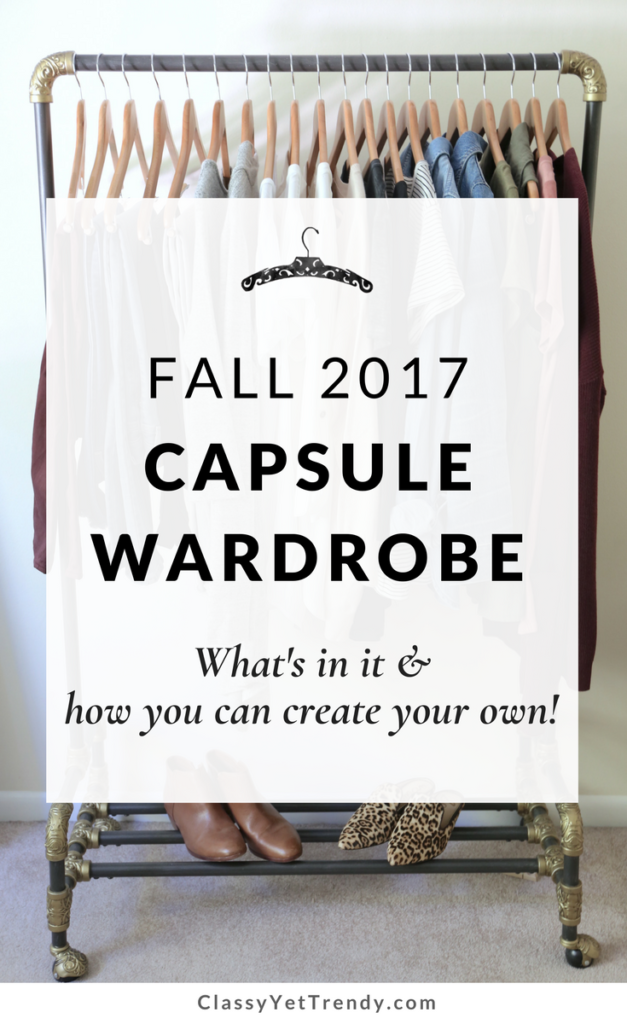 Being that this is the first time having an all-casual capsule, this one didn't come together as easily as my past capsules.  Before, I had a mix of dressy and casual and was pretty-much a no brainer about what to include in each capsule as I had created them mostly the same everytime…a couple pairs of dress pants, a skirt or two, about 3 pairs of jeans, several dressy tops, a few casual tops and layers, most of which I would wear to my job.  This time when I created my capsule wardrobe, I chose everything for my capsule, took photos and thought that it was finished.  But, I felt that a couple pairs of jeans weren't the right tone for Fall and there were 3 tops that just didn't look good for an all-casual capsule.  I replaced those items with ones I think will be more functional and casual.  I decided to include a few tops, bottoms and layers from both The Essential Capsule Wardrobe: Fall 2017 Collection and The French Minimalist Capsule Wardrobe: Fall 2017 Collection.  Here are the two eBooks I used to create my capsule wardrobe: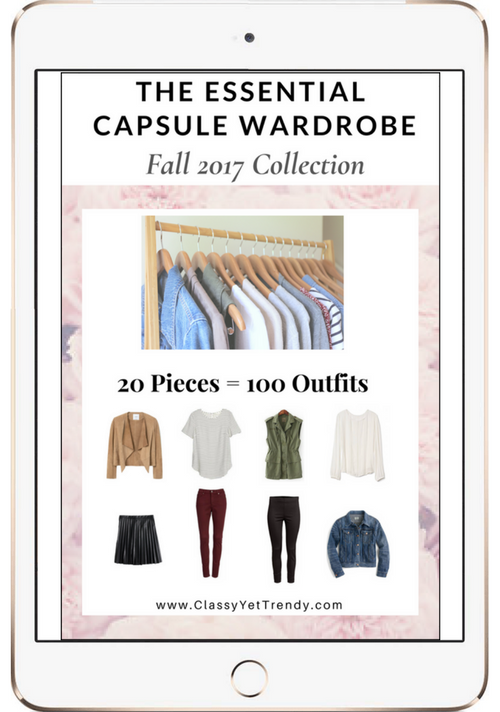 So, here is my Fall 2017 Capsule Wardrobe and how it all came together.
To begin with, I emptied my closet so I would have a blank canvas to work with…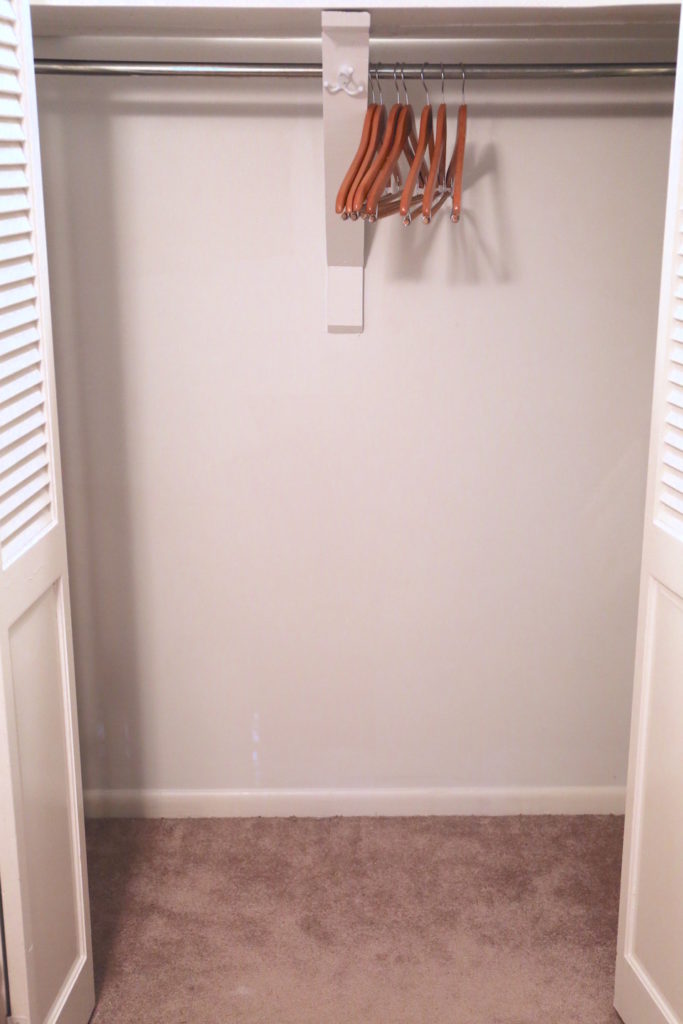 I followed all my steps as usual to creating a capsule wardrobe.  If you aren't familiar in how to create one, or need a refresher, see How To Start a Capsule Wardrobe: A 5-Step Visual Guide.
First, I selected my base color as black.  I had chose navy as my base color for my Summer capsule wardrobe, so I wanted to change it up a bit and use black.
Next, I chose my basic essentials, see How To Create a Core Closet to see key basic essentials that work well in mostly any capsule wardrobe…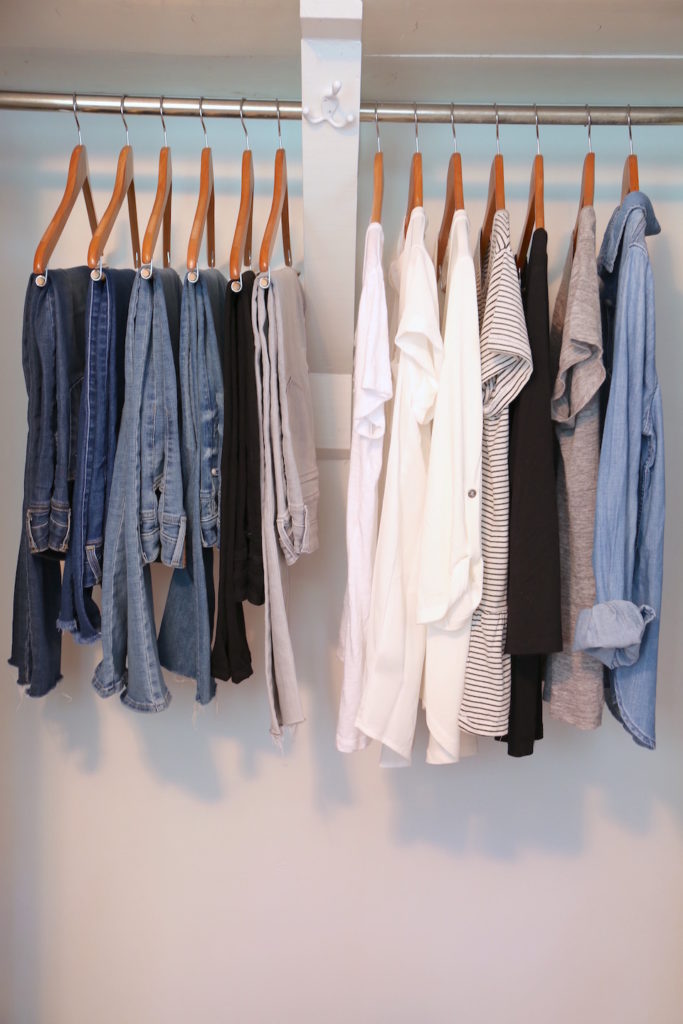 Then, I added a few more neutral color items…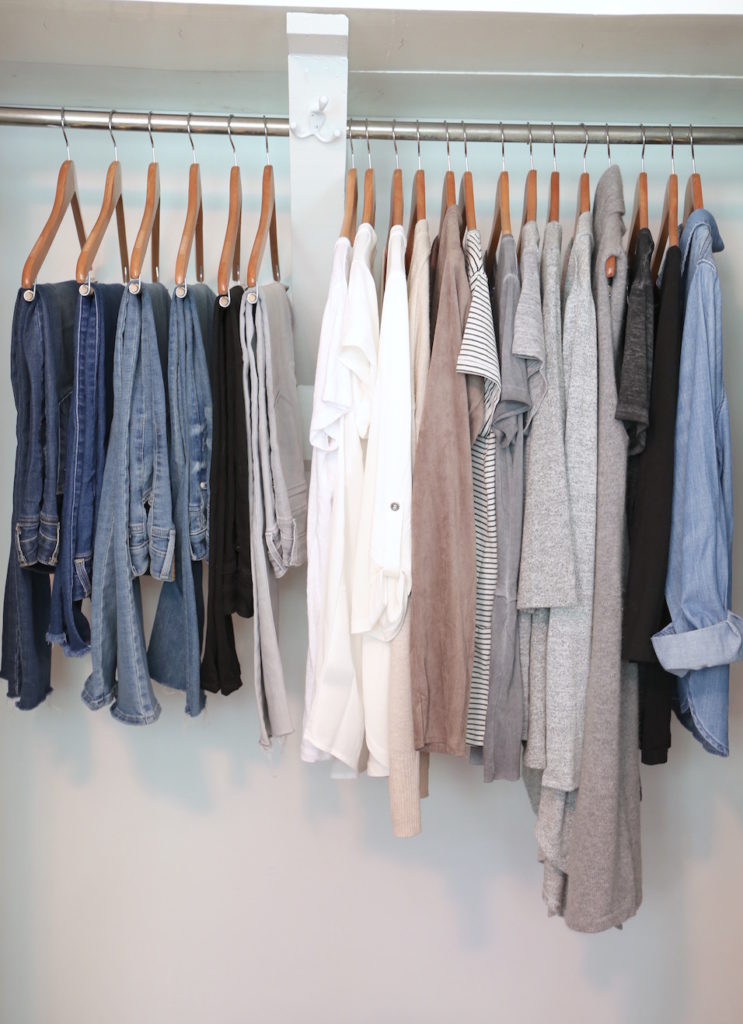 I selected my accent colors, which are olive, blush/deep rose and burgundy.  Those are my favorite accent colors for Fall!
I added items in my chosen accent colors and a few other layers…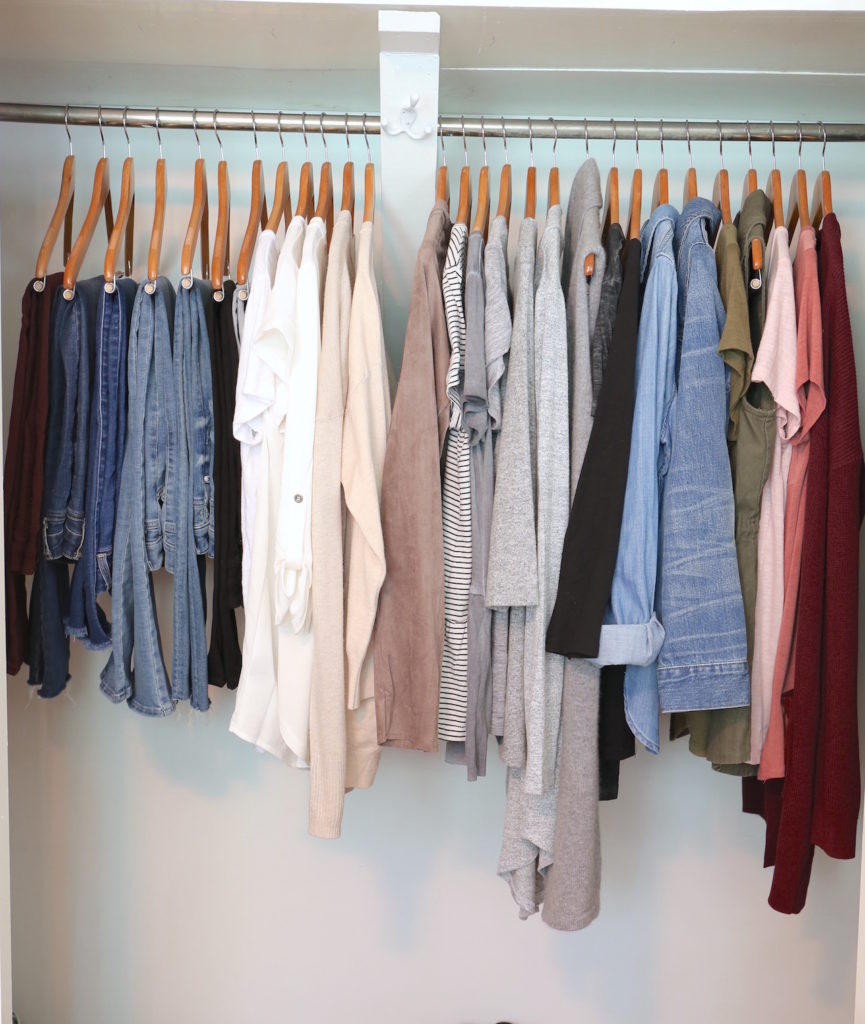 In my 5-Step Visual Guide to creating a capsule wardrobe, Step 5 is to add your shoes and accessories.  Since, I want to test out my shoes and accessories to see which ones I'll wear the most for my first all-casual capsule, I skipped this step this season.
The left side: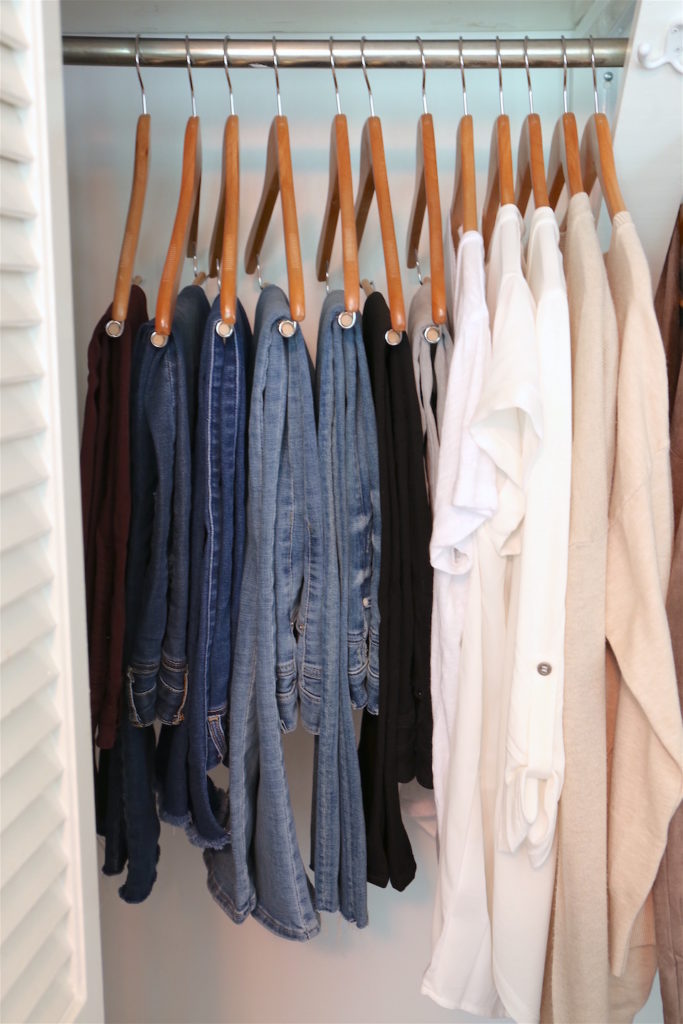 The right side: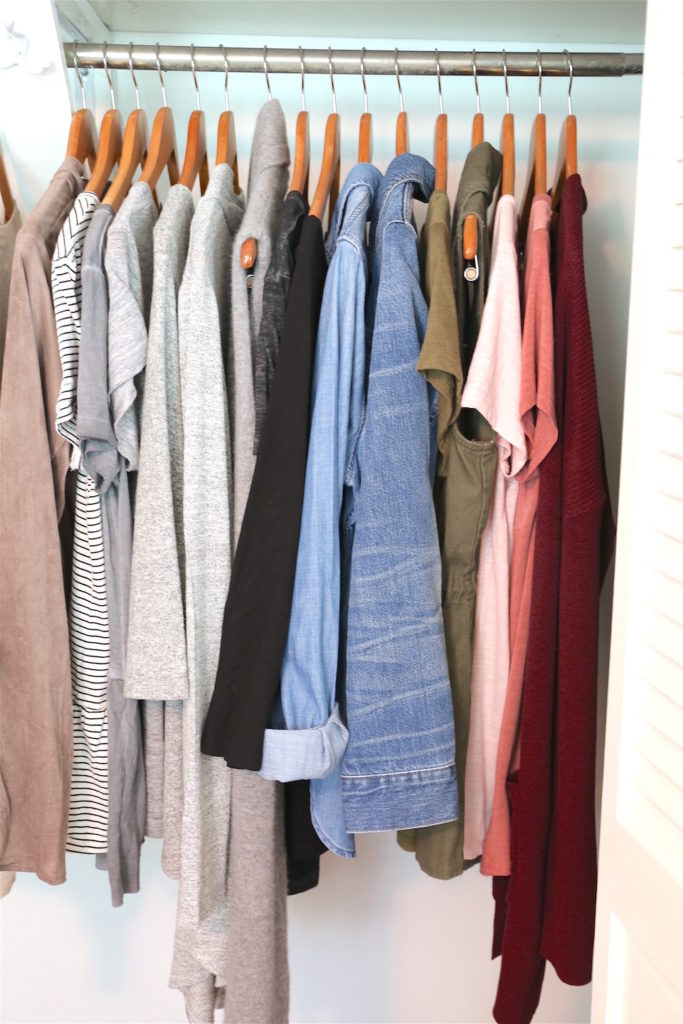 Now, here's what I chose for my Fall capsule wardrobe:
Tops:
white tee (exact) – carried over from my Summer capsule wardrobe
ivory short sleeve chiffon top (exact) – new
tab sleeve v-neck henley (exact) – new
beige open cardigan (similar) – old
faux suede jacket (exact) – new // SHOP THESE SUEDE JACKETS
striped peplum tee (exact) – new
grey peplum tee (similar), (similar) – old
grey tee (exact), (similar) – carried over from my Summer capsule wardrobe
grey twist front fleece top (exact) – new
grey open cardigan (exact) – new
grey cashmere sleeveless cardigan (exact sold out), (similar) – new
graphic tee (mine is Hard Rock Cafe-Nashville) (love this one, and this one, and this one too) – new from a weekend trip a few weeks ago
black dolman sleeve top (similar) – old
chambray shirt (exact) – old
denim jacket (exact) , (budget) – new, a replacement c/o Shopbop // SHOP THESE DENIM JACKETS
olive twist front tee (exact) – new
olive utility vest (exact) – old
blush tee (exact) – carried over from my Summer capsule wardrobe
deep rose twist top (similar in 3/4 sleeves) – new
burgundy open cardigan (exact) – new
striped short sleeve top (exact) – old (not shown, was wearing it when I took these photos!)
Bottoms:
burgundy jeans (similar) – old
dark wash skinny distressed jeans (exact) – new
skinny ankle raw hem jeans (exact) – carried over from my Summer capsule wardrobe // SHOP THESE RAW HEM JEANS
light wash skinny straight jeans (exact) – new
light wash raw hem skinny jeans (exact) – new
black skinny jeans (exact) – new
grey raw hem jeans DIY by me (similar) – old
olive jeans (exact) – new (not shown, was wearing it when I took these photos!)
Shoes:
leopard mules c/o Shopbop //  SHOP THESE ON-TREND MULES
brown ankle boots
black loafers
black ankle boots
cognac peep toe suede ankle boots
taupe suede ankle boots // SHOP THESE ANKLE BOOTS
giraffe print lace up flats