Athleisure is a popular style all its own.  With an athletic look, it's acceptable to wear this style of clothes outside the gym, all day.  You'll not only look great wearing it, but you'll be super comfortable too.  I've seen women wearing this trend for a few years, but in 2017 it became a popular style to wear.
It took me a while to catch on the athleisure style.  I've had this pair of Lou & Grey black leggings for about 3 years and wore them only occasionally until recently.  I remember when I first saw them in a Loft store.  I was browsing the store when I saw them in the Lou & Grey section.  I really liked them and they were different than my other clothes.  But, what would I wear with them?   I bought them on a whim anyway.  That was before I started my capsule wardrobe and before I learned how to be an intentional shopper.  But I'm glad I bought them, because 3 years later, I have them in my Winter 2018 capsule wardrobe and can wear them with several tops in my capsule.  I've worn them with my cowlneck tunic, this gray long sleeve tee, this fleece vest, this tunic sweater, this striped tee and this cardigan.  I discovered that I loved wearing leggings so much that I revamped my loungewear and created a loungewear capsule wardrobe to include a few pairs of leggings, along with a few graphic tees and a cardigan.
I had several requests from readers to create an athleisure capsule wardrobe eBook, so the first one was published for the Winter 2018 season.  All my eBooks are complete wardrobe plans, which not only shows you how to create a capsule wardrobe, but they have 100 outfit ideas from just a few clothes a shoes!  The Winter 2018 Athleisure Capsule Wardrobe eBook has a mix of long sleeve tees, pullovers, zip hoodies, leggings, and also includes a few outerwear pieces and sneakers.  It also includes suggested accessories to complete the outfits!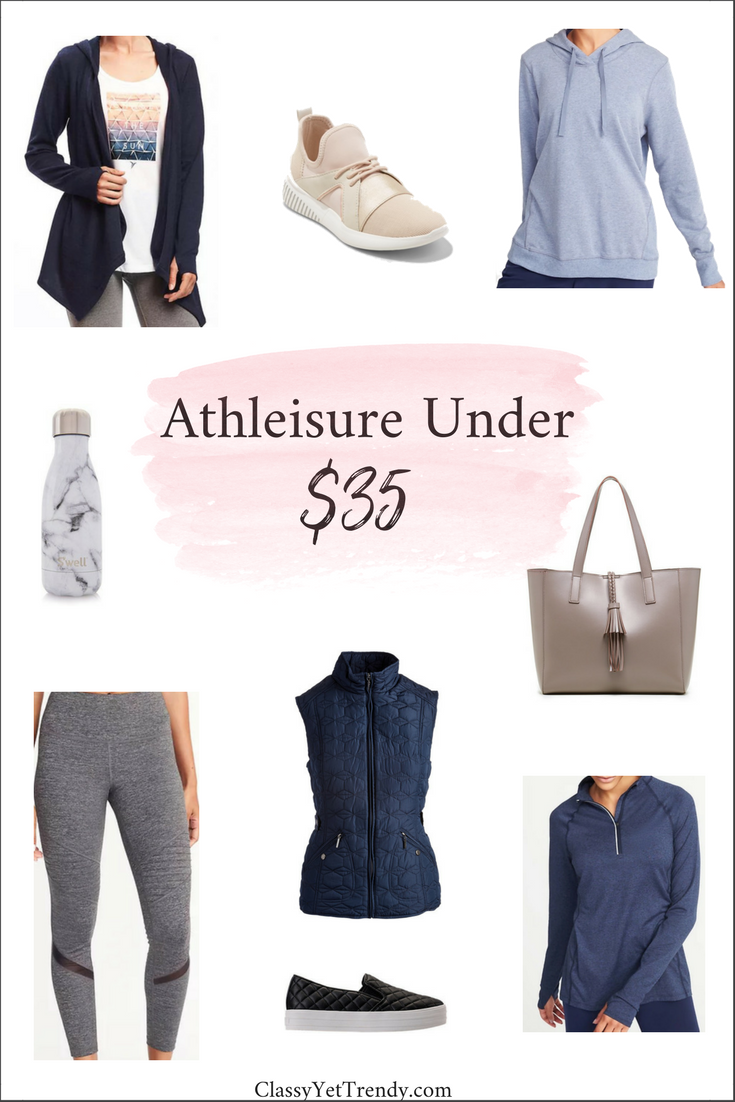 Collage Details:
navy hooded cardigan (plus-size option)
blush sneakers
sky blue hoodie (plus-size option)
marble water bottle
tassel tote
gray panel leggings (plus-size option)
navy puffer vest (plus-size option)
black quilted sneakers
navy half zip pullover (plus-size option)
If you're on a budget and are looking to buy athleisure clothes and shoes, some pieces can be a little out of your price range.   While I do recommend brands like Zella (at Nordstrom), Athleta and Gap for quality athleisure clothes, clothes at Old Navy, Target and Joe Fresh are great alternatives.  For example, these mesh panel black leggings at are very similar to the Zella brand mesh leggings and are less than half the price (see the "Save vs. Splurge" image below).  You can find stylish sneakers at a fraction of the price too!  These blush jogger sneakers look similar and are half the price of these blush sneakers.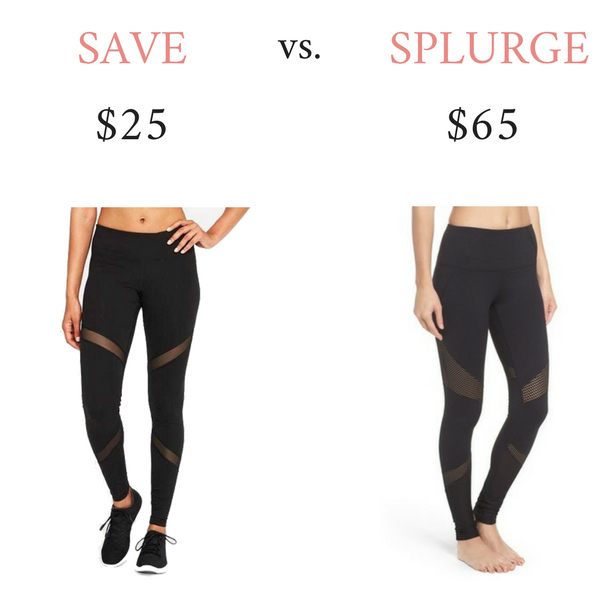 I've found some fabulous athleisure clothes, shoes and even a few accessories for under $35!
Athleisure Clothes:
Plus-size Athleisure:
Shoes & Accessories: