Shoe and Bag Combos For Spring Under $100
If I had to make a choice on what I liked the most between clothes, shoes or bags, it would have to be bags!  Shoes would come in a close 2nd!  I love a good quality bag, whether it is a designer one or a budget-friendly one.  Do you prefer a timeless, classic handbag?  Do you stop in your tracks when you see a trendy handbag that catches your eye?  When you are looking for a handbag, do you often consider what shoes you can wear with it?
I've found a few bags and shoes that pair well together!  These shoe and bag combos are perfect neutrals that will go with many of your outfits.  When it comes to buying a bag, I tend to select a color that will go with many of the clothes in my wardrobe.  Neutrals are my favorite, like nude, gray and blush.  This Dryden Debby Leather Crossbody Bag has a bucket bag look in a beautiful shade of gray.  With the shade and style that it is, you dress it up or wear it with your casual outfits.  In this post, I paired it with this pair of Dali Espadrille Slip-Ons.
Straw bags are very much on-trend this Spring and I have found this Round Straw Handbag under $25!  It has both handles and a strap, so you could carry it as a handbag, shoulder bag or crossbody.   For a coordinating shoe, I chose these Ava Shield Espadrille Sandals, which are under $33.
If you are needing a neutral color bag and shoe to go with your outfits for work, this Light Beige Wrapped Ring Shoulder Bag and this pair of Hailee Nude Sandal Heels look perfect together.  Both of them together are under $83!
Since all these bags and shoes are neutral colors, you can mix and match them all!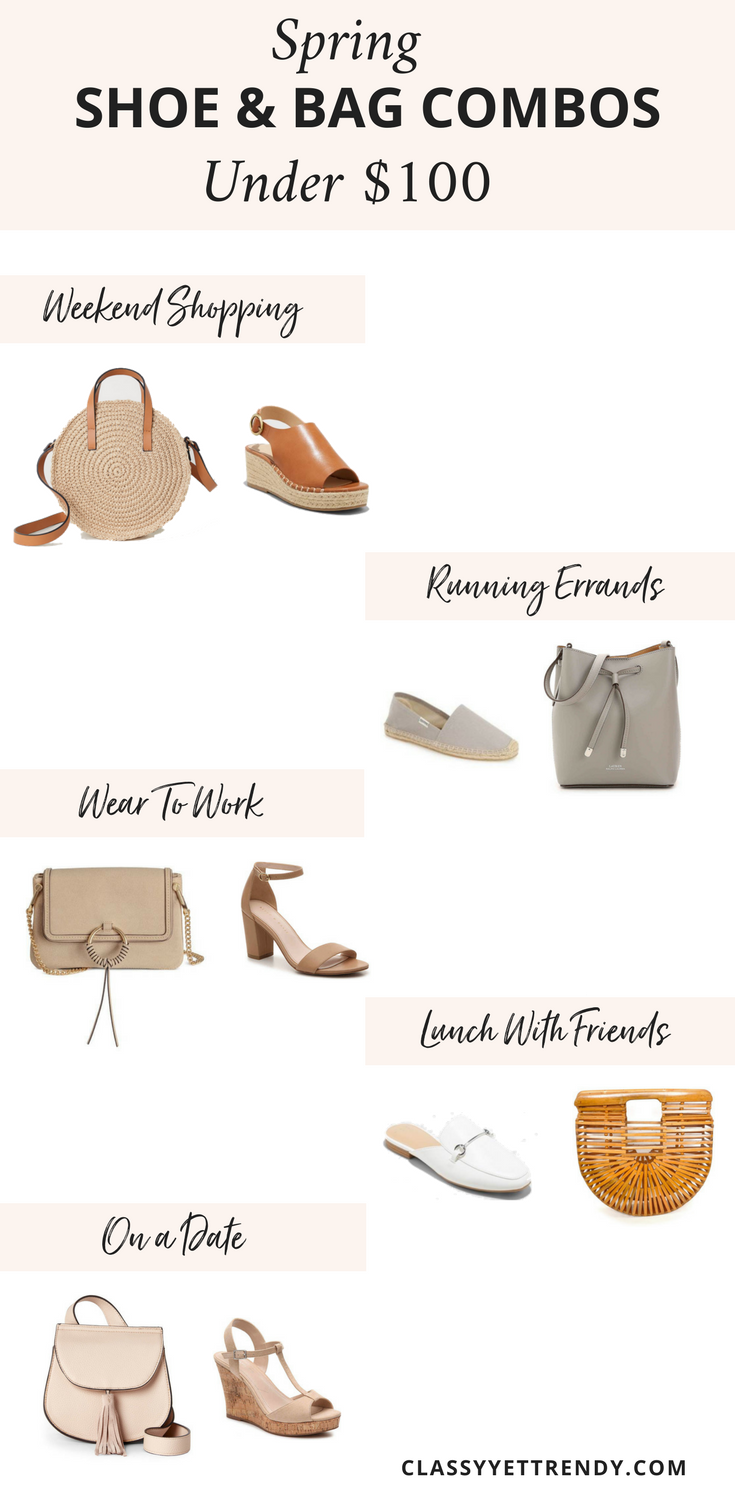 Shop The Post:
Row 1: Round Straw Handbag /Ava Shield Espadrille Sandals
Row 2: Dali Espadrille Slip-Ons /Dryden Debby Leather Crossbody Bag
Row 3: Wrapped Ring Shoulder Bag / Hailee Nude Sandal Heels
Row 4: white Kona mules / Wood Clutch Bag
Row 5: Nude Tassel Bag / Nude Wedge Sandal
Shop The Featured Bags and Shoes + More Under $100: