Fall Trends For Your Closet
Fall is fast approaching!  For some of us, the weather has turned a bit cooler and Fall is in the air, so you probably have started wearing your Fall clothes.  I have to wait a bit longer since I live in the South, as our weather is still hot and humid.
Do you have your closet ready for Fall?  A cool season means bringing out all our jeans, long sleeves and layers.  I don't know about you, but there's not a cardigan I don't love wearing!
I've found a few neutrals perfect for Fall.  Leopard and snake patterns will be popular, as well as camo print.  Plaid shirts will be in the mix too.  Even though they are patterns, the colors are neutral, so you can wear them with other neutrals or colors.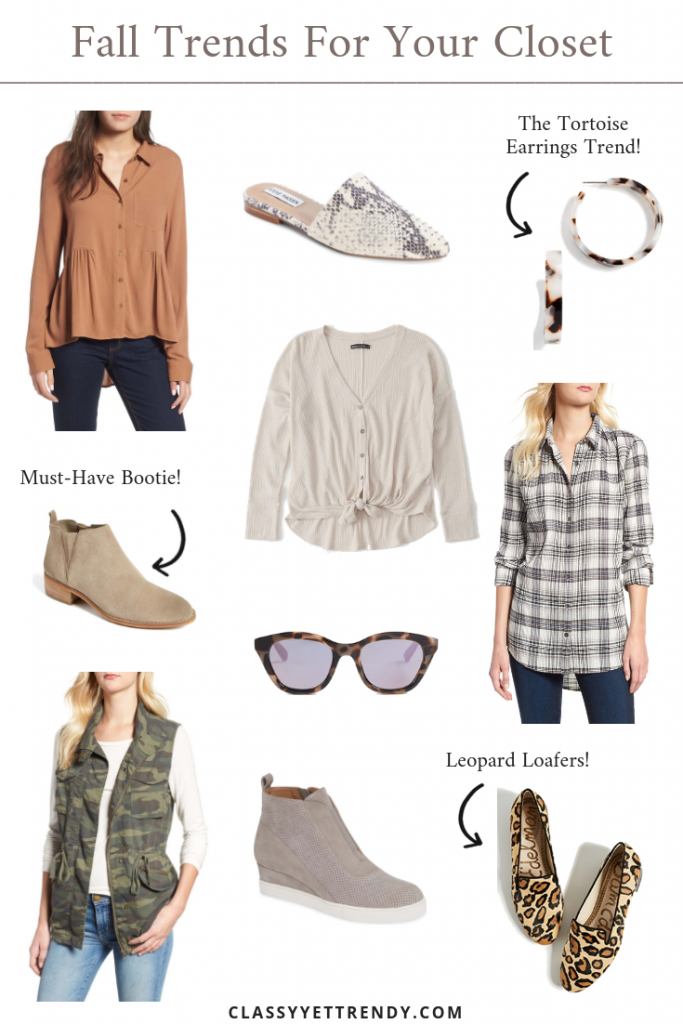 Shop The Post:
hi/low peplum blouse
snake pattern mules
tortoise earrings
tie front thermal top
stacked heel stitched booties
tortoise sunglasses
plaid tunic shirt
camo utility vest
wedge sneakers
leopard loafers
Shop These Baublebar Necklaces
1. hi/low peplum blouse – I love this hi/low blouse with the peplum detail that comes in black and tan.  It is dressy enough you can wear it work work with a pair of black pants or wear it on the weekend with a pair of jeans.
2. snake pattern mules – I bought these for my Fall capsule wardrobe and can't wait to starting wearing them!  They are also in The French Minimalist Capsule Wardrobe: Fall 2018 Collection eBook.
3. tortoise earrings – Tortoise earrings will be on-trend this Fall.  This hoop silhouette pair is gorgeous!  Shop These Tortoise Earrings
4. tie front thermal top – Thermal tops like this one not only provide warmth on those chilly days, but the tie-front feature is on trend.
5. stacked heel stitched booties – I highly recommend having a pair of neutral color booties in your Fall wardrobe.  These chelsea booties have rustic stitching with a stacked heel.  They also come in black.
6. tortoise sunglasses – These sunglasses look so chic!  Shop These Le Specs Sunglasses
7. plaid tunic shirt – This shirt caught my eye with the longer tunic style and neutral color plaid pattern.  It also comes in a navy/red combo.  Shop These Rails Plaid Shirts
8. camo utility vest – One of my favorite pieces to wear in the Fall is a utility vest, so versatile!  This camo pattern is on trend and adds interest to this vest.  It also comes in olive and grey and is available in plus-size.
9. wedge sneakers – These sneakers are definately on-trend with the stacked heel and ankle style.  This pair would look great with jeans or leggings, especially with the outfits in The Athleisure Capsule Wardrobe: Fall 2018 Collection eBook.
10. leopard loafers – I always recommend having a pair of leopard patterned shoes in your Fall wardrobe.  These Sam Edelman Jordy loafers are gorgeous in a loafer style.  Shop These Sam Edelman Loafers