I've got my closet ready for the Fall season!  See all the clothes in my Fall 2018 Capsule Wardrobe!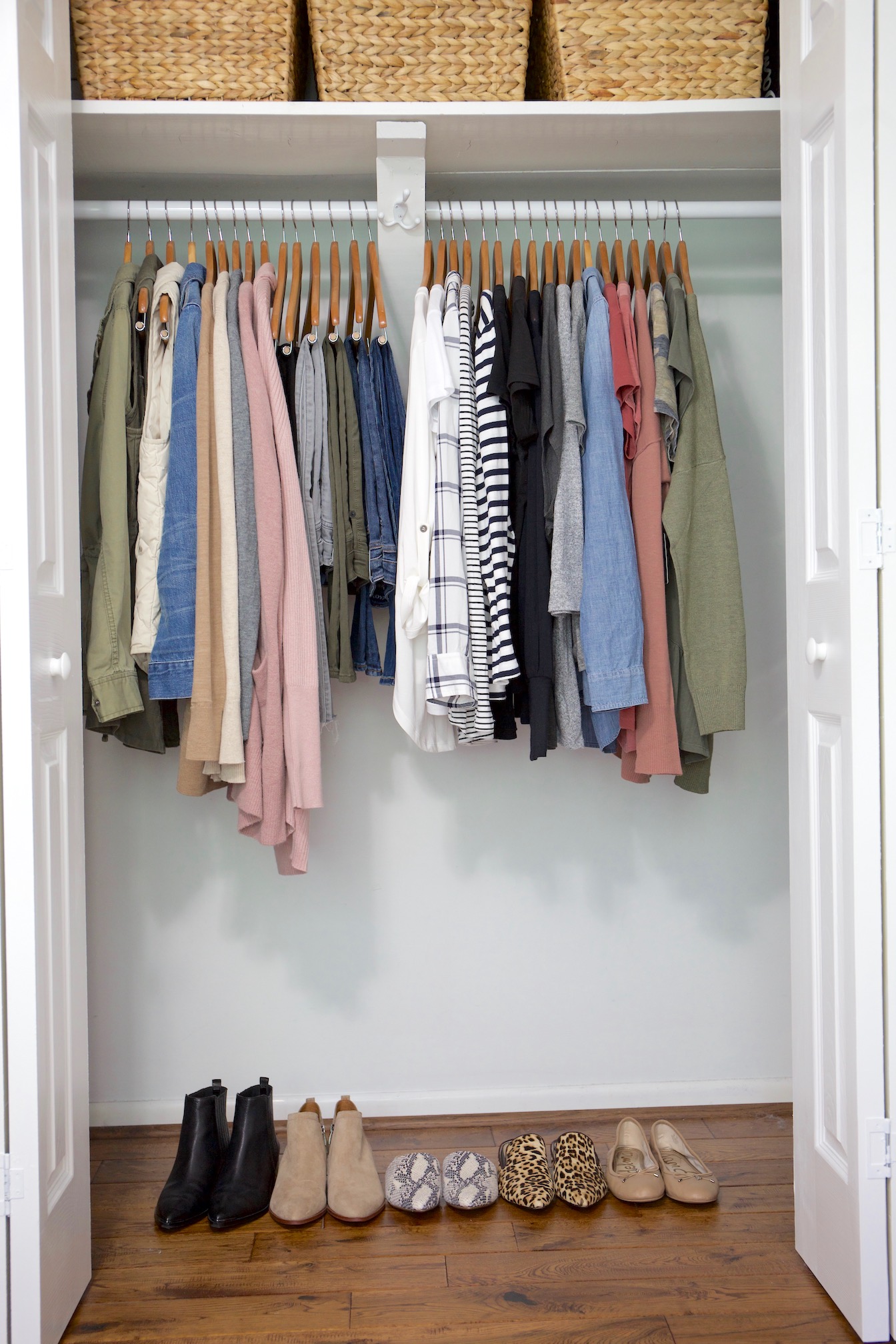 Now is the time to start transitioning our closets to the Fall season.  Even though it's not officially Fall and the weather is still warm, I have created my Fall capsule wardrobe and it's in my closet.  I started working a few days ago planning what I wanted to include in the capsule, like core closet essentials and accent colors.
Yesterday I took my Summer capsule wardrobe out of my closet, packed the clothes away and put my Fall capsule in my closet.  I do all my work at home on the weekdays, so I wear mostly jeans everyday.  I like to wear clothes that are casual and comfortable, but that also look great while I run errands and go to town.
I won't be including shoes in this capsule wardrobe.  The reason being that where I live (in hot and humid Alabama), it takes forever for cooler weather to get here, like usually the end of October.  So, I'll probably still be wearing sandals or open-toe shoes until then.   Because the weather is still warm, I included both short sleeve and long sleeve tops.  I can wear the short sleeves now, then when the weather turns cooler, I can wear a cardigan or jacket over the short sleeve tops.
In deciding what clothes I wanted in my Fall capsule wardrobe, first I decided my base color, which is the first step in my popular blog post, How To Create a Capsule Wardrobe: A 5-Step Visual Guide.  I decided to have BLACK as my base color.  Then, I picked 2 accent colors: dusty rose (light to dark tones) and olive.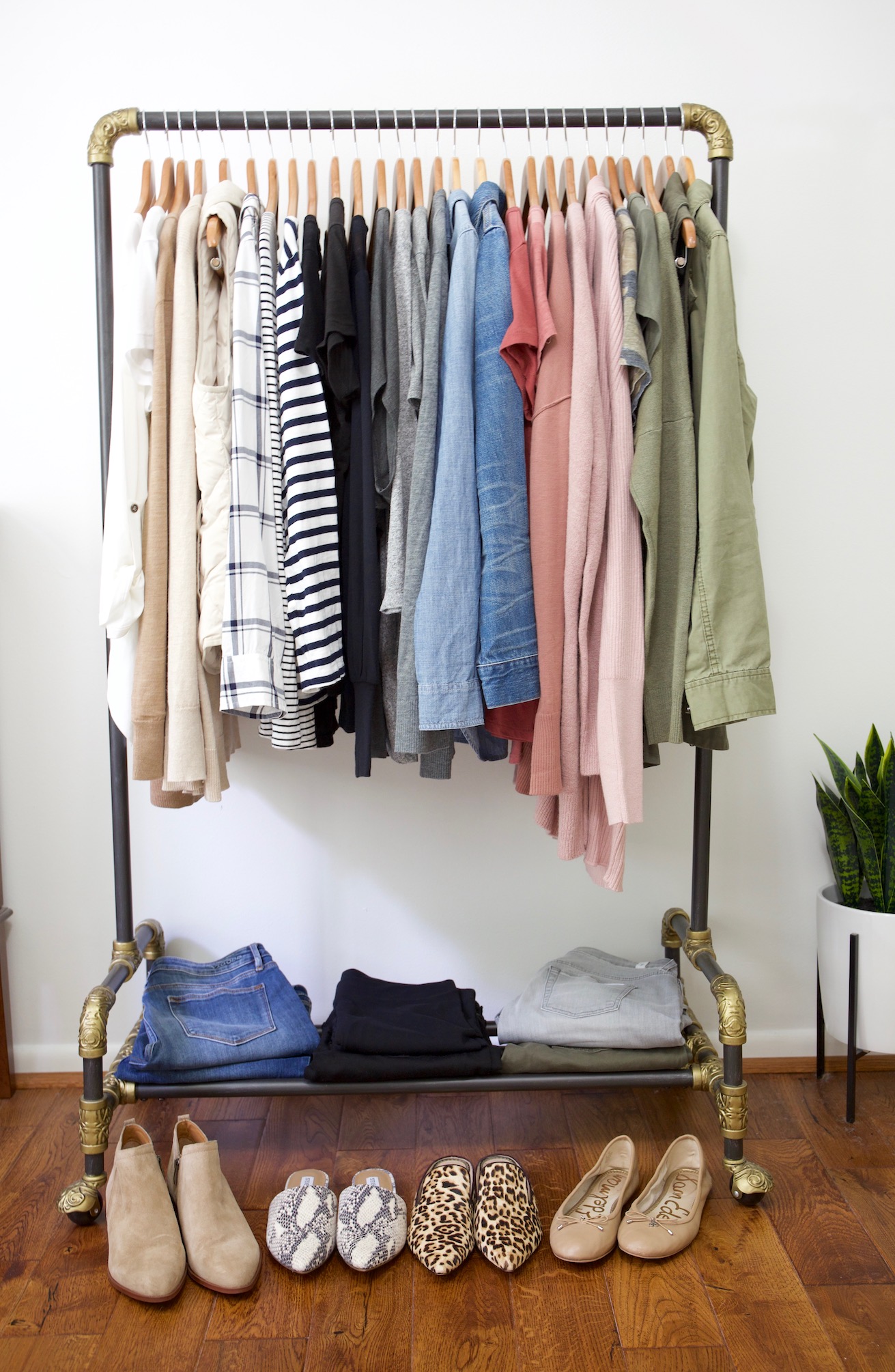 I can remember just a few years ago when I didn't use a capsule wardrobe.  I don't see how I ever found anything in my closet!  It used to be a complete mess!  I had too many clothes that didn't coordinate, clothes that didn't fit, clothes with colors that didn't look good on me, you name it.  I even had bad shopping habits!  I would buy an outfit…a top and bottom that would go together, not really thinking how I could wear the pieces with other clothes in my closet.  Plus, I loved to go shopping for clothes.  When I was bored or had a bad day, I would go shopping and always felt like I had to buy something to feel good.  Shopping lead to a high credit card bill, in which I was in constant debt.
I'm so glad I discovered "capsule wardrobes", because using a capsule wardrobe system helps me look great, I love what I wear, I have a neat and organized closet and I always have dozens of outfits ready to wear.  Plus, being organized has transitioned to the rest of my house.  I organized my kitchen pantry, my office and I have a neat and tidy house!
I feel better about myself too, plus I shop with purpose for everything now, not only for clothes, but also for household goods, furniture, you name it!  Having a capsule wardrobe literally changed my shopping habits.  I think twice before buying anything now, saving me hundreds of dollars every year.  I'm so passionate about capsule wardrobes, that I publish Complete Wardrobe Plans each season, all in the Capsule Wardrobe eBook Store.
Now onto my capsule wardrobe!  I have 33 items in my Fall 2018 capsule wardrobe.  My capsule wardrobe is mostly a combination of the French Minimalist and the Essential capsule wardrobe eBooks, with a few items that I already had in my wardrobe.  I used my Pottery Barn Teen Wardrobe Rack to help plan my Fall capsule wardrobe.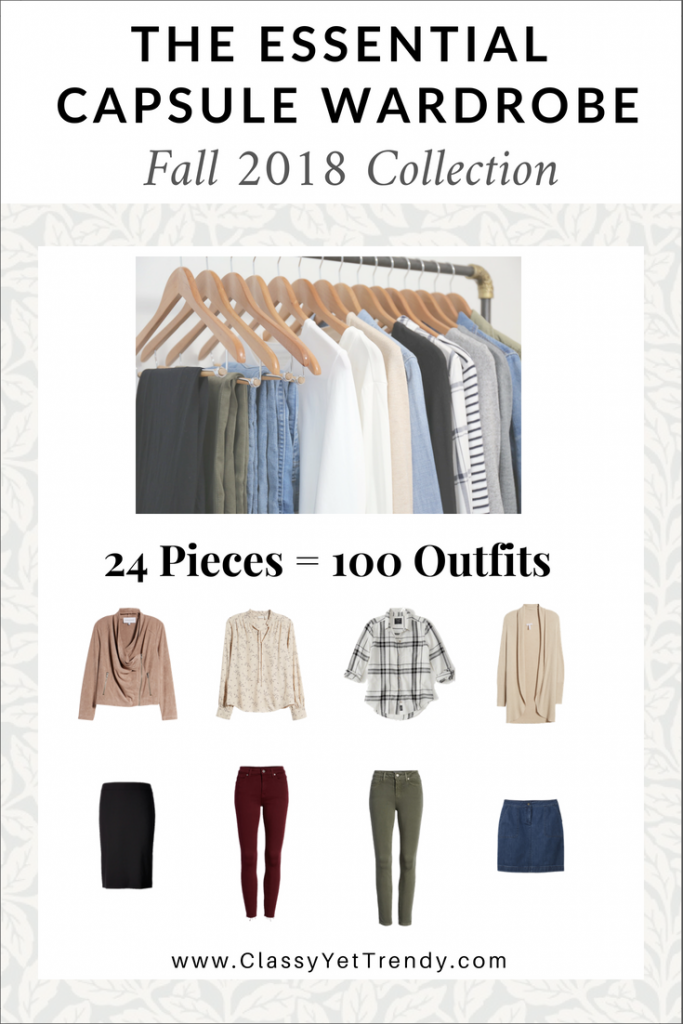 I created my capsule wardrobe using my capsule wardrobe process, which you can see here in this blog post, How To Create A Capsule Wardrobe: A 5-Step Visual Guide.
First, I took everything out of my closet, so that it was empty.  I kept a few items from my Summer capsule wardrobe and hung them back in my closet.  I put the rest of my clothes from my Summer capsule in my storage bins.  I went through my storage bins for the clothes I thought about using in my capsule and put them in stacks for each type: solid tops, patterned tops and bottoms.  I knew I may not include all of them in my capsule, but it gave me a starting point.
I went through the stacks of clothes, determined what I wanted to keep for my capsule, then hung those clothes in my closet, using wooden hangers like these.  These velvet hangers also work well and these hangers are perfect for hanging skirts.  Then, I put any clothes that I wouldn't be using back in the bins and put them in my closet.  I have storage bins for different types of clothes: seasonal tops, denim and shorts, cardigans and sweaters and skirts and dresses.  It helps me organize my clothes so I know what clothes are in each bin.  You can use these exact bins to store your off-season clothes too!  If you need a clothes rack to hang your clothes on, here is my exact wardrobe rack.  This pipe clothes rack (comes in black or white) and this wooden clothes rack (comes in wood or white) will work great for your capsule wardrobe too.  And, I love this industrial pipe and wooden wardrobe rack from West Elm!
I bought a few items from the Nordstrom Anniversary Sale back in July that I wanted to add to my Fall capsule wardrobe.  I helped my daughter last week clean out and organize her closet and she gave me a couple of tops she didn't want, so I added those too!
Here are the Tops and Layers that are in my Fall 2018 capsule wardrobe: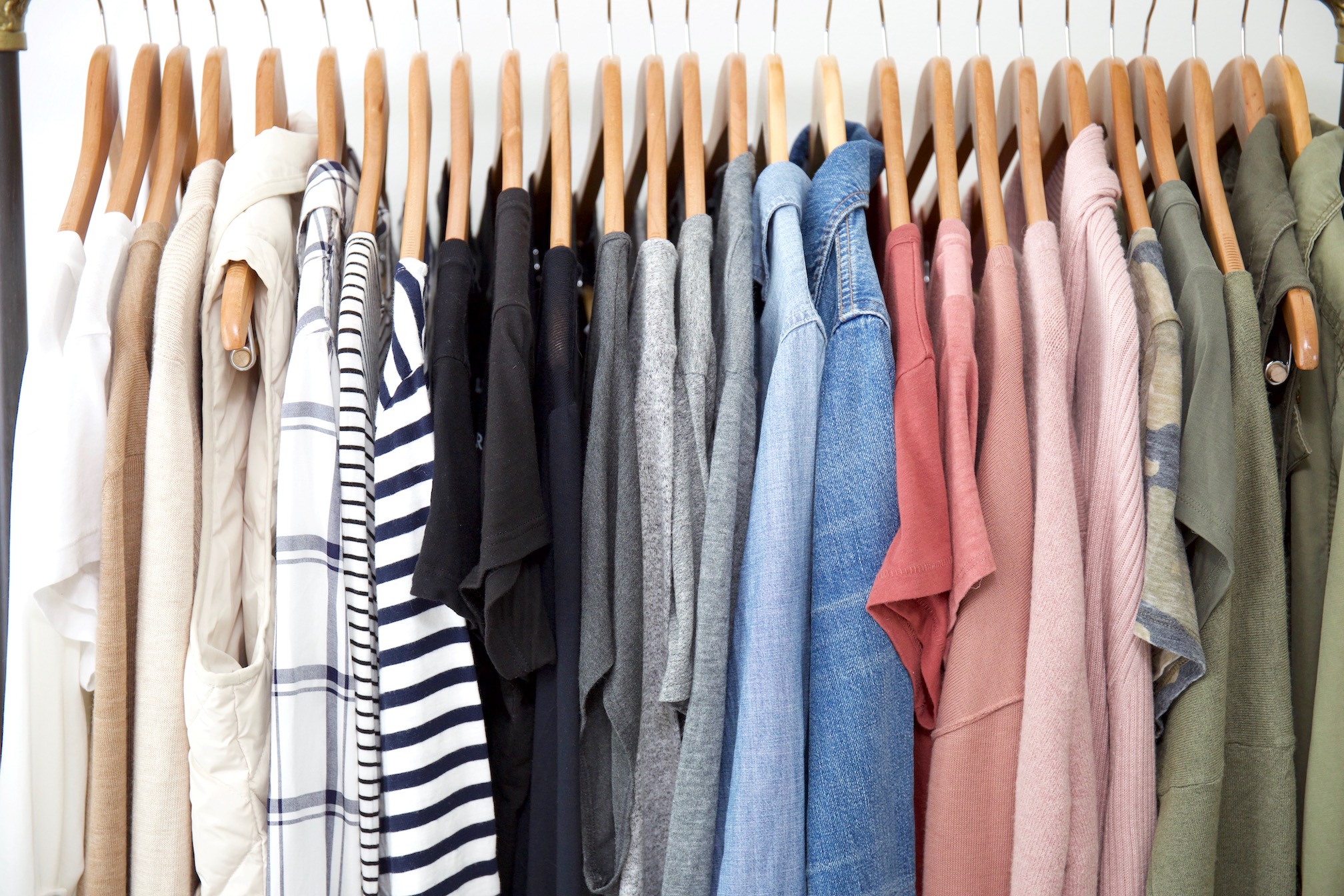 Tops:
ivory roll tab sleeve top (old)
white tee c/o Shopbop (new)
plaid popover shirt (similar) (old)
striped peplum top (similar short sleeve) (old)
striped 3/4 sleeve tee (old)
black tee c/o Shopbop (new)
black Coldplay graphic tee (new)
black long sleeve tee (new)
gray dolman top (new)
gray twist front top (old)
gray tie front tee (new)
chambray shirt (old)
dusty rose peplum tee (other colors available) (from my daughter's closet)
dusty rose twist front tee (similar) (from my daughter's closet)
dusty rose sweater (new)
camo tee (new)
olive peplum tee (similar) (old)
olive sweater (available in other colors) (new)
Layers:
camel boyfriend cardigan (new)
beige cardigan (old)
beige puffer vest (similar color) (old)
gray cardigan (similar) (old)
denim jacket (old)
dusty rose pocket cardigan (new)
dusty rose cocoon cardigan (new)
olive utility vest (similar) (old)
olive utility jacket (old)
Here are the jeans and leggings (shoes shown are a few I'll be wearing):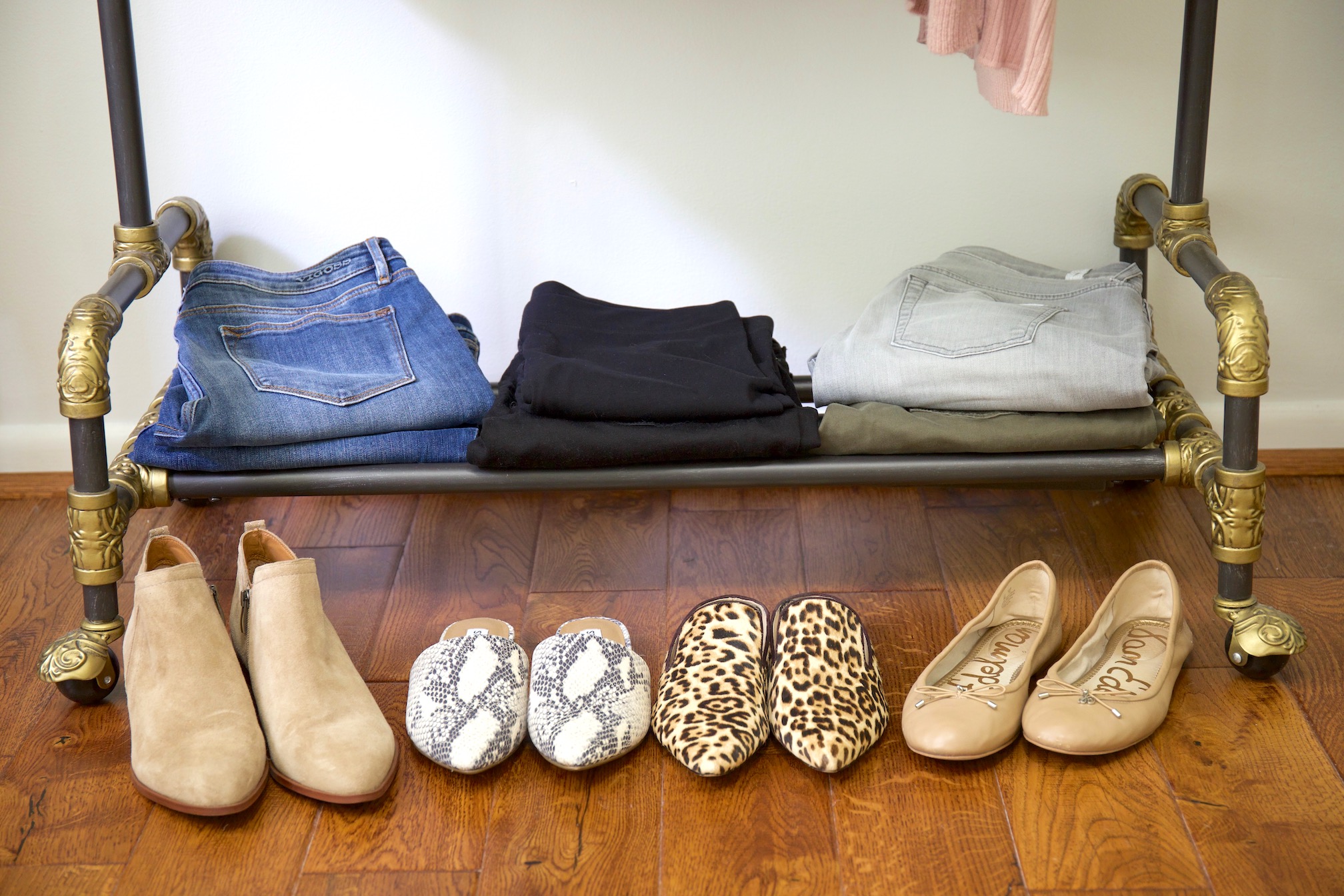 Jeans and Leggings:
Vigoss Distressed Jeans (old)
AG The Legging Ankle Jeans (old)
Lou & Grey Essential Legging (new)
DL1961 Black Jeans (old)
7 For All Mankind Gray Jeans (new)
DL1961 Olive Jeans (old)
Shoes:
I didn't include shoes in this capsule, but I'm showing a few pairs of shoes I'll be wearing during the Fall (left to right from photo above):
Franco Sarto taupe ankle boots (similar)
snake pattern mules
leopard mules (absolutely love these!)
beige ballet flats
Marc Fisher black ankle boots (from closet photo above)