Nordstrom Anniversary Sale Picks For Your Capsule Wardrobe
The Nordstrom Anniversary Sale Early Access is going on now!  In case you missed it, yesterday I published a blog post, Nordstrom Anniversary Sale Early Access Initial Picks, reviewing a few initial picks from the sale.  I absolutely love the Nordstrom Anniversary Sale because all their new season items are on sale!  You read that right…all the new items for the season are discounted at prices you don't want to miss!  Right now, cardholders get the chance to shop early, before the sale opens to the public on July 20.
Yesterday I ordered several items to try on at home.  Since the nearest Nordstrom to me is over 3 hours away, I have to order items, have them shipped to me, try them on, then send back what doesn't fit.  While I do have to wait a day or two for the items to arrive at my house, it's very convenient to shop online, avoid the crowds and try on everything in the comfort of my own home!  My picks are scheduled to arrive Saturday, so look for a try-on session post here on Classy Yet Trendy on Monday!
I have had a few of you asking about my daughter and how she is doing since being diagnosed with a brain tumor back in May.  She has been undergoing radiation treatments and chemotherapy (in pill form).  I've been busy taking her to her doctor appointments and daily treatments, so I haven't been able to be as present here on the blog.  She is doing quite well, but has been really tired due to the radiation.  The chemotherapy has lowered her appetite but she is eating well.  She no longer has headaches since having the surgery for hydrocephalus in May.  She was having trouble writing and her hands would shake.  We are proud to say her handwriting has improved and her hands no longer shake.  Her short-term memory has improved greatly and she is more "aware" of everything going on.  It's something how a tumor can limit your abilities, coordination and memory.  Her last radiation treatment is Monday.  She will have a 4-week period with no medication, then will start short rounds of chemotherapy and will have an MRI to check the status of the tumor.  We are praying everyday that tumor has decreased.  If you don't mind, please say a prayer for my daughter that she continues to get well and overcomes this.
Do you use a capsule wardrobe?  You may be wondering how you can shop the Nordstrom Anniversary Sale if you use a capsule wardrobe.  Nordstrom has lots of core closet essentials you can include in your capsule wardrobe, plus lots of clothes and shoes you can use for your accent colors in your capsule.  Plus, the Nordstrom Anniversary Sale also includes hundreds of beauty products, like this Pretty Pink Lipstick Set, this Bobbi Brown Deluxe Eye & Cheek Set, jewelry, men's clothes, kid's clothes, items for your bathroom, bedroom, home decor, rugs, kitchen items and even luggage!
Yesterday, I published the much-anticipated eBook, Simplified Style: A Year-Round Core Closet Essentials Capsule Wardrobe.  This eBook includes Over 400 outfits ideas that come from just 50 clothes and shoes!  There are 2 regular-size and 2 plus-size retail shopping sources and for the first time, 1 regular-size Sustainable/Ethical brand shopping source.  There are wardrobe plans for all 4 seasons, travel packing guides for all seasons, checklists, 2 outfit planners, plus a guide on how to create your capsule wardrobe.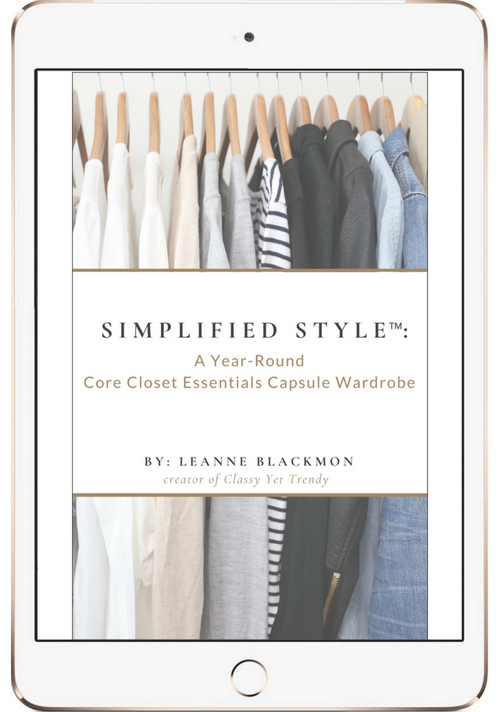 Now, onto items in the 
Nordstrom Anniversary Sale
 that would be perfect for your capsule wardrobe!  If your size is showing that it is sold out, keep checking back because Nordstrom often restocks items.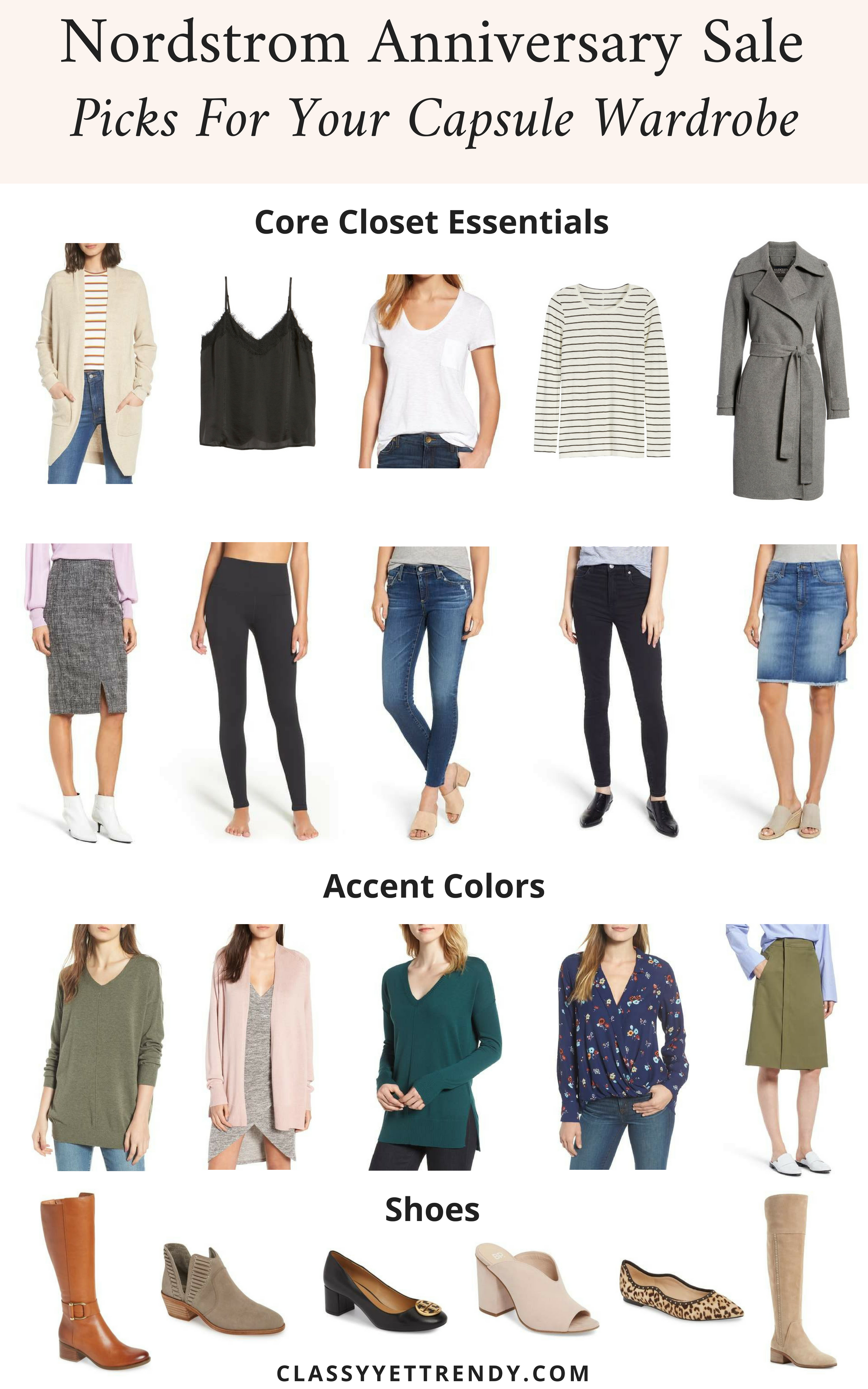 Shop The Post:
Row 1: beige cardigan | black cami | white tee | striped top | gray coat
Row 2: tweed skirt | leggings | skinny jeans | black jeans | denim skirt
Row 3: olive sweater | blush cardigan | teal sweater | blue floral blouse | olive skirt
Row 4: brown boots | booties | black pumps | open toe mules | leopard flats | taupe boots
Shop all these and MORE by clicking on the images to go directly to the product's page: