How to Start a Workwear Wardrobe On a Budget
Whether you are just starting out with your career or have been in a professional workplace for several years, you need a wardrobe that looks polished and professional.  You want to be taken seriously and the way you dress will reflect that.  You need a core workwear wardrobe in your closet!
I worked for a local family-run corporation for 21 years before leaving to manage ClassyYetTrendy.com full-time.  My first job in the company was a computer programmer/marketing assistant.  A couple of years later, I transitioned to accounting controller in a division within the company, then eventually became the company accounting controller.  I relied on several pieces in my closet to help me "dress for success"!
Choose from several Workwear Season Capsule Wardrobe eBooks in the eBook Store!
It's easy to create a basic workwear wardrobe by using just a few core closet essentials.  You can mix and match those essentials in a variety of combinations, to create many outfits.  How do you do it?  Let's get started by knowing what to include in a workwear wardrobe:
Essentials & Color
1. Core Closet Essentials – To have a wardrobe that is efficient and can make many outfit combinations, you need mostly core closet essentials.  You may be tempted to buy lots of clothes with different patterns and designs that may coordinate with a couple of items in your closet.  But, in the long run they won't match everything else in your closet.  Core closet essentials are classic and timeless pieces that never go out of style.  They are simple designed clothes with solid, neutral colors and will coordinate with many other pieces.  Core closet essentials are your "building blocks" of your wardrobe!
2. Neutral Colors – For a wardrobe to yield many outfits, you need to include pieces with mostly neutral colors.  Those colors are black, navy, white, beige, tan or gray.  Before you say "that type of wardrobe sounds boring", trust me…it works!  You can add just a few clothes and/or shoes in accent colors that will coordinate beautifully with your neutral colored clothes.  Plus, you can add colorful accessories that will complete your outfits!
3. Accent Colors – To add color to your wardrobe, use 1 to 3 accent colors that will coordinate together (example: burgundy and olive for the Fall season).  You will want to include about 5-7 tops and/or bottoms in those colors.  Choose mostly solid colors and a couple of pieces with patterns in those colors.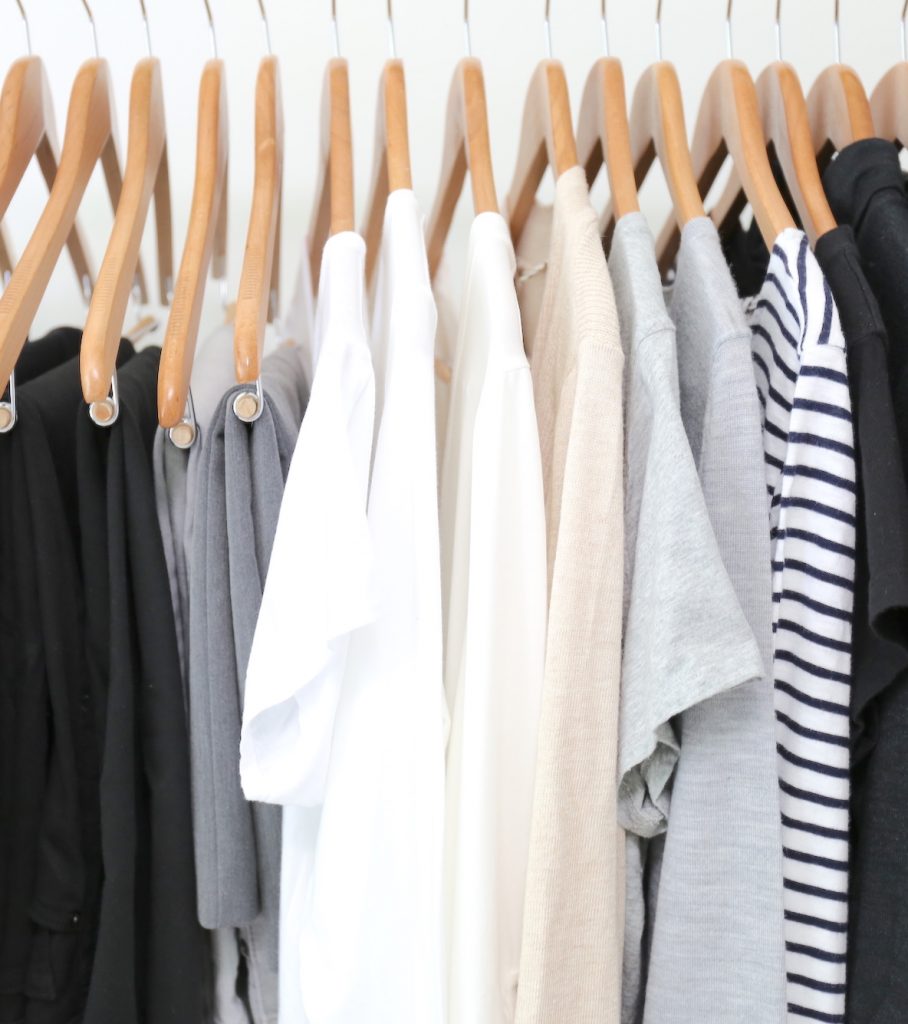 Budget vs. Investment
When it comes to creating your workwear wardrobe, determine if you want to include budget or investment items.  Investment pieces are well-designed pieces made with higher quality fabrics that tend to last for years.  You invest a bit more up front, but piece will last longer than a budget item.  A few stores that sell investment workwear pieces include J Crew, Banana Republic, Brooks Brothers, Nordstrom, Loft and Ann Taylor.
When you are first started to build your workwear wardrobe, you might be limited on funds.  Buy what you can, when you can, then you can replace any items as you go.  If you are limited on funds, you can shop local consignment stores or thrift shops to find those core closet essentials that you need.  When I created my first capsule wardrobe a few years ago, I found many high-end store brand essentials at thrift stores!  A few stores that sell budget workwear pieces include J Crew Factory, Old Navy, Target and Gap.
Pieces To Include
You will need to choose a base color to build your wardrobe, like either black or navy.  Black is a perfect color to use in a workwear capsule and is the most popular one to use.  If you would rather not use black, navy is a great alternative.  This starter workwear wardrobe uses black, but you can substitute navy for the black pieces!
Simplified Style: A Year-Round Core Closet Essentials Capsule Wardrobe eBook includes several more pieces so you can have a larger workwear wardrobe.  Convenient Regular-size and Plus-size shopping links, from budget to investment prices are included!  Simplified Style is the perfect year-round capsule wardrobe with everything you need for both casual outfits and workwear outfits!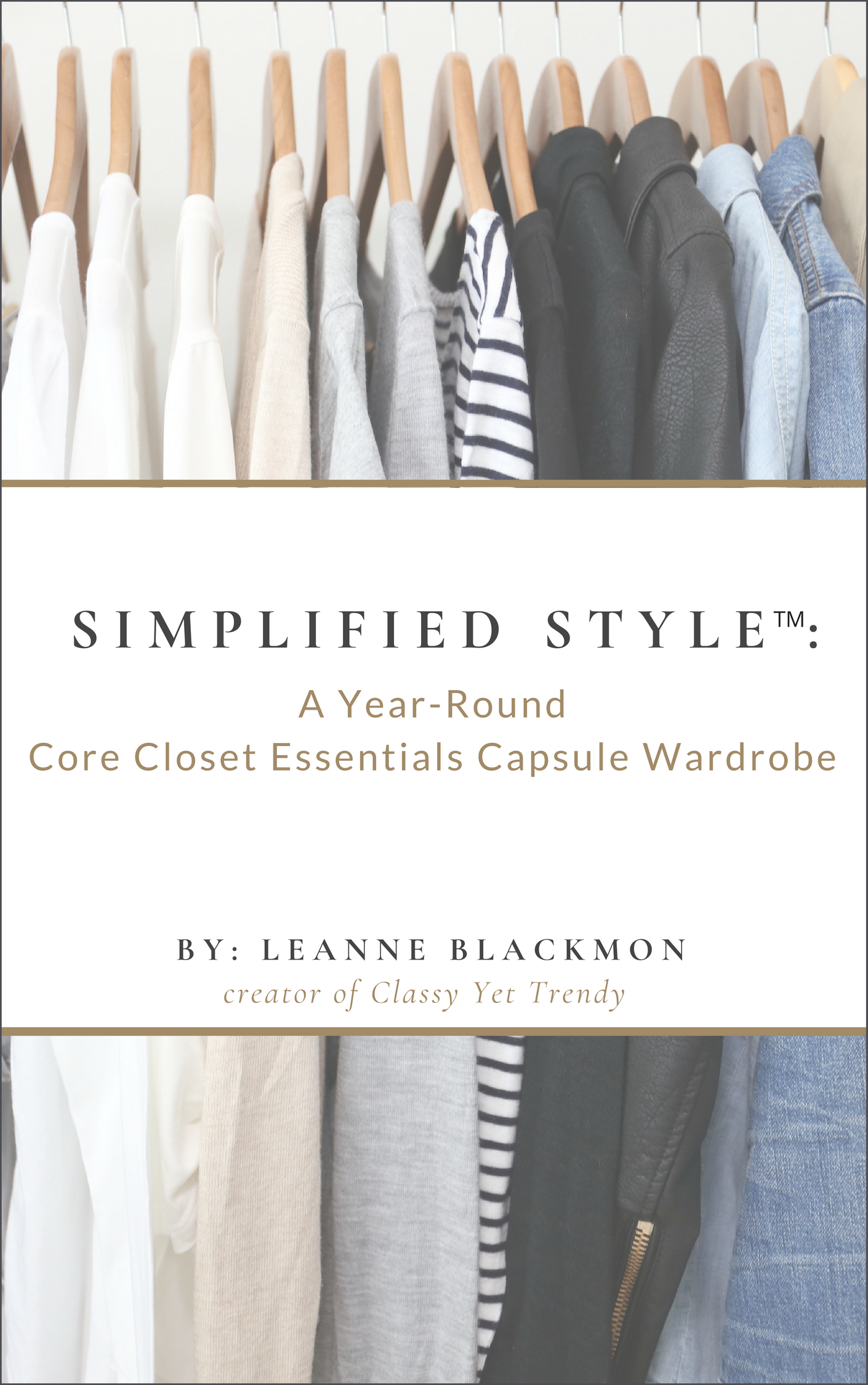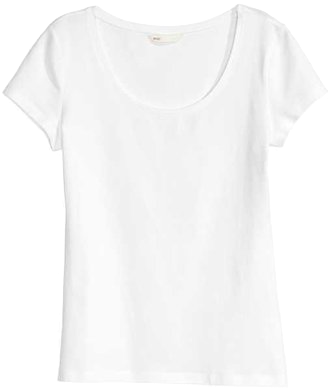 White Fitted Tee
Opt for a fitted tee with a soft fabric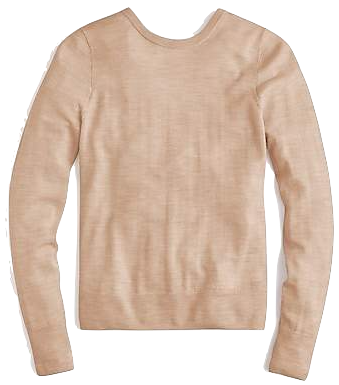 Camel Sweater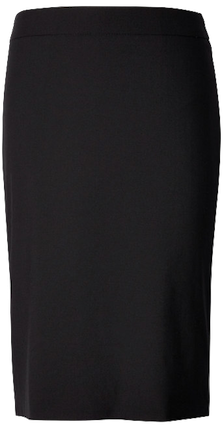 Black Skirt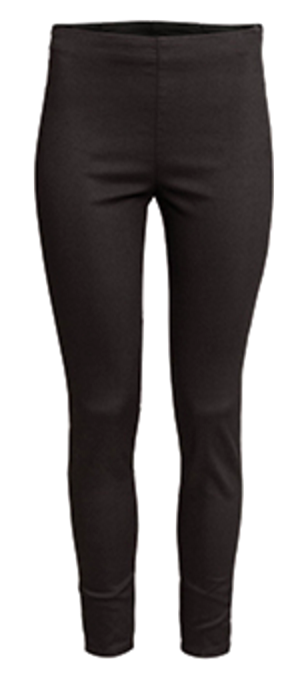 Black Pants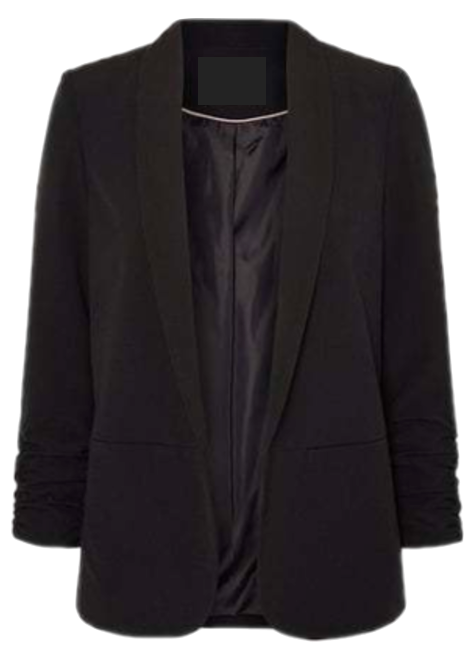 Black Blazer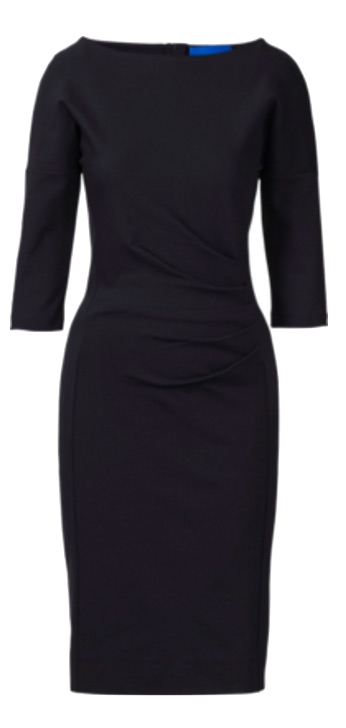 Black Dress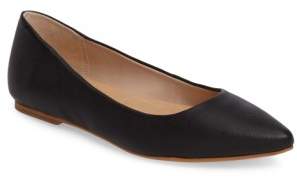 Black Flats
Here a few outfit ideas from Simplified Style: A Year-Round Core Closet Essentials Capsule Wardrobe.  Over 400 outfit ideas are included in the eBook!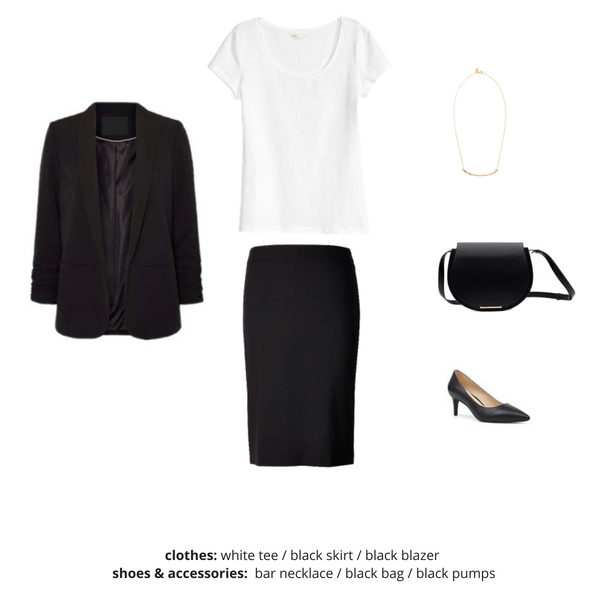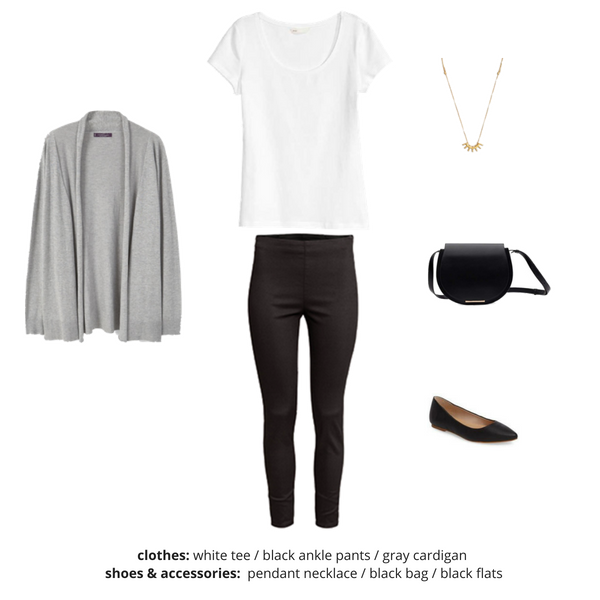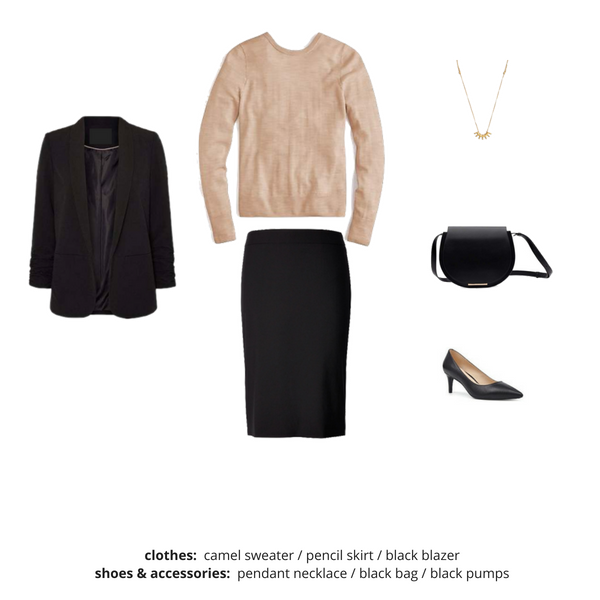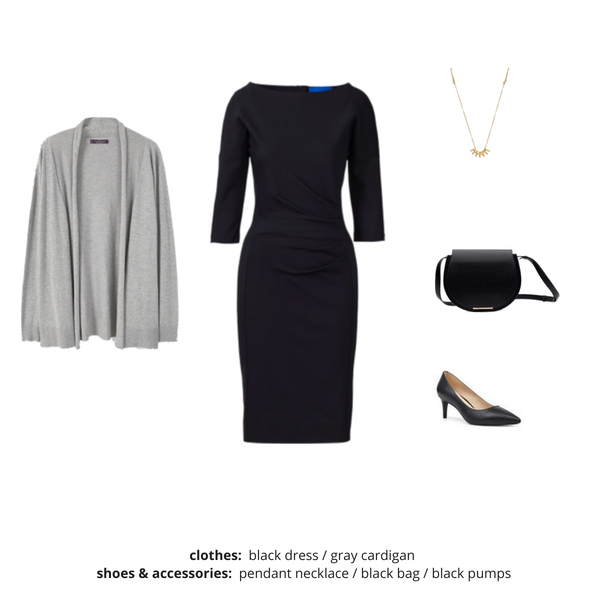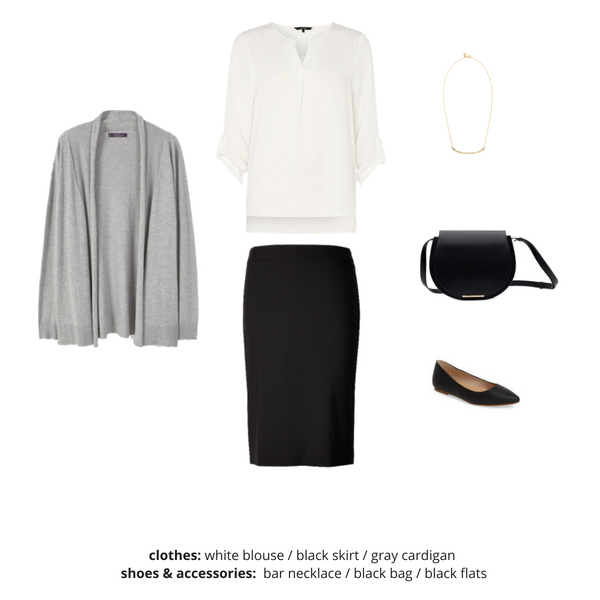 To expand your workwear wardrobe, you can add a few accent color pieces, like these: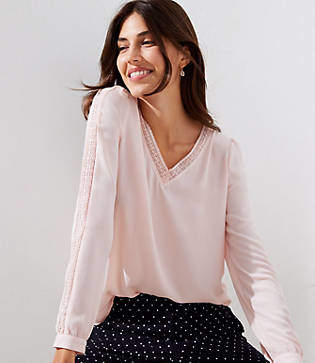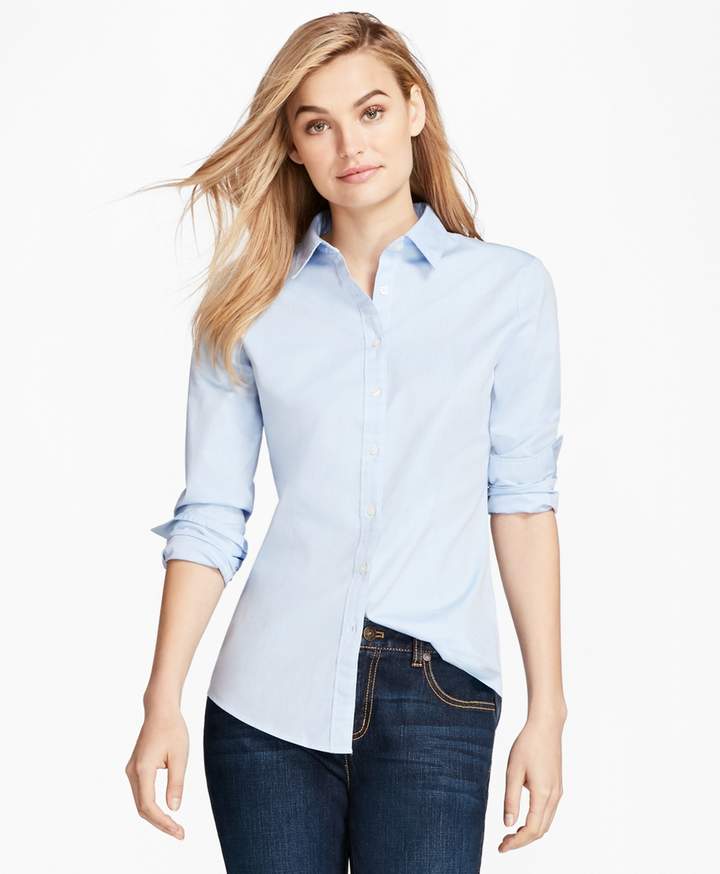 Complete your outfits with a few accessories like these: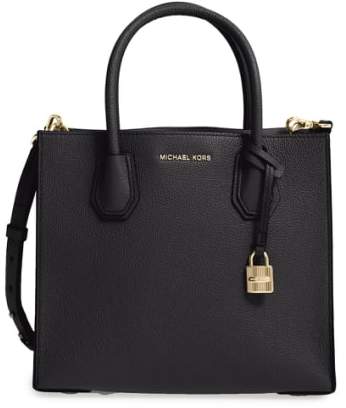 Black Structured Bag / budget option