10-Piece Travel Capsule Wardrobe: Savannah, Georgia (Summer Season)
This past week we went to Savannah, Georgia for a Summer vacation! My daughter received a trip to Savannah, courtesy of the Make-A-Wish Foundation. I won't go into too much detail, but as most of you who read my blog know about my daughter's brain tumors. She wanted to go somewhere that was relaxing and had things fun things to do. She has been to Savannah twice, once with us a couple of years ago and wanted to go back since she loves it there. We had a great time and enjoyed some delicious food! Since this was more of a relaxing vacation for my daughter, I don't have any pictures of Savannah to share with you, but when we went there in 2017, I shared several photos in my blog post "A Trip To Savannah" where I documented everything we did.
For this vacation, we left out on Monday and came back home on Friday. I packed just enough clothes in case we wanted to stay another day, so I would have enough to mix and match for another outfit.
When I packed my suitcase, I used to pack outfits. I thought that if I packed complete outfits, then I would know exactly what to wear. By doing this, I overpacked, carrying too many clothes and shoes.
Now, I pack individual tops and bottoms and just enough shoes to create several outfits. I know you may be thinking "how do know what to wear when I'm traveling?" Read on to find out…
The secret to having many different outfits to wear is packing clothes with mostly neutral, solid colors, with maybe 1 or 2 patterned tops/bottoms. Colors like black (or navy), white (or ivory) and gray coordinate well together, so if you pack clothes with mostly those colors, you'll be able to create many outfits. Because of the neutral colors, the color tones coordinate well together, giving you many outfit possibilities! If you will be traveling for more than a few days, you can wash several of the items to freshen them up while you are traveling. They can be washed, hung up to dry in your hotel room, and they'll be dry and ready to wear the next day!
Here is my travel capsule wardrobe for Savannah. Everything in my travel capsule is in my Summer 2019 Capsule Wardrobe. I'll be sharing everything that is in my Summer capsule wardrobe within the next couple of weeks.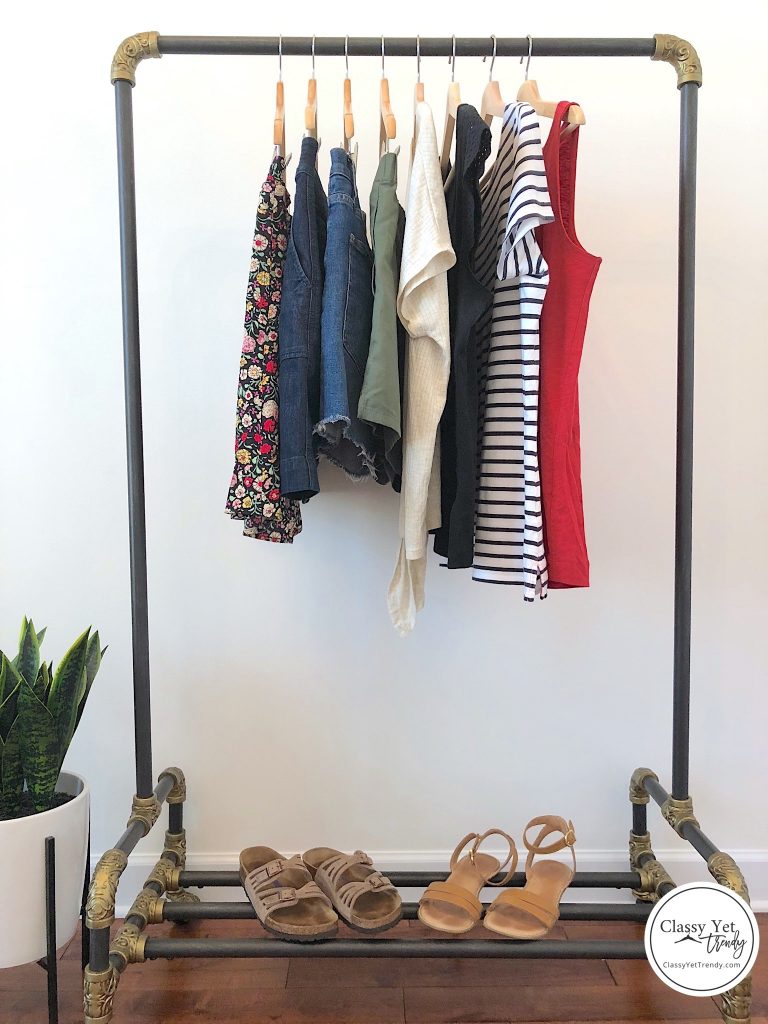 To know what type of clothes and how many to pack, I find out these things first.
Number of Days of Your Vacation – Start on the day you are traveling and count how many days you will be gone, including the day you will be returning. For a 5-day trip, the minimum you will need to pack is 3 tops and 3 bottoms. Feel free to add an extra top and bottom if needed. For our Savannah trip, I packed 4 tops, 4 bottoms and 2 pairs of shoes. For a 7-day trip you can pack the same amount and either re-wear pieces or wash some if needed.
Casual or Dressy Clothes – The type of vacation will determine what kind of clothes you will need to pack. More than likely, if you will be on a relaxing vacation, you will pack mostly casual clothes. If you will be going to a nice dinner in the evenings, you will want to pack a casual dress or two also. If it is a business trip, you will want to pack mostly all dressy clothes, but be sure to pack a casual outfit, just in case you get a chance to do a bit of sightseeing while you are there.
The Type of Weather – Find out the season and the average temperatures where you will be traveling too and if it will be raining. That way, you will know what type of clothes to pack.
Here are the clothes I packed for our Savannah vacation. I posted what I wore day by day on my Instagram account.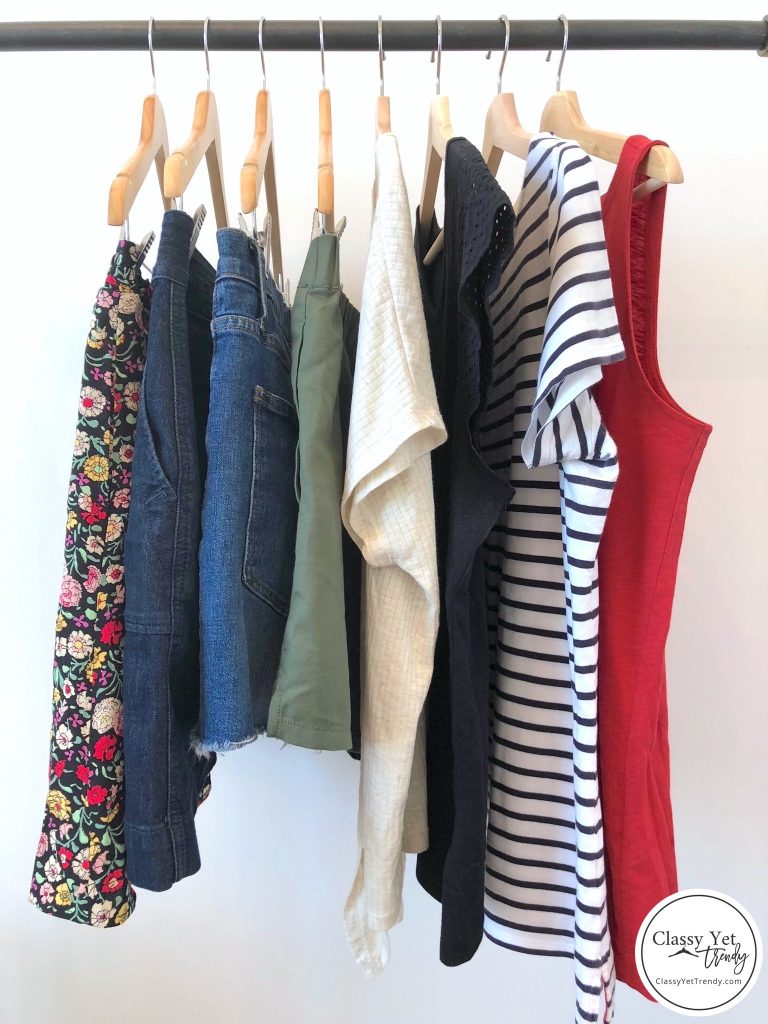 Left To Right:
floral skirt / SHOP THESE KNEE-LENGTH SKIRTS
dark wash denim skirt / SHOP THESE DENIM SKIRTS
denim shorts (raw hem)
olive pull-on shorts / SHOP THESE DRESSED-UP SHORTS
beige tie front top
black eyelet sleeve top
striped tee
red swing tank
And here are the shoes in my travel capsule: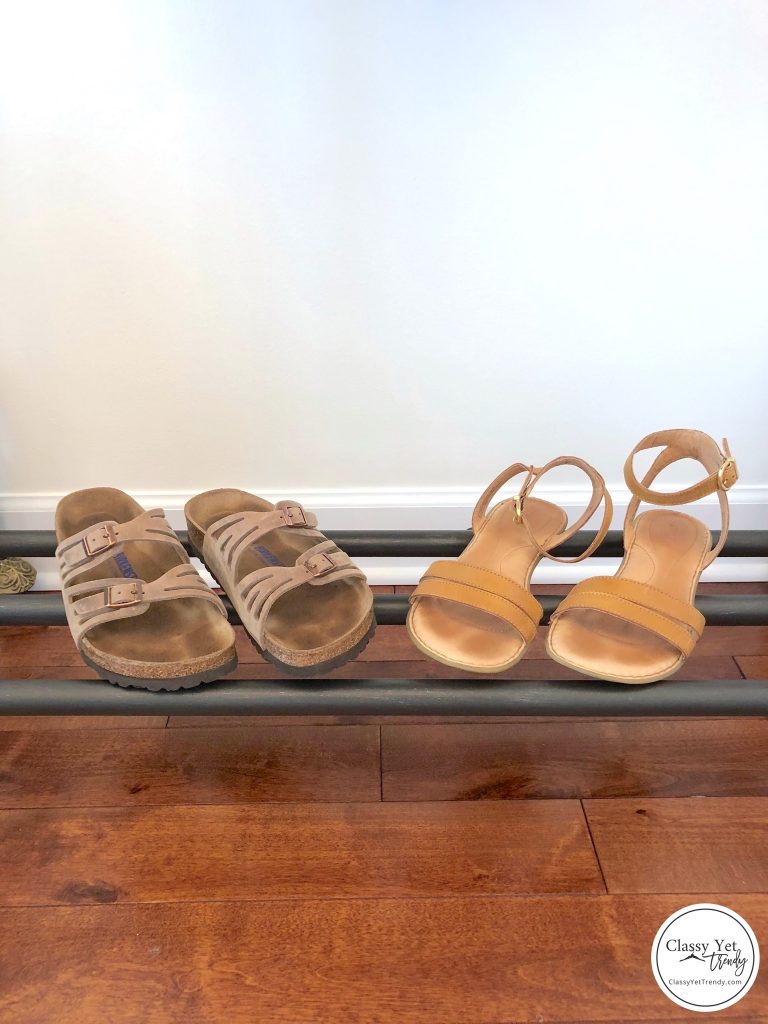 Left to Right:
Birkenstock Granada in "Tobacco" color / SHOP THESE BIRKENSTOCK SANDALS
strap sandals (similar style) / SHOP THESE SANDALS
Since our hotel was located downtown, I knew we would be doing some walking while we were sightseeing and going to restaurants, so I made sure to pack shoes I knew that would be comfortable.
Jewelry I Wore With My Outfits:
Day #1 Outfit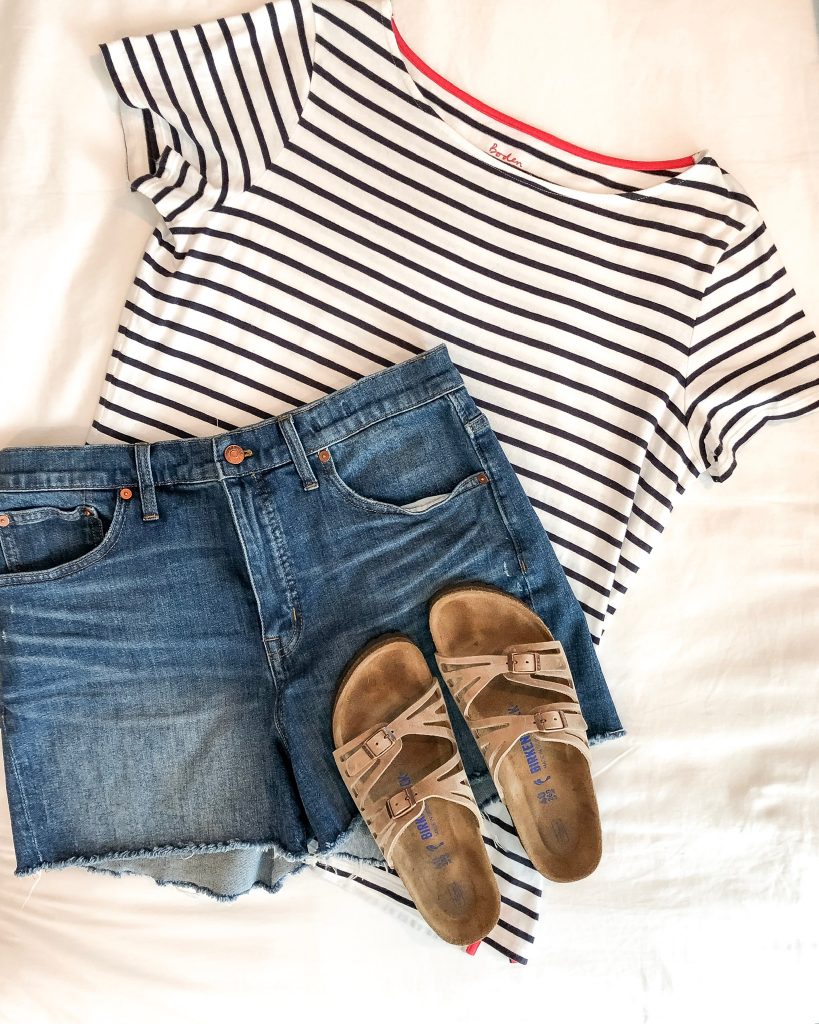 striped tee / denim shorts (raw hem) /
Birkenstock Granada in "Tobacco" color
We traveled most of the day on Monday, so this outfit was very comfortable to ride in the car. We were glad to get to our hotel, Hotel Indigo Savannah. We stayed in a suite, which was nice, and could see the river from our room. The only drawbacks to staying in that hotel is that it is on Bay Street, which is one of the busiest streets downtown, so it was noisy, even at night, and there is a club next door, so on our last night, we heard music until 3 am! Their food is awesome though, for breakfast and supper, and I recommend the Bloody Mary drink from the bar!
Day #2 Outfit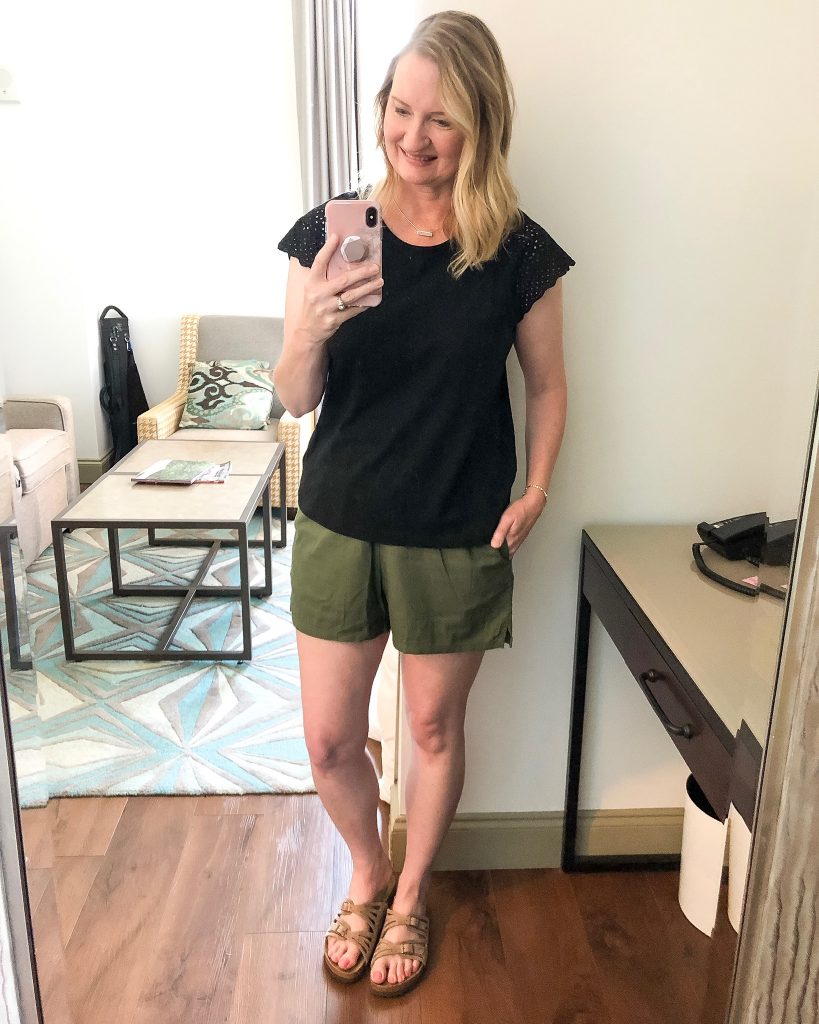 black eyelet sleeve top / olive pull-on shorts / Birkenstock Granada in "Tobacco" color
Tuesday we shopped at several stores on Broughton Street, including my daughter's favorites: Urban Outfitters and The Paris Market, which sells everything French and includes a French cafe that has Macarons! One of my favorite stores on Broughton Street is the Savannah Bee Company that has the most delicious honey! I recommend the Tupelo Honey and the Acacia Honey! My daughter wanted to do a ghost tour while we were in Savannah, so that night we did the Ghost and Gravestones ghost tour. It is a mostly open-air bus tour and stops at the Andrew Low house and a place on River Street.
Day #3 Outfit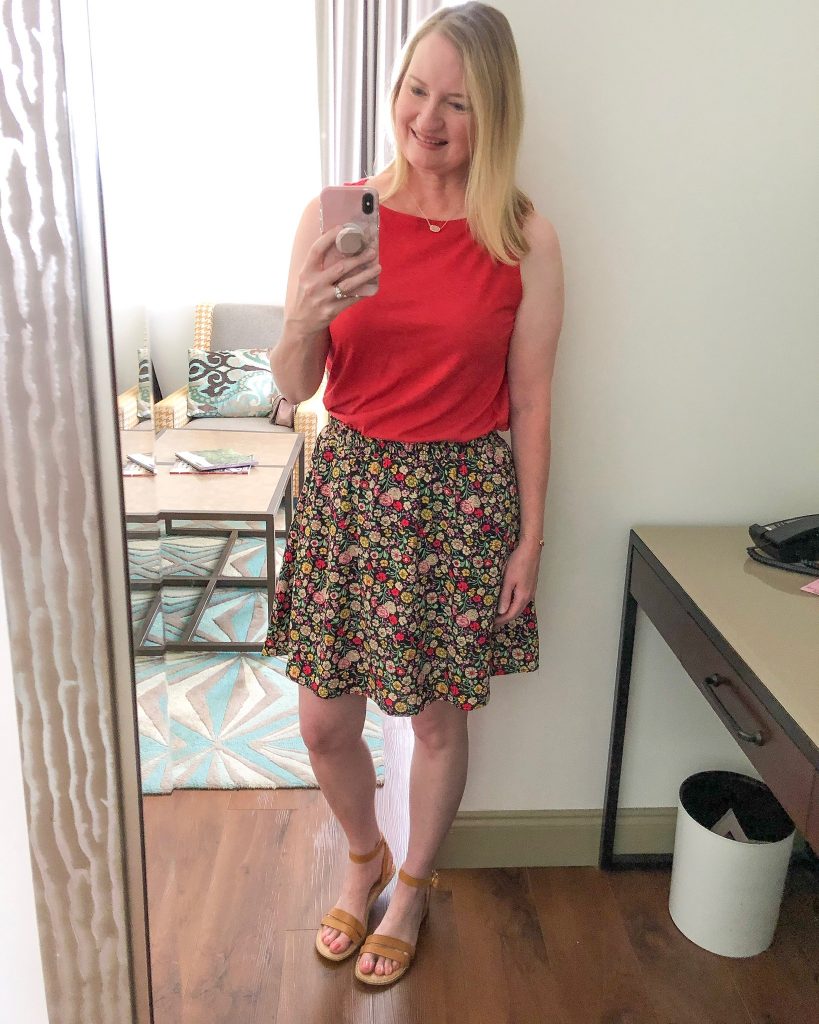 red swing tank / floral skirt / strap sandals (similar style)
Wednesday we hopped on the Old Town Trolley Tours bus tour of downtown Savannah. My daughter gets tired when we do a lot of walking, so by riding taking the open-air bus tour, we got to ride by all the major spots in Savannah. You can also hop off and on at any of the 15 bus stops along the tour if you want to! We went to Tybee Island beach for a few hours that afternoon and relaxed on the beach. That evening we ate supper at The Lady and Sons restaurant owned by Paula Deen. That's the second time we've eaten there and I highly recommend it! The favorite part is the Ooey Gooey Butter Cake for desert!
Day #4 Outfit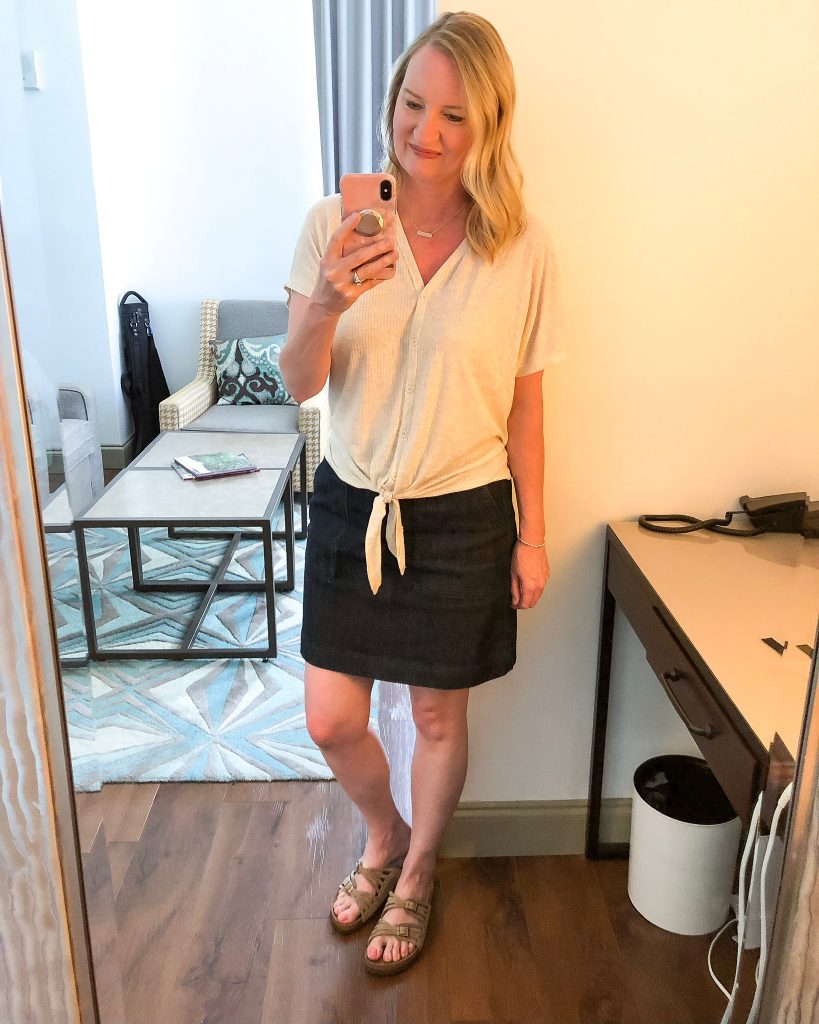 beige tie front top / dark wash denim skirt / Birkenstock Granada in "Tobacco" color
On Thursday, we ate breakfast at Maple Street Biscuit Company on Broughton Street. It was far from a healthy breakfast like I'm used to eating every morning, but oh my was it delicious! I ordered The Farmer, which includes their fresh house-made apple butter, delish! I also ordered their fresh squeezed orange juice and hot Maple Vanilla Latte (absolutely delicious). We rested a while in the hotel room and that afternoon we went back to the beach.
What I Wore At The Beach: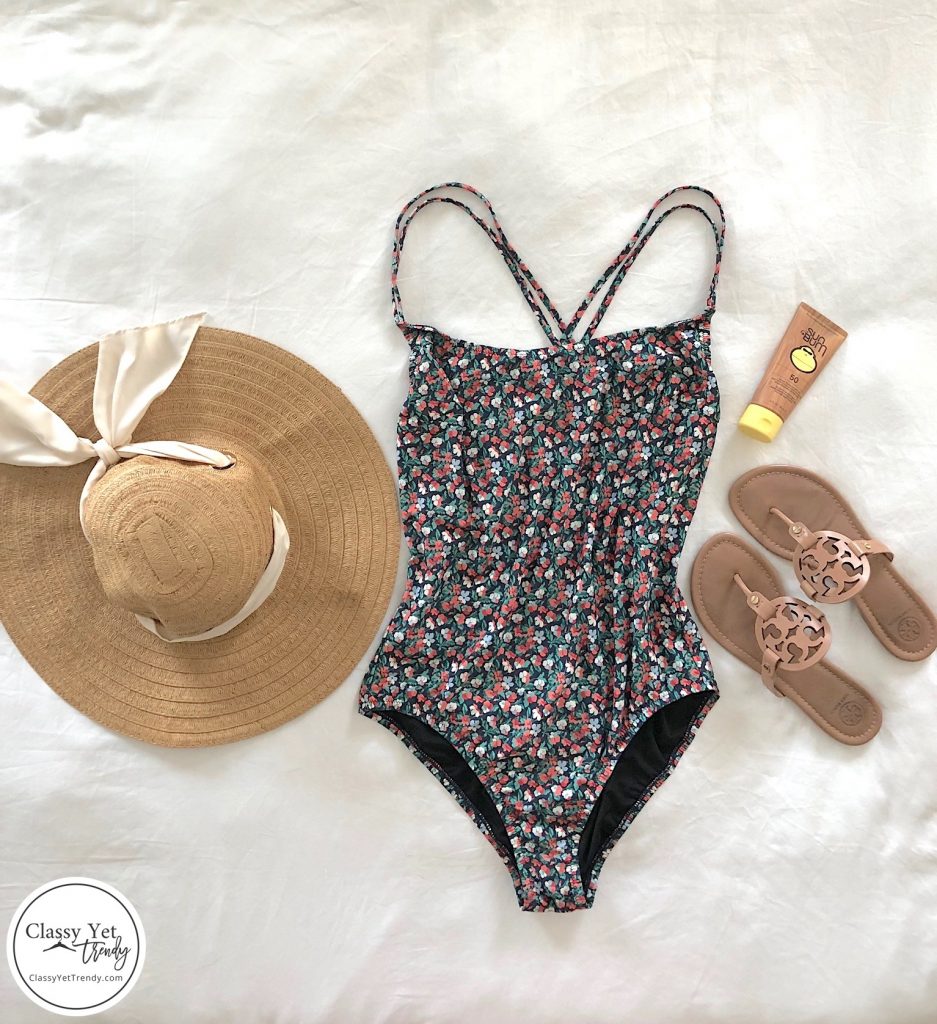 one-piece crossover swimsuit – J Crew last year (love this one, this one and this one!) /
ribbon straw sun hat (bought in Savannah) / Miller sandals in "Makeup" color / don't forget the Sun Bum sunscreen!
This is what I wore at the beach. This one-piece crossover strap swimsuit is from J Crew last year. When I ordered this last year and tried it on, I was surprised at how well it fit in all the right places, ha ha! I sized up to a 12 for a better fit. I bought this sun hat while we were in Savannah at H&M. They had a great selection of hats and their summer clothing line is so pretty this year. I wore these Miller sandals in "Makeup" color on the beach and they held up very well to the sand! I recommend wearing these to the beach and at the pool instead of just your regular flip flops!
Day #5 Outfit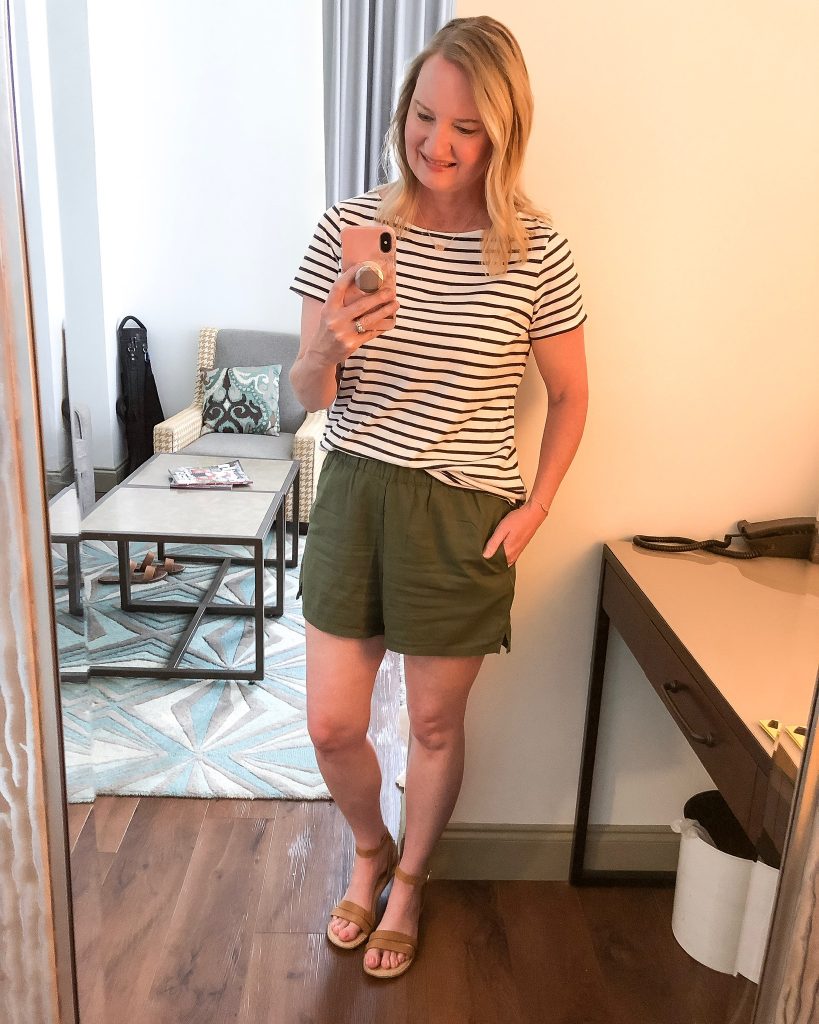 striped tee / olive pull-on shorts / strap sandals (similar style)
We ate a good breakfast downstairs in the hotel, packed up and headed home. I remixed my striped top with my green shorts and wore my strap sandals.
We had a wonderful time and my daughter thoroughly enjoyed her trip. I would like to say thank you to the Make-A-Wish foundation for giving my daughter this much appreciated vacation in Savannah. This post was not sponsored by Make-A-Wish.