Calling All Teachers! Your Input Is Needed For A Teacher Capsule Wardrobe
Are you a teacher? Do you teach elementary school or high school? I have had several requests to create a teacher capsule wardrobe. The Essential season series in my Capsule Wardrobe eBook Store would work well for a teacher if you are needing a mix of casual and dressy outfits. The Stay At Home Mom season series would be great for a preschool teacher who needs an all-casual wardrobe since you do activities with small children. I'll be publishing the Fall 2019 Capsule Wardrobe eBooks starting August 6, with The Essential Fall 2019 Collection, then the other season eBooks will follow during the month of August.
I want to help you all out by creating one, but need a little bit of input from you all to create a capsule wardrobe that you will love to wear! After doing some research on Pinterest searching for "teacher outfits", I understand that teachers want to look very stylish, while being comfortable at the same time. I found these points are important when dressing for your job:
If you are an elementary school teacher, your clothes need to be comfortable since you are active all day with the students.
You need comfortable shoes since you stand a lot while you teach all day.
To create a capsule wardrobe just for teachers, I have a couple of questions and I need your input! Please provide your input using the comment section below. Your help is much appreciated!
1. Which of these pieces do you like to wear while you are teaching?
Tops:
solid tee (black, gray, white, colors like olive, mustard, etc) or striped tee
button up shirt
chambray shirt
blouse (solid or patterned)
sweater
Bottoms:
ankle pants (black, gray and other colors like olive, mustard, etc)
skinny jeans (medium wash, dark wash, black, gray, colors like olive, burgundy)
wide leg pants (black, gray and other colors like olive, mustard, etc)
midi skirts (solid colors or patterns)
jersey pencil skirts
ponte leggings (black or gray)
Layers:
cardigans (beige, gray, colors like burgundy, mustard, olive, etc)
denim jackets
blazers
utility jackets
Dresses:
straight t-shirt style
midi length with tie belt
Shoes:
flats
loafers
wedge espadrilles
sandal heels
booties
tall boots


2. Do you have a dress code at your school? Can you wear Jeans? Can you wear Leggings?
Here are a few teacher-inspired outfits I found while searching Pinterest. Let me know which ones you like!
Outfit #1:
Pieces in the outfit: striped tee, olive color jeans, denim jacket, leopard loafers
Outfit #2:
Pieces in the outfit: chambray shirt, cardigan, black skinny jeans, black loafers
Outfit #3:
Pieces in the outfit: tunic top/sweater, burgundy jeans, leopard flats
Outfit #4:
Pieces in the outfit: white shirt, cardigan, black pants, black flats
More Outfits:
Pieces in the Outfits: graphic tee, white top, midi skirt, wide leg pants, chambray shirt, kimono, jeans, denim jacket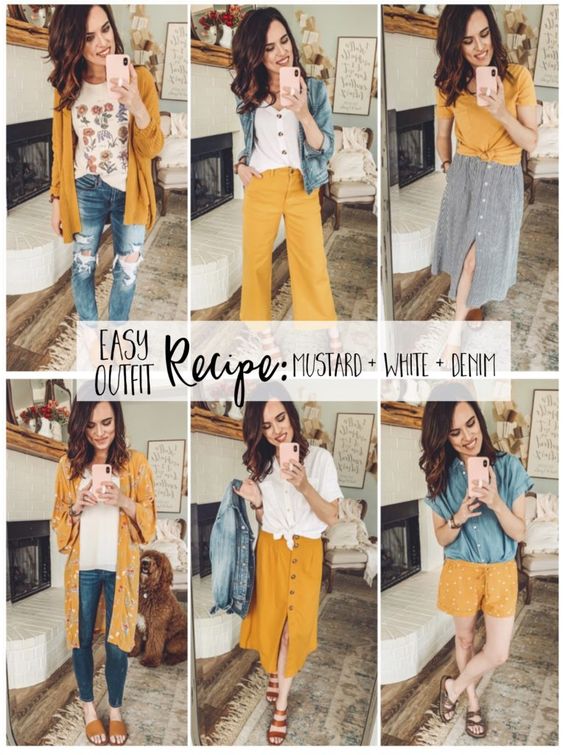 Thank you in advance to all the teachers who provide input on this post!