Boys 16-Piece Back To School Capsule Wardrobe: Fall 2019 Sizes 1-10Y + 9 Outfits
It's that time of year…Back To School! It's getting close to time for the kids to go back to school! It seems like Summer just started. Have you started school shopping yet for supplies and clothes?
To make school shopping a little easier for you, I've created a 16-piece capsule wardrobe for Boys, sizes 1 1/2-10Y. And, to make it easy, everything is from H&M, so you can buy a complete wardrobe from one store from the convenience of your home! The prices at H&M are budget-friendly, so you won't have to spend a fortune for your boy to look great going back to school, plus you will save your time and gas in your car by conveniently shopping at home.
If you need a girl's capsule wardrobe for the Fall, see the blog post from earlier this week for a complete capsule, also with convenient shopping sources, "Girls 18-Piece Back To School Capsule Wardrobe: Fall 2019 Sizes 1-10Y + 9 Outfits".
As you all may know, I publish several women's and a man's capsule wardrobe eBooks every season. Each eBook contains a hand selected wardrobe plan, where all the clothes and shoes coordinate, along with 100 outfit ideas, a travel packing guide and more. What makes these wardrobe plans so functional, is that they consist of mostly basic essentials that can be used over and over, thus saving you hundreds of dollars each year! Thousands of women are using these wardrobe plans and love how they have transformed their closets!
I've had a few requests for a back to school boy's capsule wardrobe for the Fall! Since these 16 clothes and shoes all coordinate, they will create more outfits in addition to the 9 outfits shown here.  You can add a few more tops, bottoms and/or layers in the same color palette to yield even more outfits!  So, your boy will have a complete season of outfits!
Everything in this capsule wardrobe can be found at H&M, so you can shop online for everything from the convenience of your home!
This capsule wardrobe is for a BOY SIZES 1 1/2-10Y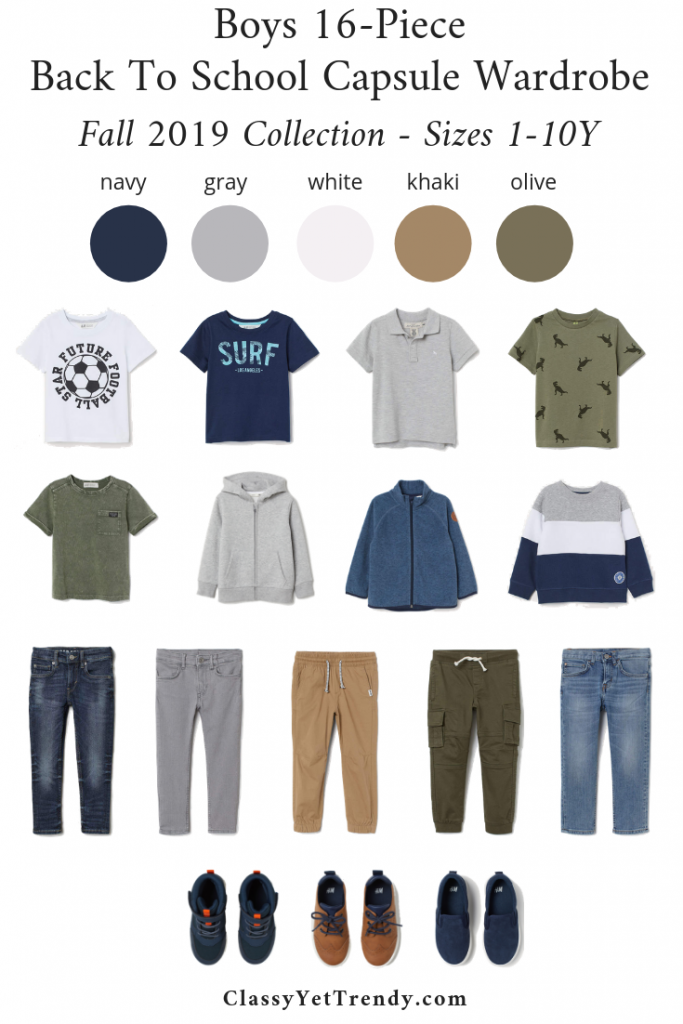 First Row:
soccer tee / surf tee / gray polo / dinosaur tee
Second Row:
olive top / gray zip hoodie / blue fleece jacket / multi-color sweatshirt
Third Row:
dark wash jeans / gray jeans / khaki pants / olive cargo pants / medium wash jeans
Fourth Row:
blue high top sneakers / brown lace-up shoes / navy slip on sneakers
If you are needing a capsule wardrobe, all the available eBooks are in the Capsule Wardrobe eBook Store!  Each has all the clothes, shoes and accessories you'll need for season.  Included are 100 outfit ideas from just a few clothes and shoes, Regular, Plus and Petite size convenient shopping sources, a capsule wardrobe creation guide, a checklist, travel packing guide and more!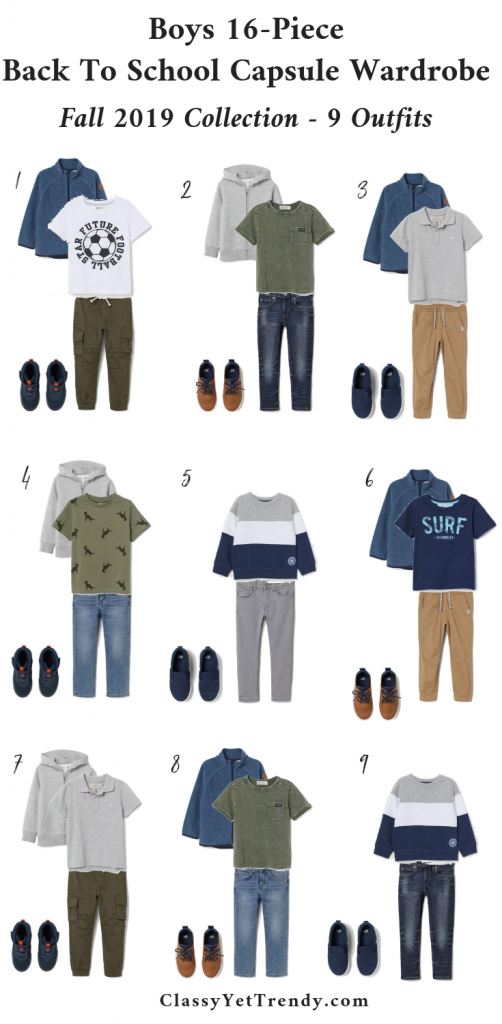 Shop the Post: