I receive several questions each week from you all, from products I recommend, to how to wear an item.  I enjoy answering any questions you may have to help you all look your best!  You can email me any questions you may have @ classyyettrendy@gmail.com.  I may even post your question here on the blog next time if I think others may have the same questions too!
Here are a few questions I have received lately:
Reader Question #1:
Hi & thank you, I was wondering if you could add a little about fragrances, I have searched forever to find a nice everyday scent, as I am very Casual but also need to have a little Classy ( but very reserved) for Church & a few other times  wearing a fragrance can be another challenge.  Do you have any advice ?
Answer: That's a great question!  My sense of smell is very sensitive and I can't wear strong perfumes.  Two fragrance brands that I wear are:
1. Philosophy – I wear the Amazing Grace and Pure Grace scents.  They have a scent that's like fresh linen and fresh out of the shower scent.
2. Jo Malone – I wear the Nectarine Blossom & Honey fragrance. I also have the Peony & Blush Suede scent and it smells wonderful too!
I found a 5-piece Jo Malone Gift Set that includes the Peony & Blush Suede fragrance plus 4 other scents!
Reader Question #2:
Hi, I'm interested in having a capsule wardrobe and have been looking at your site for a couple of weeks now. I think I can benefit from this and would love to dressed quickly and be put together. I have so much clothes but don't know what to wear to feel complete. Can you help?
Answer: If you are just starting out with a capsule wardrobe, I recommend starting with the Simplified Style®: A Year-Round Core Closet Essentials Capsule Wardrobe   You will have a complete year-round wardrobe, using all the essential basic essentials for all seasons of the year.  It comes complete with shopping sources (just updated), wardrobe plans for all seasons of the year, plus over 400+ outfit ideas.  If you want to add a couple of tops and/or pants in one or two colors, they will coordinate with all the pieces of the collection.
Reader Question #3:
Just wondering…is that a Coach handbag in the Fall Teacher Capsule?Where can I find it?  (Just retired from teaching after 39 years!)
Kind regards from a fan and follower.
Answer: The exact bag is sold out. As the end of the season draws near, retailers sometimes sell out of their products and sometimes they restock. I wish I knew which ones would be restocked! I found a bag very similar to it!  It is the Coach Sutton Hobo and comes in Saddle (brown), Oxblood (burgundy), Black, Moss (green) and Dusty Pink.  The bag is a pebble leather and is versatile with both a shoulder strap and a crossbody strap. The Coach Sutton Hobo in the "Oxblood" color will be one of the bags in the Teacher Winter 2019 Capsule Wardrobe E-Book!
Reader Question #4:
I'm experimenting with the capsule wardrobe you have in the Mini Capsule Wardrobe E-Book I received when I signed up for the newsletter. I'm loving it so far! I have a question. I love wearing the neutral colors, but how can I add some color to the capsule to change it up a bit?
Answer: I'm so glad you are enjoying the mini capsule wardrobe! You can certainly some color to the capsule just by adding a solid-color or patterned top, bottom or pair of shoes. You can also add color by adding jewelry, handbag or scarf/bandana.
I recommend picking just 1 or 2 colors to add to your capsule and staying with your base color (the base color in the mini capsule wardrobe is Black) so that all the pieces coordinate well with one another and you will yield the most outfit combinations.
By adding just one colorful top, bottom or pair of shoes, you can add several more outfit options and extend your capsule wardrobe! Here are a few items you can add to the mini capsule wardrobe. You can add 1 or 2 or everything, since the color palette is burgundy and teal!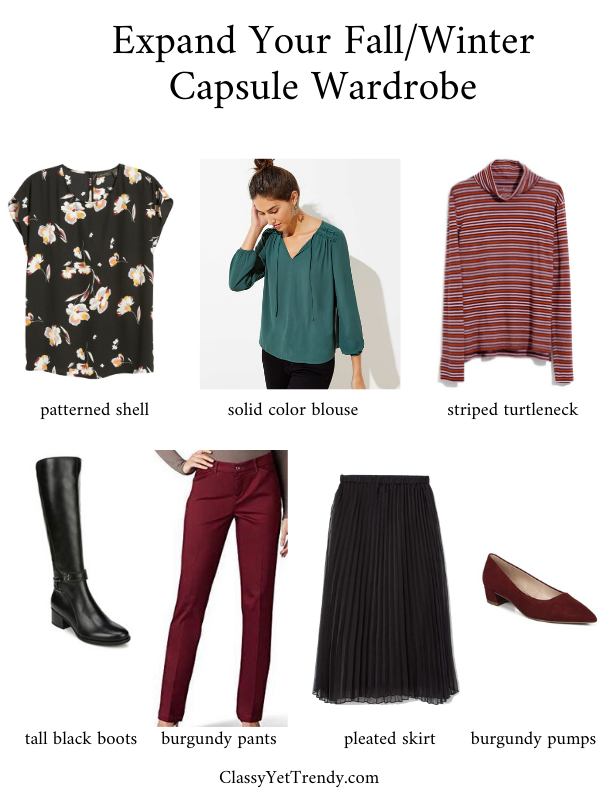 1st Row
patterned shell
solid color blouse
striped turtleneck
2nd Row
tall black boots / budget-friendly version for $39.99
burgundy pants only $36!
black pleated skirt only $29.99!
burgundy pumps
Thank you for your questions!  Send me any questions you may have about fashion and style and I'll be glad to answer your questions!